College Football Scores: Kansas Upsets No. 15 Georgia Tech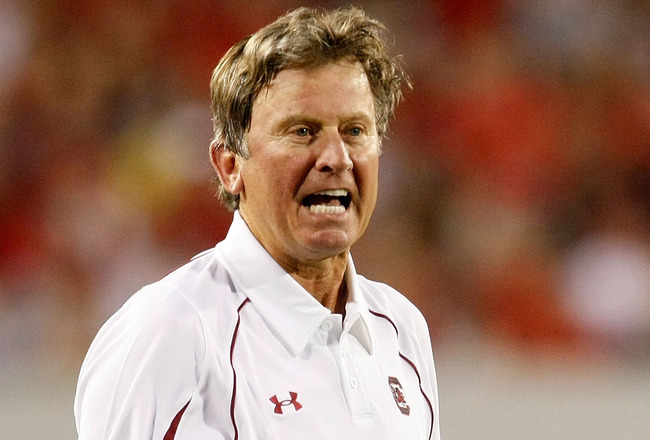 The Ole' Ball Coach and his South Carolina Gamecocks resume the border war with Georgia in early SEC action Saturday
Kevin C. Cox/Getty Images
Hello and welcome to Week 2 of College Football! Tim Wood on the case now, taking the baton from Marc Pruitt who got us started today. We're into the big games now. Hit me up with your thoughts, 'cuz I'm sure going to give you mine.

One last thought:
Nate Montana won't see the field again in 2010 and that's a good thing.
I hope Joe's there watching. Not that I'd ever root for Nate to be hurt, but Joe deserves a bad day.
He went after the legend of Rudy for no apparent reason this week.
Dude, you have it all. This thing is Rudy Ruettiger's life. We want to believe the legend.
For that, I hope Mr. Shape-Ups had a beer thrown on him in the stands today.
OK, as I get ready to wrap our first attempt at an ongoing general blog, here's what struck me today:
- Denard Robinson: I can't stand the hair. I know the comparisons are going to be wild to Mike Vick by 9:12 a.m. Sunday, but that's OK. He was mighty impressive.
- Marcus Lattimore: I saw him play high school ball. He was a man among toddlers. He will keep the Gamecocks in the SEC title race deep into the season.
- Florida, LSU and Miami just aren't that good.
- Boise State isn't doomed because Va. Tech got beat by James Madison. They're doomed because Alabama and Ohio State aren't losing a game.
Peace out, Boy Scouts.
God bless Brent Musberger. He's trying desperately to sell the drama.
There just isn't any.
I don't care what the critics are saying about "The Town".
I'm just not paying money to see another movie with Ben Affleck with an exaggerated Bahston accent.
Why am I not talking football here? Dude, JoePa just went for a field goal down 24.
It should be mandated that Penn State never gets another primetime game again.
I'm so over M. Night Schamalammadingdong.
He is the master of selling a movie in a trailer. The problem is that everything he's done since "The Sixth Sense" has been a scam.
Just a bunch of interesting premises that failed miserably.
He's kind of like Penn State over the last decade. You just expect more because of the name, but they never deliver.
Still, JoePa and M. Night deliver just enough to get another contract or financing for the next movie.
BTW, full disclosure from an earlier post.
I was drinking the Kool-Aid on Florida State. I put 10 confidence points on them to cover the spread in my picks pool.
The Seminoles returning to dominance is something I think the media wants more than there's a reality to it.
Most of the dominant media voices grew up with Bowden taking FSU to national dominance. It just seems like it's supposed to be. It reminds us of a simpler time.
Flash forward to 2010 and the harsh truth is they just don't have the athletic balance across the depth chart.
Do you think ESPN has a mandate to get the camera on EA anytime she talks?
Normally, you'll go to a sideline reporter and just get a voice over the game action.
They seem like they'd break into a Flutie-esque hail mary to get to Erin.
And sadly, I'm on board with that.
What is NASCAR doing on ABC in college football season?
Just doesn't seem right. This is Saturday Night Football, man.
More KISS Dr. Pepper commercials.
No matter what you think of their music, you have to appreciate the brilliance of the concept.
Thanks to all that makeup and the wigs, these guys could be doing this until they're 90 if they can still jump around the stage.
Or they could just have stand-ins at the concerts and again, we'd never know.
Brilliant!
Not trying to be an SEC homer here, but I'm not surprised by the early Tennessee lead over Oregon.
The Vols have the talent. Now they have a coach who avoids being the story and just coaches.
You can tell me all you want about the bevy of athletes all over the Oregon offense, but they are Pac 10.
You don't go cross country into Neyland Stadium and expect a cakewalk.
Chip Kelly seemed to be a little to in love with his team.
Then again, when you have a group like Supwitchugirl pushing your team to the country, it's easy to get bigheaded.
I love my Ducks!
This game should be 34-0. Another young mistake by Bolden.
If they played the game between the 20s, Penn State might actually be ahead.
"If there was a two-week Heisman, it would be Denard Robinson."
Wow, Rece actually said something useful and insightful.
That was one heckuva game. OK, so Michigan has beat UConn and Bryan Kelly's Irish.
Can we get off Rich Rod's back for a little bit?
I know Erin is trying to look all official with this upgraded gig, but enough with the pulled back hair.
Do you think she has to hold her nose next to JoePa with the old person smell and all?
JoePa's last words to EA: "I think we'll do better in the second half, but maybe Alabama is just that good."
So Jane Lynch is guesting on "iCarly" tonight as Sam's mysterious mom.
It's looking like a better option right now than this game.
Someone needs to give Robert Bolden smelling salts. He looks desperately over his head.
There's a reason a freshman starting QB has never gone on the road and beat a No. 1 team.
It's just silly to think that this Lions team can compete with Saban's crew.
I love JoePa, but it really is over.
OK, some thoughts on the latest round of commercials.
I loved Dean Winters on Oz and Rescue Me, but I'm still on the fence about these Allstate Mayhem commercials. I want to like them, but they're really bordering on stupid.
Second, this Ryan Reynolds movie "Buried" looks crazy. He filmed the entire movie inside a coffin.
Third, there is no way that Popeye's chicken beat KFC in a taste test. The only way Popeye's wins is if you're blazing drunk and starving at 4 a.m. after leaving the bar. And that's only because your taste buds are blitzed.
I'm calling total BS there. And that woman who does the fake Louisiana accent really gets under my skin.
What a pathetically blown call there in the Alabama-Penn State game.
The Alabama player rolled over the ball. The Nittany Lions got a huge break they didn't deserve.
Question is, can they do anything with it?
Boy, the studio is really humping the Wall Street reboot.
This generation doesn't even know who Gordon "Greed is good" Gecco is. This is a sequel 20 years too late.
So what do they do? Throw Shia Lebeouf in there. While an upgrade over Charlie Sheen, I'm still not buying it.
Jacory Harris is looking unworthy of the spotlight.
This OSU-Miami game has had more bizarre twists than a Lady Gaga video.
Cameron Hayward steps into the middle of a Jacoby Harris as the Canes were driving and rumbles down to the Miami 13.
Next play, Terrelle Pryor goes in for a 13-yard TD run.
Neither coach is going to be happy after this mess of a game.
How big is the James Madison upset today? What would you rank as your all-time college football upset?
Great pick to replace Pat Haden on the Notre Dame broadcast with Mike Mayock.
I love him on the NFL Network draft coverage, he puts Kiper to shame.
Sounds great so far. Nice to see Dan Patrick on the Notre Dame coverage. I just switched to Dish, so I don't get to see the simulcast of his radio show anymore.
The hair still looks great, DP.
Stop it, Todd.
The Thurmanator. And those fries.
Wow.
I hate the "Taste of the Town" thing that Todd Blackledge does.
Dude, you want to be a food guy, go get a Food Network show.
I know these broadcasters get like $200 per diem so they've eaten at most every restaurant in the big college towns, but I'm just tired of it.
Then again, it might just be that I'm pissed because I'm on Weight Watchers and I can't even whiff any of that food.
Jerk.
Speaking of bonehead, what a return by Jordan Hall. Ten Miami players had a chance to tackle him and he almost took it to the endzone.
BTW, I know this is supposedly the year of Terrelle Pryor, but I'm more interested in Denard Robinson at Michigan.
Rich Rod's pick for QB is helping the Wolverines look unbeatable vs. Notre Dame.
This article is
What is the duplicate article?
Why is this article offensive?
Where is this article plagiarized from?
Why is this article poorly edited?