U.S. Open Live Blog: Nadal Wins Semifinal Match Over Mikhail Youzhny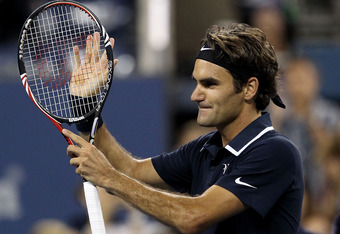 Matthew Stockman/Getty Images
Hello, and welcome to the live blog coverage of the Men's semifinals. The matches include Roger Federer taking on Novak Djokovic and Rafael Nadal playing Mikhail Youzhny. The Rafael Nadal match will begin at around noon with the Federer match to follow 20 minutes after the conclusion of the first match.
The blog updates will be every minute and will be posted below. Feel free to leave comments, or e-mail them to sblumnyc@gmail.com. Thanks!
NADAL SKIPS UP IN THE AIR AFTER HIS SERVICE WINNER AND HE IS IN THE FINALS FOR THE FIRST TIME (I THINK) AT THE U.S. OPEN, 6-2, 6-3, 6-4 win over Mikhail Youzhny.
Three match points should he need it.
30-0. Only a matter of time.
Nadal is now serving for the match...
and Nadal breaks back! So that was kind of pointless, but exciting nonetheless.
AND YOUZHNY BREAKS! They are all tied up here in the third set! 4-4.
Wow, he has a break point!
30-30, Mikhail looking to break.
Youzhny holds here, Nadal just two games away still. Mikhail needs a break, but is 0-1 in break chances today.
Nadal holds again to go up 4-2 in the third. They are seven minutes away from the two hour mark.
It will basically take a miracle to save Youzhny now, down 3-1 and fighting just to stay in the set.
OOOOO, who called it, Nadal just broke, up 2-1 in the third (and likely final) set.
The score is tied 1-1 in the third, but you have to believe it is just a matter of time until Nadal breaks, and puts this match in the books.
Nadal breaks to win the second set. Shock.
Nadal leads 30-0 on his serve here trying to go up 4-3. His movement seems fine.
Nadal's problem is probably a blister.
Nadal is looking a bit uncomfortable right here, 40-15, he is trying to see if he can take advantage of this potential foot problem with Nadal.
Nadal had his foot taped up, he seems to be fine and ready to play.
Still on serve, Nadal holds, 3-2.
Youzhny is hanging in here by a thread this set. If he can miraculously hold serve for four more games or maybe even get a break, then this match is interesting again, sit tight.
No pressure for Nadal, he holds to make the set 2-1.
Great passing shot from Mikhail puts some pressure on Nadal now as it is 15-15.
This article is
What is the duplicate article?
Why is this article offensive?
Where is this article plagiarized from?
Why is this article poorly edited?