Everton-Manchester United: Live Blog, Play-By-Play Analysis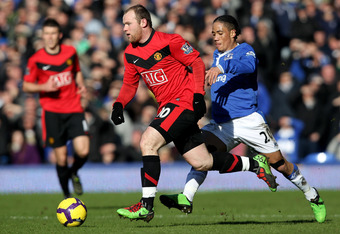 Everton fans selectively forget the 26m quid Rooney garnered
Ross Kinnaird/Getty Images
Manchester United visits Goodison Park for the early kickoff in the English Premier League's fourth matchday.
It promises to be a tense tie for many reasons. Everton, despite being a perennial top-six contender, have yet to win a match this campaign. Their squad is largely the same as prior seasons, so you expect the variance to equal out. It may begin today: Everton defeated United 3-1 last year in the same fixture.
Rumors also have it that former Everton teen star, current United superstar Wayne Rooney, will be rested against his former club. Obviously on the heels of allegations he cheated on his wife—something so commonplace in professional spots it's a marvel why anyone pretends to care—he'd be assured an utter lambasting from opportunistic Everton fans.
Whether he plays or not, it's a meaningful tie for both sides. Both clubs and their most cheesy writers may view it as a "must-win," but don't be surprised if they each settles for one point, instead of three, after 90 minutes.
So, BR dropped around the 80th minute. I went and had breakfast (sherking all responsibility) to come back and see Everton tied the game at 3! Unbelievable, as a United fan. But as a person who bet on the draw, I'm not unhappy. It was a cracking match apparently made even better. Thanks for listening and I'll wrap up your footballing perspectives in a nice bow in the coming days.
Fellaini takes his turn to fire over but Everton are enjoying more possession. Couldn't blame United for being a little lazy with a comfortable lead.
70 are past and Baines is lining up a free-kick from the left side. It's a foot wide, though. United lead 3-1 after going down a goal, just as Everton did last year in the same fixture.
68 minutes. Everton are ringing in the changes. Coleman and Yakubu are in for Everton. They're possessing without making any real chances.
Berbatov uses his trivella after a diaganol ball from Scholes. Everton 1 United 3! Distin got skinned by Berba's quick first touch and United are far ahead now.
United pass the ball around the back. It ends up with Berbatov up top but he's crowded out by virtue of there being more blue than red up there.
56 minutes so far. Pienaar skins O'Shea but Evra makes a superhero tackle. Everton continue to pressure, though.
Vidic and Cahill exchange more than words after some argy-bargy. In other words, they're enjoying themselves.
Giggs and Berbatov combine to turn the ball over after some heavy touches.
Everton win a corner but Vida knocks it away for Scholes to clear. Heitinga is carded for a rugby tackle.
United's captain headed home excellently to lead his side ahead. Awesome stuff, and a great beginning to what should be a cracking half.
Berbatov again earns a shot but it's deflected out for a corner. Nani crosses in and it's back out to him. He crosses in again and it's Monster Vidic who slams it home! Everton 1 United 2!
United kick off and Berbatov charges forward.
The half is finally over. I am spent. Really exciting half with some excellent chances, excellent saves, and excellent goals. Both sides are up for it. Both managers will get up in their asses at the half, and both will come out blazing in 15 minutes. See you then!
Giggs gets booked as an afterthought for some foul. He crosses for Berbatov a moment later and his excellent volley just skims by the left post. Berbatov on the volley is legend.
43rd minute and I'll eat my right shoe. Nani decides to cross first time instead of turning the ball over and Fletcher screams into the box like the awesome Scholes-Keane hybrid he is to equalize! Everton 1 United 1!
Where's your 4-5-1 now, playboy? Ferguson's pusilanimous tactics have United behind and lacking hope or reason for revival.
Neville gets beaten for pace and Everton get a couple chances to score which they do, PIenaar slotting it home from around nine yards after a deflected shot and square ball. Everton lead 1-0!
Giggs shoots right-footed and Howard makes another awesome save! The man always performs against United. Everton counter and, oh, no...
36 minutes done and Everton are swinging in a free-kick. It's one of those situations where the referee blows his whistle for some arbitrary foul that no one saw or complains about.
United are finally enjoying themselves but Nani keeps turning the ball over. He sure is fast, though :(
lays it off to Scholes. He strikes; it's deflected on target and Howard makes a ridiculous save. He looked like Morpheus there.
31 minutes past. United have a free-kick from 20 yards. I prefer Berbatov in this range. He's been successful curling free-kicks for Bulgaria and Leverkusen from close range. Nani takes it and...
O'Shea turns over in Everton's attacking third. Another sentence I hopefully never have to write. Why is he even playing? He is lamentable enough in his natural positions.
United would be down 2-0 at least if Everton weren't firing each shot over the goal. Good tackle from Vidic on 27 minutes shuts down another attack.
This article is
What is the duplicate article?
Why is this article offensive?
Where is this article plagiarized from?
Why is this article poorly edited?

Manchester United: Like this team?