Michigan vs. Notre Dame Football: Live Blog, Stats, Analysis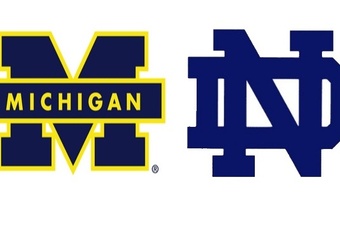 Featured Columinist Dan Scofield here, live blogging the always popular Michigan-Notre Dame matchup.
Being played at the House that Rockne Built in South Bend, Ind., this game will decide which rival gets to improve to 2-0 and which promising Week 1 outlook gets deflated by a loss in Week 2.
Join me as we talk everything from Touchdown Jesus to Denard Robinson to Alex Flanagan on the sidelines.
Game over, Michigan wins 28-24.
6 seconds, Irish ball at the Michigan 25. This is it right here, boys and girls.
Denard Robinson with the score to take the lead, 28-24 Michigan with 30 seconds left for the Irish to drive the field.
Robinson marching down the field, once again. Sorry if the readers are getting sick of hearing that, but that's the rule of this game.
95-yard touchdown to Rudolph. Go turn on your television. I hate to say it, but I told you so about Rudolph in the first quarter.
The "meathead" from Jersey once got thrown out of a varsity basketball game against my team. We lost, and I got out-rebounded every shot by him, but true story.
A bi-polar offense for Notre Dame today. At times unstoppable, looking awful at others.
Crucial stop for the Irish on 3rd down forcing another weak punt. ND ball deep in their own zone. This could be the drive of the game.
Michigan is really beating themselves with these big penalties. Another illegal block erasing a 10-yard run resulting in a 15 yard penalty.
Michael Floyd looks lost out there. Michigan is keeping him a non-factor in this game, a big plus for them.
Michigan's kicker is Notre Dame's 12th man, the punter is 13th.
Robinson and his line marching down the field. This truly is a one-dimensional offense, but a great one-dimension at that.
Michigan D looking tired. This 4th quarter is going to be a grind.. and a great one.
I said it once, and i'll say it again. Denard Robinson cannot throw the football, and until he does, isn't unstoppable.
Missed field goal for Michigan. Forcier Sighting: skull cap, headset, no helmet.
These refs are very inconsistent with their holding calls for both teams. However, an all around decent game for the zebras thus far.
The former inter-hall kicker, David Ruffer, pounds one in from short distance for three points. Michigan still leading, 21-17. Michigan needs a big drive in order to kill this momentum, South Bend is rockin'.
Momentum = Irish, Irish, Irish.
Almost a Desean Jackson moment when freshman receiver T.J. Jones flipped the ball before entering the endzone. Luckily for the Irish, a quick snap later and the touchdown stands.
Dayne Crist back in the game. Irish score on second play. 21-14. There's not much to say but this is a football game, boys and girls.
Crist will rise on the third day, according to reports. ND has some hope, Kelly must be kicking himself about that field goal now.
Kelly must know something we don't considering he risked the touchdown there. Michigan will get the ball to start the 2nd half.
Okay, let's lighten the mood. Who you got, Erin Andrews or Alex Flanagan?
A terrible decision by Montana, throws the ball through the endzone to end the half. Michigan leads Notre Dame 21-7 at the half.
This article is
What is the duplicate article?
Why is this article offensive?
Where is this article plagiarized from?
Why is this article poorly edited?

Notre Dame Football: Like this team?