WWE Best of Best, part 2 of 8: The 10 Greatest Monsters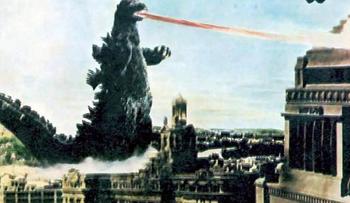 In that second part of the series of slideshows to present you the best wrestlers in each style, it's now the turn of the WWE ring monsters.
They are tall, they are huge, or they are both. They are the giants and the big guys who went on rampage in the WWE rings.
To make it on the following list, it takes more than just superhuman size. It also takes some kind of in-ring abilities, a lot of charisma, interesting mic skills and/or the mystical "IT" factor.
Yes, size does matter, but the greatest monsters are those who can do more than just throwing devastating punches and chops.
To establish the order I considered the overall abilities, the impact, the success and the longevity with WWE.
So, with no more introduction, let's see who are the 10 greatest monsters who inflicted carnage in the last 30 years.
10- King Kong Bundy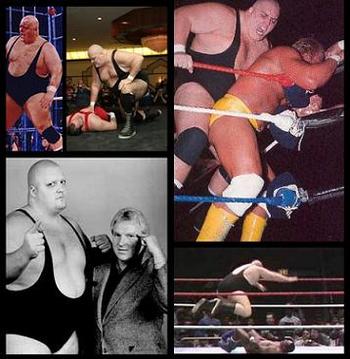 Weighing between 450 and 500 pounds and measuring 6'4", he was the ultimate bully. The big splash and the body slam were his basic moves to put down opponents.
He was so dominating that he used to ask a five-count pin-fall instead of just a three-count. He was also known for squashing very small opponents and midgets making him generating tons of heat.
However, he never won a WWE Championship, and to pin SD Jones in nine seconds for the shortest match in WrestleMania history was his biggest accomplishment.
Bundy was an unstoppable squashing machine but only jobbed against the top draws such as Hulk Hogan and Andre The Giant in his first run between 1985 and 1988.
He came back as a member of the Million Dollar Corporation in 1994-95 and his only notable feud was against The Undertaker.
9- George "The Animal" Steele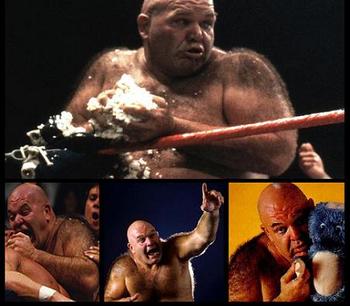 At 6'1" and 290 pounds, he was not the tallest or the biggest, but the fur-covered phenom was one of a kind and he was inducted to the WWE Hall of Fame in 1995.
His trademark was to tear the turnbuckles with his teeth to use the stuffing as a blinding weapon.
He could go from an out-of-control animal heel gimmick to an adorable big plush bear character with ease, always with the same wild attitude.
He is also famous for his weird promos in which he only pronounced one or two words in the middle of his usual incoherent "duhh-dahh" sounds.
"The Animal" won't be remembered for his elegant in-ring style, the big bite being one of his finishers, but those who have seen him in action will always remember the great spectacles he offered.
8- Big John Studd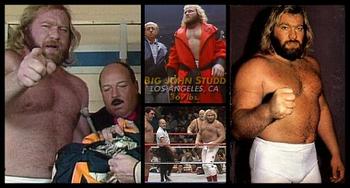 He teamed up with Killer Kowalski, his trainer, to win the WWF Tag Team Championship in 1976 as The Executioners.
After a 168-day reign, the masked partners have been stripped from the Titles when it was discovered a third masked man was used.
Studd then left to come back with the WWF in 1982 to become an instant WWF Title contender. He unsuccessfully faced Hogan for the belt on some occasions then moved on to other feuds.
With a billed height of 6'10" and a weight of 364 pounds, he was not the most agile monster, but under Bobby Heenan's management, he was one of the rare to hold his own against the face Andre The Giant, in a legendary feud.
After his feud with Andre, he joined forces with King Kong Bundy, an other Heenan's protégé. They clearly dominated the low and mid-card divisions, but were only used as jobbers against the top card tag teams.
He left the company in 1986 to come back at the 1989 Royal Rumble to win it, as the crowning of his Hall Of Fame career, never rewarded by a singles championship.
He definitively retired after he was the guest referee for the match between Andre and Jake "The Snake" Roberts at Wrestlemania V.
7- Bam Bam Bigelow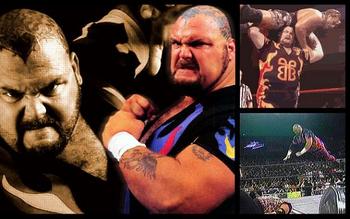 At 390 pounds and 6'3", he was one of the most agile monsters ever. He could perform various high flying maneuvers, including his famous diving headbutt from the top turnbuckle.
He first had a run with WWE as a face in 1987-88. He sided with Hulk Hogan then had rivalries with King Kong Bundy and The One Man Gang.
His 1992-95 stint, as a heel this time, made him look weak particularly with his loss against Lawrence Taylor at Wrestlemania XI.
Following that humiliating defeat, he was fired from the Million Dollar Corporation. He then turned face and had little success when he teamed up with Diesel to defeat Tatanka and Sycho Sid, both members of the Corporation.
His last appearance in WWE was in a losing effort against Goldust at the 1995 Survivor Series.
Despite a not very successful career with the promotion, he was a very spectacular wrestler and had many followers.
6- Vader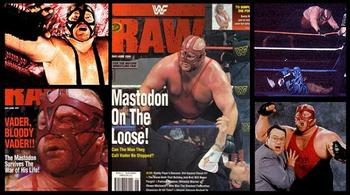 His run in WWE only lasted about two years, but can you imagine a 450 pounds and 6'5" mastodon doing a moonsault from the top turnbuckle?
Unfortunately, and it's a shame, he never won a championship with the company, despite the fact that he was a legend in Japan and a three-time WCW World Heavyweight Champion.
For a monster of his size, he had an impressive arsenal, going from the dropkick to the devastating bearhug and from the top-rope lariat to the chokeslam.
If he had spent more time with WWE, he would be way higher on the list.
5- Big Show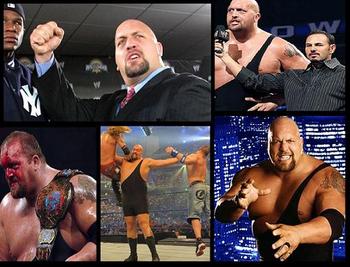 Currently the largest athlete in the world, the 7'1" and nearly 500 pounds monster once was the most devastating force in WWE.
Despite his size, his two reigns as WWE Champion and his seven tag team championships, he is mostly used as an enhancement talent nowadays.
The Big Show is not very agile or quick and he only uses power moves but he can be entertaining in his way, with his gigantic chokeslam and his destructive right punch.
He can also cut good promos and can be really funny with a microphone.
4- Yokozuna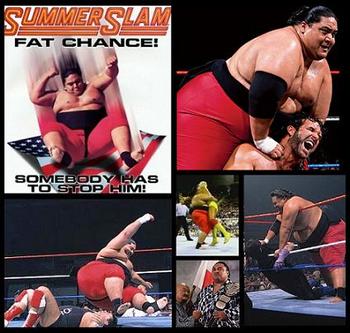 The heaviest wrestler to have ever stepped in a WWE ring was surprisingly agile and resilient for someone with his size.
He was a top villain of the 1990's and he generated heat like only few others with his sumo anti-American gimmick.
During his stint with the promotion, from 1992 to 1998, his weight range was between 525 and 700 pounds. With his unreal weight and his 6'4" height, he squashed countless wrestlers and sent many to the hospital.
After winning the 1993 Royal Rumble, he earned the right to face Bret Hart for the WWF Title at Wrestlemania IX. He won the belt but lost it the same night against Hulk Hogan.
At the 1993 King Of The Ring pay-per-view, he won his second WWF Championship against The Hulkster who made his last appearance in WWE before joining WCW.
After that match, Yokozuna claimed to have ended Hulkamania, then nothing could apparently stop him and he held the belt for 280 days.
The behemoth feuded with many of the greats of the era, including The Undertaker, Vader, Steve Austin and Shawn Michaels. He also won the Tag Team Titles twice with Owen Hart.
3- Diesel (Kevin Nash)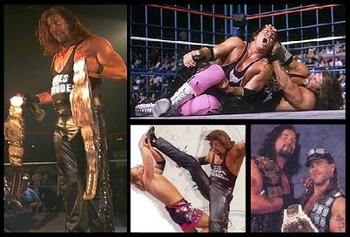 He started in 1993 as Shawn Michaels' bodyguard and, one year later, he received one of the biggest pushes in WWE history.
In 1994-95, there was no wrestler as dominating as Diesel. In less then 8 months, he won the three different Titles available, becoming the third Triple Crown Champion.
After winning the WWF Championship in an eight-second squash match over Bob Backlund on Nov. 26, 1994, he defended his Title at Wrestlemania XI against HBK.
His reign lasted almost one year and he retained against against all comers, including Sycho Sid and King Mabel.
He lost the Championship at Survivor Series against Bret Hart and he turned heel. He left the company in 1996 after feuding, always on the losing end, with HBK and The Undertaker.
In 2002-03, Nash came back with his real name to briefly re-formed the NWO and had little success compared to his first run.
From the top of his 6'10", he was not just an other giant. He had quickness, high endurance and he mastered a good variety of power moves.
He had some of that "IT" factor to compensate his lack of agility and he was very over with the fans.
If he didn't join WCW, he would be a multiple-time WWE Champion and he would have been a top face.
2- Kane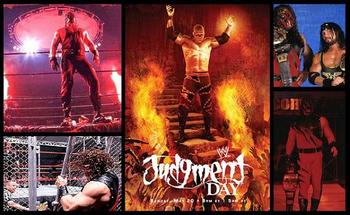 The Big Red Machine portrays literally, for now 13 years, a real monster with his evil character.
At 7 feet tall and more than 320 pounds, he once dominated the WWE like no one and he was the first to physically dominate The Undertaker.
The Big Red Monster is a Grand Slam Champion, a feat accomplished by only nine other wrestlers.
In addition to his singles success, he won the Tag Team Title 10 times, with six different partners. So, to be paired with him meant an almost sure shot to taste tag team gold.
If he was basically unstoppable from 1997 to 2003, he became a jobber to put over others, but he is now back on the right track since he is the current World Heavyweight Champion.
Kane is also very agile for a man of his size. He is relatively quick, he can perform top turnbuckle maneuvers and he can hold his own in a ladder match.
All this, combined with his outstanding strength, make him a top monster.
1- Andre The Giant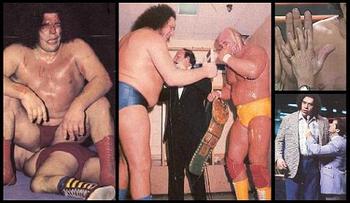 Andre is not on top of the list for his in-ring abilities. In fact, he probably had the worst wrestling skills compared to all the others featuring on the current list.

However, his legendary legacy, based on his 15-year undefeated streak, his amazing size, and his superman strength, is undeniable.

He also had an uncommon huge charisma and had some of the "IT" factor that allowed him to always give unforgettable shows.

He played with the crowds like no other to compensate for his poor wrestling skills.
And more than all that, the Hall Of Famer is the one behind the birth of Hulkamania; if he had refused to put over Hulk Hogan at Wrestlemania III, the WWE Golden Era would have never existed and the pro-wrestling universe would not be the same today.
* * * * * * * * * * * * * * * *
Please comment if you agree or disagree about the order and let me know if I missed anyone deserving a place in the top 10.
I also invite you to check the part one of the series, featuring the best brawlers:
http://bleacherreport.com/articles/449569-wwe-best-of-best-part-1-of-8-the-top-10-greatest-brawlers
Thank you for reading and stay tuned for the third part, coming soon.
Keep Reading