NFL Picks Week 1: The 10 Unexpected Stars Who Will Dominate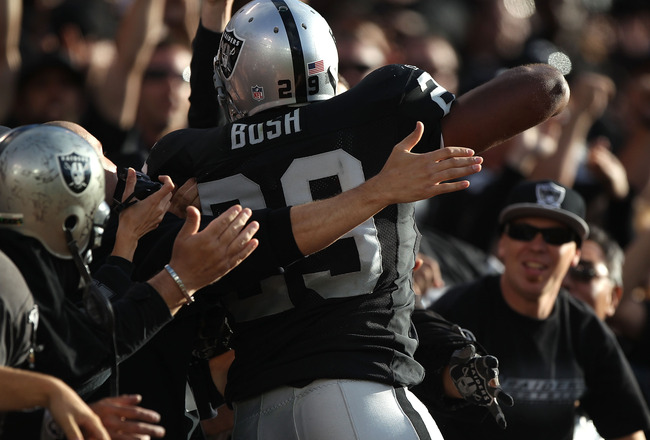 Jed Jacobsohn/Getty Images
It's time to start talking NFL football, and the league will kick off its first regular season game with Brett Favre and company taking on the Saints tomorrow night.
We've come to expect big things from the most dominant players in football, but this season promises to get us talking about many breakout stars.
From wide receivers to linebackers, we will be hearing some new names in NFL talks, and it is exciting to see which players will establish themselves amongst the greats this season.
Here, we'll take a look at the Top Ten Surprise Players who will dominate Week One.
10. Matthew Stafford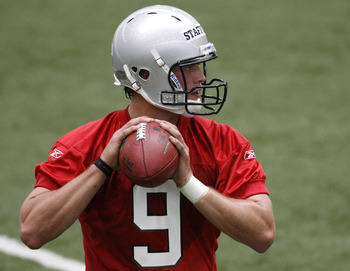 Gregory Shamus/Getty Images
Matthew Stafford had a rough rookie season, playing for a disappointing Lions franchise. He only started 10 games due to injury, and he threw 20 interceptions during these games.
While the Lions are by no means a playoff-caliber team this, they have greatly improved from last season, and Stafford will have Calvin Johnson as a reliable option at receiver.
During the preseason, Stafford's only interception came from a tipped pass, and after he led the Lions to a win over the Cleveland Browns with an injured shoulder, we cannot question his toughness and dedication.
9. Kenny Phillips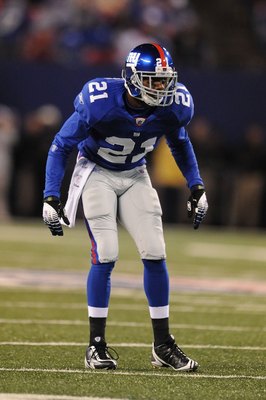 Al Bello/Getty Images
This 2008 first round draft pick put up some good numbers for the Giants last season with 13 tackles and two interceptions in just two games.
This season, Phillips has recovered from last season's knee injury, and he will have the help of former Miami teammate, Antrel Rolle. These two could team up to be one of the most dominant pairs of safeties in the league.
8. Chester Taylor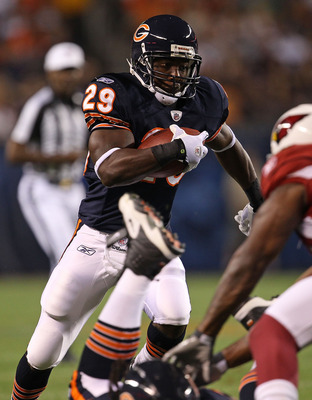 Jonathan Daniel/Getty Images
If given the chance, Chester Taylor can produce. In 2006, he started 15 games for the Vikings and rushed for 1,216 yards and six touchdowns.
He is now with the Bears, and his 213 pounds packed into a 5'11" frame make him a boulder to break through the line.
Lovie Smith may look to this veteran for to run between tackles and gain some serious yardage for the Bears.
7. David Harris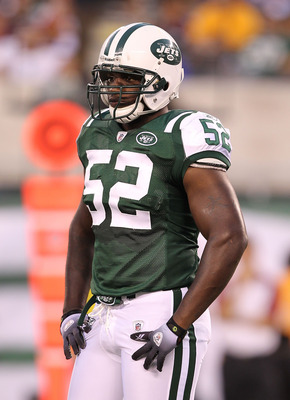 Al Bello/Getty Images
Harris is still young, and with some work, he could become a key player in the Jets' defense. Other teams in the league see promise in the young linebacker as well, with the Broncos willing to trade Brandon Marshall for Harris in 2009.
Harris led the Jets in tackles last season at 127 and 5.5 sacks, and he is easily the second best linebacker on the team.
6. Michael Bush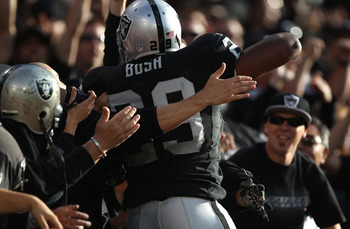 Jed Jacobsohn/Getty Images
Michael Bush has consistently gained responsibility as a running back for Oakland since he joined the team in 2007. What he lacks in speed, he makes up for in strength and size.
Darren McFadden might play with more style, but expect Bush to get more carries this season and make himself known as a reliable, productive running back.
5. Malcom Floyd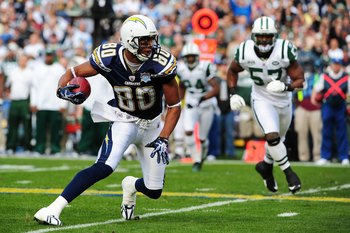 Robert Laberge/Getty Images
With Vincent Jackson out, Floyd will have to pick up the slack for the Chargers' offense. In 2009, he had 45 and 776 yards, and we can expect him to easily up those numbers in 2010.
Floyd has an average of 16.5 yards per carry, and with the Chargers first thought to put the ball in the air, Floyd could become the top receiver on this offense.
4. James Laurinaitis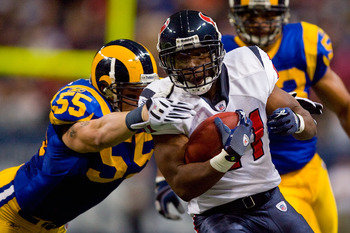 Dilip Vishwanat/Getty Images
As a Rookie, Laurinaitis led the Rams' defense with 120 tackles, and he'll only continue to improve.
We saw what this linebacker did at Ohio State, and he is a hard-working player who will challenge himself throughout the season.
3. Alex Mack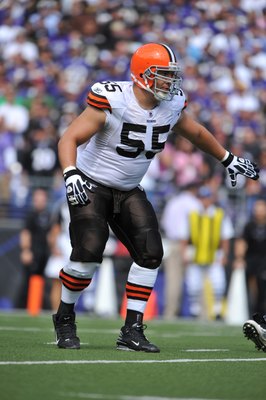 Larry French/Getty Images
The Cleveland Browns need to step up their offensive line, and Alex Mack is just the guy to help them. He didn't miss a snap as a rookie in 2009, and he will team up with Joe Thomas to protect Jake Delhomme.
Mack is the kind of O-lineman that doesn't stop until the whistle blows, keeping his eyes down field to pick up some extra blocks. His rookie debut impressed us, and his second season will amaze us.
2. Mike Wallace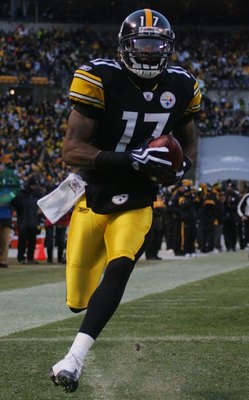 Jared Wickerham/Getty Images
With Santonio Holmes gone, Dennis Dixon and Ben Roethlisberger will be targeting Wallace in his place. As a rookie, Wallace led the league with 19.4 yards per catch, and he will see much more playing time this season.
Last year, Wallace had 756 yards and six touchdowns, and he is guaranteed to get a lot more action this season.
1. Joe Flacco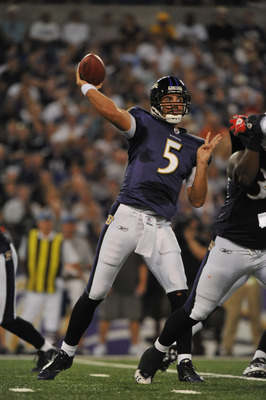 Larry French/Getty Images
The Ravens have built an outstanding team around quarterback, Joe Flacco, and we will see what he is really capable of this season.
Flacco is ready to claim his spot amongst the top quarterbacks in the league, and a solid receiving corps will give him the boost he needs. T.J. Houshmandzadeh had a team-high number of catches with 79 and 911 yards with the Seahawks, and he will be yet another target for Flacco.
Keep Reading