College Football Rankings: Five Teams That Helped Themselves in Week 1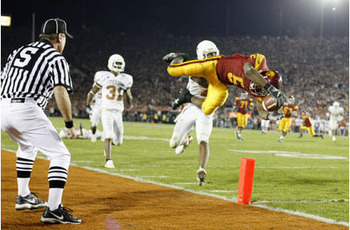 You've been in and out the gym training for this seasons' games. Before meeting the opposing team, you and your teammates are pumped, excited, and ready to hit the field.
Yes, football has the shortest season and allows more leisure time than other sports; however, many people don't realize the work that comes with preparing for a new season. Athletes must endure grueling workouts, follow strict diets, practice plays on and off the court and if there is an injury in the picture that puts the player at a disadvantage.
But, when it's all said and done the hard work pays off.
Without further ado, let's recap the five teams that started the season on a good foot.
Alabama Crimson-Tide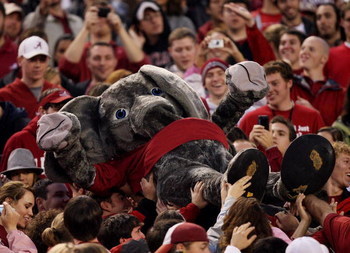 With 100,000 plus fans present, the Crimson-Tide wins its season opener for the 25th consecutive season opener in a 48-3 victory over San Jose State.
As running back Mark Ingram and defensive end Marcell Dareus were not present, the backup players contributed to the game. Ingram's sub, Trent Richardson ran for 66 yards and scored two touchdowns. Also, he had three catches for 46 yards before sitting out the second half.
Other impressive stats include Greg Elroy, who completed 13 of the 15 passes for 218 yards and a 48-yard touchdown pass to wide-open Marquis Maze.
Honestly, this passes were amazing.
Julio Jones, wide receiver, used one hand to grab for a 29-yard touchdown from backup quarterback A. J McCarron early in the second quarter.
He finished with six catches and gained 13 yards on an end to set up the Tide's first touchdown.
The Tide's had seven first-time starters on defense.
Ohio State Buckeyes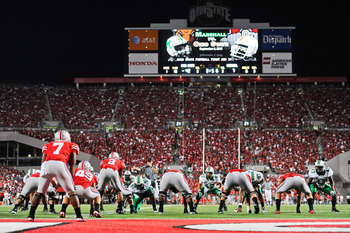 Jamie Sabau/Getty Images
Andre Booker took the opening kickoff at Ohio State's win 45-7 over Marshall Thundering.
He was hit hard by Dorian Bell and Dominic Clarke. The ball came loose and Nate Oliver recovered at the Marshall 22 for Ohio State.
MVP Terrelle Pryor completed 17 of 25 passes for 247 yards and touchdowns covering 6 and 11 yards to Posey and 65 yards to Sanzenbacher.
It was a great night to put on a show for 105,040 fans at Ohio Stadium.
Next Saturday's home game will be a 're-match' of the 2002 National Game title against Miami (FL).
TCU Horned Frogs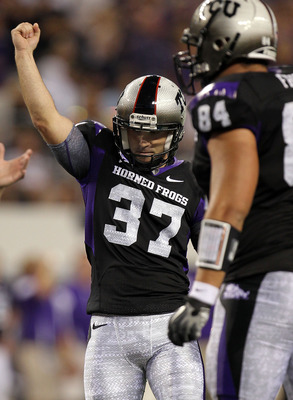 Ronald Martinez/Getty Images
TCU v. Oregon State
The big stage was an opportunity for both teams to display their runs, dives, and touchdowns.
TCU put their best foot forward by running game on the Beavers. While running back Jacquizz Rodgers gained 75 yards on 18 carries, the Beavers finished with just 73 yards. Three of the TCU runners gained at least 64 yards.
Oregon State remained in the game in the fourth because of two interceptions of TCU quarterback Andy Dalton, Lance Mitchell and the other by Dwight Roberson. It was well-executed fake boot that flew 23 yards.
The fake boot set up the second of Ryan Katz's two touchdown passes, which gave the Beavers a 14-7 lead in the second quarter.

Katz, who was making his first career start, made some nice throws -- his touchdowns covered 30 and 34 yards -- but he only completed 9 of 25 passes for 159 yards.
All said and done, it was a solid first start on the road.
Boise State Broncos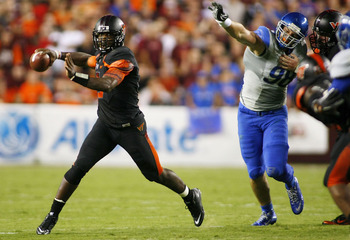 Geoff Burke/Getty Images
This was a close one.
Within the last 38 seconds, the Broncos hit the touchdown.
As Kellen Moore fumbled the ball when hit his own lineman, Virginia Tech recovered at the Broncos 31 and Ryan Williams completed the short scoring with a 1-yard run around the right side. Virginia's Taylor bounded off the field which caused a side bump with a teammate. This led Virginia Tech to its first lead at 21-20.
D.J Harper's speed does not come into question as he broke a tackle at the line and outran the Hokies for a 71-yard touchdown.
Virginia Tech blocked the attempt to score an extra point and it was 26-21 with under 6 minutes left in the third.
The Hokies answered with Chris Hazley wide right on a 51-yard field, but Boise State was flagged for running into the kicker.
If it wasn't for Mitch Burroughs, the Broncos would've disappointed their fans.
He hit three straight passes, and on the third, a 14-yarder to Pettis, Tech's Bruce Taylor was a little slow to hit the receiver out of bounds to tack on more yards.
Iowa Hawkeyes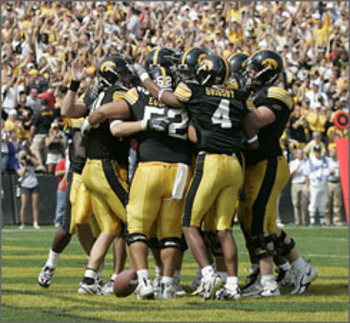 Iowa jumped 21-0 late in the first quarter and were rarely threatened after that.
The Hawkeyes rotated the ball with ease on their first two drives, both punctuated by short touchdowns of 2 and 4 yards from Robinson. Paki O'Meara then returned a blocked punt 42 yards for a touchdown, putting the Panthers in a three-touchdown hole.
Brandon Large, QB, was 13-of-20 passing for just 92 in his first career start for Eastern Illinois (0-1), which totaled six first downs and a measly 157 yards of offense.
Iowa's defense was incomparable against the Panthers.
The Panthers opened with a block on Iowa's defensive end Adrian Clayborn.
Later in the game, Eastern Illinois converted a fake boot, setting up an 11-yard touchdown pass from Brandon Large to Von Wise that made the score 21-7 early in the second quarter.
Robinson, who competited for carries with the suspended Jewel Hampton, scored from 6 yards which gave Iowa a 28-7 lead with 8:39 left in the first half. The Panthers tried some trickery again in the third quarter, but it cost them two points. Large's screen pass in the end zone went behind his receiver and out of bounds, giving Iowa a safety and a 30-7 lead.
The impressive defenders will be playing Iowa State, this Saturday.
Keep Reading