Pittsburgh Steelers Season Predictions: Who Will Have The Best Rookie Season?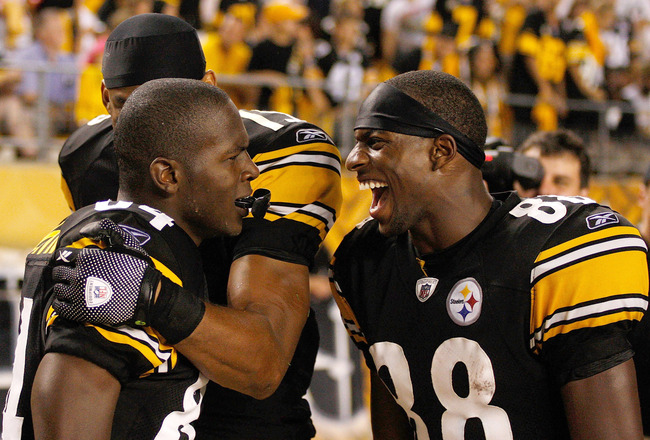 Jared Wickerham/Getty Images
The Steelers acquired many talented rookies in this years draft. Out of their ten picks, eight of them made the roster.
During the preseason, all of the rookies impressed me with their play. They had the Steeler attitude of wanting to succeed and be the best.
Out of the eight rookies, who will have the best season? Read on to find out?
No.8 Jonathan Dwyer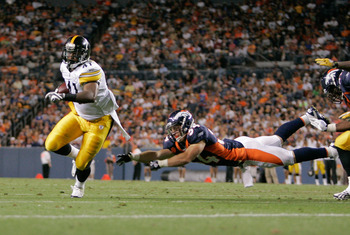 Jonathan Dwyer scores his first touchdown of the preseason.
Justin Edmonds /Getty Images
After reporting to training camp overweight, out of shape, and then missing two games with injuries, many were ready to classify Dwyer as a bust.
He quickly erased all those thoughts from our minds having breakout moments in the fourth quarter against the Broncos and the Panthers. His breakout efforts earned him a spot on the roster.
Dwyer is still learning how to be a pure running back, so don't look for him to get many touches this season. He's currently the fourth running back on the depth chart and will probably only be activated in case of an emergency.
No.7 Jason Worilds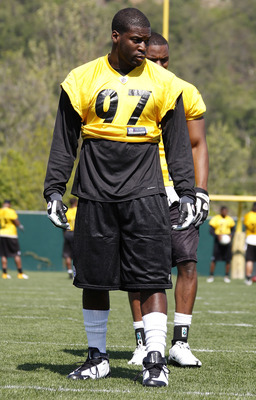 Gregory Shamus/Getty Images
Worilds found his preseason slowed down by injury. Once he got healthy again, he demonstrated enough to the team to make the final roster.
It's likely Worilds will see a lot of time at outside linebacker, but probably not much starting off seeing as he missed significant practice time with an injury.
Once he gets up to speed, look for him to start making some plays for the defense.
No.6 Stevenson Sylvester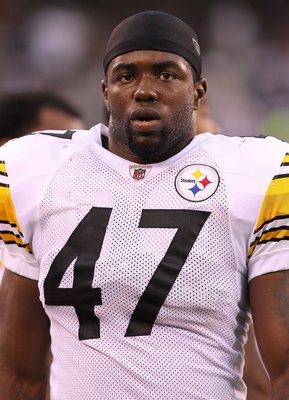 Nick Laham/Getty Images
Sylvester easily had the best preseason out of all of the rookies. At the end of the preseason, he led the team in tackles with 18 and sacks with two.
However, due to the depth at inside linebacker, he might not see much playing time this year. Barring injuries, he will most likely spend most of the season learning from the bench.
Unfortunate for a kid of his caliber, but that's the way it has to be.
No.5 Crezdon Butler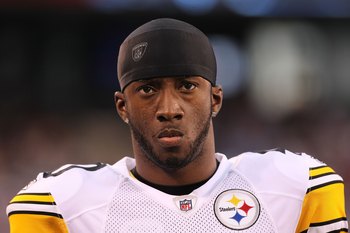 Nick Laham/Getty Images
Butler had a heck of a game against the Panthers. He had one interception, ten tackles, and a few big hits throughout the preseason.
My favorite when he completely knocked a receiver flat on his butt and stood over him like he was going to beat him up. He was probably trying not to draw a penalty for unsportsmanlike conduct.
Butler may see more playing time than expected this year as a lot of our opponents love to pass the ball. Let's hope his strong play can carry over into the regular season because the Steelers will need all of their corners to be on their A-game this year.
No.4 Thaddeus Gibson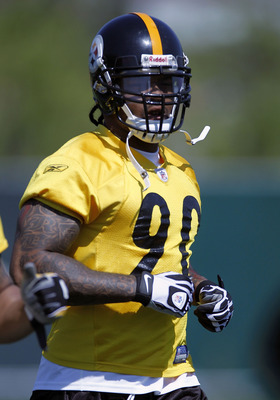 Gregory Shamus/Getty Images
Gibson is already looking like the next LaMarr Woodley. He has one sack and had the potential to have a few more if he knew how to bring the quarterback down.
Regardless, he's shown a real knack for getting after the quarterback and that's just what the Steelers like to have from their linebackers.
Look for Gibson to get valuable playing time this year backing up LaMarr Woodley.
No.3 Emmanuel Sanders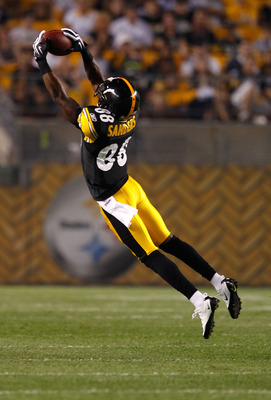 Jared Wickerham/Getty Images
Sanders had a pretty good preseason catching his only touchdown in the last game. He has great hands, speed, awareness, and will be a valuable asset in the receiving corps.
Sanders will most likely see plenty of time on the field as the fourth wide receiver, considering he beats out Arnaz Battle for the job.
By season's end, I can see him being the number three receiver, beating out Randle El.
No.2 Antonio Brown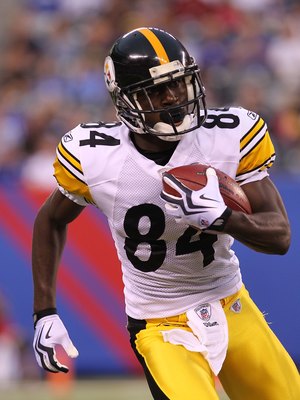 Nick Laham/Getty Images
Brown had the best season out of the rookie receivers acquiring two touchdowns and showing off his amazing speed.
Brown will have more chances than anybody to have a great season as he's the return man and a wide receiver.
Most likely he'll be the sixth receiver on the depth chart, but don't be surprised to see him move up throughout the season.
He beat out Stefan Logan for the return man job so lets hope he lives up to the hype.
No.1 Maurkice Pouncey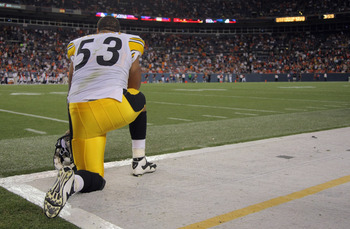 Doug Pensinger/Getty Images
I think this is pretty much a no brainer. Pouncey took the center position and ran with it, forcing Justin Hartwig out of a job.
He was completely dominant throughout the preseason and is easily the best lineman on the team.
Pouncey will be the only rookie starting this year and will be the first under the Mike Tomlin era.
He will look to join the names of Mike Webster and Dermontti Dawson among the Steelers great centers.
Keep Reading

Pittsburgh Steelers: Like this team?