Most Overrated and Underrated Players On The Arizona Cardinals
Christian Petersen/Getty Images
Too bad Matt Leinart is no longer a Cardinal.
I'll leave it up to you decide whether he is over or underrated.
As to those that are on the team, it is difficult to come up with a list like this.
Especially considering the overrated list, considering the Cardinals are not in a big media market, nor do they get a lot of media attention (Leinart aside).
But these kinds of things are always good to think about aren't they?
I mean, you've probably said this to your friends: "He's so overrated."
Now, it's time to put it into writing.
Overrated: Dominique Rodgers-Cromartie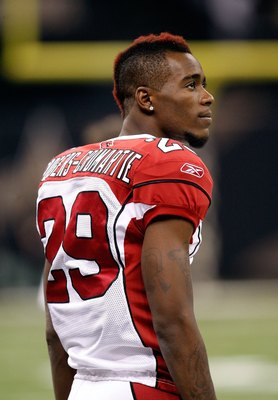 Ronald Martinez/Getty Images
I know I'm going to get some flack for this.
DRC is the real deal. Make no mistake.
But he also is a third year player. He still has plenty to learn.
I was a bit surprised he made the Pro Bowl last season.
Sure, he's one of the better corners in the league, and quarterbacks tend to throw away from him but he still can get burnt.
Just watch the playoff games last year.
All I'm saying is he's no Darrelle Revis yet.
Underrated: Adrian Wilson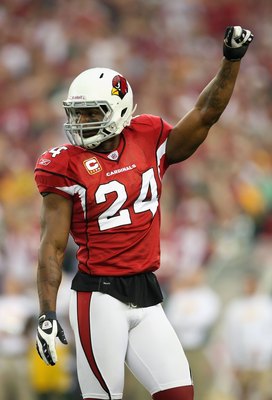 Christian Petersen/Getty Images
Wilson has to be one of the most underrated players in the league.
A couple of CBS Sports writers recently compiled a list of the best safeties in the league.
Adrian Wilson didn't make the list.
I was a bit shocked really.
Wilson is one of the few players in history to have 20 sacks and 20 interceptions in his career.
He's a huge leader for the Cardinals, and might end up staying his entire career in the desert.
If that's not underrated, I don't know what is.
Overrated: Alan Faneca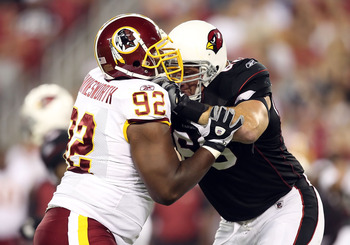 Christian Petersen/Getty Images
Jets fans will probably agree with me.
Faneca is a big name, sure.
And if I came out with an all-decade team today, he'd be on it.
But as to whether he will make a big impact for the Cardinals this year remains to be seen.
Many Jets fans, however, were glad to see Alan go, saying he got beat by pass rushers numerous times.
So, yes, he's a big name for Arizona, but don't expect a Pro Bowl season out of him.
Underrated: Lyle Sendlein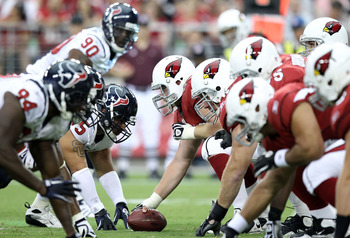 Christian Petersen/Getty Images
As I've said before, Sendlein is one of the more underrated guys in the league.
In the NFL, it's common to change centers every year it seems like.
Sendlein has been a consistent center the last couple of seasons for the Cards.
Ironically, the past two seasons they've experienced a lot of success.
Let's hope the former Texas Longhorn will continue to be consistent.
Overrated: Steve Breaston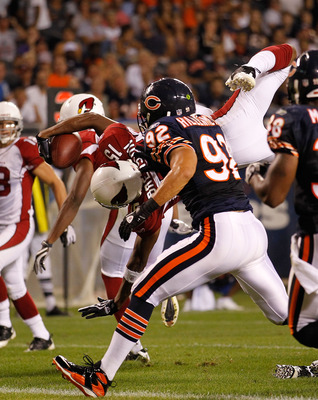 Jonathan Daniel/Getty Images
Easy.
Don't look at me like that.
I have to choose somebody to be overrated.
I like Breaston. I really do.
But I think he benefited from a guy like Kurt Warner, and the presence of Larry Fitzgerald and Anquan Boldin.
Sure, he did well with Boldin out, but he did not look good in the preseason with Derek Anderson, who didn't throw one ball his way.
Let's hope Breaston gets more involved, but I think it could be a long year for Steve.
Underrated: Stephen Williams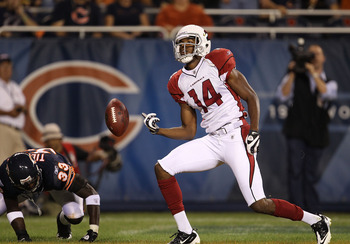 Jonathan Daniel/Getty Images
The undrafted rookie wide receiver was an easy pick for the underrated list.
But it's more than just the fact that he wasn't drafted.
Due to injuries, Williams was thrust into the starting lineup in the preseason.
Most rookies would probably falter. Many rookie receivers, especially undrafted ones, don't make the team period.
Not only did Williams make the team, he was the offensive MVP of the preseason.
He literally caught everything that was thrown near him.
It will probably be harder in the regular season for Williams, but the kid definitely has a future.
Overrated: John Skelton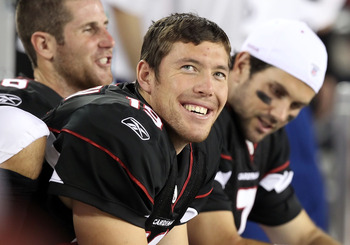 Christian Petersen/Getty Images
Aw, come on!
Don't pick on the rookie!
Skelton is a physical specimen, no doubt about it.
He has the tools to be a great QB in the future.
But right now, I think Cardinals fans are too hyped about a quarterback that couldn't beat out Max Hall, an undrafted QB, for the backup spot.
And if Leinart hadn't screwed up, maybe he wouldn't be on the team.
So don't overhype the kid. He is what he is.
Underrated: Derek Anderson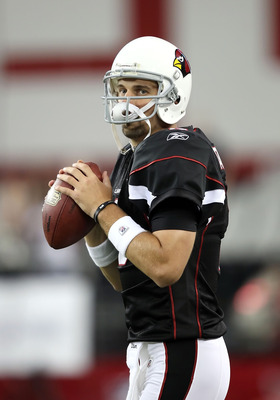 Christian Petersen/Getty Images
Yes, I'm saying it right now: Derek Anderson is underrated.
Sure, I said the same thing about Matt Leinart. I'll admit I was wrong.
But Anderson gets ragged way too much for what he's done the last couple of seasons.
Did anyone think to look at the situation he was in in Cleveland?
He had no consistent running game, no good receivers, and no good tight ends.
You try to play QB in that situation.
And the year he did have all those things? He did pretty well.
He may do the same this year.
Mark my words.
Overrated: Joey Porter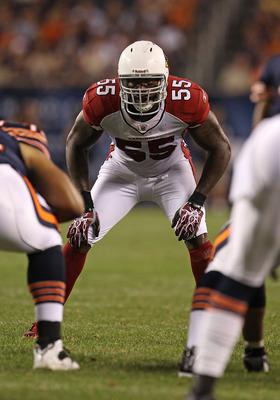 Jonathan Daniel/Getty Images
I think many, including myself, are expecting Joey Porter to be the savior of the pass rush.
Yes, he'll provide a few extra sacks, but will he be able to help the linebacking corps other weakness: pass coverage?
I think that's the issue here.
And by the way, if you are looking for a savior of the Cards pass rush, look at guys like Clark Haggans and Calais Campbell, maybe even under the radar guys like Will Davis and eventually O'Brien Schofield.
Underrated: Gerald Hayes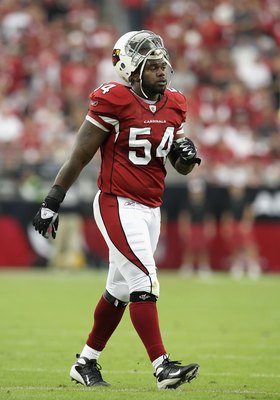 Christian Petersen/Getty Images
It was a toss up between Hayes and Haggans (considering his preseason performance), but I think many people are forgetting how big Hayes is to the defense right now.
Hayes will be out for six weeks, and although I believe Paris Lenon and Daryl Washington will slow the bleeding, Hayes will be missed in the run game.
Many people raved about the abilities of Karlos Dansby, but Hayes was a much better linebacker when opposing teams ran the ball.
Most forget that, but they'll remember it while Hayes is on the PuP to begin the year.
Keep Reading

Arizona Cardinals: Like this team?