College Football: The Top Performers of Week 1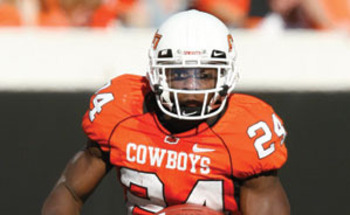 Week 1 of the college football season certainly was filled with its share of top performers.
There was a number of guys running wild for 100- and even 200-yard games. There was also one individual who caught 200 yards worth of passes.
Although the Heisman is given to the best player in college football, you cannot take away the importance of top weekly performers.
This inaugural week, I give you the top five, and most important performances of Week 1.
Janoris Jenkins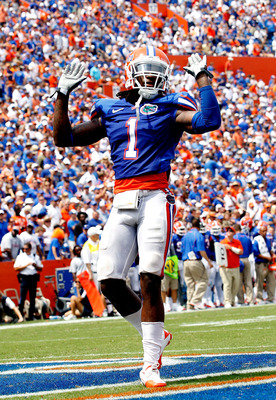 Sam Greenwood/Getty Images
The first spot goes to Florida corner Janoris Jenkins.
While he may not have lit up the stat book, he certainly was a major factor in Florida's sputtering win against Miami of Ohio.
In the second quarter, he returned a 67-yard interception for a score that seemed to get the Gators and their fans going in the swamp after a sluggish start had silenced both the fans and the new Gator offense.
Jenkins also had five tackles in the opening day win.
Why is he on the list?
If it wasn't for that pick-six, maybe Miami moves down the field and scores, putting the Florida faithful in an even bigger hole, and maybe costing them the game.
Austin Pettis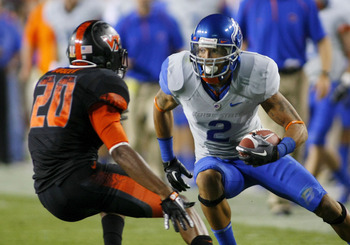 Geoff Burke/Getty Images
If you watched the Labor Day game between Boise and the Hokies, then you already know what Pettis did.
If not, here is the rundown.
Pettis had just six catches, but two of them were for touchdowns, including the game-winner. In addition he also blocked a punt in the first quarter that led to the first score of the game, a touchdown pass he caught.
Kellen Moore may have been the one getting all of the attention when all was said and done, but without Pettis' performance, the Broncos BCS hopes would be dead already.
Daniel Thomas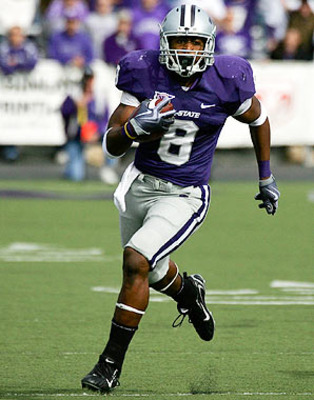 If Kansas State is to get back to form in 2010, Daniel Thomas will be a big part of it.
Thomas was the key offensive player in KSU's 31-22 win over UCLA in their opener, which is a big step to getting back to a major bowl game.
Thomas ran for 234 yards on 28 carries and scored twice.
Why is he on the list?
He is the best athlete on the Wildcat team, and as he goes, so do they.
Daniel Thomas could be a very long shot at the Heisman, but never overlook a guy with the talent and speed he possesses.
Denard Robinson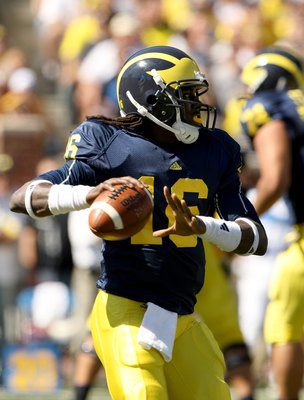 Stephen Dunn/Getty Images
The big question this year for Wolverines fans is if the team can get the old dominant form back, and they will if QB Denard Robinson has anything to do with it.
In a home victory over UConn, Robinson was the perfect example of what a dual-threat quarterback is supposed to look like.
Robinson ran for 198 yards and a score, while passing for 186 yards and a score in Michigan's 30-10 win.
Simply put, when you go for nearly 400 yards, you must be talented, and Michigan may be heading back towards the Big Ten promised land with Robinson at the helm.
Jheranie Boyd
If you watched the UNC-LSU game, then you now know who Jheranie Boyd is.
Boyd and the guys who played for UNC are the definition of heart, as they came back from 20 down to nearly steal one away from LSU.
Boyd stepped-up, and was T.J. Yates' go-to guy as he collected six balls for 221 yards, including a 97-yard score.
Without Boyd, the under-manned Tar Heels do not come even close to making it close against the Tigers.
Honorable Mention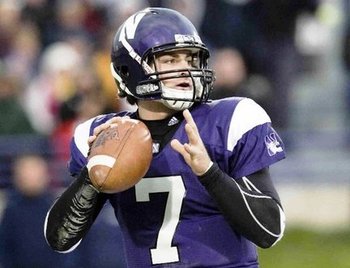 Also on the brink of the top five were several other players.
Kendall Hunter went for nearly 300 yards on the ground and four scores in OK State's win over Wazzu. But it was Wazzu, one of the worst defenses in the country.
Dan Persa was Northwestern's entire offense in their 23-21 squeaker that will go a long way in bowl positioning. Persa threw for 222 yards and three scores, and ran for another 75.
Dominique Davis threw for five scores, including a last play hail mary score as East Carolina beat Tulsa in their opener. Davis threw for 383 yards and also ran for another score.
So who else deserves Player of the Week nominations?
As always, feel free to add your thoughts below, and check back each week for the top players in college football throughout the season.
Keep Reading