Boise State vs. Virginia Tech Football: Live Blog, Stats, Analysis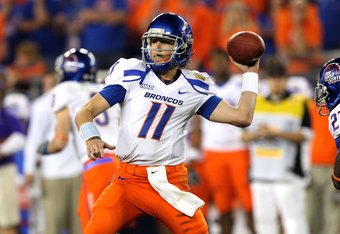 Jed Jacobsohn/Getty Images
7:00 p.m. ET. Hello Ladies and Gentlemen, Featured Columnist Dan Dinunzio here, live blogging the Boise State-Virginia Tech game as we get to see whether Boise State is really a national championship contender and whether the Hokies are headed in the right direction to a BCS Bowl. Join me for the next four hours as we talk everything from X's and O's to Erin Andrews to the blue Smurf Turf.
The excitement level and implications have never been bigger for a season-opener. Can Virginia Tech defense stop the prolific offense of Boise State led by quarterback Kellen Moore?
Virginia Tech has two offensive starts of their own in senior quarterback Tyrod Taylor and star tailback Ryan Williams. There's no doubting the coaching talent in this game as Chris Petersen leads his Broncos against Frank Beamer's Hokies.
Stay tuned as we are less than an hour away from kickoff.
------------------------------------------------------------------------------------------------------------------------------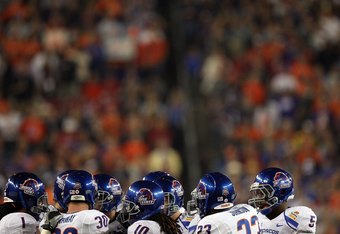 11:41 p.m. ET. Wow, this is all your going to hear now until Boise State plays at home against Oregon State. You have to give props to Chris Petersen and his Broncos. What a way to go on the road across country and leave FedEx Stadium winners. This game lived up to the billing and now college football could have a year-long debate on hand.
Let's see if the Boise State can do the unthinkable and appear in the National Championship Game in January.
11:34 p.m. ET. Tyrod Taylor nearly hits Jarrett Boykins down on the sideline near the ten yard line. But the ball falls through his hands and it is all over.
Let the debate begin folks, Boise State 33 Virginia Tech 30
11:33 p.m. ET. Boise State has stepped up the defensive pressure. Now Virginia Tech has an ultimatum with a 4th and 11.
11:31 p.m. ET. Brett Musburger is absolutely loving the courage and belief in Boise State. Now there is 46 seconds remaining and Virginia Tech faces a 3rd and 11.
11:28 p.m. Boise State strikes again with a 15 yard Austin Pettis touchdown grab from Kellen Moore. Absolutely stunning to watch the Broncos just march down the field with the help of the referees. When Boise State has their backs against the wall they always respond.
Now it is Virginia Tech's turn to respond with 69 seconds remaining in the game.
11:26 p.m. The tide is starting to turn Boise State's direction. They are inside the fifteen yard line after an absolutely ridiculous atrocious call by the referees that was a late hit.
This is just despicable to watch. The referees have done an awful job tonight.
11:23 p.m. ET. Taylor fails to convert on 4th and 8 and Boise State will get the ball one last time and they need a touchdown.
There was a questionable call for a block in the back, but the referees didn't call it. Now Boise State gets the ball at the forty-five yardline and is ready to drive.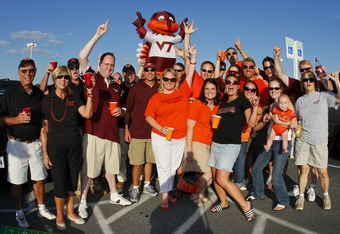 11:20 p.m ET. There is 2:10 left in the game and Virginia Tech has 2nd and 6. They only have one timeout left and one more first down will effectively end the game.
A third-down coming up will decide whether or not Boise State gets one more chance with the ball.
11:17 p.m. ET. Boise State is unable to stop the Hokies on 3rd and 2. Now Virginia Tech has the ball with under four minutes left and the Broncos only have two timeouts.
Another first-down conversion under three minutes and the clock is closing quickly.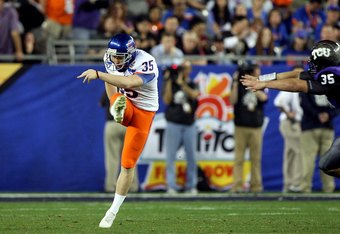 11:14 p.m. ET. Boise State fails to pick up a third and 7 with a little more than five minutes to go. Kyle Brotzman does his job and pins the Hokies inside the ten yardline. With only two timeouts left Boise State needs a quick three and out by their defense. It is officially crunchtime.
11:11 p.m. ET. Kellen Moore comes up big once again converting on third and long. This first down moves the chains and gives Boise hope with only six minutes to go.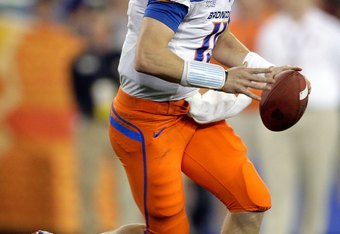 11:06 p.m. ET. Virginia Tech gets stopped on third down, but extends the lead with a 34 yard field goal. Now Boise State trails 30 to 26 midway through the fourth quarter. Time is running out for Boise and the Broncos need to make a drive down the field and score a touchdown.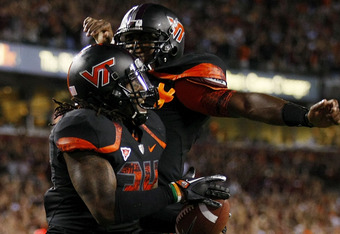 11:01 p.m. ET. Virginia Tech faces a very important 3rd and 8 here with 7:46 left in the game. Boise State needs to stop them from converting because right now everything is going the Hokies way.
Holding them to a potential three points is crucial as the clock continues to wind down.
10:59 p.m. ET. Wow, the back of the hand is not down on the ground. You don't see that everyday. It is not Boise State's night after a dash and scramble by Taylor on that big conversion. The Broncos have to hold Virginia Tech to three points or it could be difficult to come back.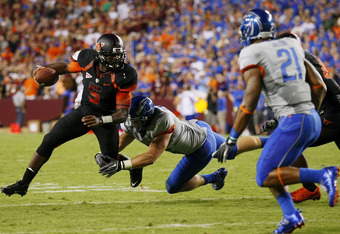 10:55 p.m. ET. Story of the night for Boise State: penalties, penalties, and more penalties. This is absolutely killing them right now. Virginia Tech is looking to put down the hammer as they are driving into Boise State territory.
The secondary of Boise State is really missing Kyle Wilson right now.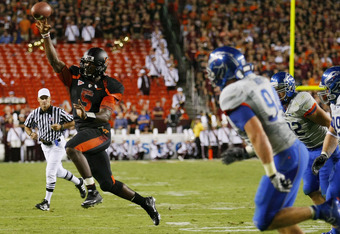 10:51 p.m. ET. Tragic drive there for Boise State come away with no points. A field goal attempt from the left-hash goes wide left. That could not have been any worse for the Broncos.
10:47 p.m. ET. Boise State continues to march down the field. The offensive line has been very physical up-front all night. They have the ball down in the red-zone and are looking to regain the lead in what has become a second-half battle.
10:41 p.m. ET. Tittus Young picks up another huge third-down conversion to move the chains. Young has caught 6 balls for 80 yards tonight. Boise State continues to answer Va Tech's punch.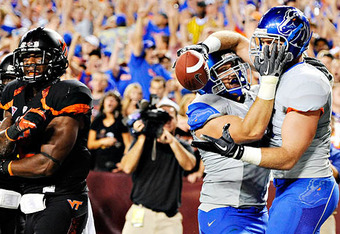 10:35 p.m. ET. Jarrett Boykins catches a 28 yard touchdown after a miss tackle with one-on-one outside coverage. That is six points that puts Va Tech back on top. Now Va Tech is going to go for two to try and extend the lead to a field goal.
Taylor gets sacked in the backfield and limps off the field. Boise State is now down one point. With under three minutes to play in the third quarter Virginia Tech leads 27 to 26.
10:32 p.m. ET. Tyrod Taylor just barely overthrows his wide receiver Davis toward the endzone. He would have walked in for a touchdown. No confidence in the kicker after that miss. Now Virginia Tech is going for it on fourth and 5.
10:30 p.m. ET. Awful lot of penalties being called here. I just predicted a holding call before the play even took place. It was after the pass interference call that resulted in a 15 yard penalty on Boise State.
The referees need to let the boys play a little bit.
10:24 p.m. ET. Darren Harper just took it to the house on 3rd and 1 for a 71 yard touchdown run. A huge lift for the Broncos who were struggling to find any type of movement on offense. This is exactly what Chris Petersen needed from his team.
Bud Foster has to be upset with that big of a letdown after taking the lead for the first time tonight. Va Tech did manage to block the kick but now is behind once again.
Boise State 26 Virginia Tech 21
10:22 p.m. ET. Kellen Moore is 15 of 24 for 123 passing yards with two touchdowns passing. He has been steady all-night and now trailing has to pick it up.
10:17 p.m. ET. Tyrod Taylor is an efficient 8 for 9 with 102 yard passing and one touchdown on the night. Ryan Williams runs it in the endzone for yet another touchdown, and Boise State is trailing for the first time tonight! Last time Boise trailed in the second half of a regular season game was against Hawaii in 2007. This is by far unchartered territory for this Broncos team.
On the road in a hostile environment the momentum has taken a 360 degree turn in favor of Va Tech. The deficit that was once 17-0, is now a lead.
Virginia Tech 21 Boise State 20
10:13 p.m. ET. Kellen Moore costly error results in another Boise State fumble. Va Tech recovers and takes over in Boise territory. This is the best chance yet for Va Tech to take the lead in this game. They need to put atleast three points on the board here.
This article is
What is the duplicate article?
Why is this article offensive?
Where is this article plagiarized from?
Why is this article poorly edited?

Boise State Football: Like this team?