Pac-10 Power Rankings, Post Week 1

Steve Dykes/Getty Images
Week 1 was a disappointing start of the season for some Pac-10 teams but for others, it was a chance to prove how good they might be this season. Oregon for example absolutely hammered New Mexico while their rival Oregon State lost to TCU. Here is my first of many Pac-10 power rankings this season.
On a personal note, I went 10-0 on my Pac-10 predictions this week.
10. Washington State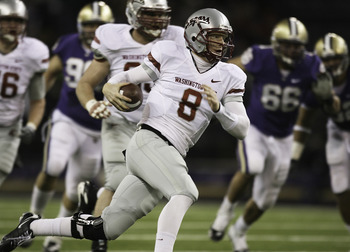 Otto Greule Jr/Getty Images
No one expected Washington State to hang with Oklahoma State but giving up 65 points to a rebuilding offense is still embarrassing. Cowboys' half back Kendall Hunter had no trouble running all over WSU and Brandon Weeden was able to throw 3 touchdowns against a weak Cougars secondary. If there was one bright spot for Washington State, it was Jeff Teul who threw for over 200 yards, 1 touchdown, and had no interceptions.
9. Arizona State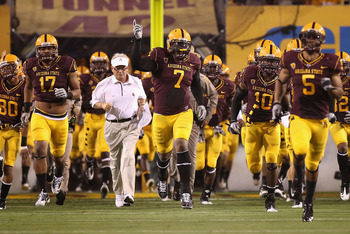 Christian Petersen/Getty Images
Steven Threet made it clear that he will be the Sun Devils' starting quarterback and Cameron Marshall proved how dangerous he can be. Threet threw for 231 yards and 2 TDs against Portland State and Marshall ran for 3 TDs in only 4 attempts. ASU looked good but a 54-9 beating over a school like Portland State is not enough to move Arizona State up in the power rankings.
8. UCLA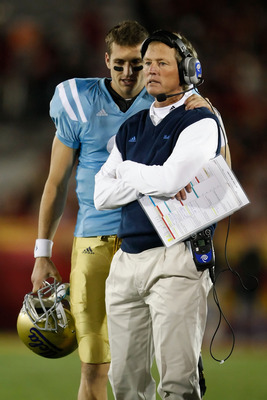 Jeff Gross/Getty Images
Rick Neuheisel keeps bringing in excellent recruiting classes but the Bruins weren't able to beat a middle of the road Big 12 team come Saturday. Kansas State defeated UCLA by a score of 31-22, a game that the Bruins thought would be a good non-conference win for them. But Daniel Thomas spoiled the season opener for UCLA as the KSU running back ran for over 230 yards and scored 2 touchdowns. Now UCLA has to face Andrew Luck and Stanford in an early Pac-10 showdown.
7. Cal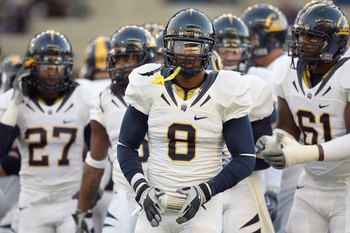 Otto Greule Jr/Getty Images
The Golden Bears looked sharp on Saturday but they were playing UC-Davis, a school not known for its football program. The defense was terrific allowing the Aggies to only 81 yards and Shane Vareen led the offense with 2 touchdown runs. Still, it was hard to really get a good vibe on the Bears considering their opponent so for now, they are staying at number 7.
6. Washington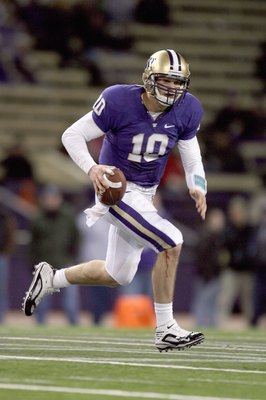 Otto Greule Jr/Getty Images
Jake Locker's Heisman candidacy didn't go down the tube against BYU on Saturday but it sure didn't rise. Locker had respectable numbers, 266 yards passing and 2 touchdowns but he failed to convert on a few crucial 4th down tries, something that Heisman voters definitely will look at. The Huskies have a winnable game against Syracuse coming up before having to face a very tough Nebraska team. Locker is going to have to prove he can win big games like the one against Nebraska in order for him to win the Heisman Trophy this year.
5. Oregon State
Ronald Martinez/Getty Images
I know Beaver fans don't want to hear it but maybe, just maybe, Oregon State should have scheduled only 1 non-conference game against a team that may end up playing for the National Championship this year. Instead, they went with scheduling both TCU and Boise State and to make it harder, both games are on the road.
Oregon State showed that they can hang with a school of TCU's caliber but in the end, it wasn't to be. The Horned Frogs for the most part were able to shut down Jacquizz Rodgers' running attack and Ryan Katz was only able to complete around 1/3 of his passes. I thought going into the season that the Beavers were the most overrated team in the conference and so far, they haven't changed my opinion on them.
4. Stanford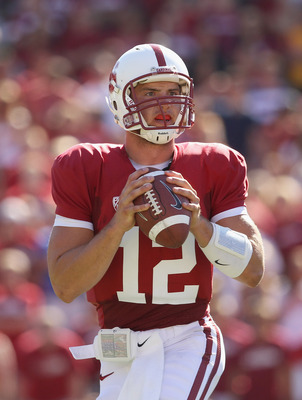 Ezra Shaw/Getty Images
I know Stanford may seem a little low in the rankings right now but they will move up if they can beat UCLA, Wake Forest, and Notre Dame. Week 1 was just a warm up game for the Cardinal and they played as well as we expected them to play. Andrew Luck found the end zone four times and the running game was decent but not terrific. Portland State scored one touchdown on a punt return the other was when Stanford had 2nd stringers playing defense so the fact that Stanford allowed 17 points should not concern anyone too deeply.
3. USC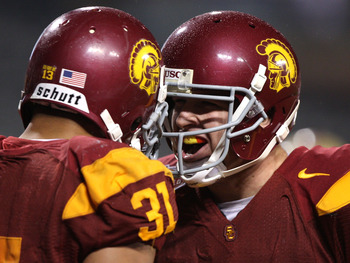 Jed Jacobsohn/Getty Images
I went to sleep when the score of the USC-Hawaii game was 20-3 so I was a little surprised to wake up the next morning and see that Hawaii scored 36 points against the Trojans. USC was in control of the game from beginning to end for the most part but giving up that many points is still a little troubling. On offense, Matt Barkley was good, passing for 5 touchdowns and Marc Taylor ran for over 150 yards on only 17 touches.
2. Arizona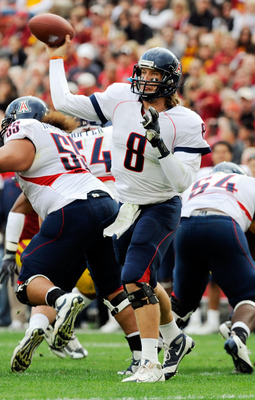 Kevork Djansezian/Getty Images
Arizona being ranked at number 2 may seem a little off to some but outside of Oregon, the Wildcats were the only team that dominated an FBS school the first week of play. Many of you probably watched the game on ESPN last Friday night and were unsure if you were watching the right game because of Arizona's new white helmets (I'm not a fan) but the new retro helmets didn't stop Nick Foles from passing for 360 yards, half of which went to Juron Criner.
Toledo looked lost against Arizona's defense, one that was not predicted to be very good this year. They sure looked good to me as UA kept the Rockets to under 200 yards off total offense and allowed zero points. Arizona plays host to The Citadel this upcoming Saturday before facing off against Iowa in week 3. That is when we will find out how good Arizona truly is but for now, they rank 2nd in my power rankings.
1. Oregon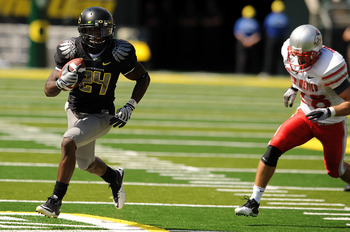 Steve Dykes/Getty Images
I thought Oregon's offense was going to be down this year without Masoli at QB but Darron Thomas will replace Masoli just fine at the quarter back position. It might be the running backs that do most of the scoring this year though. Oregon beat New Mexico 72-0 in large part to back up RB Kenjon Barner who scored 4 touchdowns. LaMichael James was suspended the opening game but the Ducks were fine without him. The defense was also very good, holding the Lobos to about 100 yards total. Right now, the Oregon Ducks look like the best team in the conference but it still very early.
Keep Reading