"Three's Company", The NBA's Best Big Three's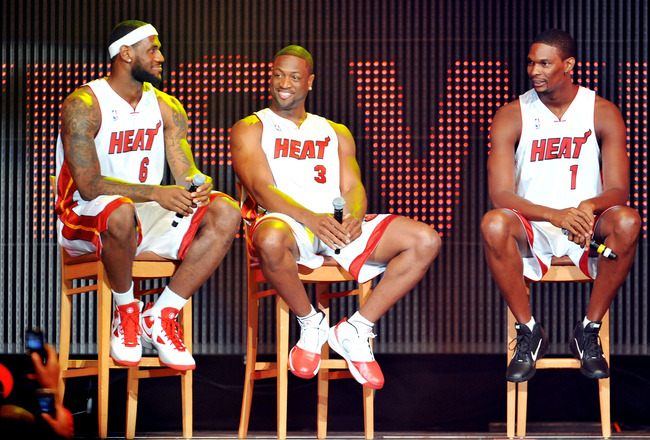 Doug Benc/Getty Images
Today is the day of the Big 3 in the NBA. Team's are clearly trying to mold their franchises around the talents of three key players and more and more team's are willing to implode their makeups in an attempt to put together a tremendous big three like the Celtics and Heat did successfully and unlike the Knicks and Nets of this past offseason. Here are the best big 3's in the game today.
#5 Boston Celtics: Garnett, Pierce, Rondo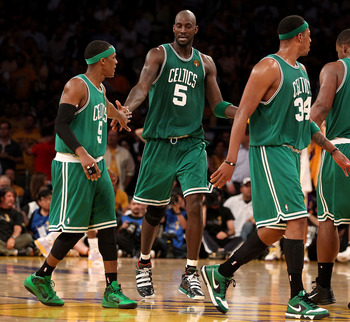 Kevin Garnett, Paul Pierce and....Rajon Rondo
Christian Petersen/Getty Images
The toughest thing about the Celtics was not deciding whether or not to include them on the list. It was deciding exactly who makes up their big 3. Obviously KG and Pierce get spots in the big 3 based on the seasons they have had of late, including winning a title in 2008, and leading an underdog Celtic team into the Finals in 2010 taking the Lakers to game seven. Although Ray Allen had a tremendous game in the finals, he struggled for the most part. It is clear that Rondo has become the future of the Celtics and when Garnett, Pierce and Allen are done donning Celtic green, Rondo will still be leading that team.
Other Key Players: Ray Allen, Shaquille O'neal, Jermaine O'neal, and Kendrick Perkins
#4 San Antonio Spurs: Duncan, Parker, Ginobili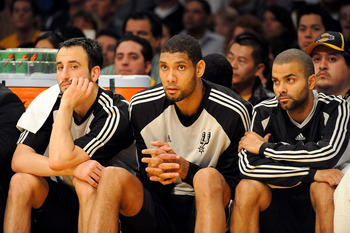 Manu Ginobili, Tim Duncan and Tony Parker
Harry How/Getty Images
Although it may seem that this big 3 is starting to break down a little, they still are one of the most dangerous big 3's in the NBA. These three have led the Spurs to three championships together and although Tony Parker's impending free agency makes it possible that this could be their last year together, there is nor reason to believe they are not championship contenders again. It is clear that age is playing a factor with this group but they are still a solid big three.
Other Key Players: Richard Jefferson, Dejuan Blair, George Hill
#3 Oklahoma City Thunder: Durant. Westbrook, Green
Kevin Durant, Russell Westbrook, Jeff Green
Kevork Djansezian/Getty Images
This big 3 is one of the NBA's best up and coming trios. They led the Thunder to a tremendous 50 win season last year playing in the Western Conference. This big 3 is somewhat debateable because some might say that James Harden could be put in for Green, but it does not really matter considering that Durant is the first part of the trio. This team is clearly on the upswing and it will only be a matter of time until they are contending for a title.
Other Key Players: James Harden, Thabo Sefolosha, and Cole Aldrich (R)
#2 Miami Heat: Wade, James, Bosh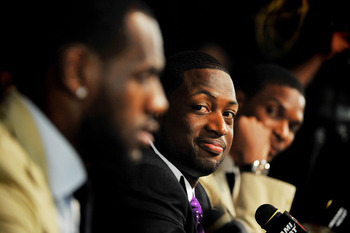 Lebron James, Dwayne Wade, Chris Bosh
Doug Benc/Getty Images
They may be the most hated big 3 in the game, but "Miami Thrice" is clearly going to be one of the best. Although they have not played together yet, it is hard to believe that they will not excel very quickly on the court. It will be interesting to see which one takes a back seat to the others or if they all see a similar drop in offensive production. Whatever is the case, they will undoubtedly compete for a title very soon.
Other Key Players: Zydrunas Ilgauskas, Mike Miller, Udonis Haslem
#1 Los Angeles Lakers: Bryant, Gasol, Fisher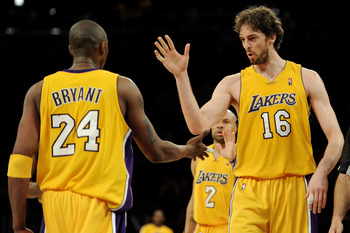 Kobe Bryant, Pau Gasol, and Derek Fisher
Harry How/Getty Images
Even though the Heat could of easily taken this spot, they have not proven anything yet. They have a combined one title between them while this L.A. trio has a total of 12 and while Fisher may not be the third best player on the team he is clearly the floor general who executes Phil Jackson's offense perfectly. This big three is clearly driven by the play of Bryant and Gasol who may be the best 1, 2 punch in the game. This upcoming season will be a chance for this big 3 to get their 3rd title in 3 years.
Other Key Players: Lamar Odom, Ron Artest, Andrew Bynum
Honorable Mention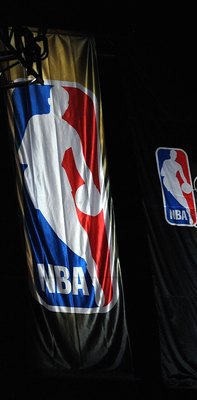 Lisa Blumenfeld/Getty Images
Chicago Bulls: Derrick Rose, Carlos Boozer, Joakim Noah
Dallas Mavericks: Dirk Nowitzki, Jason Kidd, Jason Terry
Orlando Magic: Dwight Howard, Rashard Lewis, Jameer Nelson
Atlanta Hawks: Joe Johnson, Josh Smith, Mike Bibby
Milwaukee Bucks: Brandon Jennings, John Salmons, Andrew Bogut
Golden State Warriors: Stephen Curry, David Lee, Monta Ellis
Portland TrailBlazers: Brandon Roy, Andre Miller, Lamarcus Aldridge
Houston Rockets: Yao Ming, Kevin Martin, Aaron Brooks
Keep Reading