New York Jets Super Bowl or Bust: Five Reasons It Will Be More Bust Than Bowl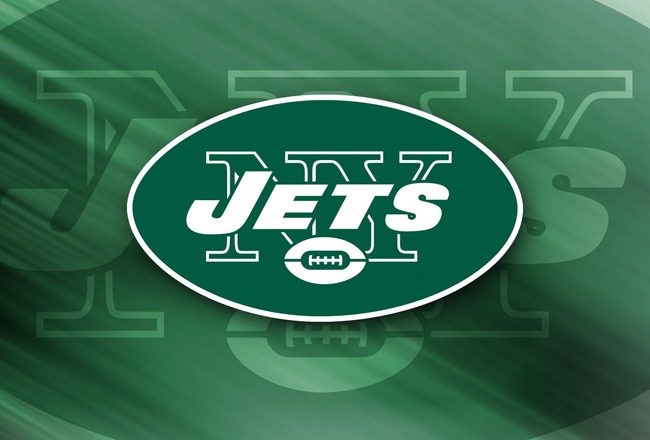 It is no wonder why the media-friendly New York Jets have become a Super Bowl pick by many, before any regular season games have been played.
There is no question that the Jets' roster is very talented. However, like many hyped teams, the Jets are not ready for the title of Paper Champions, which is exactly what they are.
With an average second-year quarterback, unproven running attack, and a questionable locker room atmosphere, the Jets are beginning to get in over their heads.
Mark Sanchez Is Not a Superstar
Al Bello/Getty Images
Calling Mark Sanchez anything close to a superstar is downright ridiculous. Not only did Mark Sanchez throw 20 interceptions last season, he was barely forced to throw the ball because he was able to rely on the Jets' first-ranked running attack and No. 1 defense.
Sanchez attempted fewer than 25 passes in eight games last season, while completing over 60 percent of his passes just three times.
In the Jets' five wins after their bye week (Sanchez started in four of them), Sanchez averaged just over 17 attempts a game. The Jets did not rely on Sanchez's arm last season, they relied on the running game and a stout defense.
While Sanchez does have more weapons, the Jets' running attack will not be as effective as it was last season.
Though it was already said above, Mark Sanchez is not a superstar.
Unproven Running Attack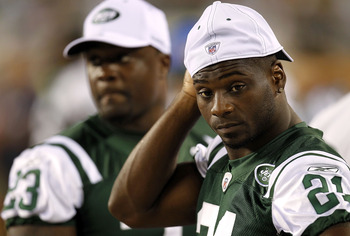 Greene (left) and Tomlinson (right)
Jeff Zelevansky/Getty Images
The Jets last season relied on a heavy dose of Thomas Jones, with a shifty mix of Leon Washington and a power-packed Shonn Greene.
After Thomas Jones and Leon Washington were let go, Shonn Green quickly got the message that he would be carrying the load for this team.
If you combine the rushing yard totals of Jones and Washington last season, the number will be more than 1,700.
If you also look to last season, Greene carried the ball more than 20 times just twice, both in playoff victories for the Jets.
LaDainian Tomlinson was also added to the Jets roster, however, he will likely just be a reserve running back. Tomlinson has averaged fewer than four yards per carry the past two seasons, and had his first season of rushing for fewer than 1,000 yards last year. Both of those stat categories indicate that Tomlinson could be losing a step.
The Jets also released guard Alan Faneca, who is one of the best run-blocking lineman in the NFL. The Jets replaced Faneca with a rookie.
Separated Locker Room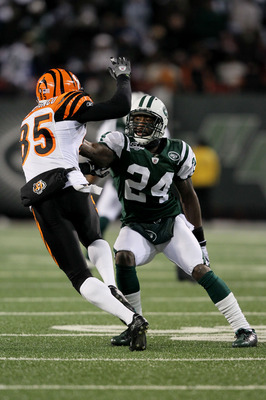 Al Bello/Getty Images
This correlates directly with the Darrelle Revis holdout. Revis holding out throughout the entire preseason shows his teammates exactly where his heart is.
Even after the Jets offered Revis a 10-year, $120 million contract, he still refused and said he needed another $40 million.
First off, Revis needs to stop being greedy. Second off, this does not provide a leadership example for the other guys who have been working hard during training camp.
Revis has shown that he thinks he is more important than the rest of his teammates. He is also not honoring his end of the contract.
Apart from Revis, the Jets have brought in a fairly high number of free agents. Free agents always look solid on paper, but they don't have the same mentality as players who were brought up in that team's system.
Players like Peyton Manning and Tom Brady have played with their teams since they were drafted. They were brought up in the NFL with those teams. They have a bigger connection with those cities and those teams than any free agent acquisition would.
If either of those players changed teams, they would still have a connection to the teams that drafted them, which is why bringing in high-caliber players looks better on paper than it actually is.
Over Hyped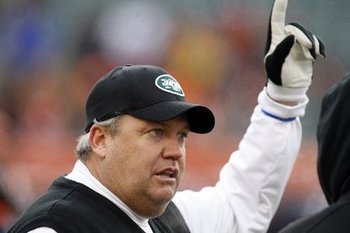 The Jets have been all talk this offseason. They have already guaranteed they will win the Super Bowl, which isn't terrible, if backed up.
The Jets have single handedly put a target on their backs. While they did go to the AFC Championship game last season, there is still debate as to the path they took to get there.
In their last two games, they played a Colts team who rested their starters in the second half, and a Bengals team who didn't open up their playbook because they were playing the Jets the next week in the playoffs.
Teams like the Saints are humble, even through they are the favorites to win. The Jets have just crowned themselves, and the NFL will take offence to that this season. They will get their opponents' best efforts, week in and week out.
Tough Division
The Jets play in a division with the Patriots, Bills, and Dolphins.
The Jets are getting all of the spotlight, while teams like New England can still compete for the division.
As long as the Patriots have Tom Brady, they will be contenders. New England also builds its team primarily through the draft. The Pats seem to stockpile picks every year.
Even if the Patriots have injuries, they have solid depth all around.
The Dolphins have a young quarterback like the Jets do, but they addressed most of their holes this season.
The Bills are in rebuilding mode, but they always seem to be competitive in divisional games.
The Jets will not have an easy road in this division, like they seem to think.
Keep Reading

New York Jets: Like this team?