Maria Sharapova: 15 Reasons The Hottie Won't Win the 2010 U.S. Open
If looks alone could win a U.S. Open, Maria Sharapova would be in the running every year.
However, it takes a whole lot more than good looks to win the U.S. Open—and Sharapova has won it all before.
But 2010 has been a difficult season for one of tennis' hottest stars, and she's receiving a bunch of heat heading into Monday's showdown.
With that in mind, let's take a quick look at 15 reasons Sharapova won't win the 2010 U.S. Open…
Begin Slideshow

»
As of August 30, Maria Sharapova is currently No. 17 on the WTA Tour singles rankings.
And although she is the third favorite to win the 2010 U.S. Open, a tough field stands in her way.
That includes Venus Williams (ranked No. 4 in Aug. 30 WTA Rankings), Kim Clijsters (ranked No. 3), and No. 1 seeded Caroline Wozniacki (ranked No. 2).
That's not to say that Sharapova can't make a push to the championship match, but there's a long and tough road ahead of her.
Sadly, Sharapova hasn't truly regained her dominant form since her 2008 shoulder injury that kept her out the beginning of the 2009 tennis season.
She even later dropped out of the top 100 rankings in May 2009 for the first time in six years, according to Wikipedia, dropping to No. 126 overall.
However, Sharapova ended up completing the 2009 season ranked at No. 14—although it can easily be argued that she hasn't truly shown the dominance she did prior to her late 2008 shoulder injury that forced both surgery and rehabilitation.
Sports analysts around the globe have been putting a lot of heat on Sharapova and her service problems.
And according to many sources, Sharapova's problems with serves could cost her down the stretch at the 2010 U.S. Open.
Granted, she eased her way into the final 16 spots by destroying her opponent today—but the road will only get tougher from here on out.
Does Sharapova have what it takes to dominate a very tough field in this year's U.S. Open, or will the analysts be proven right when issues with serves knock her out of the tournament?
Once again turning to tennis analysts and experts, many believed Sharapova would have a difficult time on the hard courts at the 2010 U.S. Open.
But so far, so good for Sharapova.
After struggling in round one, the tennis hottie has been playing dominantly in rounds two and three of the U.S. Open.
However, it's going to take complete consistency for Sharapova to win the U.S. Open this year—and I have a feeling her feel-good story may soon be coming to a close.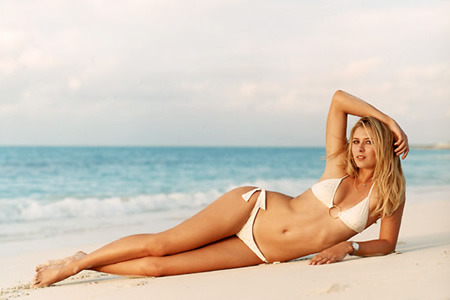 Sharapova was blasted by the media and analysts alike after struggling in round one of the 2010 U.S. Open.
But after dropping the first set, Sharapova battled back to take the next two sets and advance to round two.
In the same breath, her inconsistent play to begin the tournament is an absolute cause for concern as the Russian tennis beauty aims to revitalize her name after last winning the U.S. Open four years ago.
Regardless of coasting into the round of 16, Sharapova and her fans should begin taking things one set at a time.
One of the biggest concerns for Sharapova entering the 2010 U.S. Open was her inconsistent play this season.
Granted, she has reached three finals and won two tournaments in 2010, but her overall play has many people questioning one of the hottest women to ever play tennis.
Boasting a 20-6 overall record this season, people may be turning on Sharapova too quickly—but the fact remains that she must get past some major hurdles if she plans to take home the U.S. Open title this year.
And inconsistency is definitely not the way to attain a U.S. Open victory.
Sharapova will face No. 1 seeded Caroline Wozniacki on Monday in the 2010 U.S. Open.
And although the Russian tennis hottie is 2-0 against Wozniacki, Sharapova will be entering Monday's match as the underdog.
"Every match is different," Sharapova said after Saturday's round three victory, according to the tennis star's personal website, mariasharapova.com. "You don't worry about a match that's, you know, two rounds away when you're going into, you know, a particular match like today.
"You go out and just try to win the match, and you worry about the next one when it's over. Whether it's a tough one or whether it's an easy one, you've still got to win it no matter what the score ends up being."
So, who will win Monday's match between these two?
In the 2010 Wimbledon Championships, Sharapova entered the tournament as the No. 16 seed.
However, she ended up falling to world No. 1 and eventual champion Serena Williams in the fourth round.
Will the 2010 U.S. Open be a different story?
For Sharapova and her fans, there is a hope and desire that the answer can be yes.
But only time will tell; and the Russian beauty's first true test will come in Monday's match against the No. 1 seeded Wozniacki.
At the BNP Paribas Open, Sharapova fell in the third round to Zheng Jie.
And after aggravating a bruised bone on her right elbow, she ended up withdrawing from the Sony Ericson Open and the Family Circle Cup, according to Wikipedia.
In a very brief clay court season, Sharapova lost in the third round of the 2010 French Open to four-time champion Justine Henin, according to Wikipedia.
The loss to Henin marked Sharapova's seventh loss to the Belgian in 10 career meetings.
One of Sharapova's most disappointing losses in the 2010 season came at the Madrid Open, where she lost in the first round to Lucie Safarova.
Hopefully, she can keep that in the rearview mirror as she prepares for the round of 16 on Monday.
But as fans and viewers of the sport, it's absolutely a reason to be concerned about Sharapova winning the 2010 U.S. Open.
Most likely the biggest disappointment of the season, Sharapova was upset in the first round of the 2010 Australian Open in a loss to Maria Kirilenko.
And according to Wikipedia, the loss marked the first time since 2003 that Sharapova had lost her opening match at a Grand Slam event.
Sharapova is 2-6 overall in her career against Serena Williams, while going 3-3 overall against Venus Williams.
Thankfully for Sharapova, Serena Williams isn't a part of the 2010 U.S. Open field; however, the star's sister is—as Venus Williams still stands in Sharapova's way of this year's U.S. Open title.
The next question: will she even get a chance to face Venus, or will she fall in Monday's match?
When battling Kim Clijsters, Sharapova holds a 3-5 overall record.
And Clijsters is still in the fight for the U.S. Open final match, so Sharapova and her fans have plenty to be concerned about when it comes to advancing out of the round of 16.
But regardless of the outcome of Monday's match, Clijsters is still alive in this year's tournament and standing in the way of Sharapova's quest to return to U.S. Open glory.
The No. 1 reason for concern in regards to Sharapova taking home the title of the 2010 U.S. Open champion is a plain and simple fact: she hasn't won the tournament since 2006.
And more often than not in these tourneys, history speaks volumes.
But who knows?
Sharapova could shock the world and win it all again four years after taking home the title.
Then again, she could lose Monday against top-seeded Wozniacki.
Regardless, her play and her beauty cannot be overlooked as Sharapova enters the round of 16—with the Russian hottie returning to the court on Monday, Sept. 6.

*****
Denton Ramsey may be reached via email at denton.ramsey@gmail.com