2010 NFL Preview: Top Storylines That Could Unfold This Season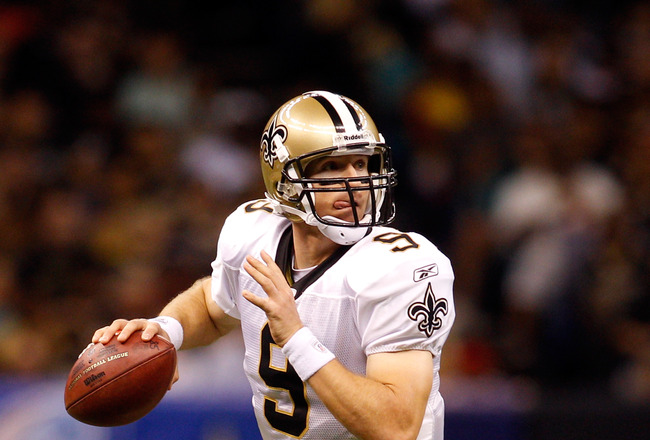 Thank god the 2010 NFL season is only days away. Everyone is getting his fantasy teams ready with bold predictions on the Super Bowl. Some are even planning a first Sunday afternoon party.
So what storylines will emerge from this new season? Will Rex Ryan's Jets make good on his prediction of winning the Super Bowl? How much does Tom Brady have left? Is Aaron Rodgers ready to become the NFL's top quarterback? Are the Saints ready to repeat as World Champs? How will Seahawks coach Pete Carroll do in his first year back in the NFL?
So many questions but we have 22 weeks from Labor Day to February to answer them all.
So let's make some bold predictions.
Don't Be Surprised IF... Chan Gailey May Last Only One Season in Buffalo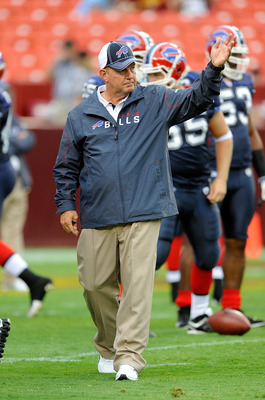 The Bills stink and it doesn't help that they are in a division with the Patriots, Jets and Dolphins. For some strange reason the Bills decided to hire Chan Gailey. This failed NFL head coach might be it's next sacrificial victim.
The Bills have some talented players including Fred Jackson, C.J. Spiller, and Lee Evans. They are not enough to rescue Buffalo from a 3-13 or worse season.
Unless the Rams, Broncos, and Chiefs are even worse this year, the Bills will be on the clock very early come next April's draft.
Prediction: Bills go 3-13; Gailey fired before the final game of the season.
Don't Be Surprised IF... Tim Tebow Starts This Year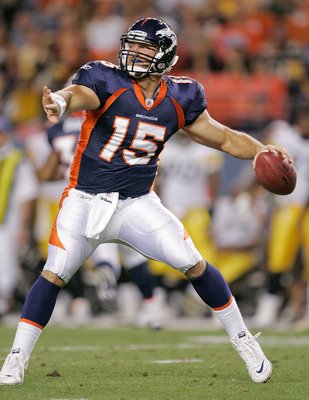 A lot of people thought the Denver Broncos were crazy for drafting Tim Tebow. They had Kyle Orton as their starting quarterback and Brady Quinn as the backup.
The Broncos are a mess. They traded their best player, Brandon Marshall, to the Dolphins. They then lost sacks leader Elvis Dumervil for the year with a torn pectoral muscle. Couple this with Josh McDaniels' eccentric behavior and the Broncos disastrous 2-8 finish to 2009, Denver could be the worst team in the NFL this year.
Tebow already has passed Brady Quinn as the team's number two quarterback. Now all he has to do is pass Orton.
In preseason action Orton has been excellent. He completed 67 percent of his passes with four touchdowns and two picks.
But last year's 2-8 finish saw him throw 12 touchdowns and 11 interceptions.
Orton tossed nine TD's and one INT in the first six games of the year. A 2-8 finish with 12 touchdowns and 11 interceptions may keep him on a short leash.
Tebow has done OK in the preseason, completing 13 of 23 passes for 177 yards and a TD in the third preseason game. Against the Vikings Thursday, it was a mixed bag for the rookie. He fumbled a snap which was recovered for a touchdown and threw an interception. He also displayed a strong arm with a 39 yard touchdown to Matt Willis.
Tebow will be the starter but first he will have to learn from the sideline.
Prediction: Tebow starts by week 8.
Don't Be Surprised If ... David Carr Starts In San Francisco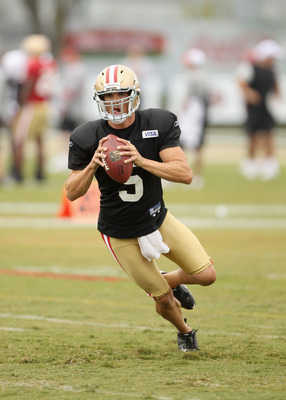 How bad are the 49ers and Alex Smith? Really bad.
I find it amazing that the Niners are a favorite to win the NFC West in many prediction circles. This is what happens when Kurt Warner retires in Arizona and Pete Carroll retreats from the scandals at USC to coach in the NFL again.
Alex Smith is a bust. Let's face the facts. In five years, he has failed to grab the bull by the horns in San Francisco. Last season was his best year, which is not saying a lot, when he completed 60 percent of his passes with 18 TD's and 12 INTs.
That might have been enough for Mike Singletary to give him the starting job. If Smith struggles again expect another number one overall pick bust to take over in David Carr.
In eight seasons Carr is already playing for his fourth team. He was sacked enough times in Houston to consider renaming the "sack" as the "Carr." Sounds good doesn't it? "And he gets hit and 'Carr-ed!' "
The only good thing about the 49ers is Frank Gore, one of the league's best running backs. He averages 4.8 yards a carry and ran for 1,120 yards last year.
Until Smith or Carr play great in the City by the Bay. it will be difficult to see them doing any better than 8-8. Then again 8-8 might be enough to get into the playoffs in the NFC West.
Prediction: Smith starts the season, Carr starts by week 6. Smith returns by week 9. Coach Mike Singeltary decides to quarterback himself by week 12.
Don't Be Surprised If ... Maurice Jone-Drew Leads NFL in Rushing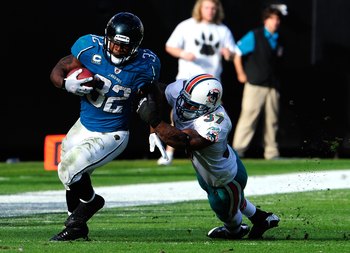 Sam Greenwood/Getty Images
Chris Johnson of the Tennessee Titans is an amazing running back. He ran for 2,006 yards and averaged 5.6 yards per carry. But lately we have seen the league's leading rusher from the previous season take a step backwards a little.
Adrian Peterson of the Vikings led the NFL in rushing in 2008 then dropped back in 2009, LaDainian Tomlinson led the NFL in rushing in 2007 but dropped back severely in 2008.
Therefore, I predict the leading rusher in the NFL will be Maurice Jones-Drew of the Jacksonville Jaguars. No disrespect to Johnson, Peterson, or even Ravens running back Ray Rice, you could make a case for any one of them to lead the NFL in rushing.
Jones-Drew, is small in stature at 5' 7", but is one of the league's shiftiest backs. He is durable as well and will carry the rock over 300 times this season as the Jaguars' lone weapon. Teams try to double him up by putting eight in the box but the diminutive back manages to run underneath them.
I think Rice will run for close to 1,600 yards. He shares goal line situations with Willis McGahee and the Ravens will throw the ball which reduces his carries. Peterson didn't carry the rock as often in 2009 because of the presence of Brett Favre.
Johnson will likely rush for over 1,600 yards as well. But I don't think he can replicate his 2009 season.
Don't Be Surprised If ... The Indianapolis Colts Struggle
Struggling for Peyton Manning and the Colts might mean going 11-5 instead of 14-2. In the suddenly potent AFC South nothing is guaranteed for Indianapolis.
The Houston Texans look like the only team that can match the Colts pound for pound in the division. The Titans with the lethal combination of power and speed from Chris Johnson and Vince Young will test the Colts mettle all season.
Before last season nobody was sure the Colts could be a Super Bowl team. Tony Dungy was gone, Marvin Harrison was gone, and Anthony Gonzalez was lost for the year with an injury.
When in doubt look to Peyton Manning. Manning threw for 4,500 yards and 33 touchdowns last year. The guy is, arguably, the greatest quarterback of his generation and has made names from little-known players such as Austin Collie and Pierre Garcon.
With Anthony Gonzalez set to return, he will only give Manning another weapon. Manning also has Pro Bowlers Dallas Clark and Reggie Wayne as targets.
The concern for Indy, as always, is their running game. Joseph Addai showed signs of slowing down last season and Donald Brown didn't do enough to instill confidence.
The Colts defense is never trustworthy. Last year the Colts were 18th in the league in total defense. They were one of the worst teams against the run with 126 yards per game. In a tough division with the high-flying Texans and a more confident Titans team, the Colts may have a dog fight on their hands this season.
It is worth noting that eight of the last 11 Super Bowl losers have failed to make the playoffs the following season. Only the 2009 Cardinals, 2006 Seahawks, and 2000 Titans got back to serious January football. Only to be ousted as soon as they got there.
The NFL has not seen a return trip to the big dance by a Super Bowl loser from the previous season since the 1993 Buffalo Bills.
Do you believe in history?
Prediction: Colts 12-4, win AFC South.
Don't Be Surprised If ... The Houston Texans Make A Run In AFC South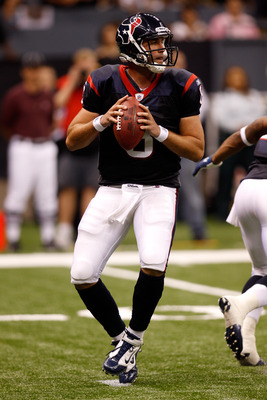 Perhaps it is their time. Look at the Texans and you can see some similarities to the Colts.
Big, strong-armed quarterback. Check.
A top flight wide receiver. Check.
Some nice possession receivers who will give people fits. Check.
Not much of a running game but good enough for a change of pace. Check.
A defense that is shaky even though they have a excellent right defensive end anchoring the unit. Check.
A head coach who doesn't exactly fit in the same sentence as Bill Belichick and Vince Lombardi. Check.
After a 9-7 season in 2009, the Texans should only get better in 2010. Matt Schaub has rounded into a solid NFL quarterback. Shaub has gone from a guy who always had questions about his health (before 2009, he never started more than 11 games in a season) into a potential NFL MVP. Last season Shaub threw for 4,770 yards and 29 touchdowns.
At 6'5" 239 lbs he is the prototypical big time quarterback who could lead a team to a Super Bowl.
At receiver the incomparable Andre Johnson led the league in receiving last year. Johnson is not the only big target for Schaub. Kevin Walter is a nice possession receiver, Jacoby Jones has good speed, and Owen Daniels is one of the leagues rising pass-catching tight ends.
Like the Colts the Texans don't run the ball too well. They were 30th in the NFL last season in running the ball. Arian Foster is expected to get most of the carries. Don't be surprised if it's running back by committee in Houston again.
Defensively the Texans were in the middle of the pack in 2009. Mario WIlliams has developed into one of the games best pass rushers, but the rest of the Texans D is still young. Expect this unit to play better defense in 2010.
The Texans have fire power and should compete for the division title. Especially if the Colts take a step back in 2010.
NOTE: It is not often that a game in week one could shape the entire season, but the Texans play host to the Colts in week one. Should be the best game of the weekend and it's not even in prime time.
Prediction: Texans: 11-5 clinch number five seed in AFC playoffs.
Don't Be Surprised If ... T.O. and Ocho Cinco Behave Themselves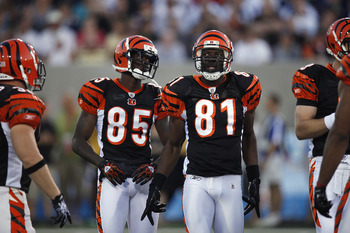 What are the Bengals thinking putting these two guys together? Yikes! Reality TV crazed` stars Chad Ochocinco and Terrell Owens together in Cincinnati sounds like an atomic warhead ready to detonate in the Bengals clubhouse.
When asked how they will co-exist, we hear T.O. call himself Batman. Only to have Ochocinco counter by calling himself Batman.
Last time I checked, Batman's sidekick was Robin. As far as I am concerned, Batman was always better off without him.
Comic books aside, T.O. is a 37-year-old washed up whiner. He didn't have much of an impact in Buffalo. Moreover, T.O is infamous for wearing out his welcome at every stop.
Ochocinco has always been one of the NFL's most overrated receivers. He talks a good game but he can't play it. Two years ago Ochocinco had 53 catches for 540 yards. Last season he got just over 1,000 yards receiving. He was schooled by Jets corner back Darrelle Revis in the playoffs.
Everyone is waiting for this ticking time bomb to explode, or for Carson Palmer's head to explode. I get the feeling T.O. and Ochocinco are determined enough to do what it takes to win, even if it means splitting catches. If that's the case, the Bengals could have a pretty good season.
Prediction: Ka Boom! Bengals 9-7, third AFC North
Don't Be Surprised If ...The Pittsburgh Steelers Make the Playoffs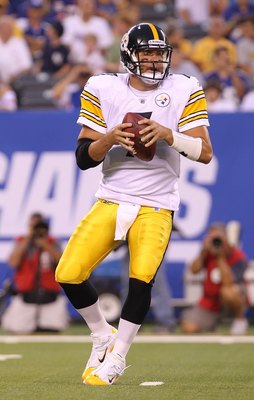 Nick Laham/Getty Images
Commissioner Roger Goodell handed down a ruling in the Ben Roethlisberger case. He cut his six-game suspension down to four for violating the personal conduct policy.
Goodell's decision was going to determine the Steelers season one way or the other. A six-game ban could have been deadly for Pittsburgh. Even though they have great players to surround Dennis Dixon, Charlie Batch and Byron Leftwich, none is Roethlisberger. The Steelers could have easily found itself in a 2-4 hole if the original suspension were upheld.
The Steelers can hope that they are, at the very least, 2-2, when Big Ben returns to action. If they are, expect the Steelers to go on a hell bent ride to the postseason.
The Steelers have a tremendous talent on offense in Rashard Mendenhall, who burst onto the scene last year with 1,108 yards rushing. Receivers are deep with reliable veterans Hines Ward and Heath Miller. Keep an eye out for Mike Wallace, too. With Santonio Holmes playing for the Jets, Wallace will see a lot more passes come his way this year.
The biggest reason why the Steelers will turn it around in 2010 is health. Last year the Steelers played most of the season without safety Troy Polamalu who suffered an injury in week one. Without Polamalu the Steelers defense lacked the intensity that led them to two Super Bowl titles in the last decade. With Polamalu back the Steelers should return to the top in total defense in 2010.
Prediction: Steelers 10-6 Wild Card AFC.
Don't Be Surprised If ...The New York Jets Crash & Burn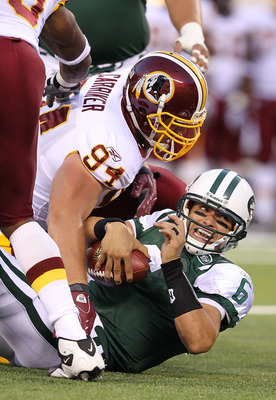 "I want to lead the league in the most (bleeping) wins!" Rex Ryan declared in the first episode of HBO's popular "Hard Knocks."
The Jets essentially won the off-season Super Bowl by keeping themselves in the news more than Snooki and the Jersey Shore.
Signing and trading for high profile talents LaDainian Tomlinson, Jason Taylor, Antonio Cromartie, and Santonio Holmes; TV stardom on "Hard Knocks;" and, more importantly, having resolved the Darrelle Revis situation, the Jets have been everywhere.
Unless you have been living under a rock you know Revis because he could not come to terms on a long-term extension. Revis is arguably the best corner in the NFL and the difference maker for Ryan's defense. Speculation swirled that Revis would hold out for the entire season or until he became the highest paid cornerback in the NFL.
As of 1 a.m. this Monday morning, the Jets resigned Revis to a contract extension. This is a boon for New York. With Revis back in the lineup they will have one of the NFL's most formidable defenses. The question is whether Revis can catch up fast enough to put receivers back onto Revis Island for the second straight year?
The Jets need him right out of the gate to shut down Anquan Boldin, Randy Moss and Brandon Marshall after just one week of practice.
Mark Sanchez has looked plain vanilla in training camp and preseason games. Sanchez is making the same bone-headed mistakes he made last season. He was a putrid 13-for-21 for 139 yards with an interception against the Skins. He was even worse 5-of-10 for 51 yards against Carolina the week before that.
His immaturity has been painfully on display in HBO's "Hard Knocks." This raises questions about whether the kid is really the guy for New York.
The losses of Calvin Pace for six weeks to injury and Santonio Holmes for four weeks due to suspension could make the first quarter of the season treacherous for the Jets.
The Jets have talent. They could be a good team if all works out well. Then again, they are the Jets for a reason.
Prediction: Jets 9-7, tied 2nd in AFC East with Miami.
Don't Be Surprised If ... The Patriots Win AFC East Again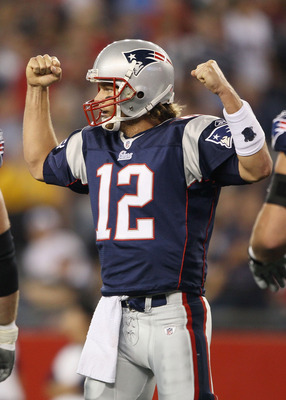 They're too old on offense. Their defense is too young. They miss Teddy Bruschi, Rodney Harrison, and Richard Seymour. Those are the arguments we've heard all off-season.
The Patriots may not be the same team that won three Super Bowls in the last decade and went 16-0 in 2007. But, with Tom Brady, Randy Moss, Wes Welker, Kevin Faulk, and Bill Belichick still in town, it's difficult to envision them not winning the AFC East.
Brady is two years removed from knee surgery and has looked really sharp in preseason. He has completed 78 percent of his passes with four touchdown and zero interceptions.
More importantly the Patriots get Wes Welker back from a devastating knee injury suffered late last season. Welker was not expected back this soon but participated fully in training camp and preseason. He is ready for action. Nobody has more catches in the last few years than Welker who led the NFL with 123 receptions last season. His presence on slants and crossing patterns is key to the Patriots offense and opens up Randy Moss down the sideline.
The biggest concern is the Patriots young defense. They were torn apart by rookie Sam Bradford and the Rams in the third preseason game. This is a very young group that is still learning Bill Belichick's system. He has a nice centerpiece to build around in Jerod Mayo who led the Patriots with 103 tackles. The new Patriots defense will struggle this year but eventually they will have to get it.
Keep in mind Belichick is a master at taking unknown and unproven talent and turning them into Pro Bowl players. Nobody ever heard of Bruschi, Vince Wilfork, Larry Izzo, and Seymour until Belichick created a championship defense. If he gets this group on the same page by late September and the Pats win the division, Belichick will have earned a medal.
The AFC East will be tight this year. With as much depth as the Jets have at every position, there are concerns at running back, on the offensive line at left guard, and the maturation of the quarterback. The Dolphins have a big play-maker in Brandon Marshall, but the Wild Cat doesn't surprise people like it did two years ago.
Prediction: Patriots 10-6, AFC East Champ.
Don't Be Surprised If ...McNabb/Shanahan Have Uneven Season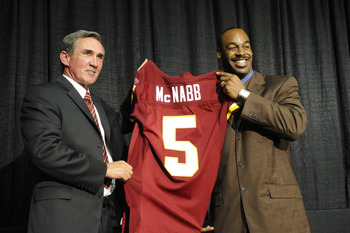 Already there is unrest in Washington D.C., and it has nothing to do with Congress' plummeting poll numbers.
New coach Mike Shanahan has tried to lay down the law in D.C., resulting in a bitter "he said, he said" exchange with nose tackle Albert Haynesworth. Haynesworth didn't show up to voluntary minicamp, because he wasn't happy in Shanahan's 3-4 scheme, creating a bitter schism between the two.
When he did come to camp, Haynesworth was out of shape and was relegated to playing with the second string in the Redskins second pre-season game because of a "headache," a weak fabrication that disguised that Shanahan was not happy with him.
As for Donovan McNabb, he came over in a trade with Philadelphia when the Eagles made it clear that they were ready to move on with Kevin Kolb. Whether a trade in the division comes back to bite the Eagles will be told in time, but, already, there is concern about McNabb's durability. McNabb injured his ankle on August 21 and didn't play in the last two pre-season games. During practice, he has been seen wearing a boot and air cast on that ankle.
Now there is question about whether McNabb will be ready to start the season opener next Sunday night against the Dallas Cowboys.
"I really don't know for sure," Shanahan was quoted as saying in the Washington Post. "That is why it is day-by-day and we just need to see how it goes."
Right now, McNabb's status has improved, and he should practice this week.
You have to feel for the Redskin fan -- their owner, Dan Snyder, goes out and spends huge amounts of money on big name talent and coaches, and every year it results in total failure. If McNabb's injury prevents him from playing, it will be a total disaster, especially when the back-up is named Rex Grossman.
Can you say long season in Washington?
Don't Be Surprised If ... the Philadelphia Eagles Win the NFC East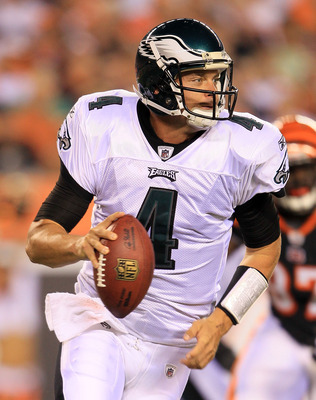 Does anyone really trust Tony Romo and the Cowboys? Really? When a team has Wade Phillips as its coach, and Romo as its quarterback, doomsday is just around the corner.
The Cowboys have been walking on egg shells for years under these two, and this year the Super Bowl is in Dallas. If the Cowboys fail to get home field through Super Bowl XLV, Jerry Jones' head will pop off.
The Cowboys are the most talented team on paper in the NFC East, but their inability to come through in the clutch is a concern.
The Giants have a lot of issues. Their running game is a mess. Ahmad Bradshaw will get the start at tailback, but if he doesn't get it done, they will have to go back to big mouth Brandon Jacobs. Plus, their defense is rebuilding under Perry Fewell. And already there are questions about the durability of players like Keith Bullock and Kenny Phillips.
The Redskins are in the first year of a new coach and new quarterback; it will take time for everyone to get on the same page in D.C.
This opens the door for Andy Reid and the Eagles. Everyone thought the Eagles were foolish to trade Donovan McNabb to Washington, but they may have known something.
Kevin Kolb has been in the Eagles system for a couple years, and when given the opportunity to start for an injured McNabb, he did well. He went 1-1 in two starts and completed 64 percent of his passes with four TD's and three INT's.
With weapons like LeSean McCoy, DeSean Jackson and Brent Celek around him, the Eagles could have one of the NFL's top offenses, and should contend in the tight NFC East all year.
Prediction: It's the NFC East ... anything can happen.
Don't Be Surprised If ... Brett Favre Gets Injured & Misses Game Time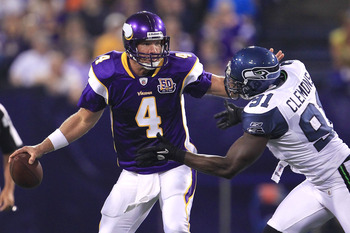 He's already limping around on that bum ankle that he claimed almost "prevented" him from attempting comeback number three, so a devastating injury to Brett Favre would not be surprising.
Favre is 40 years-old, and asking a man his age to suddenly put on a football helmet two weeks before the regular season begins and to be prepared to be smacked around by 300 pound men half his age might be asking too much this time around.
It worked last year, but it won't work again.
Favre's ankle injury is so severe that he was reported limping around the facility after the Seattle preseason game and had to have an injection in the ankle to dull the pain.
If Favre should get TKO'd this season it will end his unbelievable iron man streak which is at 287 consecutive starts, not including postseason.
The Vikings will go as far as Favre can take them, and I am beginning to wonder if Minnesota was too starstruck to realize that they should have cut ties with Favre when he dragged another "I don't know what to do with my life" off-season into mid-August.
Prediction: Favre gets hurt, misses part of the season, and the Vikings spiral out of control.
Don't Be Surprised If ... The Saints Fail to Return to Super Bowl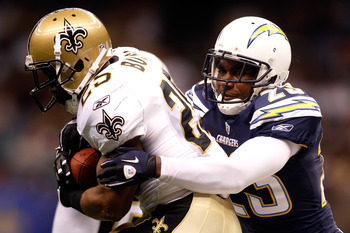 Hell has frozen over; the Saints are defending World Champions.
The Saints have spent much of the last seven months taking bows for their first championship in franchise history; they deserve it, it was an incredible story that really began when Drew Brees and Sean Peyton arrived on the scene in 2006.
Whether it was Sean Peyton's newly published book about building a championship team in Hurricane Katrina ravaged New Orleans; granting interviews with the major media outlets even during training camp; answering questions about how great it is to be world champions; publishing an illustration of Drew Brees on the cover of (dare I say) Madden 2011; recording the NFL Network's annual documentary, "America's Game: The Story of the World Champions," the Saints had a busy off-season talking about last February's Super Bowl.
For the Saints to return to the Super Bowl, they have to put all of the distractions and last season behind them; forget last season and act like they are starting over. The greatest of championship teams who win year in and year out are able to keep the past in the past.
The Saints have enough talent to get back to the Big Show. They have a great quarterback in Drew Brees, and reliable receivers in Devery Henderson, Marques Colston, and Robert Meachem. Their running game is decent with Pierre Thomas and Reggie Bush, and they welcome back Jonathan Vilma and Darren Sharper as the leaders of their defense.
The only real challenge the Saints will face from the NFC South is the Atlanta Falcons with Matt Ryan entering his third year as a starter, and a healthy Michael Turner in the Falcon backfield. It would not be surprising at all to see New Orleans in a fight for the division title with Atlanta through the first couple weeks in December.
Add Atlanta to a growing list of teams who could challenge New Orleans for the conference: Green Bay, Dallas, Minnesota, Philadelphia, the Giants, and Washington all have solid teams heading into 2010.
The bulls-eye will be on the Saints all season. How they handle the pressure of being the defending champions will tell the tale of their season.
Prediction: It's too hard to repeat: Saints 12-4, win NFC South, lose in playoffs.
Don't Be Surprised If ... Packers Meet Ravens In Super Bowl XLV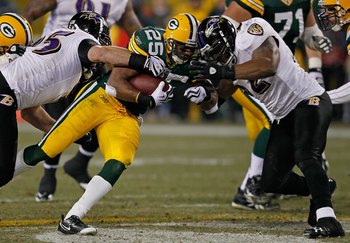 Why won't the Saints return to the Super Bowl? Answer--the Green Bay Packers.
The Packers are loaded from top to bottom. Quarterback Aaron Rodgers threw for 4,434 yards, 30 touchdowns, and seven interceptions. He has turned from Brett Favre's understudy into one of the game's best quarterbacks.
Rodgers will only get better this year. He has tremendous talent surrounding him. Running back Ryan Grant is one of the NFL's most explosive backs. He ran for 1,253 yards last year with 4.4 yards per carry and 11 touchdowns. Grant creates a match-up problem for opponents with his game-breaking speed and deception in the passing game. He's invaluable to the Packer offense.
The receivers are solid and led by veteran Donald Driver and Greg Jennings. This could be a big year for tight end Jermichael Finely in goal line situations.
Defensively the Packers were second in the NFL. They will miss Aaron Kampman off the edge but return leading tacklers Nick Barnett and A.J. Hawk. Veteran cornerback Charles Woodson and leading sack man Clay Matthews complete the defense.
Why do I like the Ravens in the AFC? They are a complete team for the first time in a long time. Offensively, Joe Flacco should be coming into his own. Last season he threw for 3,613 yards. Even though he was underwhelming in the postseason last year, that could change with the addition of Anquan Boldin.
Boldin was not a number one receiver in Arizona, but had over 1,000 yards receiving each of the last two years. With reliable Derek Mason opposite him, the Ravens will be able to throw the ball all over the ball park.
Ray Rice is quickly turning into an NFL star. The former Rutgers University product ran for over 1,300 yards last year. With a solid offensive line and the additions in the passing game, don't be shocked if Rice runs for over 1,600 yards this season.
Defensively, there are concerns. Ed Reed is expected to miss the first six weeks after an off-season hip surgery. The Ravens need Reed's ball hawking ability if they are to win this season. This does not mean the Ravens can't play good defense without him. They have enough talent up front to remain a top 10 D until he gets back. The Ravens hope he can return to form by December.
Bold Prediction: Packers 45, Ravens 17.
Keep Reading