Should Be WWE Video Games and Possible Nexus Spoiler!
Since the dawn of Activision invading homes video games have been an ever evolving source of fun and entertainment.
So what better partner than the WWE who has been making video games for so many different systems for so many years.
Whether you played the Royal Rumble on your Super Nintendo, Rage Cage on your Sega, or were there for the birth of Smackdown vs. Raw on Playstation, if your a wrestling fan you've probably picked up a controller or dropped in a ton of quarters to play as your favorite superstar.
Here's a fun look on some games the WWE should look at maybe creating and capitalizing on.
Batista God Of War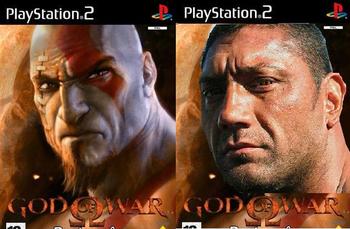 This is an easy one
Run through on your path of destruction as Batista the God of War is a warrior in the service of the Greek Gods of Olympus. A magical spell pulls The Animal to the past where he must take on an array of enemies battling demons, dragons and barbarians. If you become weakened to the point of possible death you may call upon the God of War, Ares and transform (in a very He-Man kinda way) so that you may continue to destroy your enemies.
SUPER Marella Brothers!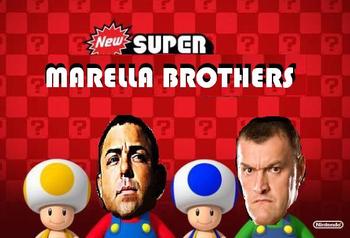 The player takes on the role of our hero Santino and in a two-player game, a second player acts as his Russian brother Koslov. The objective is to race through the WWE Kingdom, survive the main antagonist King McMahon's forces and save Princess Diva The WWE Kingdom Universe has coins scattered around it for Santino to collect and purchase other superstars Merchandise. Special "?" bricks, which when hit from below by Santino, may contain more coins or a championship belts.
The more merchandise you collect, the more appeased King McMahon is, and its then easier to defeat the boss/champ at the end of the level and collect a new Princess Diva.
MORTAL KOMBAT VS. WWE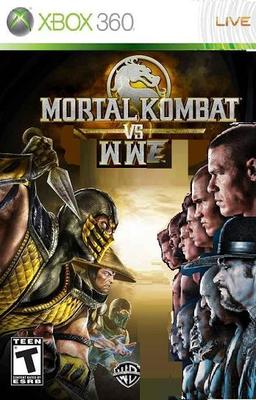 Finish HIM!
In this insane battle of the finishers, Shao Kahn once again invades Earthrealm and is defeated by Raiden. Raiden finishes Kahn by blasting him through a portal. At the exact same time on Earth, John Cena stops Vince McMahon with his heat vision, wait no, I mean a spinebuster, This causes a fusing of the two most powerful evil villians in history and the birth of Vincent McKahn, and causes the WWE Universe and the Mortal Kombat Universe to merge.
The worlds merge, the characters' abilities fluctuate, causing violent "rage" outbreaks (if you have 3 incidents of "rage" however and your a WWE character your suspended) that are actually the feelings of Vince McKahn being fused into the characters.
Because of this, certain characters either gain strength or vulnerability.
This allows things such as the possibility of John Cena loosing a match, and giving The Miz the ability to wrestle.
With each world thinking that the other is responsible for the merger, they fight each other in Mortal Kombat until only one fighter from each side remains.
Family Fighting Fun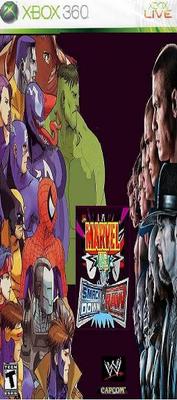 Superhero vs. Superhero
There's really no plot point to this one, but it allows you to choose any Marvel Character and any WWE character and pit them in random no continuity, non bloody family friend battle to the Knock Out.
The team of Cena, Juggernaut and Undertaker is a secret combination that allows you to win each match with the push of only one button.
Its the PG Era meets the Mortal Kombat Era.
IWC feel free to complain
Dead Man Vs Dead Men
Rest in Pieces!
In a world full of zombies only one man can survive and save humanity, The Deadman!
Unlock The Undertaker and pick up weapon after weapon to tear into horde after horde of zombies, and just when your health meter seems to be at the very last ounce, tap A, B, X, A RT, LT, LS, A and you'll sit up with full health defeat more zombies and no one will complain that you somehow have managed to come back from the dead....yet again.
Maybe a magic vase saved you, who cares you've been around since the 80s!
Hidden Screen Reveals Nexus Leader
How did we not see this!
(satire) In this screen shot of WWE Smackdown vs. Raw 2011 we see the Nexus cutting a promo and who is that standing before them being the mastermind of Nexus!
Squid! From Nickelodeon's Rocket Power!
Apparently Squid was tired of being the dork and mocked constantly by the other kids and genetically grew Nexus to take on all the "amazingly lucky and skilled brats" like the current WWE Superstars (his words not mine)
This would also explain while Darren Young was kicked out of the group as he has a similar haircut to Squid and may possibly be dorkier than him.
Boom

boom
Hope you enjoyed
And had a laugh
seriously How didn't we all see the Squid thing.
Blows My Mind!
Keep Reading