Ohio State Football: Evaluating Newcomers/New Starters Performance Against Herd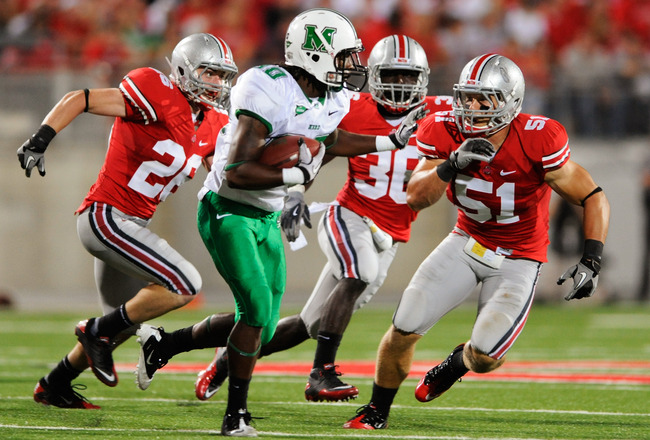 Jamie Sabau/Getty Images
One win down, 12 to go.
With the 45-7 shellacking of Marshall, Ohio State is one step closer in its quest for its eighth National Championship.
There is no doubt that Terrelle Pryor stole the show with his 247 passing yards and three touchdowns, but there were numerous Buckeyes who got their feet wet, so to speak, in the shadow of Pryor's stellar performance.
Five Ohio State starters were starting for the first time as full-time starters, and 19 freshman made their Ohio State debuts.
Some newbies did better than others, but in a 38-point blowout that's expected.
New Starters: John Simon, DT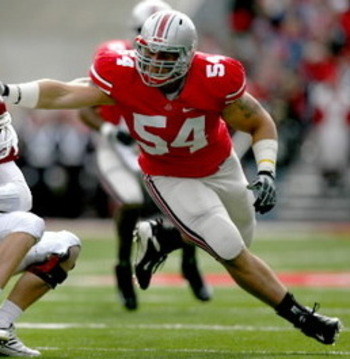 Sophomore John Simon replaced graduated defensive tackle Doug Worthington on the defensive line
Overall, he had nice night against Marshall. He had 2.5 tackles and one tackle for a loss. He was everywhere though, running sideline to sideline and on one play he almost chased down Marshall running back Martin Ward as he ran toward the sideline.
It was a good first game as a starter for Simon, but he could work on getting a little more pressure on the quarterback. It seemed like he was always a step or two late off the ball.
New Starters: C.J. Barnett, SS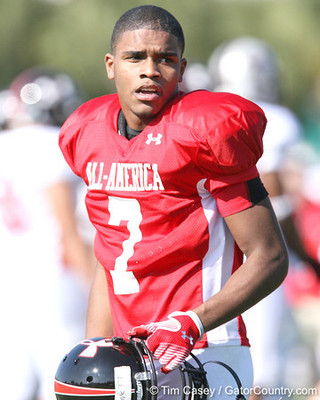 C.J. Barnett was the least experienced of all the new starters. He had only appeared in eight games going into the contest with Marshall and most of the time it was on special teams. He accounted for only four tackles last year as a freshman.
Thursday, he was responsible for two tackles and was constantly hawking to the ball looking for someone to hit.
He played a solid game and looked extremely athletic. Only a sophomore, he might be the next Mike Doss if he continues to grow as a defensive back.
His name wasn't called a lot during the game, but as a defensive back that's not necessarily a bad thing. It usually means you're not getting burnt.
New Starters: Andrew Sweat, LB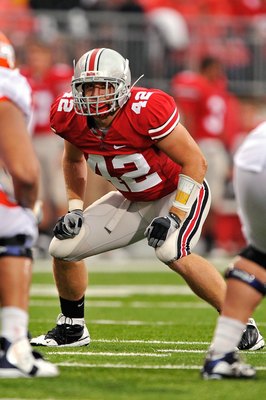 Jamie Sabau/Getty Images
Junior Andrew Sweat was quiet for the most part in the win against Marshall. He had 2.5 tackles.
With senior linebacker mates such as Ross Homan and Brian Rolle, Sweat doesn't have to do too much—just don't screw up. Which he didn't.
Sweat certainly didn't make as much noise as Homan (who recovered a fumble) and Rolle (who had a pick-six), but he wasn't on the field as much as they were.
Ohio State played most of the game in its Nickel defense that features senior Tyler Moeller at the Star position instead of Sweat as the third linebacker in its 4-3.
During the time he was on the field, Sweat had a solid showing in his first outing of the season.
New Starters: Mike Adams, OT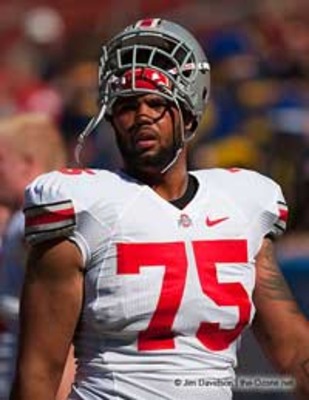 Left tackle Mike Adams had an okay night in his fifth career start. He was named the starter ahead of senior Andrew Miller, but he needs to improve his play if he wants to keep his spot on the first-team offense.
The junior had few "lookout blocks" where he had to turn around and tell Terrelle Pryor to "lookout" for the oncoming defender he had just let slip by, including one that led to the lone sack of the game on Ohio State's quarterback.
He didn't miss his blocks all that often, but against Marshall (an inferior opponent) it was too many.
This week in practice he has to concentrate on getting off the ball and picking his man up, especially with Miami and their speedy defensive ends coming to Columbus next week.
New Starters: Jake Stoneburner, TE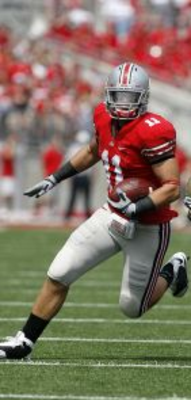 Jake Stoneburner said that he felt he could make an impact in the offense this year given the fact that Terrele Pryor and him are close friends.
On Thursday night, it didn't take long for Buckeyes fans to see the effects of Pryor's and Stoneburner's friendship. The first offensive play for the Buckeyes was an 11 yard pass from Pryor to Stoneburner.
Stoneburner caught another two passes and ended the game with three catches totaling 41 yards. The sophomore had more catches in this game than he did all of last year (two).
The Buckeyes are in need of a No.3 receiver behind DeVier Posey and Dane Sanzenbacher. Perhaps Stoneburner can be the "No.3" they're looking for.
Stoneburner didn't disappoint against Marshall, backing up his words. A rare good receiving performance from an Ohio State tight end under Jim Tressel.
Newcomers: Redshirt Freshman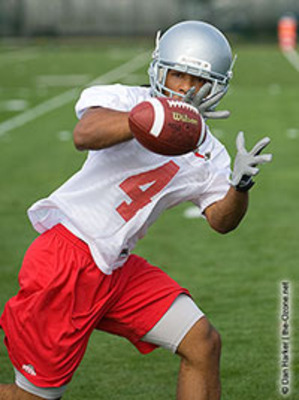 Jaamal Berry
Thirteen redshirt freshman played in the game against Marshall: QB Kenny Guiton, RB Jaamal Berry, WR Chris Fields, WR Tony Harlamert, OL Jack Mewhort, OL Corey Linsley, DT Adam Bellamy, DE Melvin Fellows, LB Scott McVey, LB Dorian Bell, CB Corey Brown, DB Jamie Wood and DB Dominic Clarke.
None were more impressive than Jaamal Berry who ran for 80 yards on seven carries and led the team with a 116 all purpose yards.
While Berry's performance was definitely impressive, no redshirt freshman had a bigger impact on the game than Dorian Bell did.
On the opening kickoff Bell forced a fumble by Marshall kick returner Andre Booker that was recovered by Ohio State and led to the Buckeyes first touchdown, less than two minutes in.
Newcomers: True Freshman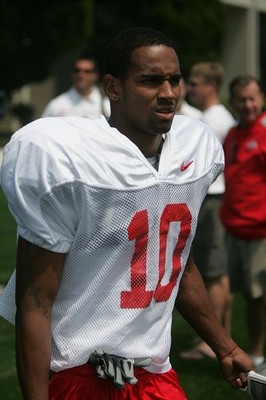 Six true freshman saw the field in Ohio State's 2010 opener: RB Carlos Hyde, WR Corey "Philly" Brown, OL Andrew Norwell, DL Jonathan Hankins, DB Christian Bryant and P/K Drew Basil.
True freshman Drew Basil saw the most game time of any true freshman. He had eight kickoffs and even attempted a 52 yard field goal that was blocked and returned for a Marshall touchdown—the only low point of the night.
"Philly" Brown showed potential as a punt returner with an 11 yard punt return, but he dropped a pass right on the numbers as a receiver. Most likely do to first-game jitters, but come on "Philly," you got to catch the ball before you run.
All in all, the victory over Marshall was a solid one for Ohio State. The starters looked great and Tressel got his young guys some experience.
Now, all focus is on "The U."
Keep Reading

Ohio State Football: Like this team?