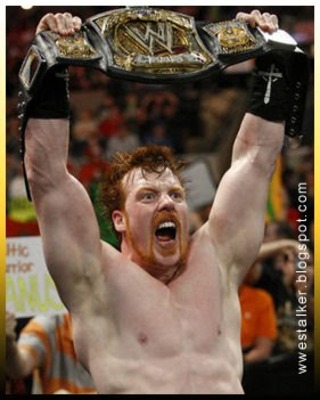 Sheamus, Kane, The Hart Dynasty, The Miz, Dolph Ziggler, Melina and Lay-Cool, all have one thing in common.... Their Champions.
The Miz picked up the U.S Title suprisingly during a Fatal 4 Way preview match for the PPV of the same title. Defeating then-champion R-Truth.
Dolph Ziggler controversially won the Intercontiental Title against Kofi Kingston due to the interference of valet Vickie Guerrero.
Lay-Cool are not actually the Women's Champions but have themselves co champions and they achieved this feat by being granted the titles due to Beth Pheonix's injury.
Melina came back from injury this summer to become once again the Divas Champion by defeating Alicia Fox.
The Hart Dynasty battled The Miz and then heel The Big show for the Unified WWE Tag Team titles in a successful battle in which brought them the titles but they would no longer be recognised as Unified Tag Champions, New belts were brought in and they are now known as WWE Tag Team Champions.
Now all these feats are clever but not the champions I would have in my WWE so here I will go through my choice of Champions here in WWE.
U.S Champion Candidates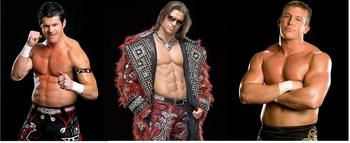 Evan Bourne
The high-flying and risk taking Bourne has been given rarely a push in WWE. Possibly one of the most underrated superstars in WWE right now he really deserves and is long due title gold.
Now I wouldn't really want to push him straight into the world title picture because to me that's not in his character. Although he may seem fast paced in the ring his superstar is seize the moment style. So Bourne would certainly fit the bill for your U.S Champion. Over the years we have seen iconic superstars hold the U.S Title such as, Ricky Steamboat, Eddie Guerrero, Stone Cold Steve Austin and Ric Flair who have all been to the top and used this championship to shoot themselves up their.
If Bourne is to hold the WWE Title in the coming future to get title experience for me the U.S Championship is already fit for his waist.
John Morrison
The Guru of Greatness, has been on quite a journey in the WWE. Winning the competition known as Tough Enough was the start of a career that contains such prestige and legacy but it doesn't contain one thing, The WWE Championship.
If you are going to be written into the history book of WWE you have had to of held the World titles and that is something this amazingly talented superstar hasn't been able to achieve yet. Oh but it is not his fault at all because he has everything prepared to become WWE Champion, I mean even his mic skills have improved as of late.
But now I don't see the World Title coming soon for Morrison so he just needs a title that would have to be the U.S Title. Morrison is a magnificent competitor with such a unique style but for me I prefer him heel. He could be the U.S Champion that really makes the title more prestigious.
Ted Dibiase jr
The son of the legendary Million dollar man has rose to fame here in the WWE. Becoming World tag team champion with Cody Rhodes it looked as if this guy was the future. However plans seemed to be put on hold when Ted was only working dark matches and matches in which The Great Khali was decimating him. Although he has the prestigious Million dollar title around his waist it is not eligible right now in the WWE so he needs a Championship he can defend at a PPV.
This is where his new valet Maryse comes in. Maryse who is a former Divas champion is the new manager of Ted and they are known as the million dollar couple. Money comes big here in the WWE and It will probably have to be what comes into play for Dibiase to pick up his first singles title.
He needs a title unlike Bourne and Morrison who have already proven themselves. Dibiase is probably the most questionable superstar in WWE. What is next for the young talent?
U.S Champion - Evan Bourne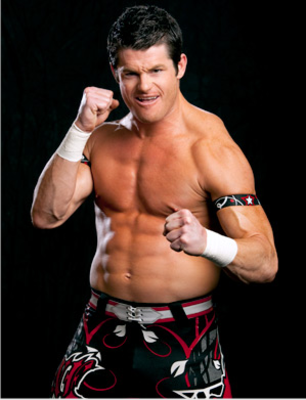 EVAN BOURNE
I know I said Dibiase needs the title more than Bourne but don't you just want to see this superstar with title gold? The real match that changed my view on him was at Fatal 4 Way when he took on Chris Jericho in what in my eyes was the match of the night with Bourne picking up the victory against Y2J and if your competing against Jericho, the first ever unified champion then you know your in for a big future.
Evan Bourne of course started off on ECW the ECW in which it was about pushing young talent onto the bigger shows just like Sheamus. Now Bourne pulled out a match that soon had the WWE eyeing him out as a top upcoming superstar after his match against John Morrison.
He was soon shipped onto Raw and given dark matches to work. He then faced superstars with bright futures such as Primo Colon and Zack Ryder on Superstars. His in ring ability soon took him big time when he was facing guys like Jericho and Sheamus. Losing most of the time but putting on an unbelievable performance.
I would love to hear Justin Roberts announce:
' Your new United States Champion, Evan Bourne '
Intercontinental Champion Candidates
Cody Rhodes
The biggest gimmick change to date not just entrance wise but his whole superstar package has changed. Old entrance was the common Cowboy type theme and now its an electric hot pop tune telling us how hot he is, now im not one to rate guys by looks but in the ring he is hot ability wise.
A former World Tag Team Champion was given a draft move back in April in which he changed his whole look and is now known as... ' DASHING '. Dashing he may be but recently he hasn't performed that much in the ring. Now, the whole storyline is that him and Drew Mcintyre against Christian and Matt Hardy two legendary fan favourites. They are the young stars just getting started here in the WWE and so Cody's perfect way of starting for me is either another Tag Team reign or the Intercontinental Title. For me his whole gimmick evolves around himself and that is why Im going for The I.C Title.
He may not be amazing in the ring but man how I like his new gimmick its Dashing in my opinion.
Alberto Del Rio
Has had two Smackdown's and one Raw appearance and is already being talked about. He is so impressive that I can't resist but not put him on this candidate shortlist. We know he is all about his heritage and how his background back in his homeland has given him the skills to fulfil his destiny's blah blah blah. Enough of the talking and more about the wrestling and that is something that shocked me about Del Rio.
I'd thought of him as being your usual cocky cheater but no he actually is one of the most promising superstars in the locker room right now. His entrance gets me excited for me its a mix between, Eddie Guerrero's (RIP We miss you!), JBL's and Randy Orton's entrances back in the 2005 WWE.
Alberto Del Rio is a superstar that the WWE have longed for he is unique and for that he has to be a candidate for the I.C Title.
Jack Swagger
Now, I know what you will all be saying he should or is in the world title picture and my answer is how? How can you put him in the world title picture if The Undertaker has returned? Do you know how many Kane vs Taker matches we are going to see how is Swagger going to come into the equation. That is why I would like to see Swagger with the I.C Title in fact I'd rather see him hold this title than the World title my reason...
Long reign.
When he won the MITB briefcase at Wrestlemania he cashed in straight away at the next Smackdown on Jericho then World Champion and became the new World Champion. Swagger beat off Randy Orton at Extreme Rules, The Big Show at Over the Limit and well that was it. The end of his title reign was over due to Kane's storyline with The Undertaker only getting started. He was just pushed into the background.
That is why Swagger needs the I.C Title just to continue his strong emerging character. Not rivalries with MVP that's nonsense.
Intercontinental Champion - Alberto Del Rio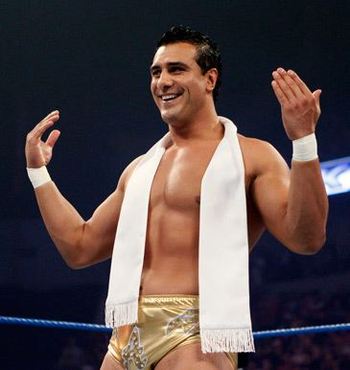 ALBERTO DEL RIO
This would have the whole world talking and probably determine the future of this amazing superstar to be a good one. Putting a title around the waist of such a heel like him would work wonders because it would bring more heat towards him.
This would basically state, ' He will be a future world champion ' If they did this that statement would fit it. Just imagine Del Rio as champion he would be able to cause so much mayhem and ignite his future.
If he did win it then Ziggler would have to lose it to a superstar my pick would be Rey Mysterio. That rivalry is already coming into play on Smackdown and just imagine the rivalry over the I.C Title.
I hope to hear him announced I.C Champion but how would that sound in his personal announcer's language? I frankly don't care just hope he becomes champion.
WWE Unified Womens Champion Candidates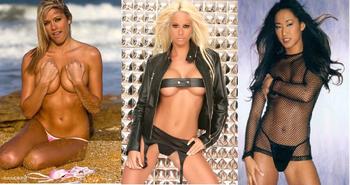 Kelly Kelly
Now I have no doubt who I think will win at Night of Champions, Lay-Cool and my reason is they both then hold a title but less of Flawless!!! and more about the candidates because the first is someone who has given so much to WWE and never got the amount of hard work she put in praised with a title or a big push.
People know her by now she is Miss Kelly Kelly, aka. K2. She is a former member of the stable on ECW Extreme Expose in which they would dance around looking real hot. Then she was written onto Raw and performed solo dances and didn't get much ring action.
Then, she worked so hard and began to look impressive. Then the whole Test saga for her to recover from and all this and unbelievably she hasn't won a title. This is a crime in my eyes. Layla put before Kelly Kelly man that is so wrong. So if she gets a title she deserves this one by defeating Layla NOT Michelle Mcool in a rivalry which maybe re-unites the two (Kelly Kelly and Layla) and forces Michelle on Raw.
Gail Kim
This is one of the best female wrestlers in the world and needs to re-claim that feat and re-build the divas division. Okay, maybe she isn't the hottest but she is the best along with Melina in-ring competitor on Raw.
Now, I know what your saying if Lay-Cool wins they are on Smackdown and my answer is that divas after this can compete on any brand. That would actually re-build the division and whilst doing that make Gail the champion she can do it all and also liven up her entrance its like some horror theme.
John Cena
Just Kidding
Maryse
I ran out of options so I felt to build the million dollar couple she could be the champion.
Maryse a french beauty has of course put herself as valet to Ted Dibiase jr in what they are now known as the million dollar couple. Make her champion and the couple gets bigger and better.
WWE Unified Women Champion - Maryse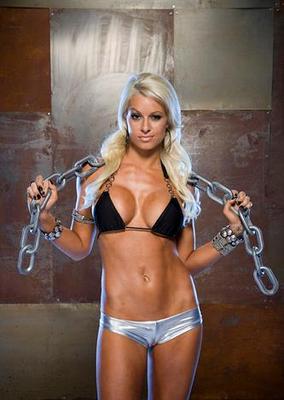 MARYSE
I sat here wondering who to pick. I wanted all of them because they are my favourite divas but I had to pick one and I watched a promo by Maryse which she states her rise to the top and I immediately realised who I was picking.
Maryse has been Divas Champion in the past and has done a good deal being Champion rivalries with Melina and Eve over it have made her in my opinion the best heel diva in the WWE right now. Yes, you have your Lay-Cool but this would be so funny...
The Million Dollar Couple's relationship is growing strong and Dibiase has booked himself on Team Raw at Bragging Rights. Maryse got Dibiase to pay the GM for a womens title shot. She then moans about too many challengers so Dibiase pays for less competition and then stunningly after Maryse and Ted kiss she slaps him and says she never wanted him she wanted the money and the title.
Your casual Goldiggar in the WWE.Maryse is amazing and I would love her to once again hold the title.
WWE Tag Team Champions Candidates

Matt Hardy and Christian
These two legendary Smackdown superstars are going nowhere now in the WWE. Being used as bait for young talent to feed on to look impressive its not good enough for us real wrestling fans so why not just give them a push?
That push being the Tag Titles being around their waist. Both have tag team experience with C & E and The Hardy Boyz so tagging these together and making them champions will restore the tag division.
(NEXUS) David Otunga and Justin Gabriel
Your probably wondering why I picked probably the most diverse superstars within Nexus my answer is they are the two finalists of NXT Season 1. Gabriel can do all the talking very well in the ring with his amazing moves whilst Otunga can do it on the mic with his extremely good mic skills maybe passed to him by Hudson.
(Rated RKO) Randy Orton and Edge
Why not? Why not have this iconic and my favourite tag team once again hold the belts and I wouldn't keep them as a tag team no I'd write this into a storyline.
Orton wins at Night of Champions and becomes WWE Champion then Nexus are bitter and start attacking Orton. But on one night Edge comes out to defend Orton. He then comes out the next Raw and says he wants to re-unite Rated RKO. Orton accepts and they begin on the trail for the tag titles. They become tag champions and then Edge vs Orton is set at a PPV. The Raw before Edge and Orton tag against Nexus in a 6- on 2 tag match. Edge walks out and leaves Orton for the Nexus.
Edge then explains he had done all this to become WWE Champion once again.
WWE Tag Team Champions - Matt Hardy and Christian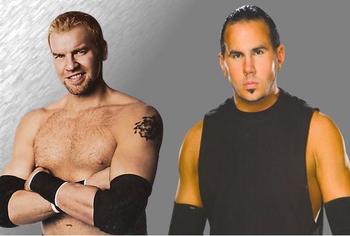 MATT HARDY AND CHRISTIAN
Matt Hardy and Christian just deserve title glory. If they are not going to be in the title picture well then put them in the tag team picture. I don't really need to explain their illustrious careers but there is a sentence that I can add to it.
' These two amazing talents who have worked so hard to get where they are have made us fans proud to be wrestling fans but how have they not won or held the world title for a long while or even ever?' To that I don't think Vince can even answer.
Fan favourites these two are the big money makers over on SmackDown so make them tag champions and carry on the legendary careers of these two.
Now for a name I'll let you pick but my pick is...
Killswitch Fate.
World Heavyweight Champion Candidates

Drew Mcintyre
He is the ultimate heel a superstar who I could have seen in the attiude era Drew is no doubt a top competitor. It was all going so well for him back when he first joined he was on fire of course that being due to be the " Chosen " One.
However he held the Intercontinental Title for a while but was written out of that storyline but I want him to be pushed big time. Way to do it simple...
WWE Bragging Rights he is in the tag team match. Team Raw win but who is the last SmackDown competitor? Drew McIntyre. Who earns themselves a world title shot? Drew McIntyre who wins the title at TLC? Drew McIntyre. Simple really.
The unique Scottishman will do whatever it takes to become champion and I see him as one for the future in the WWE. Drew McIntyre is going to go far.
Kofi Kingston
Was being pushed back in November last year when he had a rivalry against Orton of course that finished in controversial fashion and Kofi was back in the mid-card spot.
When Kofi went to SmackDown I felt it was the beginning of Kofi as world champion but of course I was wrong. He has it all the talent, the ability and the commonly used term the ' It ' factor. What else does he need to become champion? Nothing at all in my eyes.
CM Punk
Last year was his year. He was the ultimate Straight edge superstar and probably the biggest name in WWE. However this year his superstar has changed which I felt at first was for the better but it turned out for the worst.
It all started when he made the Straight Edge Society and got 2 members Serena and Luke Gallows. This lead to a rivalry between him and Rey which was good but he was no longer in the title picture. Then he had the most pathetic rivalry with Big Show this was the beginning of the end for Punk's character. Usually you get better once you have been world champion but he has been written into a coward not the deranged heel we used to see.
His only way back is to shock the world and just maybe win the Royal Rumble. That would be good.
World Heavyweight Champion - CM Punk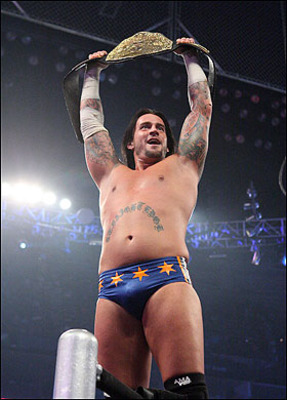 CM PUNK
I hope I didn't disapoint you but the straight edge saviour had to be my World Champion and my reason is this is his destiny. What I mean is he is the whole package I would see him as World Champion whereas Drew and Kofi I don't see how they could carry the prestigious title around like Punk would.
Now, Punk has his SES well I have an added thought to it. The Straight Edge society turn on him and then we see the shock. All this time we have thought the leader of the Nexus is Triple H or Cena or someone else but what If who it all started with CM Punk is the actual leader?
Could you even think of the shock that would go around the universe. He all this time just wanted the Raw brand done and dusted so that he can pick up the pieces over on SmackDown and have Nexus as back up.
Or we forget all that and just have Punk as the World Heavyweight Champion either way I hope to see the title around his waist sooner rather than later.
My World Champion - CM Punk
WWE Champion Candidates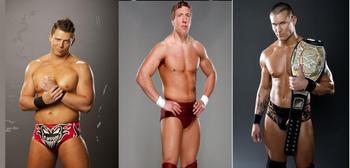 The Miz
He already possesses the Money in the bank briefcase and to me he is AWESOME!!!
When he first joined the WWE he seemed like one of those cheating jerks who would be frightened of the likes of Kane and The Undertaker but now he has grown into Michael Cole's words: " The future ". Back in June Miz won the Money in the bank ladder match at the PPV of the same name and has also had the U.S Title around his waist at that time and still does.
No need to explain how because he holds the briefcase and probably soon the WWE Title itself.
Daniel Bryan (Bryan Danielson)
The American Dragon returned to WWE shockingly at Summerslam and has since started a rivalry with The Miz. A rivalry which will probably give him the U.S Title but I don't want that NO. I want him to go big time and win the WWE Championship.
How? He becomes the Number One contender for the WWE Title at Survivor Series and makes history when he defeats Barrett for it.
Randy Orton
The Viper has changed now face and looks unbelievably impressive as of late.
The former World, Intercontinental, World Tag Team and WWE Champion writing that just tells you about his illustrious career. Well imagine if it all happens again at Night Of Champions he defeats the 5 other superstars lastly defeating Cena.
Now who is my WWE Champion?
WWE Champion - Randy Orton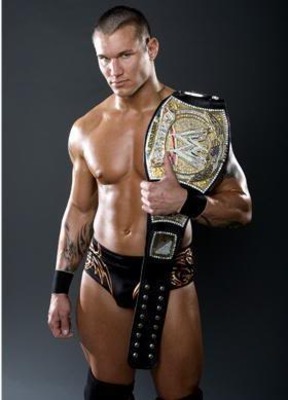 RANDY ORTON
Yes, the Viper is my WWE Champion and there are so many reasons but lets start with his uncomparable talent in the ring. His moveset is all about destruction and causing pain now what is a viper all about its about catching its prey when its in a weak situation just like Orton's RKO. Has kayfabe ended careers and caused injuries to superstars.
Randy Orton is an unbelievable talent and can make a rivalry amazing unlike anyone else.
He can be heel or face it doesn't matter Randy Orton is my WWE Champion.
Unified WWE World Heavyweight Champion Candidates
RANDY ORTON (WWE CHAMPION) VS THE UNDERTAKER (WORLD CHAMPION) WRESTLEMANIA 27.
As Atlanta sits ready for the biggest PPV of the year in Pro Wrestling Wrestlemania they are about to witness the biggest match in maybe not just WWE history but Pro Wrestling history.
Two of the biggest superstars in WWE, The Undertaker and Randy Orton something has got to give. Undertaker has a victory over Orton back at Wrestlemania 21 but Orton was alot younger and less experienced than now. He has changed and so was the WWE.
Who wins this colussul match in WWE history is Undertaker's streak over or has The Undertaker wrote himself in Wrestling history....
WWE Unified Champion - Randy Orton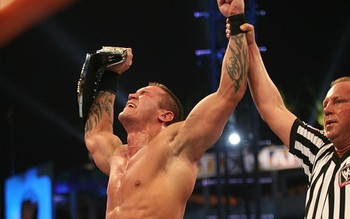 RANDY ORTON
Indeed I do think he will do the unthinkable and defeat The Undertaker and claim the Unified title. Randy Orton will become the biggest star.
As for The Undertaker at this stage he retires after this match and the WWE's future begins. A Legend leaves and WWE Future begins.
My Other matches for the Unified Title.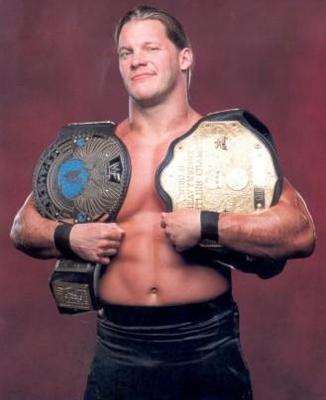 Triple H vs The Undertaker
Two Iconic figures to become the best in the WWE what gets bigger?
John Cena vs The Rock
Legend vs Now
Chris Jericho vs The Undertaker
Where the Unified title began for Jericho
John Cena vs The Undertaker
The match the WWE has been waiting for.
My Other matches for the Unified Title.
Triple H vs The Undertaker
Two Iconic figures to become the best in the WWE what gets bigger?
John Cena vs The Rock
Legend vs Now
Chris Jericho vs The Undertaker
Where the Unified title began for Jericho
John Cena vs The Undertaker
The match the WWE has been waiting for.
Keep Reading