Philadelphia Eagles: Five Ways They Can Fix Their Redzone Troubles
Lets face it, the Eagles redzone performance is not exactly living up to our expectations. Throughout the pre-season we have watched Kevin Kolb lead offense to inside the twenty, and then sooner or later David Akers comes onto the field and gives us three.
Well, three points at a time does not win football games. Especially when you are playing against high scoring offenses, (Packers, Colts, Cowboys). In the interest of winning games, the Eagles must change this redzone struggle they have been battling.
Here are five reasons how the Eagles can fix their redzone problems.
5. Don't Settle For Field Goals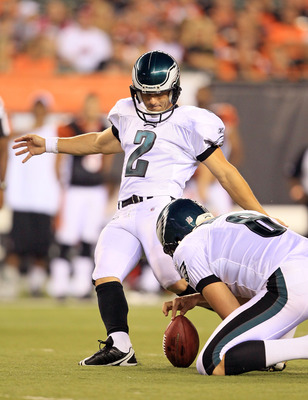 Listen, I love Akers. He has to be one of my all-time favorite Eagles. He is the definition of consistency, and I am so glad that the Eagles are not going through the revolving door of kickers.
With that being said, I am glad he is there.
But, I don't want to see Akers on the field every single drive, unless it's to kick the extra point after a touchdown. The fact that Reid is happy with just putting three points up at a time, is just unacceptable.
This has been a problem the Eagles even had with McNabb, and the issue seems to be carrying over to the Kolb Era. Kolb has to start drives with the mentality, "We are going to get a touchdown."
4. Offensive Line Must Provide Support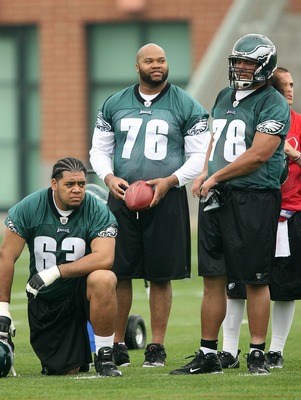 The Eagles Offensive Line not only needs to perform better in all situations, but especially in the redzone. There is nothing that kills a drive faster than having your QB sacked immediately after breaking into the twenty.
The Eagles offensive line has not exactly looked "sharp" this year so far, but I am not losing hope. With more playing time under their belt, it should improve the chemistry among the players. Which will hopefully, in turn, lead to a better blocking package.
In the redzone the O-line has to do three main things:
Make sure Kolb has time to find the open receiver
Lay down some blocks for LeSean McCoy
Effectively slow down or stop blitz packages
If the Eagles want to have any sort of success in the redzone, this would be the place to start. Without an effective offensive line, it is impossible to win games.
3. Utilize Offensive Weapons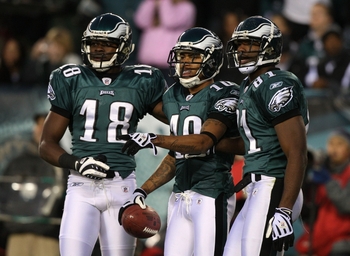 Jackson. Maclin. Avant. Celek.
There is no way, especially in the redzone, that a defense can cover all four of these dangerous receivers. Just the first two alone are a nightmare for any defense to try to cover.
These are great receivers for an aerial attack in the redzone, and it is almost guaranteed one of them will be open at some point. All Kolb has to do is locate that receiver and throw an accurate pass and were looking at six.
Running the play-action of McCoy could be a great way for Jackson to break away from coverage, and hopefully scoot into the endzone.
On the note of McCoy, he can be another valuable asset in the passing game, especially in the redzone.
2. Be More Agressive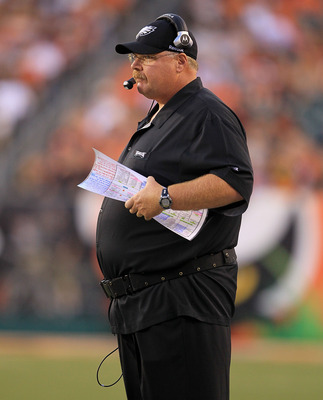 We all know that Andy Reid is no Sean Peyton. The day Reid does a surprise onside kick in a Superbowl game, the world will stop turning.
Reid seems to have gotten himself into a mind set, "Three points is better than no points." Which in reality is true. There is no doubt we would all rather see three points on the board than nothing. But to some extent, three points actually begins to hurt your team.
Let's say the score of a game is 27-14.
If Reid gets a drive going and makes it to the redzone and runs the ball on third and five, and he gets stopped short. He takes the field goal making it 27-17. At this point it is still a two possession game, which means that the Eagles defense has to stop the opposing offense two times to take a lead in the game.
Reid needs to turn up the intensity in the redzone, if not we could be looking at Akers every single drive.
1. Better Playcalling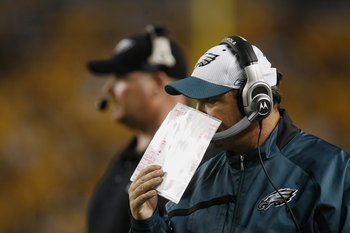 I think Marty Mornhinweg is a great offensive coordinator. Just not in the redzone.
Obviously Reid has some vote on what plays are called when, but for the most part Mornhinweg is the one calling the shots. As stated previously, running the ball on third and long is not exactly high odds to get a first down. However, it is a very low chance of a turnover.
The Eagles need to be able to run there west coast offense all the way up the field, and it should not suddenly switch to a conservative run heavy offense once inside the twenty. I understand the fear of turnovers, but they happen to everyone, especially in the redzone.
Morninweg needs to start calling more passing plays, especially on the third and medium/long downs. This bounces back to being more aggressive, let Kolb do his job as a QB, and let McCoy take the snaps when needed.
I am not saying, never run the ball in the redzone ever, but for a west coast offense it should be rarely utilized.
Conclusion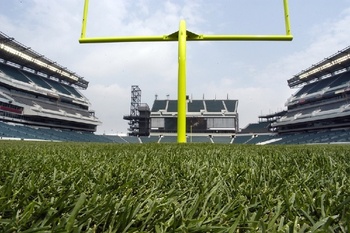 The Eagles redzone success this year is going to be a big factor on their win/loss record. Whether or not Kolb will be able to pass the ball freely or if the Eagles will continue to try the running game, will all be decided by the coaching staff.
Hopefully all of the kinks in the Eagles redzone problems will be worked out and we will be able to watch our touchdown total rise. We can see the young Eagles team takeoff and show the league that they are no longer the, "Redzone Pigeons."
Keep Reading

Philadelphia Eagles: Like this team?