Pac-10 Parlay: Seven Free Betting Picks for Week 1 of College Football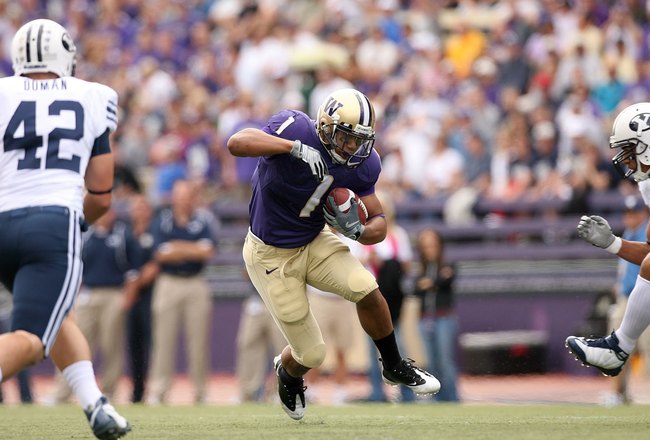 Otto Greule Jr/Getty Images
The casinos of Las Vegas must be excited. Every sportsbook in the city will be packed with excitement, booze, and bets as the opening weekend of college football meets a three-day holiday weekend.
Here are seven free picks involving Pac-10 teams for the opening weekend of college football.
Remember to keep your parlays between three and four picks, and if you have time, look to hedge your selections with second half bets.
Spreads and lines courtesy of Covers.com at 2 pm Pacific time on September 1, 2010.
USC Trojans: 21.5-Point Favorites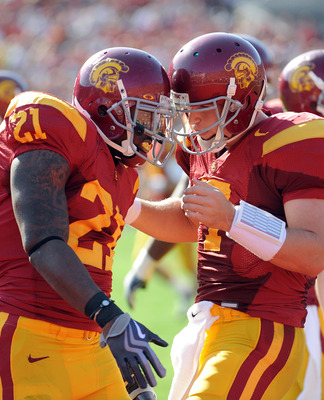 Harry How/Getty Images
September 2, 2010: 11:00 ET
USC Trojans @ Hawaii Warriors
Over/Under: 54
USC -21.5
Hawaii isn't the same program they were a couple years back with June Jones and Colt Brennan. The Trojans are chomping at the bit to put on the pads and move on after a summer of turmoil.
Lane Kiffin will make this a statement game, and there is no denying the talent level of USC. Matt Barkley is a year wiser, and the stable of Trojan running backs will dominate the Warrior defense.
The hook is a little scary, but take USC to win by at least 21.5 points on Thursday.
Toledo Rockets: 15.5-Point Underdogs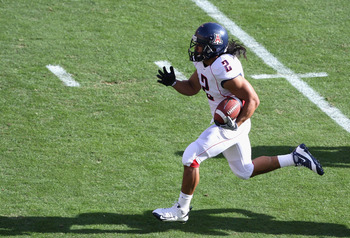 Christian Petersen/Getty Images
September 3, 2010: 8:00 ET
Arizona Wildcats @ Toledo Rockets
Over/Under: 60
Arizona -15.5
If the Wildcats come out uninspired, this could be a close contest. A mid-major program, Toledo is certainly no slouch of a team.
Expect Nick Foles and the Arizona offense to put up some points, but also look for the Rocket offense to feed off playing the role of a home underdog opening the season.
Arizona will win the game, but not by more then two touchdowns.
New Mexico-Oregon: Over 55 Points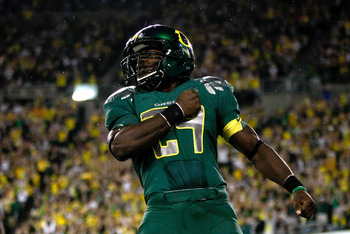 Jonathan Ferrey/Getty Images
September 4, 2010: 3:30 ET
New Mexico Lobos at Oregon Ducks
Over/Under: 55
Oregon -34
The Lobos come into Eugene on Saturday following a dismal 2009 campaign. The New Mexico defense should be improved, but not enough to hold the high-powered Oregon offense below 40 points.
The Ducks are loaded with experience, speed, and talent. Recent history has shown that Oregon puts up big offensive numbers at home and early in the season.
If the Lobo offense can pitch in 10 points, this will be a given by the end of the third quarter. Take New Mexico and Oregon combining to score over 55 points.
UCLA-Kansas State: Under 45 Points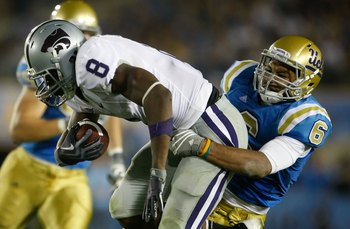 Jeff Gross/Getty Images
September 4, 2010: 3:30 ET
UCLA Bruins at Kansas State Wildcats
Over/Under: 45
Kansas State -1.5
Last season these two teams met in Pasadena, fighting a hard-nosed defensive battle that ended with a 23-9 Bruin victory.
The Bruin defense is highly underrated and led by Rahim Moore and Akeem Ayers. UCLA has been plagued by injuries, and the status of quarterback Kevin Prince remains unknown for Saturday's contest.
This Pac-10/Big 12 matchup will be a defensive struggle that won't be determined until late in the game.
Take the Bruins and Wildcats to score less than 45 combined points this weekend.
Oklahoma State Cowboys: 15.5-Point Favorites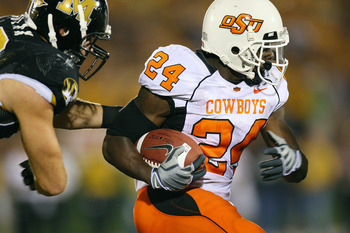 G. Newman Lowrance/Getty Images
September 4, 2010: 7:00 ET
Washington State Cougars at Oklahoma State Cowboys
Over/Under: 49.5
Oklahoma State -15.5
Last season the Cougars were one of the worst scoring offenses in the nation. Add in the fact their defense was downright depressing, and this game is a recipe for disaster.
The Cowboys have the edge in talent, confidence, and the location of the game.
I would have taken Oklahoma State if they were favored by 21, so this is an easy choice.
Washington Huskies: Three-Point Underdogs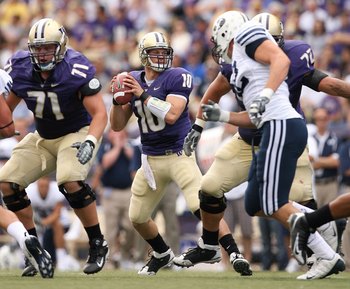 Otto Greule Jr/Getty Images
September 4, 2010: 7:00 ET
Washington Huskies at BYU Cougars
Over/Under: 56.5
BYU -3
Taking the under in this contest was very tempting. Sure, the Cougars are talented and playing at home, but they are also very young at their skill positions.
Jake Locker and his team circled this game nearly two years ago after they let a victory over the Cougars slip away in Seattle. Neither defense looks to be dominating, and the experience of the Husky offense will prevail.
I like the Huskies to win, so take them to cover three points as the underdog.
TCU Horned Frogs: 13.5-Point Favorites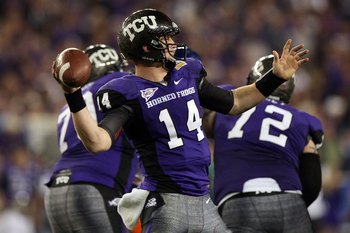 Jed Jacobsohn/Getty Images
September 4, 2010: 745 ET
Oregon State Beavers vs. TCU Horned Frogs (Dallas, Texas)
Over/Under: 50.5
TCU -13.5
As a Beaver alum, this is a touch pick to stomach. The Horned Frogs are one of the best teams in the nation over the past three years in terms of winning percentage and return two steady running backs, quarterback Andy Dalton, and wide receiver Jeremy Kerley.
On the other hand, the Beavers are breaking in Ryan Katz and an unproven linebacking corps. Historically, Oregon State has started slow and not showed up for big non-conference games.
Take the Horned Frogs to defeat the Beavers by two touchdowns.
Keep Reading