Baltimore Ravens: Final Preseason Preview and Injury Update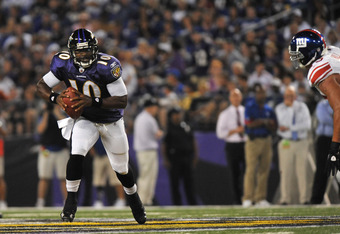 Larry French/Getty Images
Don't expect to see many starters on Thursday night as the Ravens take on the Rams. Coach John Harbaugh and his staff will most likely use this final preseason game to evaluate players fighting to make the Ravens 53 man roster.
With that being said, there are still some questions lingering as the team gets ready for the Jets on September 13.
Michael Oher
I may have been hasty in my critical comments of Mr. Oher after last week's game and for that I apologize. His only misstep was the penalty, other than that, his side of the offensive line was pretty strong.
Lardarius Webb
Webb had been removed from the physically unable to play list earlier in the week, but was scratched before Saturday's game. Webb appears to have recovered from the torn ACL he suffered on December 20th, but was held out of the preseason game as a precaution by coach John Harbaugh and trainer Bill Tessendorf. The cornerback took not playing in stride, saying, "It's all up to Bill T. and coach Harbs."
Wide Receivers
The WR corps took a hit on Saturday against the Giants as the number three receiver, Mark Clayton, suffered a concussion and the number four, Donte' Stallworth, went down with a broken foot. The hope is that Stallworth will be back by the end of October. There has been no word on the status of Clayton. Who will step up to claim these spots in the short term?
Troy Smith
The Ravens have a solid starting quarterback in Joe Flacco and a more than able back up in Marc Bulger. Coach Harbaugh may decide that carrying two quarterbacks on his roster is enough this season. Smith should see a lot of snaps on Thursday, look for him to either use this game as an audition for a spot on another team or to give Harbaugh a reason to keep him on the Ravens 53 man roster.
Offensive Line
Ravens GM Ozzie Newsome made it clear that he wants to upgrade the entire team via trade if possible. With the injuries and questions surrounding the offensive line, Thursday's game may be the last chance some of the current linemen have to show that they belong on this team. The two players that come to mind are Oniel Cousins and Tony Moll.
Willis McGahee
McGahee did not play on Saturday against the Giants. He remains in the dark as to why the team kept him off the field. The rumor mill has the team working on trading him. If that is the case, the reason behind scratching him was probably to keep him healthy. McGahee has heard the rumors and remains unfazed, "If they do, they do, and I'm not going to sit around and cry about it. I'll just keep going."
Kicker
Tonight will be the last game as a Raven for Billy Cundiff or Shayne Graham. The question is, which one stays and which one goes? Neither has made a glaring mistake that would say that they should be cut. The pressure on the kickers will be high on Thursday night, but if neither stumbles, this one remains a coin flip.
Defensive Line
Kelly Talavou, Brandon McKinney, Lamar Divens, and Arthur Jones are all competing for the open spot on the defensive line. As with the kickers, these players have been pretty evenly matched, it will be interesting to see which player steps up and forces the Ravens to keep them on the roster.
Injuries
Ed Reed
Coach Harbaugh said that there is a chance that Pro Bowl safety Ed Reed could be ready to play in the season opener on September 13th against the New York Jets. Reed has been sidelined as he rehabs his surgically repaired hip. Harbaugh stated, "the determining factor is going to be what's best for him, what's best for his career long-term, what's best for him to play at the level he's accustomed to playing."
Oniel Cousins
Cousins continues to battle the effects of the concussion he suffered two weeks ago. Cousins does not have a set date to return but was sounding hopeful when he said, "I'm getting better every day."
Jared Gaither
There is still no word on a possible return date for the offensive lineman who is suffering through a back injury.
Fabian Washington
Washington has bruised ribs and was not expected to play during Thursday's final preseason game. He does expect to play against the Jets, saying, "I'm expecting this thing to be something short and move past it."
Terrence Cody
Cody had minor knee surgery on his left knee last week and will be out for one to two weeks. The surgery repaired the meniscus in his knee. The possibility exists that Cody will be ready for the team's opening game, however it is likely he will miss at least one game.
This article is
What is the duplicate article?
Why is this article offensive?
Where is this article plagiarized from?
Why is this article poorly edited?

Baltimore Ravens: Like this team?