Top 10 Ways DePaul Can Become an Elite Program...Again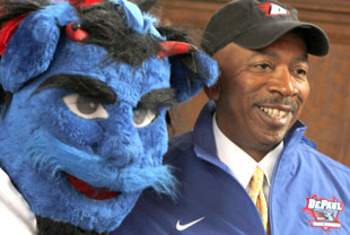 For the love of Joey Meyer's steel-rimmed specs, what has happened to Chicago's college basketball Mecca?
Alumni Hall is long gone, but the shadows of red, white and blue-checkered giants pounding on those traditional powerhouses still stir in Lincoln Park, and some are convinced this could still be a high-major program with only a few subtle adjustments. Remember, this used to be a college hoops town (and Alumni Hall was its town square) that still boasts the nation's greatest collection of high school talent within a stone's throw, and a hoops-crazed fan base that still yearns for a return to glory.
But fear not Blue Demon faithful, with a couple tweaks here and there, Oliver Purnell's legacy could be closer to Ray Meyer than Jerry Wainwright, and here are the tasks that hopefully appear first on the collective checklists of Purnell and AD Jean Lenti-Ponsetto (after hugging it out with the mascot, of course).
#10 - WE ARE...DE-PAUL...WE ARE...wait, who are we again?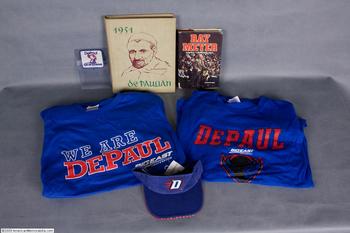 To say Depaul has suffered through an identiy crisis is like saying Ian Ziering has had some issues landing movie roles lately. This is a Midwestern team playing in an East Coast conference; an urban university playing in a suburban arena; and a team that's changed it's on-court approach more times than Jay Cutler's been on his back this preseason.
Whether it's through more strategic non-conference scheduling that could create intense regional rivalries, a committed on-court approach that matches the recruiting base or...ahem...a reasonable arena solution (we'll touch on this later), something, someone, somewhere needs to define what this program is all about and where it's heading.
#9 - Style Matters
If DePaul wants to wall off the Chicago Public League as its personal feeder system, it might be a good idea if the school's style of play matches the athleticism and skillset that most of these players are armed with.
Granted, great players fit any system, but Oliver Purnell's breakneck pressing and running pace should benefit from the talent pool he'll have to work with in the city. Check.
#8 - Better Navigate Chicago H.S. Coaches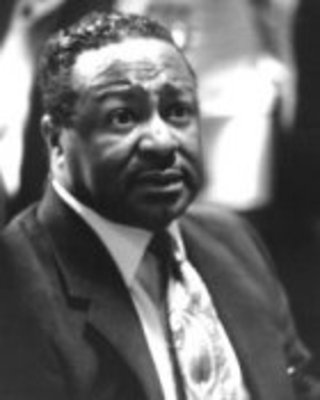 The high school coaching landscape in Chicago is equivalent to a field of cash registers with land mines buried underground. They will take your money, enjoy your sweet talking, take the college assistant jobs you offer them (which is really all most of them want) and then....BOOM. You're blown back to wherever you came from before you know what happened.
The coaches are a key factor in delivering recruits, but they can't be the only factor. If they were so smart about the DePaul job (i.e. each thought he should've gotten the job instead of Purnell), the program would be in a much better shape than it is now. For all their talk about local loyalty, these same coaches have sent Chicago's best to Memphis, Kentucky, Duke and elsewhere - watching those programs get fat in the process. The truth is, Purnell must navigate these waters carefully enough to build his program independent of the CPL coaches, but not in too distant a fashion as to warrant a Landon Cox-style boycott.
It'll be tricky, but if Purnell has been able to recruit successfully on Tobacco Road without getting trampled by elephants like Duke, UNC and Wake, here's hoping he can delicately handle Simeon, Marshall, the Catholic League et al.
#7 - Diversify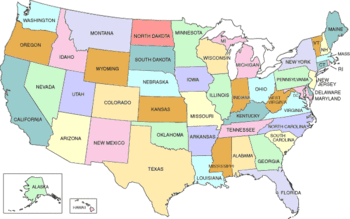 All anyone ever wants to talk about with respect to DePaul's recruiting efforts is the question of how the program can win back the local five-star recruits. But what many people tend to forget is that the really great Ray Meyer teams not only grabbed some of the area's best local talent, but also merged it with some top-tier players from all over the country. Rod Strickland (The Bronx), Dallas Comegys (Philadelphia), Ty Corbin (South Carolina) and others came from all points to play for Coach Ray.
Ideally, Purnell will be able to utilize his previous recruiting contacts to draw players from all over, which will help manage the team's dependency on the always-unpredictable relationship with local coaches.
#6 - Look Good, Feel Good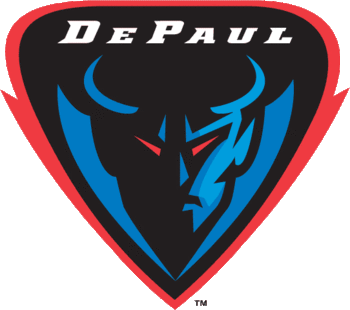 Bringing back the checkered trim for the jerseys and shorts was a no brainer – but what's up with the weirdly sinister demon in the middle of the court and black as the school's primary color?
When did Nightcrawler from the X-Men become the DePaul mascot? It's flat awful. Change it. I'm begging you, JLP. Change it now.
#5 - Turn right on Madison…it's that big house on the left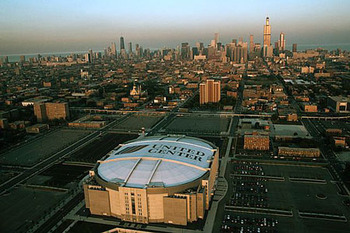 If Chicago's basketball heart has moved southwest of DePaul's Lincoln Park campus, it seems to reason that the program should not only accept it, but embrace it. Having the United Center so close presents a slew of opportunities, including ticket promotions, recruiting and just plain looking like a big-time program by scheduling more games in an NBA arena that just happens to be smack dab in the middle of one nation's best areas for high school basketball.
The one advantage DePaul owns is that – while it's a little like letting the fox in the henhouse – other squads are dying to play games in Chicago for their own recruiting purposes. Instead of fearing that, DePaul should be hosting big-name preseason games or tournaments so current players and potential recruits know that each year they could be playing in the UC, in front of their families against Michigan State, Duke or Georgetown in front of fans that (gasp) don't have to leave the city to get to a game.
#4 - Games Aren't Played on Paper…They're Played Inside TV Sets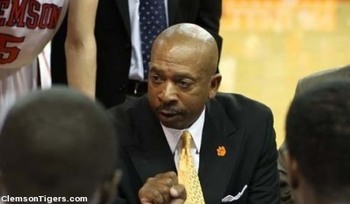 This may sound simplistic, but once the lights go up and the rifles start firing, the only thing that matters is winning. While he's building out his program and getting his own players on board, Purnell will have to put on his coaching gloves and eke out a few signature wins to keep the positive energy flowing.
In order to get into the living rooms of the talent he wants, he needs to show even a slight improvement over the last couple seasons in order to look recruits -- and their parents -- in the eye and convince them he's got the thing headed in the right direction. If he can knock out six or seven wins in the Big East this year, that'll do the trick – but that could be some trick.
#3 - My Enemy's Enemy is My Friend…uh…who's my enemy?
Georgetown, Notre Dame, St. John's, UCLA, Cincinnati, Louisville, Memphis. As conference realignment lured DePaul away from independence, all these annual match-ups kept the squad in the national spotlight. They also served as valuable draws for local fans when the games were at home, and delivered vital exposure for the program in other major metropolitan areas when they were on the road.
Somehow, these grudge matches -- several of which now are part of Big East play -- need to become relevant again, and the school needs to explore additional natural rivalries either among fellow Catholic universities (i.e. Xavier, Boston College, Creighton) or regional schools that have traditionally recruited successfully in Chicago and would therefore be willing to play on a consistent basis (Wisconsin, Georgia Tech, Kentucky). Rivalries equal fans, fans equal money, money equals spending sprees on things like...
#2 - Smoke 'em if you got 'em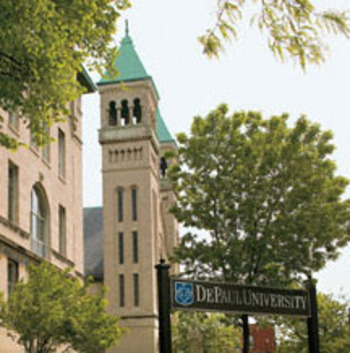 For years, DePaul looked enviously towards other comparable schools and their beautiful urban campuses – institutions like Georgetown, Boston College, Xavier, Tulane, Miami – and longed for the day that they could shake the rep of being just a commuter school for Chicago kids that barely had dorms, let alone a quad or an on-campus social scene. Well folks, that day is here. We've got the goods, so the question is how best to shake our moneymaker.
Over the last decade, the school has purchased land faster than Citibank is foreclosing (that's fast, folks) and the Lincoln Park campus is now a legitimate destination for out-of-town students – athletes or not – looking for an amazing college experience in one of the nation's best cities. So the question remains, how well can Purnell sell it to recruits who will still hear the same shpeil from competing coaches who dog out the Blue Demons for being an urban school with no campus life.
Now, in addition to the great new campus life, if they only had…
#1 - Location, Location, Location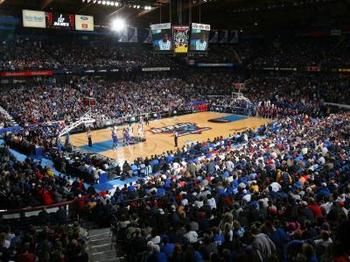 Allow me to impersonate every reporter at the press conference announcing Purnell's hiring.
DB: "Coach, did they promise you an on-campus arena to get you to take the job?"
OP: "No."
DB: "Coach, are you SURE they didn't promise you a new arena in order to convince you to leave Clemson, which by the way, plays in the ACC?"
OP: "No, they didn't promise me a new arena"
DB: "Uh, ok. Well, is there any way you can get them to promise the rest of us a new arena?"
I'm exaggerating…well, not really. The lack of an on-campus arena at DePaul is such a tragic and obvious black eye with respect to the school's basketball rebuilding effort, it's almost not worth getting into the weeds. It'd be like the Cubs playing in Gary, Indiana and management wondering why fans have become less faithful.
College athletics is about community, and the connections between kids you (sometimes) go to class with. Then, all of a sudden those same kids show up on television or in front of 20,000 fans at an arena that you walk to after knocking back seven Old Styles before dinner. Now that's college hoops.
Through all their rebuilding trials and tribulations, the Chicago Bulls stayed in the top three in NBA Attendance – even when they were woefully bad and missed the playoffs. The appetite for basketball in this town is limitless, as is the potential for Oliver Purnell's Blue Demons if they can just check off a couple boxes on their to do list.
Keep Reading