Jason Campbell Can Be the Oakland Raiders' Long-Term Solution at QB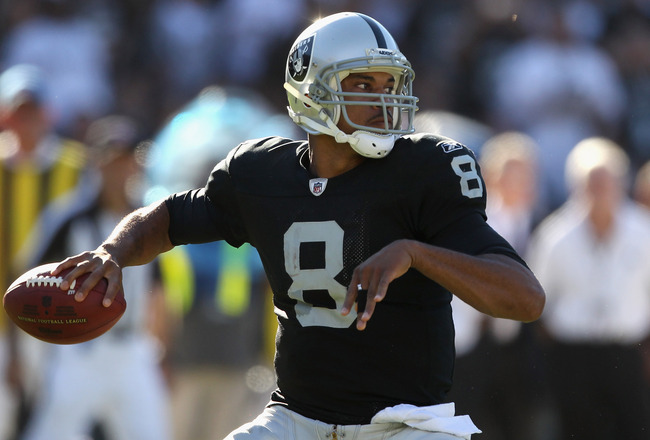 Ezra Shaw/Getty Images
The biggest argument in Oakland Raiders Nation these days is about quarterback Jason Campbell. Some see him as the guy that can drive the Raiders offense to the NFL playoffs and beyond for years to come.
Some don't.
Raiders owner Al Davis has called him the next Jim Plunkett.
Some think Davis has lost his mind for believing such a thing.
I don't.
I have evidence to support what I believe, too.
Turn the page to see it.
The Jim Plunkett Standard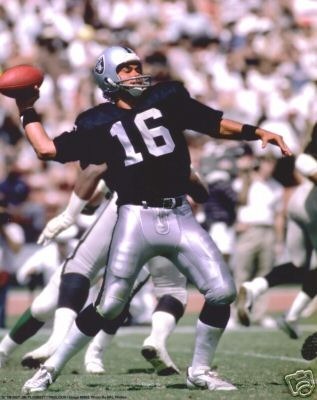 Many believe it's blasphemy to compare Jason Campbell to the Super Bowl-winning Plunkett. Remember, we saw the finished product that Plunkett became—Campbell is just getting started as a Raider.
Davis made this comparison for good reason, as they both had great success in college. They also went into the NFL as high draft picks with high expectations and weren't surrounded by good players.
But after year one as a Raider, Campbell is actually ahead of Plunkett.
Many talk as if Plunkett was this juggernaut that threw for 5,000 yards a year. In fact, Plunkett wasn't expected to do much, as he didn't even play his first year with the Raiders.
In his second year, Plunkett won a Super Bowl with a paltry 79.2 quarterback rating. The year he won his second Super Bowl with the Raiders, he had a respectable 82.7 quarterback rating.
He was a big-game quarterback and had no problem with big-time moments—like in 1980, when he led the NFL in passing yards (839) and passer rating in the postseason (96.2).
He then capped off the season with a Super Bowl MVP performance where he threw for 261 yards, three touchdowns and a 145 QB rating.
What made Plunkett special was he had the mental toughness to come back from interceptions he threw to make plays and win games.
Plunkett was great in the clutch too with 13 fourth-quarter comebacks and 15 game-winning drives in his seven years with the Raiders.
Expectations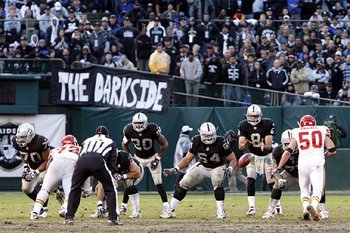 Here is the reason Campbell is being compared to Plunkett.
The Raiders have gone back to the deep ball off the running game, so Campbell won't be expected to throw for 5,000 yards. Like Plunkett, he will be expected to make plays when he has to and when they are there.
They will definitely be there when the opposing safeties cheat up for the Raiders running game. Campbell leading comebacks against the Chargers in Week 5 and Chiefs in Week 9 of 2010 was a sign of the clutch gene in him.
Campbell has only played 12 games for the Raiders and has yet to touch the playoffs. However, he was 6-0 in divisional games and played well when the playoffs were still on the line last season.
He was also very efficient against the Chiefs in Week 17 to get the Raiders to .500 for the first time since 2002.
I look forward to some bigger moments in the future.
Mental Toughness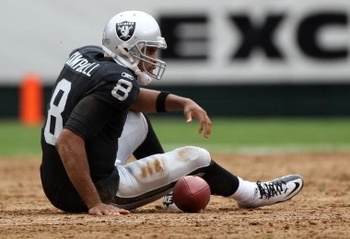 Being expected to turn a struggling franchise around is one thing, but Campbell has gone through more than that. He had a different offensive coordinator every year, so he was basically a rookie for his first six years.
Part of the comfort of being a veteran is knowing your team's system and what is expected of you in it. That changed for Campbell every single year, and blame was placed on him for losing.
He then got traded to the Raiders, where Bruce Gradkowski was a fan favorite because of two games he played well in back in '09. It wasn't pretty for Campbell right away, and he heard boos and "Bruuuuce" chants after every incompletion.
Then-head coach Tom Cable also favored Gradkowski, so he was quick to pull Campbell when he struggled. Cable at one point made Gradkowski the starter, but then he got hurt, and Campbell led the Raiders to a 3-1 record.
When Gradkowski returned, it was back to the bench again for Jason until Gradkowski got hurt again. Campbell, after a meeting with then-offensive coordinator Hue Jackson, started to show he was up to the task.
A microcosm of Campbell's mental toughness was in Week 9 against the Chiefs. Campbell was 4-of-10 for 18 yards, one interception and a horrible quarterback rating of 8.33.
Instead of tanking it, Campbell straightened up and flew right in the second half. With a lot of help from Jacoby Ford, Campbell was 15-of-23 for 211 yards, one touchdown and a quarterback rating of 109.14 in the second half.
He turned a sure disaster into an exciting win for the Raiders.
Work Ethic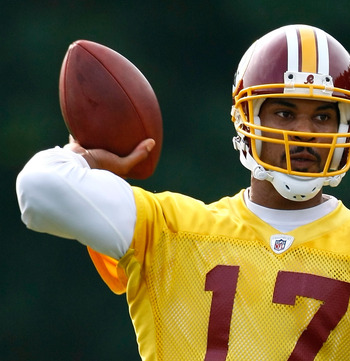 Win McNamee/Getty Images
Campbell hasn't lit it up so far in his career, but it wasn't from a lack of effort. Campbell was known in Washington to be the first guy in the building and the last one to leave, and that hasn't changed.
That has led to him improving statistically in every year he's been in the league except for 2010. Most would agree that his failure to statistically improve in 2010 was due to not just another new offense but new players too.
The fact that Campbell came back and played well down the stretch tells you that he worked hard to stay ready to play. Many quarterbacks have blown similar opportunities, but not Campbell.
His hard work should pay off, and we should see big-time improvement in 2011.
Leadership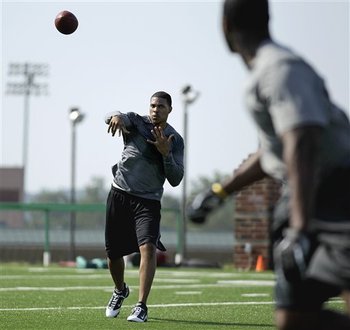 After the benchings, Campbell never complained and was ready to play when he got another chance. When he made the most of it, the players were instantly endeared to him, and he became their guy.
He also became new head coach Hue Jackson's guy, as he has been named the starter. Instead of buying a fur coat like JaMarcus Russell, he chipped in with defensive tackle Richard Seymour to host the team's players-only minicamp.
This is where his aforementioned work ethic and mental toughness made him a leader on this team. Deion Sanders always says on NFL Network, "I want a guy that's been through something leading my team."
Campbell now has that respect from his teammates, and he's doing something with it. Aside from the minicamp, he has been regularly throwing to receivers Darrius Heyward-Bey and Louis Murphy this offseason.
I suspect that he's throwing to these guys as this article is being written.
Mobility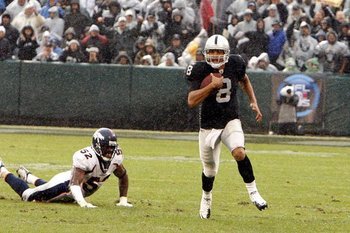 Now we shift from intangible to tangible qualities.
Campbell was a running quarterback in college, but he might have tried too hard to make himself a pocket passer. That caused Campbell to stay in the pocket, determined to find a receiver instead of taking off.
That wasn't a good thing to do in Oakland in 2010 because the offensive line's pass blocking wasn't the best. Therefore, Campbell was a sitting duck in the pocket and took too many sacks in the beginning.
Jackson then encouraged Campbell to rediscover his legs and make plays outside the pocket. I believe this to be the main reason for Campbell's turnaround during the 2010 season.
Sacks turned into runs for first downs and long completions when Campbell started to use his forgotten talent.
Big Arm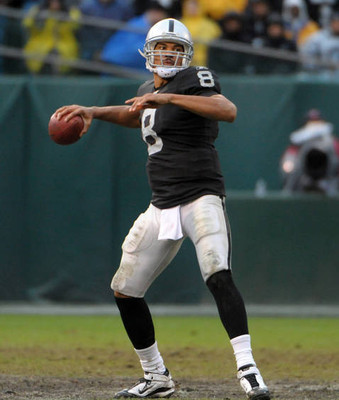 Davis covets a quarterback with a big arm, and Campbell is definitely one of those guys. The problem at the beginning was Campbell missing short on his deep balls.
I thought that he just wasn't used to receivers that can outrun a football the way the Raiders receivers can. Instead, it seems the stinger he had on his throwing shoulder from the preseason game against the 49ers lingered for a while.
Regardless, Campbell healed, and the big arm came back to start completing deep balls.
System Fit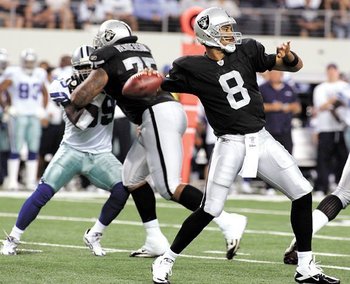 Campbell's big arm is going to get put to good use.
Davis loves the vertical game, so he brought Hue Jackson over to coordinate his offense in 2010. Now Jackson's the head coach, and he brought in his mentor, Al Saunders, to take his place as the offensive coordinator.
This is going to mean fireworks because Saunders is from the Don Coryell coaching tree. If anyone can, Jackson and Saunders will be the ones to get something out of Campbell's big arm.
The fit between these three is a good one.
Personnel Fit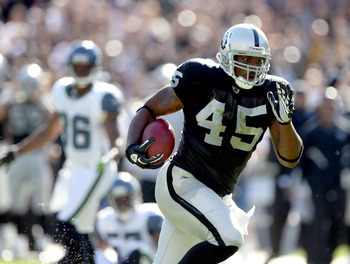 Ezra Shaw/Getty Images
The Raiders had the No. 1 rushing attack in the NFL in 2010, so they will be able to go deep off play-action. The Raiders have an Olympic-caliber relay team at the receiver positions with the speed they have:
Louis Murphy: 4.32 40-yard dash (coming off knee injury)
Chaz Schilens: 4.33
Darrius Heyward-Bey: 4.25
Jacoby Ford: 4.22
Tight end Zach Miller and running back Darren McFadden have receiver skill sets. While Miller has enough speed to go the distance, McFadden is a 4.27 40-yard dash man, so he can go deep as well.
Revolutionary fullback Marcel Reece was a receiver in college and ran a 4.4 40-yard time. Even the fullback will be a deep threat in the Raiders' fast-break offense going forward!
The average age of these young men is 24.
This is a young team built for the big play!
Comfort
The biggest part of being a veteran quarterback is knowing your team's system and where you fit. Campbell must know his offense like the back of his own hand because his head needs to work like a computer.
When he's in the pocket, it has to be, "Check one, check two, check three, check four, nobody open, throw it away" or "I'm running." Otherwise he is sure to get sacked a lot while trying to figure his offense out.
Realistically, his head is probably more like, "Check one, check two...where's three supposed to be again...oh!"
He's sacked.
Campbell will play in the same offensive system in back-to-back years for the first time since he was in high school. I'm expecting the most dramatic improvement from Campbell this year because from year one to two is the time when the most improvement takes place.
He's had the equivalent of six rookie years in the NFL so far. As he continues in this offense, he will improve even more as the years go on.
It helps that Davis is a fan of both Jackson and Saunders, so we can expect them to fully implement their system.
Winning will help them keep their jobs for years to come, and Campbell just might get a chance to know the system like the back of his hand!
Support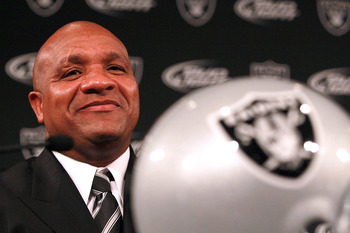 Justin Sullivan/Getty Images
I mentioned before the support that Campbell now has as the quarterback of this team. After the stretch of football he played to close the season, he has won the support of coach Hue Jackson along with the locker room.
Jackson has named Campbell the starter already, which is a much-needed vote of confidence a quarterback needs. We already know what Davis thinks of him because he is the one that traded for him.
Does Raiders Nation support him?
That's the only question.
Overview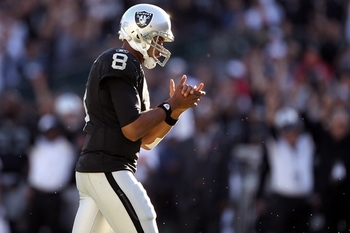 Everything is right there for Campbell to lead this Raiders team into the future. To go along with his skill set and intangibles, his demeanor is even-keeled, which is perfect for this young team.
A young team is also good for Campbell to have going forward, as he will have years to develop chemistry with his weapons. They will look to Campbell for leadership during difficult times.
There is now more harmony in the Raiders hierarchy than there has been since Tom Flores. This means Jackson, Saunders and the offensive scheme will stay in Raiders Nation for Campbell to grow alongside.
Raiders Nation now only needs to hope that a left tackle will emerge to keep him upright. If that happens, Campbell is the long-term solution at quarterback for the Raiders.
The future is bright in Raiders Nation!
Keep Reading

Oakland Raiders: Like this team?