College Football Predictions Week 1: 25 Predictions for The Week's Games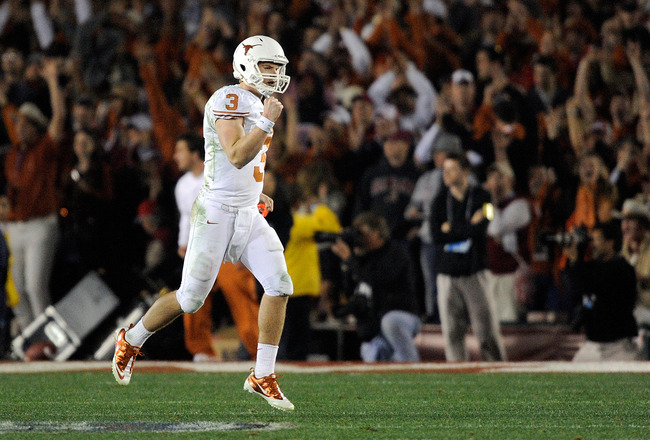 Kevork Djansezian/Getty Images
Football fans, it's OK for you to go nuts now. It's OK for you to go bonkers. It's OK to don your favorite team's jersey and wear it proudly. It's even OK to paint your face.
Well, as long as it's only on game day.
Yes our favorite past time has returned. It's college football season and it's time for the trash talking to commence once more. It's time for the age old argument as to who the best conference in football is. Who are the best players, who are the favorites for the coveted Heisman trophy, and who will be the first to claim an upset victory?
We may even talk about a possible BCS national championship buster as the season rolls on.
There will be many questions and predictions as this season continues. There will be new teams falling, new teams donning Cinderella's glass slipper, and there will be those who will finish unbeaten.
I hope you'll come along with us for what is likely to be one of the best college football season's in recent memory.
So, with Week 1 less than 48 hours away, here are the 25 predictions for college football's opening week.
Are you ready?
When Will Alabama Stop Scoring on San Jose State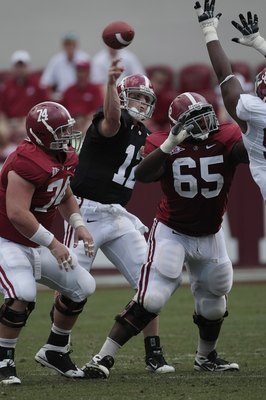 Dave Martin/Getty Images
Alabama has an extremely tough home opener against....wait...who are they playing? San Jose State? Oh, nevermind.
Only question that remains is, can the Tide get to 80 points by the time it's all said and done?
Rich Rodriguez Seen Being Dragged Out of UM by His Toenails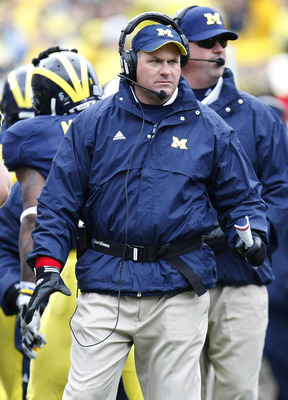 Gregory Shamus/Getty Images
A loss to UConn this weekend would send Ann Arbor into a full-out frenzy, so much so that they might actually drag Rich Rod out of his office by his toenails, kicking and screaming.
Michigan fans have had enough and a loss might just send them over the edge.
Over/Under for the Number of "Not So Fast" From Lee Corso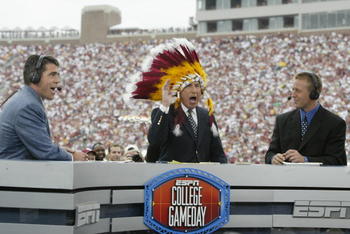 Craig Jones/Getty Images
We'll set the over under at five. Thoughts?
Odds of LeBron James Showing Up at Miami's Home Opener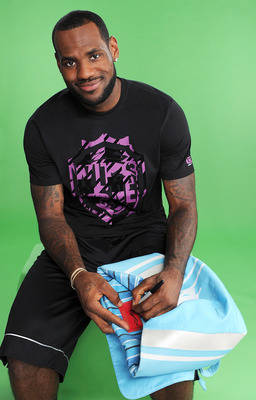 Larry Busacca/Getty Images
I figure since LeBron (I won't call him King) James is partying in South Beach, he may as well take in a Miami game, right?
Then again, he might be shown in the stands wearing a Florida hat.
USC Beats Down Hawaii While Sipping on Drinks with Little Umbrellas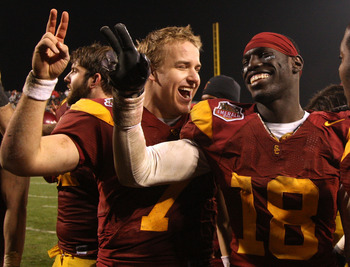 Jed Jacobsohn/Getty Images
You might even see girls in grass skirts handing out said drinks on the USC sidelines while their second team runs up the score in the second half.
Where Did Indiana Find Towson?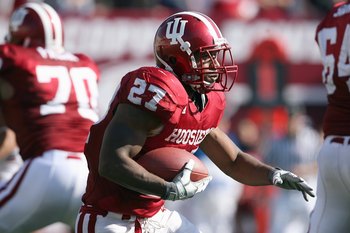 Andy Lyons/Getty Images
This is the first time I've ever seen a school named 'Towson' on anyone's schedule. No disrespect to what I'm sure is a fine establishment, but can anyone tell me where Towson is located.
Did Indiana make sure they weren't a flag football team before they scheduled them?
Celebrations in Utah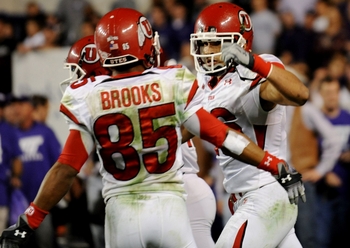 Ronald Martinez/Getty Images
Utah and BYU both have home games to start the season, both come out on top. My apologies to the Pitt and Washington fans.
Over/Under on How Many Times The Cameras Focus on Hot Girls in Florida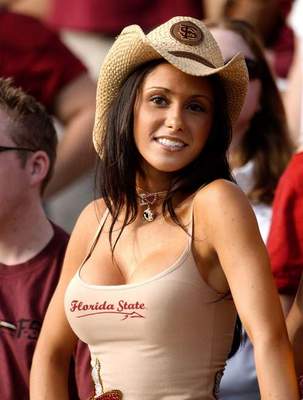 Florida State has a home game and I'm sure the camera guys already know that they'll need to focus on the hotties in the crowd. Only question is, what do we set the over/under at?
Let's start with 10 shall we?
Who Put Blanks in the Texas Tech Guns?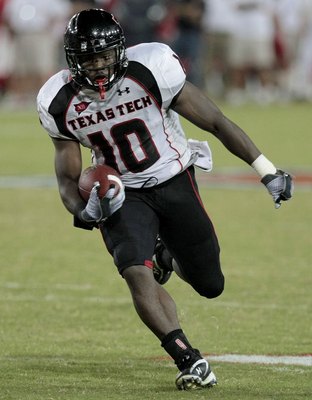 Thomas B. Shea/Getty Images
This game might be like a cartoon of Yosemite Sam going after Buggs Bunny. Shooting aimlessly and not really hitting anything.
Someone switched out the bullets for blanks. Guns up? Not this weekend.
Payback Is Uh, Well, You Know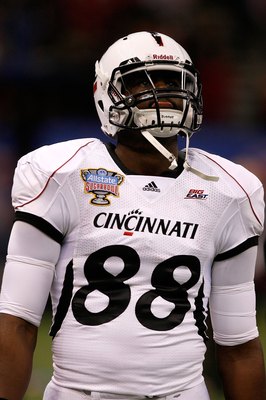 Matthew Stockman/Getty Images
Cincinnati got away from Fresno State last time with a 28-20 win at home. This year, the Bearcats wander into Bulldog Stadium in front of the Red Wave.
Cincinnati will be red waved right out of town.
Desmond Howard To See More Time on College Gameday This Year?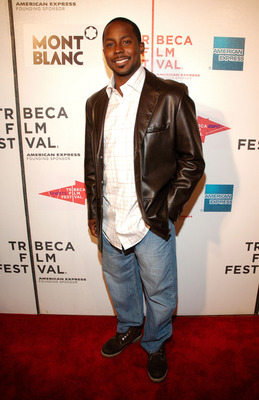 Steven Henry/Getty Images
Don't be surprised if you see a lesser role this season for Lee Corso and a bigger role for one of the newer guys, Desmond Howard.
I don't mind that one bit, I like what Howard brings to the College Gameday Show.
Battle of the Painted Faces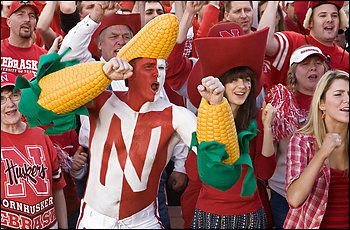 Ah yes, the battle of the painted faces will begin on Thursday night. We'll have a clear winner each and every week but I may as well make my prediction now since that's what this slide show is for, right?
This week, I'm going with Nebraska to show me something. Bring it on Husker fans! Anyone that puts cornhusks on their head and arms is a winner in my book.
Golden Domers Not So Gold in Their Home Opener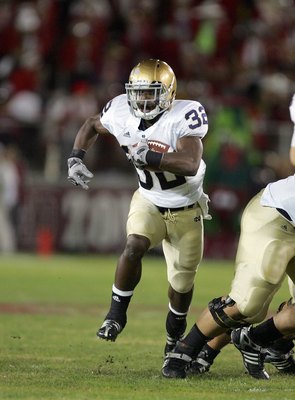 Ezra Shaw/Getty Images
One golden dome will do just fine this Saturday. It just won't be Notre Dame where it'll be a tough start for new head coach Brian Kelly.
Purdue will win a close one.
If Defense Is Key, North Carolina Prevails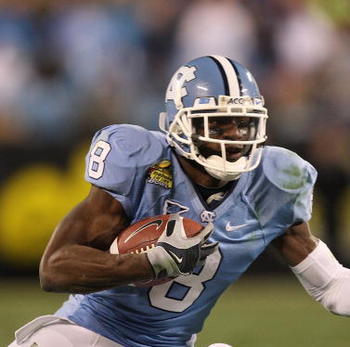 Streeter Lecka/Getty Images
North Carolina had one of the best defenses in the country last season and they'll show that again in their home opener against LSU.
Sure it's an SEC opponent, but this is North Carolina and they won't need a last-minute jump shot from Michael Jordan to get it done.
Will the Boise State Haters Be Silenced After a Bronco Win?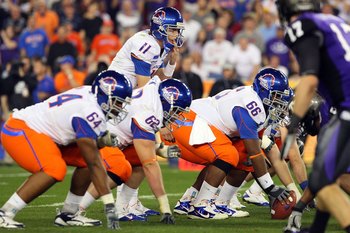 Christian Petersen/Getty Images
How did Boise go from Cinderella to the Wicked Witch? Anyway, the haters are out in full force against Boise State and most would love to see the Broncos get it handed to them by Virginia Tech.
However, since I believe Boise State will take the win, albeit a close one, will the haters be silenced or will they have even more excuses than they've come up with so far?
Derek Dooley Should Sing "Rocky Top" After a Season Opening Win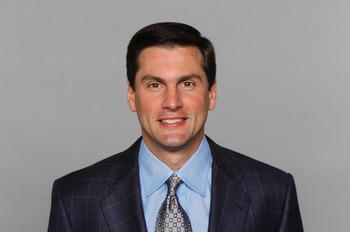 NFL Photos/Getty Images /Getty Images
Does Derek Dooley remind anyone of a younger Doug Flutie? Just curious.
After getting his first win of his Tennessee coaching tenure, I think Dooley should sing "Rocky Top" over the PA system. Kinda like singing "Take Me Out to the Ballgame" at Wrigley Field, just not as bad as Ozzie Osbourne or Jeff Gordon.
Garrett Gilbert Shows Off His Orange Arm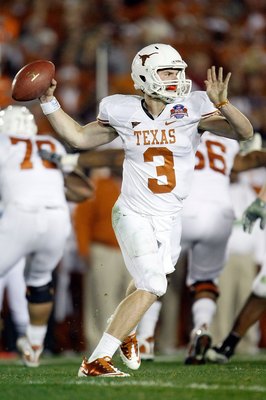 Jeff Gross/Getty Images
Garrett Gilbert was thrust into the spotlight a little sooner than he expected, which I'm sure prompted a bowel movement he wasn't expecting either.
Though he was a deer in the headlights in the first half, he was the hunter in the second half. He'll show more of that against Rice this weekend.
There Will Be Fans Who Go a Little Too Far
We will see all sorts of crazy things this weekend as the college football season kicks off. I just hope I never see this kind of "fanatical" idea again.
Sometimes you just go too far with an idea.
It Doesn't Get Better for Washington State This Weekend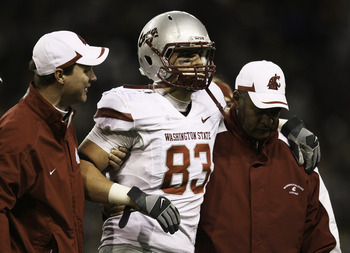 Otto Greule Jr/Getty Images
After an abysmal 1-11 year in 2009, they go to Oklahoma State just to lose again. It's got to turn around at some point. Right?
Over/Under on How Many Times the Huge Screen Gets Hit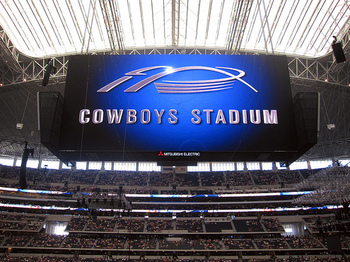 TCU and Oregon State open their respective 2010 seasons at Cowboys Stadium a.k.a. Jerry World in Arlington, Texas.
You know the punters and kickers are going to be gunning for that big screen in the middle of the field.
Over/under on how many times it's hit. Let's set it at two.
Ohio State Covers The Spread, and Then Some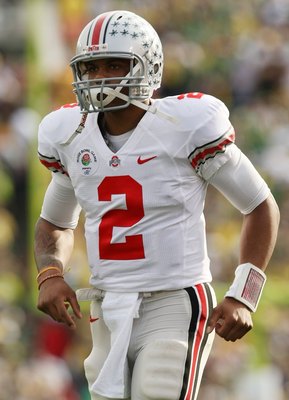 Stephen Dunn/Getty Images
This game might get so out of hand that Terrell Pryor might be able to go enjoy some Madden 2011 for Playstation 3 by halftime.
This should be a three-touchdown or more win for the Buckeyes. At least the fans can sit back and enjoy the offensive performance.
The "Wake Me When It's Over" Game Of The Week Goes To?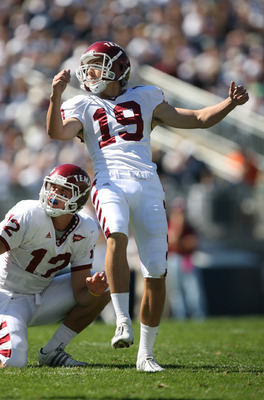 Hunter Martin/Getty Images
This is a game that I'll pick every single week. A game that we can all take a break, lay in our favorite La-Z-Boy and catch some z's before the next big game.
This week it goes to Villanova and Temple.
Which Game Will the Wet Weather Affect The Most?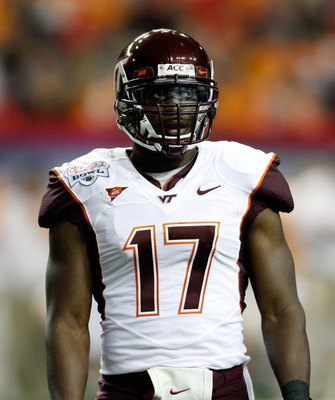 Mike Zarrilli/Getty Images
With Hurricane Earl bearing down on the United States' eastern seaboard, there may be more than one game effected by heavy rains this weekend.
One game that might get hit hard is the game at FedEx Field between Virginia Tech and Boise State. It could be renamed the "Mud Bowl" by the time this one's done.
The Case Keenum 400 in Houston
Chris Graythen/Getty Images
Case Keenum returns for his senior season at the University of Houston and will show off that rocket he calls an arm, throwing for over 400 yards against poor Texas State.
Navy Ships Out With a Season-Opening Win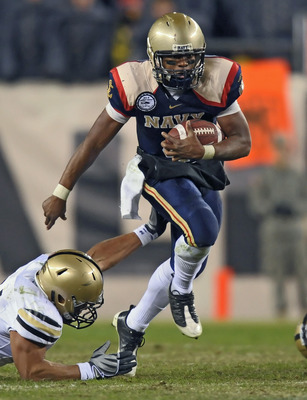 Drew Hallowell/Getty Images
The Navy Midshipmen didn't come to Maryland only to be thanked for their service to our country, they came to steal a win from the Terrapins on opening weekend.
It might happen so quick that Maryland will be left to wonder what just happened.
Keep Reading