Game Week Preparation: Mark Ingram & Bama's Defense
August 31, 2010
There have been a few Heisman winners to miss a game during the season, but Mark Ingram's chances of becoming a repeat Heisman winner just slimmed down a bit.  Mark had minor knee scope surgery this morning, and Ingram will miss the season opener against San Jose St. and could miss up to 3-4 games. 
Coach Nick Saban said, "We thought it would be better to go ahead and do it now, than to risk anything later in the season."  Saban also added, "This is not an injury that will affect Mark's future ability to make a full recovery in a relatively short time frame."
One doctor said, "Tissue repair takes up to 6 weeks. Return to play with confidence is up to the player and staff."  Now obviously this sounds like a big blow, but when you have Trent Richardson and Eddie Lacy backing you up...By the time Ingram comes back, Alabama will not have missed a beat in the running game. 
Depending on how long it takes for Ingram to make a full recovery, true freshman Corey Grant could see action.  Saban has consistently used three backs over the last two years.  And a healthy Ingram with the duo of Richardson and Lacy is by far the best seen yet out of Saban's tenure at Alabama.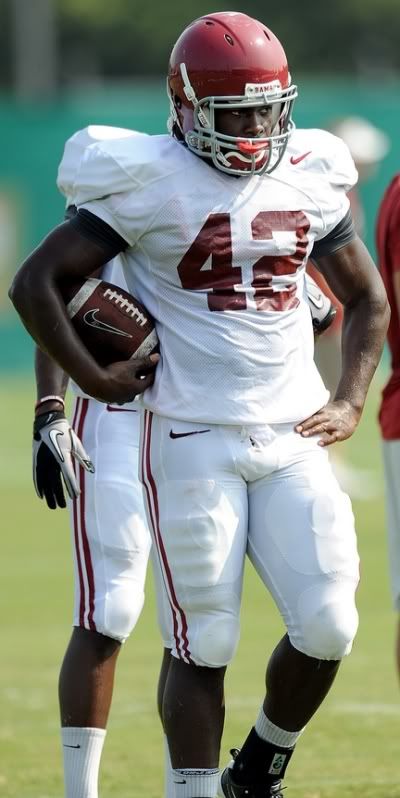 So yes it's big news, but don't hit the panic button.  Just enjoy the fact that Bama fans will get to see more of Eddie Lacy now.  And Trent Richardson is right where he wants to be, in the starting roll.  And Richardson will shine.  "It's kind of hard for me sometimes, because I've never had to play behind anybody."  Richardson said, not long after he arrived at Alabama.  So, for those that think Trent Richardson is better than Mark Ingram, well we're all about to find out. 
Alabama's Defense:
Now I know Alabama lost a lot on defense, but this is still the best defense in the SEC.  All you have to do is look at the Defensive Line and Linebacker unit. 
Marcell Dareus is looking at a one or two game suspension from the NCAA for his actions over the summer.  But with or without Dareus, when you look at the depth on the Defensive line Alabama has to be considered the best in the SEC. 
The Linebacker unit is the scariest part of this team.  You'd be hard-pressed to find a better linebacker unit in the Nation, and is certainly unmatched in the SEC. 
Marcell Dareus, Dont'a Hightower, and Mark Barron give Alabama a potential first rounder at every level of defense.  Now that's a recipe for success when you look at the talent around them.  But most definitely Alabama's defensive front seven is among the best in the Nation.
The secondary may be a little green, but the talent is there with Mark Barron leading the way.  You've got Dre Kirkpatrick who is coming along very nicely along with DeQuan Menzie who beat out B.J Scott at the other corner position.  Now I don't know about you, but that tells me there is more talent in the secondary than most of us thought.
There is also depth in the secondary, Phelon Jones has experience.  Demarcus Milliner, John Fulton, Nick Perry, & Robert Lester just to name a few.
Alabama is primed and ready to make its run as repeat National Champions.  The kicking game looks good.  Julio Jones, and Trent Richardson will be returning kicks.  Uh, yes more touches for these SEC superstars to make more plays.
In the trenches is where Alabama will dominate in 2010, six seconds of hell each play up front. 
Week one:  San Jose St.—7  Alabama—48