Werder Bremen: The Awakening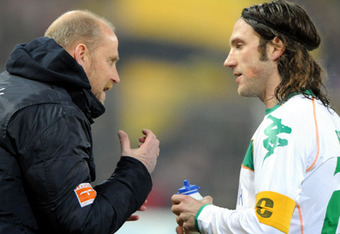 Last week, on Champions League play-offs' night, Bundesliga had a representation through SV Werder Bremen.
They took a 3-1 lead from first leg against Sampdoria to Italy, where the supporters at the stadium, along with the viewers on the television and via Internet live-streams all around the globe, witnessed an all-attacking and sensational match-up between the two sides.
It was one of the most thrilling matches played and the home side Sampdoria made it 2-0 (3-3 aggregate) within first 20 minutes. Both goals came from Pazzini, one of which included a thunderous volley.
Sampdoria over-all dictated the pace of the game and they were rightly rewarded with the third goal for their attacking display to make it 3-0 (4-3 aggregate).
It was an intelligent back-heel from Cassano which almost placed Sampdoria in the Group-Stages of Champions League, but as the saying goes that the match is played throughout 90 minutes.
Di Carlo substituted Cassano in the dying moments, thinking the "Italian Job" was done; and on the other hand, Thomas Schaaf opted for Rosenborg at the same time to introduce as he looked for some answers from the striker, who had been silent for a long time.
And in the 93rd minute stoppage time, Rosenborg made a statement with a goal to make it 3-1 (4-4 aggregate) and gave hope not only to Werder Bremen but Bundesliga as whole.
The match wore on in to extra-time and in its first half, Claudio Pizarro scored a well-taken ground-drilled shot which ended in the back of the net.
It was an old-school clinical finishing by the Peruvian, which sent Werder to Champions League Group-Stages after a one year break.
Positives of the Match:
The match was played in full-packed Stadio Luigi Ferrais, in Genoa. It was a wonderful atmosphere out there and the supporters made it one lively and unforgettable affair.
The view of shirtless supporters got me reminiscent of crazy Newcastle United fans.
The Football enthusiasts witnessed the class of Antonio Cassano and the way he ran the show must had instilled confidence in Azurri faithful that this man can reignite "tre-quartista", if needed, in the national team and can prove to be a man once he was poised of to be.
His touches, play-making, threatening runs up-the-field, and class-act performance were all there to see.
Additionally, Giampaolo Pazzini's nose for goals is what may install his position as goal-poacher in team Italia. He has scored at bigger stages, under-pressure, and can slot the ball in with both feet and the perfect headers.
Italy will be the team to watch in Euro 2012 and Cesare Prandelli will enjoy the selection process with whole lot of reliable players.
The tale of 1st and 2nd leg between Werder and Sampdoria
The Battle Resumes:
The battle which ended last season in Champions League Final started again with this match—The Battle of UEFA Coefficients.
Bundesliga is boosted with confidence as all its six teams have qualified for their respective European tournaments; be it Champions League or Europa League.
While, on the other side, Serie A has a little advantage that seven teams will battle from European front—three teams for Champions League and four for Europa League.
Serie A's loss will be Bundesliga's gain this time around.
Bremen's sending Sampdoria off to Europa League will play a crucial part as the competitions wear on and the final coefficients begin to form by the end of the season.
Werder Bremen are placed with Inter Milan in the group stage, while Bayern München face the challenge by AS Roma.
One would like to think that the battle is all set to win the coveted fourth place for Champions League between the two leagues and Bundesliga will never have a golden chance like this to steal the show.
Return in Champions League:
Bundesliga: Final League Table 2008-2009
The above league table shows the end of 2008-2009 season when Werder Bremen hit the lowest standing—10th position—under Thomas Schaaf since 1999.
It had a silver-lining elsewhere as they reached the UEFA Cup final where they lost against Shakhtar.
In the process, Werder earned the nickname "Italian killer" as they sent two out of three Italians teams (Inter and Ac Milan) home while reaching for Final.
The 10th position in Bundesliga that season eventually meant that Werder were going to have no European adventures for 2009-2010 (previous) season, but thanks to their DFB-Pokal win against Bayer Leverkusen at the end of that dismal season which ensured the place in Europa League for Werder.
They reached round-of-16 of Europa League last season, where they lost against Valencia with the score-lines 1-1 and 4-4. Valencia won the tie 5-5 aggregate on away goals.
While in Bundesliga, they remained steady and consistent. Their resilience and tenacity kept them on fifth and fourth standing for most of the season.
Their nature of making the most of others' failings took them to third position nearing the end of the season, and they ended the season with that standing, which ensured the return in Champions League after one-year break.
Prior to last year's absence from Champions League, Werder had qualified for the Champions League Group-Stages five years consecutively.
The Man of Honour:
Let's be honest here; whatever this club is all about today is the tireless contribution and tremendous hard-work of one man and one man only—Thomas Schaaf.
His never-ending, selfless, and omnipresent affiliation with the club has played a huge part in the transformation of this club.
He started his youth career with Werder Bremen at the age of 11. He then started his professional career as the defender for the club, which spanned around for 17 years.
Amidst playing for the club, he was already coaching the youth teams of Werder Bremen in late '80s. When he retired in from playing in 1995, he was made an assistant manager to the senior team.
For gaining more experience, he chose to manage Werder II and took the team management job of Werder Bremen after four years in 1999.
Since then, this man has done his best to keep the club high and has enjoyed the huge success in his era.
He won the Bundesliga title, his first and club's fourth, in 2003-2004 season, which was in fact a league-double.
He has three DFB-Pokal trophies under his belt and has made Werder Bremen a prominent fixture in Champions League.
His whole life has revolved around this club and he has made a one strong case of a one-club man.
After 38 years of club's affiliation, at the age of 49, his status is of the legend but he has never got a round of applause outside Germany where people have hailed Santiago Bernabeu, Francesco Totti, and Ryan Giggs but failed to recognize who Thomas Schaaf is!
After all, media is a fickle "bitch"!
The Nature and Reputation:
Werder Bremen have become one of the perennial contenders under the leadership and management of Thomas Schaaf. Every year, they have contended for the title and mostly finish on second or third positions.
Their main strength lays in the promotion of young players and providing them with bigger and better stages to perform and polish their abilities.
This main strength is their main weakness as well, as they are haunted by other clubs when they make some superstars out of their ranks. Werder never holds up the players and let the players go if players want to move.
Then, the club go back to work again and keep producing wonderful young players either out of their youth academy or buying some youngsters from other clubs and nourishing them to big players for the future.
Klose, Diego, and Ozil have moved on to other clubs one by one, but the club has remained steady and ever-intimidating.
The current cream of the crop youngsters include Marko Marin, Aaron Hunt, and the new signing Arnautovic.
While the veterans like Frings, Fritz, Borowski, Pizarro, Naldo, Mertesacker, and Rosenborg add a combative dimension to the team.
The team plays offensive football and happens to be the team of crazy equalizers. Mostly, they will end up in a 4-4 draw or they will win the tie with 4-1 scoreline.
The number 4 is their lucky number or the nemesis; it is yet to be researched but one thing is sure that they play some attractive and superfluous football.
It will be interesting to see how they ply the trade in Champions League this year.
They surely are an "Italian Killer" and Inter Milan is not same without Jose Mourinho so will Werder dig their grave again or they will bury themselves and how they will fare against Tottenham Hotspur is yet to be seen.
The squad looks so balanced and fierce, that it might give them an edge for much longer Champions League campaign-run and it might be the time that Werder roars up the sleep and awakens "big time."
Welcome to Champions League, Werder!
This article is
What is the duplicate article?
Why is this article offensive?
Where is this article plagiarized from?
Why is this article poorly edited?