How Many Wins Will USC Need This Season To Quiet The Naysayers?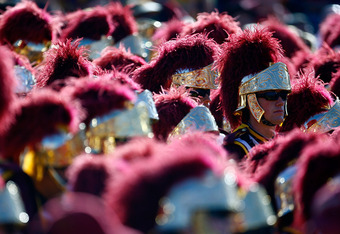 Jeff Gross/Getty Images
The burden resting on the shoulders of USC players this year is overwhelming.
The stress of a new regime under head coach Lane Kiffin, the constant merry-go-round of the roster and depth chart, and of course the looming tower of sanctions crashing down overhead.
Yeah, not exactly the normal glitz and glamor the players feel when putting on the red and gold for the first time in a season.
Yet, there's no question USC still has plenty of depth and talent to hoist the burden.
We all know the names of cornerback Shareece Wright, center Kristopher O'Dowd and running back Allen Bradford, which are not just solid names on the USC roster but experienced players who will be looked to all season for guidance and leadership. These players among others, will be key pieces to the Trojans success.
Of course all the teams talent and the abundance of pressure will ultimately ride on the young yet solid shoulders of quarterback Matt Barkley. It always comes down to the man with control of the huddle, the football, the team.
This is not to say that this will be a make or break year for Barkley's career; no, I think most football analysts agree this young man has a bright path in his future. Last year, Barkley showed that he can handle pressure. Like, say the pressure of being a number one pick in the draft. This year, Barkley can show whether his leadership is sufficient enough to keep his teammates focused on winning games with no prospect of a Bowl game. This could also be applied to the pros; is there anyone out there who believes Bradford and the Rams will make a run at the playoffs this year?
That brings us back to the original question: How many wins will the Trojans need to quiet the hiss?
I think it's easy to say the minimum would be nine wins, the same as last years record. That would prove that USC hasn't been affected by all the negative press. It would be a disappointment for the team and the fans and it also wouldn't help towards next years recruiting. But it would start to quiet all the critics.
10-11 wins this year would be a feat, a proud accomplishment; I think anyone would say so. This would do even more for USC PR and help tremendously with potential recruits.
Looking from a fan, player, or recruiting perspective is an obvious 12-13 wins. This would clearly shut the pessimists down and in fact, I think its safe to say that it would turn a lot negative attention, to positive. I believe we would hear more of 'without those NCAA sanctions the Trojans could be playing at such-and-such bowl game' instead of, 'the Trojans are not who they used to be'. This would have people excited with coach Lane Kiffin instead of blaming him for all the baggage he inherited.
In conclusion, I'm excited to see what the Trojans can accomplish this year, even with the NCAA punishments at hand. I think USC is a safe bet for at least 9-12 wins this year and in addition to the thrill of watching them have a strong season I'm excited to watch them punish, not just their opponents but the people and critics who have jumped on the negative band wagon.
This article is
What is the duplicate article?
Why is this article offensive?
Where is this article plagiarized from?
Why is this article poorly edited?

USC Football: Like this team?