Big Ten Divisional Alignment; The Loss Of a Rivalry: Michigan and OSU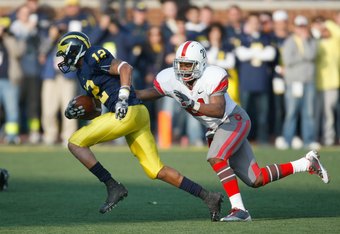 Gregory Shamus/Getty Images
It's been almost 3 months since Nebraska announced they were joining the Big Ten, and immediately the theories began pouring in regarding the divisional alignment. There was speculation of a Big Ten East / Big Ten West alignment, which would be strictly based on geography. A second geographical alignment also surfaced rather quickly (Big Ten North / Big Ten South) though it didn't have near the momentum of the East / West alignment.
In addition to geographic alignments, there was talk of divisions being formed that would allow the Big Ten to maintain competitive balance, and it appears as if that is exactly what will happen. On August 17th Big Ten Commissioner Jim Delany spoke in Lincoln, NE and he was very candid about the intentions of the conference with respect to divisional alignment.
Citing that while geography was certainly a consideration, ultimately the need to have both divisions viewed as competitively equal as well as maintaining the best rivalry / trophy games were the top priorities when considering the alignment of the divisions.
Since Delany spoke the speculation continues about how the conference will be divided, and one of the biggest discussion points has centered around what ESPN.com listed as the the greatest rivalry of all time, Michigan vs. Ohio State.
Regardless of where Michigan and OSU line up in divisions (together or apart) the annual rivalry between the two will remain in tact, as it is viewed as a "protected" rivalry by the Big Ten. Though it is unlikely to remain the final game of the season.
Earlier this week Wisconsin's AD, Barry Alvarez, was quoted as saying that Iowa and Wisconsin will not play in the same division, which fueled speculation that Ohio State and Michigan would also be separated, in order to maintain some level of competitive balance.
The problem with the scenario of Michigan and OSU playing in different divisions of the Big Ten is that it could result in the two teams playing twice in certain seasons. And historically, rematches aren't great for college football in the same season.
If both Michigan and OSU finish atop their respective divisions they would battle it out in a conference championship game to determine the winner of the Big Ten. Factor in the protected rivalry status (which means they would play every year) and you have a double serving of Michigan vs. OSU.
While Michigan and Ohio State fans might be all for this set-up initially, I believe eventually it would lose it's luster. Plus, it's not really good for the rest of the Big Ten, as each school is striving for the same goal, to play in the conference championship game. Of course, the scenario of Michigan and Ohio State playing each other twice does require some obvious things to occur.
First off, Michigan has to return to prominence within the FBS.
Second, Michigan will have to defeat either Nebraska and/or PSU, depending on how the Big Ten aligns the divisions within the conference. The second task will be much harder for Michigan to accomplish than the first, as conference rivalries / games are generally played tough.
A valid concern for fans should be that what is widely considered to be one of the best rivalries in all of sports will cease to be one much longer. The Michigan vs. Ohio State game is great for college football, with a history dating back to 1897. It's hard to imagine a conference realignment demeaning that much history, but that's exactly what could happen.
This article is
What is the duplicate article?
Why is this article offensive?
Where is this article plagiarized from?
Why is this article poorly edited?

Michigan Wolverines Football: Like this team?