The 10 Biggest Last Minute Transfers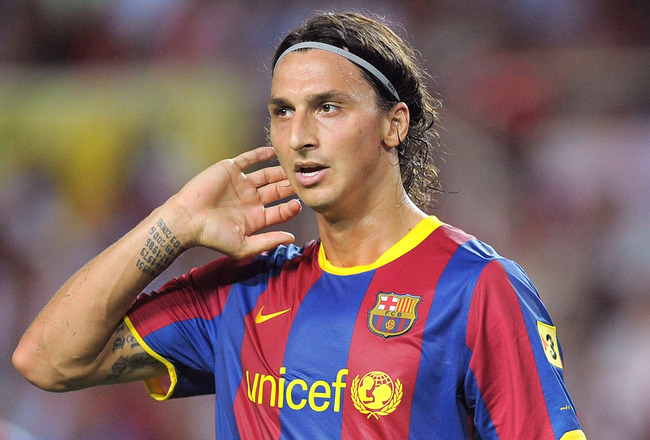 Denis Doyle/Getty Images
So with the transfer market having entered its last five days, now more than ever, clubs start getting deals into place and papers have their long-awaited wish of having substantial column inches to fill.
There is hardly anything more exciting than the final week of transfer activity as seemingly blocked deals suddenly fall through, while some of them pay off and others miserably fail. This year, we see no shortage of drama as the Zlatan Ibrahimovic to AC Milan saga has suddenly picked up.
We look at 10 of the biggest transfer deals to have taken place in the last few years, regardless of their eventual success.
Wesley Sneijder: Real Madrid to Inter Milan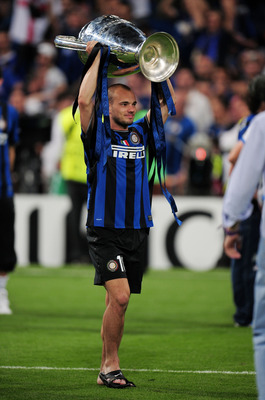 Shaun Botterill/Getty Images
Sneijder joined Inter Milan from Real Madrid just five days before the transfer window slammed shut. As was the irony, he went on to lead Inter to the treble and today could be named the UEFA European Player of the Year at a ceremony a year to the day from his move.
Sneijder was not too sure about his move to Inter last year, as he had announced his intention to fight for a place at Los Galacticos. But with Florentino Perez eager to recoup some of the millions he invested in buying the likes of Cristiano Ronaldo, Kaka, and Xabi Alonso to the club, the Dutchman was forced out rather forcibly.
His €15 million move may not have been one of the biggest deals of the summer, but it turned out to be one of the smartest ones.
Arjen Robben: Real Madrid to Bayern Munich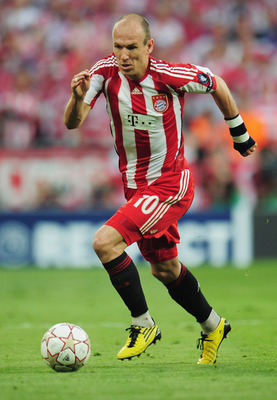 Shaun Botterill/Getty Images
Though the summer of 2009 will be remembered by Real faithfuls as the one where they acquired two of best players in the world, it will also be a grim reminder of the two they lost who came back to haunt them. Robben was the second Dutch Madridista to be auctioned off by Perez.
Robben, despite his brilliance, never managed to stay fit enough and was put on the market in similar circumstances to Sneijder. At first, this move seemed to be the right one as he had failed to capture the imagination of the Bernabeu, but his scintillating form for Bayern had the Blancos repenting.
The €25 million which Bayern paid for him were reimbursed in the form of 23 goals leading the Bavarians to a domestic double and a place in the Champions League final.
Dimitar Berbatov: Tottenham Hotspur to Manchester United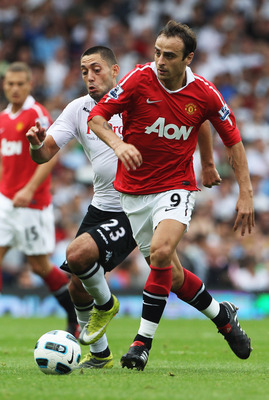 Phil Cole/Getty Images
Berbatov sealed his move to Manchester United in the final hours of dealing in the summer of 2008. The Red Devils had courted the Bulgarian's services all through the transfer window, but with Tottenham unrelenting in their valuation of the player, United had to finally shell out a massive £30.75 million to pry him away.
Berbatov arrived with a weight of expectation on his shoulders following a remarkable season with the Lilywhites which had seen his price skyrocket. In two seasons with the North London club, he had scored 46 goals and led them to the cusp of Champions League football.
Two years on, there are still many critics of the Bulgarian and those that feel United paid way over their head for his services.
Robinho: Real Madrid to Manchester City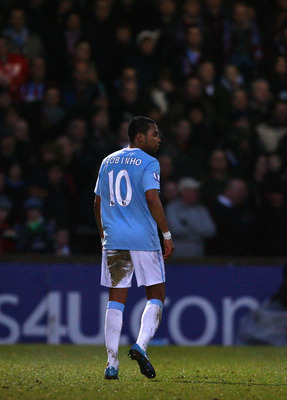 Alex Livesey/Getty Images
The script for Robinho's move from Real Madrid to Manchester City couldn't possibly have been better written by the most experienced soap opera writers. The Brazilian was disgruntled with life in the Spanish capital and was eager to find any way out of the city.
Chelsea had been courting the diminutive Brazilian's services for quite some time, had reached an accord with the player, and there was an agreement with Real on the horizon, when someone cocked up. The Blues started selling shirts with Robinho's name on the back and Real treated this as a grave offence, calling off negotiations for the perceived insult.
Meanwhile, City were bought over by Sheikh Ali Mansour's Abu Dhabhi United Group and as a parting present, Thaksin Shinawatra brought Robinho for the Citizens. Truly epic stuff this—£32.5 million, a fee that smashed the British record, for a player who two years down the line is not even a part of the squad!
Ricardo Quaresma: FC Porto to Inter Milan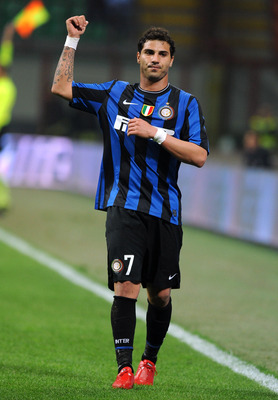 Massimo Cebrelli/Getty Images
Quaresma was repeatedly demanded by Jose Mourinho when he took charge of Inter Milan in the summer of 2008. The Portuguese tactician was sure that his compatriot would bring an extra dimension to the Nerazzurri's play.
Massimo Moratti was quite unsure about this investment but the Special One eventually forced his hand and Quaresma arrived at Inter on the final day of dealings from Porto. The winger had been very successful in his homeland and the fee of €18.6 million plus midfielder Pele, while not a bargain, seemed just at the time.
The magnitude of Mourinho's error in judgment became evident this summer when Quaresma left Inter for Besiktas, almost anonymously, for a mere €7 million. He made 23 appearances for the club in his two years—talk about getting screwed over.
Carlos Tevez: Corinthians to West Ham United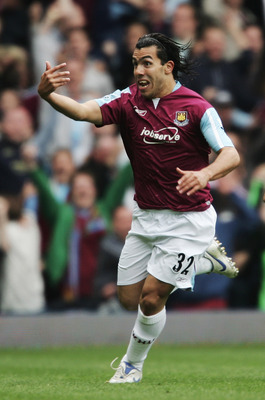 Jamie McDonald/Getty Images
The Tevez move to West Ham was again one full of intrigue with foreign owners, contract disputes, and supreme chaos involved. Tevez and his compatriot, a certain Javier Mascherano, had been linked with all the top clubs in England like Arsenal, Chelsea, and Manchester United.
It seemed imminent that the Argentine pair would eventually land with one of these top teams. Tevez refused to play for his Brazilian club, Corinthians, and was desperate to secure his move to England. But when that did occur, he happened on the most unusual of clubs.
Tevez's contract was part owned by Kia Joorbachian's Media Sports Investment Company, and there were certain clauses the group was forcing on the clubs. West Ham took the gamble and got the players, but had to shell out £20 million to Sheffield United, who filed for illegal transfers for the Hammers.
Michael Owen: Real Madrid to Newcastle United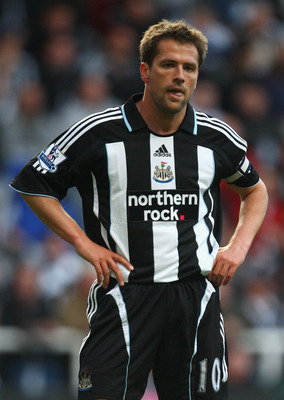 Laurence Griffiths/Getty Images
Owen's transfer from Real Madrid to Newcastle was one of the more bizarre ones in the last few days of negotiating. He had transferred to Real only a season before and despite not setting Madrid on fire, had a moderately successful campaign.
When the Blancos then went ahead and bought Robinho and Julio Baptista in the summer of 2005, Owen suddenly became worried about holding his position in the team. Liverpool offered to take him back to Anfield, but he was looking for a guarantee of first team football.
He eventually picked the Magpies as his destination in a decision that raised quite a few eyebrows among pundits. Despite being the captain of the side, Owen failed miserably in motivating his team and presided over its first relegation from top-flight football in 16 years at the end of the 2008/09 season.
Ashley Cole: Arsenal to Chelsea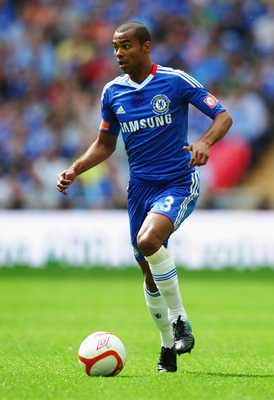 Laurence Griffiths/Getty Images
Cole to Chelsea was one deal that Arsenal fans will never ever forget. The deal, which took place at the very last minute, was an affront to all the Gunners fans particularly as the left back had been sanctioned for his behind-the-scenes meeting with Chelsea during the previous campaign.
Things got even more ugly when Cole bit back at Arsenal for having "fed him to the sharks" over the tapping up affair and his demands for a pay raise were refused. With Chelsea sticking to their initial offer of £16 million and Arsenal demanding a full £25 million, the deal looked unlikely to go through.
But finally, after the deadline had passed, a deal was struck, and Cole transferred to Chelsea with William Gallas going the other way. Three years on, and the left back still has never been spared abuse when he travels to the Gunners.
Wayne Rooney: Everton to Manchester United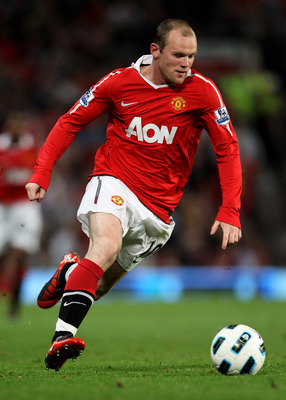 Alex Livesey/Getty Images
A 18-year-old managing to corner all the media attention for himself in the final few days of transfer activity was testament to the value of Rooney. The fiery teenager wanted to move away from his beloved Everton after the Toffees had a disappointing Premier League campaign.
Newcastle United had seemed to be in pole position to sign him for a good part of the summer, and Rooney's agent had indicated that a deal was close. But Manchester United's arrival at the negotiating table set the cat amongst the pigeons.
Everton seemed reluctant to sell, and Rooney handed in a transfer request. Finally, he completed his move to the Red Devils for £25 million, the highest amount paid for a teenager. His relationship with the Blue half of Merseyside was also wrecked, and he can hardly claim to have attempted to mend fences.
Transfer Madness in Italy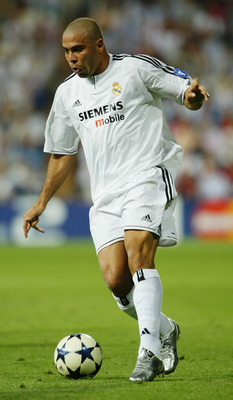 Shaun Botterill/Getty Images
August 31, 2002.
Officially the craziest day of transfer activity witnessed in any of the top leagues and unlikely to be ever repeated.
The Ronaldo to Real Madrid saga finally ended. The Brazilian forward had claimed he wanted to stay at Inter and President Moratti had assured fans he would do so. Talks with Real broke down and they issued a statement saying "negotiations were impossible."
With the hours ticking away on the final day of the window, Ronaldo secured his move to Real for approximately £28 million. But that was far from the end of major deals in the Italian peninsula.
Alessandro Nesta moved from Lazio to AC Milan and Hernan Crespo joined the Nerazzurri from Lazio as well, as a replacement for Ronaldo. Both these deals were forced on the Roman side as it was nearing bankruptcy.
Three mega-deals on one day—Lazio fans thrashing the club's offices and Inter fans queuing outside the Malpensa airport in Milan to question their star's decision to leave for Madrid. Unreal!
So What About This Year?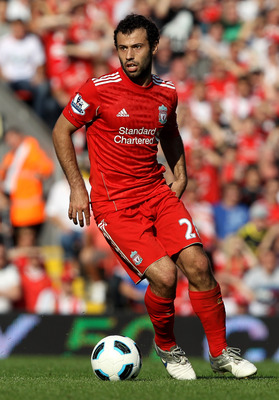 Clive Brunskill/Getty Images
As we approach the end of yet another hectic summer of transfer movements, there are bound to be a few movers and shakers and dramatic twists. Javier Mascherano and Zlatan Ibrahimovic are among the big names likely to join new clubs, while others like Robinho are also looking for new destinations.
Here is a list of predictions for transfers which may occur within the next week's time—
1. Ibrahimovic transfers to AC Milan for roughly €35 million.
2. Mascherano moves to Inter for a deal worth £18-20 million.
3. Robinho joins Barcelona on loan from Manchester City.
4. Mark Schwarzer completes a switch to Arsenal.
5. Rafael Van Der Vaart leaves Real Madrid.
Keep Reading