Is This Year's Timberwolves' Roster Better Than Last Years?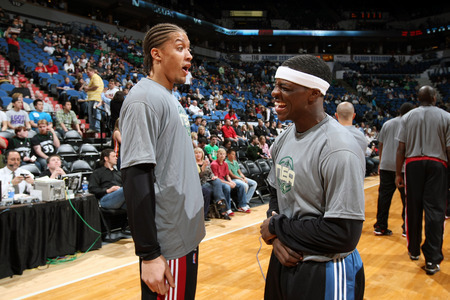 This season the Timberwolves were picked by ESPN and several other analysts as the worst team in the league. That's understandable considering they are a rebuilding squad.
However, when I heard that they would be producing a worse record than last season, I felt a little surprised. The Wolves have made some great roster moves this summer to acquire some new talent, and while they aren't by any means the winners of the off season, I predict they'll be winning more than last year.
So I broke it down position by position.
Begin Slideshow

»
2009 Starting C: Darko Milicic
2010 Starting C: Darko Milicic
Darko has returned for another season. And while that does bring up a few groans from fans in Minnesota, we need to remember that Darko is only 24, hasn't been paid that much this summer, and has been improving all of this off season.
After a year of mostly being told not to play in NYC, Darko has really found a situation where he is working hard on his basketball skills, is liked by the management, and is trusted to play good basketball.
Those things can only help him grow as a ball player.
Advantage: 2010 Darko
2009 Starting PF: Al Jefferson
2010 Starting PF: Kevin Love
This is one of the worst moves of the off season.
While many argue Kevin Love is better than Al Jefferson, the Wolves basically gave him away for free. On a team where adding more money won't sign you free agents because of the location and history of the team, unloading his contract isn't actually helping that much.
Still, this is Love's third year in the league, and the fact that he's been blooming as a great player for the Wolves can only lead me to believe he'll have a great season.
Advantage: Tie
2009 Starting SF: Ryan Gomes
2010 Starting SF: Michael Beasley
This one's a no brainer.
A lot of "experts" are predicting that Beasley will not thrive any more in Minnesota than he did in Miami. To them I say, "fine." Beasley averaged almost 15 points, 6 rebounds, and a block in 30 minutes per game last season. If he produces at that level, he'll top Gomes every single game.
However, if Beasley does live up to the #2 pick status that he was supposed to have, then the move will look even better, and not only will he beat out Gomes, but he could turn into a star player.
Advantage: Beasley
2009 Starting SG: Corey Brewer
2010 Starting SG: Wesley Johnson
I still think this one's a no brainer.
Wesley Johnson was the #4 pick for a reason. He's a great player, who fits in well with the triangle, and has a lot of upside. People are only mad because he doesn't have MVP potential like Cousins. While the Wolves played it safe, I still say that Johnson is a huge upgrade for the Wolves, and that we should be excited to watch him play.
Plus, if Wesley doesn't produce, then Brewer will just start again, and then we're back to even anyway.
Advantage: Wesley
2009 Starting PG: Jonny Flynn
2010 Starting PG: Jonny Flynn
This is a little more complicated than it looks.
Jonny will be out for a good portion of the year, and the recovery process may not be an easy one. On the other hand, one year of experience always does wonders for players.
Just like Kevin Love, Flynn had an okay rookie season, and while he made the All-Rookie 2nd team (like Love), he's sometimes treated as a bad draft pick. While picks 7 and 10 turned out a whole lot better, I think that some people forget how bad the #2 pick Thabeet, and the #3 pick Harden played last season.
Regardless, Flynn will come out with more firepower than last year, but the question remains how will he recover from his injury?
Advantage: 2009 Flynn
2009 Backup C: Ryan Hollins
2010 Backup C: Nikola Pekovic
Ryan Hollins was a pretty good backup center last season. His athleticism earned him a spot on NBA.com's top 10 dunks of the year list, but it never lead the Wolves to a lot of production and wins.
Enter Nikola Pekovic. Tagged as a taller Al Jefferson once, Pekovic is almost Minny's low risk, high reward player of the year. A European great, Pekovic has so much upside as a European scorer, who is strong enough to handle the NBA game. It won't take much for him to top Ryan Hollins' production, but he can easily overshoot it too, and people in Minnesota would be just fine with that too.
Advantage: Pekovic
2009 Backup PF: Kevin Love
2010 Backup PF: Anthony Tolliver
Okay, this one's simple.
Kevin Love competed for minutes with Big Al last season, lost, and found himself on the bench. Tolliver is probably the worst of our backup players, but his athleticism and ability to play 2 positions makes him a solid player for a rebuilding team.
However, it's so obvious.
Advantage: Love
2009 Backup SF: Damien Wilkins
2010 Backup SF: Martell Webster
Wilkins had a recovery year in his career last year with the Wolves starting with his opening game, game winning shot against the Nets. However, he played as an expiring contract veteran for the Wolves, and that presence needs to be factored in when comparing the two.
However, Martell was built for the triangle. He's a scorer from anywhere on the court, a hard working, athletic guard/forward, and is looking to jump start his career in Minnesota after competing for minutes in Portland's unlimited supply of backup guard/forwards.
Advantage: Webster
2009 Backup SG: Wayne Ellington
2010 Backup SG: Corey Brewer
Brewer was a high candidate for the most improved player of the year last season, and for good reason. After his big injury, he really improved his shooting and thrived in the fast paced system in Minnesota, and was constantly making throw downs on the fast break to get him on SportsCenter's highlight reals.
Ellington, while a good shooter, was actually Corey's backup at SG last year, and now that Corey has been bested, he'll have a reduced role, until something happens to Corey.
It's simple. Corey started over Ellington last season, he's clearly better.
Advantage: Corey
2009 Backup PG: Ramon Sessions
2010 Backup PG: Luke Ridnour
This is a tough call.
Both players were top free agents from the Bucks who decided to sign with the Timberwolves in order to see increased minutes, and compete for more minutes, and a starting position that they would more than likely loose to Jonny Flynn.
And who is really better? Well, Sessions is probably the better player, but Ridnour is more a veteran presence that the Wolves need, and is better fit for the Minnesota offense.
Advantage: Tie
Best Center: 2010 Milicic
Best Forward: Tie
Best Forward: 2010 Beasley
Best Guard: 2010 Johnson
Best Point Guard: 2009 Flynn
Best Center: 2010 Pekovic
Best Forward: 2009 Love
Best Forward: 2010 Webster
Best Guard: 2010 Brewer
Best Point Guard: Tie
6 improvements, 2 ties, 2 better last year.
While the most lopsided position was awarded to last year's backup forward Kevin Love, the Wolves have improved at almost every position, or potentially matched it. So to anyone worried about a team going backwards, you have nothing to fear. The Wolves have improved a lot.