Bundesliga: The Top Strikers to Look Out for This Season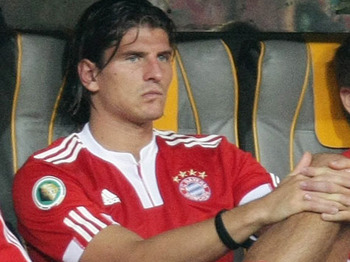 Strikers play a funny role for their clubs. The fortunes of the clubs sorely depend on their goals—and of course, on their "injuries."
High-flying goal-scorers can be a delight for the clubs and their supporters, while those who are stuck in lengthy goal-drought spells can be a never-ending nuisance.
Their sheer intelligence and hunger for hitting the back of the net is what matters at the end. Many have managed to score some thunderous and unforgettable goals for the clubs that remain longer in the memories of the fans.
One goal at the crucial moment separates clubs from attaining glory or hitting the gloom. Others carry a penchant for being injury-prone, and the slow recovery heavily affects the end results of their clubs.
Nevertheless, strikers will always carry "something special" with them, and they will continue to be the reasons for the rush of blood running in the veins of their supporters, which soars with excitement in them if they keep on scoring.
Here, we look at some of the strikers who will carry the very traits described above this season in Bundesliga.
Man With A Mission: Vedad Ibišević
Club: TSG 1899 Hoffenheim
Last Season: 12 Goals
Two years ago, a club got promoted to Bundesliga top division named TSG Hoffenheim and we all were braced with an emerging Bosnian striker of this team Vedad Ibišević.
He carried a reputation of being a "lucky pendant" for the team and so huge was his impact that by the end of half-season break the team was leading the league table and he was leading the top goal-scoring charts with 18 goals in 17 games along with 7 assists. Pretty impressive, you must admit.
But then, a saying goes in Football that one injury can perish all the dreams.
Ibišević got injured badly and at the end of the season his chart stood like this: 19 games, 19 goals, with 7 assists and the team was no more at top there.
Last season, he scored the second fastest hat-trick in the Bundesliga history and closed the season with 13 goals and 7 assists.
One may have to say that this guy has good skills when it comes to being an intelligent player up the field.
This season he would like to remind us that he can be a driving force behind his ambitious team.
The Panther: Lucas Barrios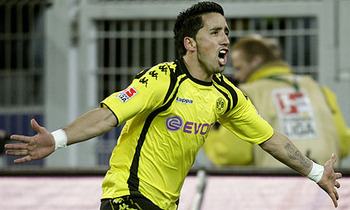 Club: Borussia Dortmund
Last Season: 19 Goals
Gone is the "Golden Age" of this club with its legends but this Paraguayan would like to point his finger and say: "It's not over yet!"
Lucas Barrios was the new signing for Borussia Dortmund last season and has played a massive role in their final Europa League position. He amassed 19 goals and became the third top goal-scorer of the season.
This player is really effective in the box and will surely cement his reputation further on his last season performances. His effectiveness, swiftness, and agility up-the-field has earned him the nickname "The Panther".
Borussia Dortmund consists of a vibrant squad having the likes of Kehl, Şahin, Dedê, Kuba, and the likes of Subotić and Weidenfeller at the rear-guard. And if you have the team mates likes these then players like Lucas Barrios can only up-level the game.
He will be a serious contender for the top goal-scorer award this season.
Shining Diamond: Stefan Kießling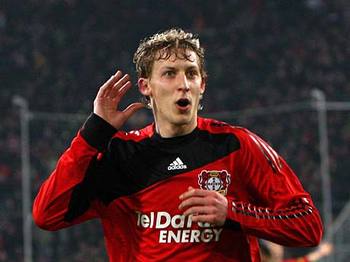 Club: Bayer Leverkusen 04
Last Season: 21 goals
Here is the "tireless and loyal Dirk Kuyt" version of Bundesliga—Stefan Kießling.
Stefan Kießling (or Kiessling in English) has made a notable reputation for himself.
He holds a record of scoring in five consecutive matches from the start of season, which he attained last season, sharing with the likes of Bobic and Berbatov.
He was the leading goal-scorer at the half-season break last season and the team Bayer Leverkusen 04 was leading the league table at the time and ended the season as the second top goal scorer of the league with 21 goals—just one goal shy from finishing first.
He displayed an enormous tireless attitude for the team which attained the record of longest unbeaten run in the history of Bundesliga at 24 matches.
Bayern Loanee Toni Kroos was behind Stefan for most of the goals. With Kroos gone back to his club, one would say now what? Ballack says now me!
Leverkusen plays attractive attacking football under the steady stewardship of the legend Jupp Heynckes. It was a question of to be or not to be for them last season as they were leading the table most of the time.
Stefan Kießling would make sure that this season belongs to Leverkusen and to him by becoming the top goal scorer at the end of the season.
Old Guard: Claudio Pizarro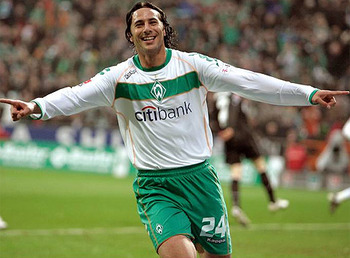 Club: Werder Bremen
Last Season: 16 Goals
The love story between Pizarro and Werder Bremen dates back to 1999 when he made Werder his first European home.
He has then switched the sides and has played for Bayern Munich where he won the league double then Chelsea. Now, he is where his heart has belonged forever—Werder Bremen.
Werder has strange traditions under Thomas Schaaf. They produce quality players out of their youth ranks and then sell them to big fish in the pond; Miroslav Klose, Diego, and now Özil. Interestingly, their superstars forget the rhythm they had at Werder and hardly make-up in their new teams.
Yet, Werder remains healthy with new blood and adapt let bygones be bygones philosophy.
Claudio Pizarro might had learnt it and triggered his second coming to Werder. Now, he is enjoying like old days and has a solid relationship with the fans and his performances on the pitch have always improved with the days passing.
His goals have played important role in Werder's inclusion in Champions League play-offs where they will carry 3-1 lead to Sampdoria and hopefully will end up in group stages. This is the reason that Claudio Pizarro is the one to watch this season as he has double-duty to carry his team forward after the recent departure of Mesut Özil to Real Madrid.
The Invincible: Edin Džeko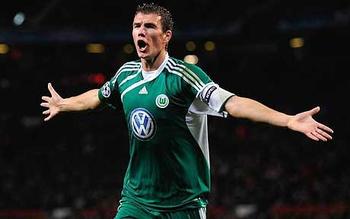 Club: VFL Wolfsburg
Last Season: 22 Goals (Top Goal Scorer)
Edin Džeko has become the most sought-after Bosnian player in the football history. It's for all the right reasons that most of the gigantic European clubs want this clinical centre-forward prodigy in their ranks.
His legendary partnership with his team-mate Grafite made Wolfsburg the Bundesliga champions for the very first time in the club's history just a year ago.
The club finished out of European spots this last season but Džeko ended the season at high by finishing as Bundesliga top goal scorer with 22 goals.
Clinical finishing, strong header, physical presence, and good link-up play with team mates are one of his strong weapons in the bag. He has mental toughness which he has shown time after time by making something out of nothing.
Last season's disappointing campaign will be in his mind and he will drive his team to good finish with the new management under Steve McClaren this season.
He is, no doubt, a consistent performer and will only win more hearts and respect around the Football world.
Dark Horse: Ruud van Nistelrooy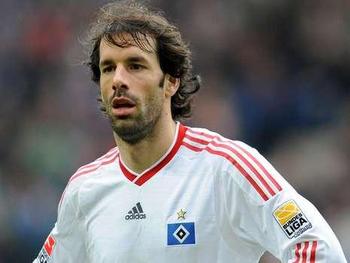 Club: Hamburger SV (HSV)
Last Season: 5 Goals
Some people don't need words to describe them. Let's be honest; this person doesn't need any words to describe who he is.
Ruud van Nistelrooy joined HSV in last season's winter transfer season and managed 5 goals in 11 matches.
This man has never forgotten to wear his goal-scoring boots.
It will be his first full season for Hamburg and last season as far as contract is concerned unless he signs one year extension.
And how he wants to end the season? He scored a hat-trick in HSV's DFB-Pokal first round and bagged two goals in first Bundesliga match last weekend against Schalke 04 in front of his old companion Raul.
He has made a strong statement about his intentions, already.
Fading Legend: Raúl González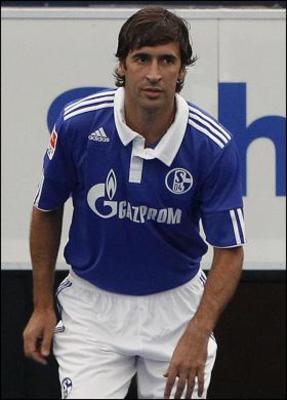 Another person who is not in need of words—Raul.
Unlike his old friend, Raul didn't have a blast start.
It is yet to be seen that the reputation which goes around with him and the aura which he has carried throughout his career will give him a fruitful debut season in Bundesliga or not.
But one thing is for sure; he has got many eyes on him.
Critics are already at work and have gone on bashing him for not making an instant impact.
I would say that give him some time and let him understand how it works here. He surely will have his moments.
Schalke 04 will be playing Champions League Football this season and it will be intriguing to see Raul extending his Champions League all-time top goal scoring record.
People (media) say that he is brought to Schalke 04 as a replacement to Kurányi but I will say that's not the case.
The Young Gun: Erik Jendrišek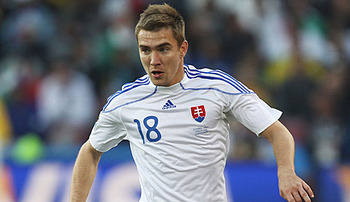 This is the player who Felix Magath eyes as his next Kevin Kurányi.
Jendrišek has played for Kaiserslautern (a good learning club as a youth player) for past three years and was the top scorer for the team with 15 goals last season which helped them in gaining promotion to the top division after four years' gap.
He finished as the top goal scorer for the club prior to last season as well.
However, Jendrišek had already signed for Schalke 04 in April and will be seen filling shoes of Kevin upcoming seasons.
This Slovakian is 23 and has a wonderful career ahead. He is waiting for his first promising start for the club which is soon to come.
The Departed: Kevin Kurányi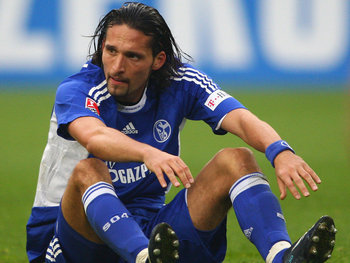 And here is a guy which will not be seen in Bundesliga.
This player might not be your Wayne Rooney or Didier Drogba but you have to blame yourself because you are victims of English Premier League and two-horse La liga. Yeah, Kidding.
Kevin Kurányi has given good ten years in Bundesliga which started with Stuttgart II and took him to a journey of VFB Stuttgart and Schalke 04, which revolves around 294 matches and 121 goals.
Last season, he played his heart out and led Schalke to their runner up standing which had its moment of "almost clinching" the title off Bayern's hands in the last days of the last season.
Strong aerial ability, mind-freak finishing, and undying work-rate has been his armory of skills.
Kevin Kurányi also initiated a national debate in Germany last season of including him in World Cup squad which gave headaches to Joachim Löw as he had to go against his words if he were to include Kevin in the squad.
The debate had Beckenbauer's comments along with Felix Magath's reactions and it had its moments.
Kevin netted 19 goals last season and has since moved to Russia for the club Dynamo Moscow.
Just to know how this "Basterd" is doing there: He has scored 3 goals in 3 matches for Dynamo Moscow.
This article is dedicated to Kevin Kurányi as I know that it would take some time to find a striker like him in Bundesliga.
Keep Reading