The 100 Hottest Athletes of All Time
Hot athletes are fascinating. With models, their talent is looking attractive and nothing else. With hot athletes, not only are they beautiful, but they can also kick your butt in whatever sport they play. That's awesome.
Twenty years ago we didn't really have hot athletes. Attractive women didn't gravitate towards sports. Now it's hard to name a famous female athlete that's not good looking. That's probably a sad commentary on our culture, but I'll leave the pontificating to Rick Reilly on that matter and instead celebrate the most beautiful women ever to grace the sports world.
So I have gone through over 30 sports and spanned nearly 50 years to find the sexiest women who have ever played a sport. Some you know, some you'll learn about for the very first time, but all are fine as hell.
Here are The 100 Hottest Athletes of All Time.
Begin Slideshow

»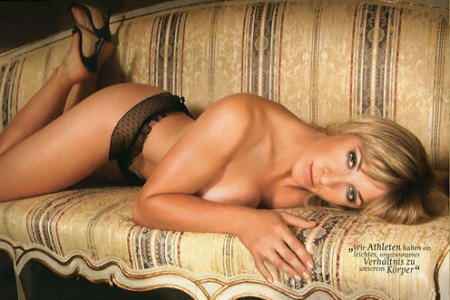 This German speed skater is nicknamed Super Sexy Anni, and for good reason. She's got a body that is rockin' and does so much better out of those restrictive speed skating uniforms.
Julia Mancuso is otherwise known as "that other hot skier from the Winter Olympics," but she's got the looks to stand out on her own. And she's got a gold medal to go along with honor. You'll have to ask her which one she's more excited about.
Candace Parker is the first woman on the list that has pulled double duty as a hot athlete and a WAG. She's married to Shelden Williams and his forehead. I'm hoping that her new baby ends up with her looks. Like, all of her looks.
Ashley Harkleroad is a hot tennis player, but her turn in Playboy took things to a whole new level. I thought the Williams sisters wore revealing outfits, but if anybody ever showed up to a match with that tank top and skirt, I might be watching a lot more women's tennis.
Sue Bird is not only the cute girl-next-door, but she's also a baller. You may watch the WNBA with amusement, but if you think you could beat her in one-on-one, you're dreaming.
Me? I'd much rather spend my one-on-one time with Sue doing something different.
Remember when the US Women's Soccer Team were sex symbols in the 90s? Glad those days are done and Hope Solo has stepped up to take over that role.
Her eyes are what gets me. She's one of those chicks that could be pissed at you, but that only makes her look hotter.
Okay, so is poker really a sport? All they do is sit, but then again, that's kind of what NASCAR drivers do, so I'm going to allow it. Besides, it gives me a chance to show off hotties like Lacey here.
See, her name is Lacy and all she has on is lace. Maybe we need more women named Lacy.
You can't tell me you haven't wandered across ESPN2 sometime in the afternoon and stopped when you saw Jeannette Lee playing pool.
When the black widow is bent over studying a shot in her leather pants, it doesn't get much better than that.
We had to get at least one blast from the past on here.
Laura Baugh was a hot athlete before they had hot athletes. Back then, women golfers looked a lot more like Laura Davies than Laura Baugh.
I call her a trailblazer. I also call her hot.
Laure Manaudou is a sexy little French swimmer. Along with fries, toast, and kissing, she's one of my favorite things ever to come from France.
Liz Leiu has got a pair. A really great pair.
What? I mean that she's got two aces.
...and a nice rack.
Normally, gymnasts are little wisps of women, but Alicia Sacramone broke the mold in more ways than one. She's stacked from top to bottom, and can look hot even in ridiculous gymnastics outfits.
Plus, she's allegedly dating Brady Quinn, which would make her the most talented athlete in that relationship.
She floats like a butterfly and can sting like a bee, but she's all sugar and spice outside the boxing ring.
The daughter of a legend, she obviously had his genes when it came to fighting, and we all know Muhammad Ali thought he was the prettiest fighter ever. At least until his daughter came along.
Natalie Coughlin is a badass. She became the first female athlete to win six medals in one Olympics. She also makes me wish that bikinis were the official uniform for the Olympics.
I mention this every time, but it bears repeating.
When Katarina Witt posed for Playboy, it became the first issue to sell out since its inception. More men wanted to see her puppies more than any other woman alive at the time.
Now that means something.
Jessica Gysin may not be a big name or play a popular sport, but she definitely deserves a place on this list.
While everyone tries to talk themselves into Misty May Treanor being hot (I don't buy it), I'd rather focus on somebody like Gysin, who may not be as talented, but is way more fun to watch.
Blue Crush introduced us to the thought of hot female surfers, and I'm glad they did. Not just because it's awesome, but because the real thing is even better.
Take Christa Alvez for instance. I'd take her over Kate Bosworth almost any time.
Like most European women, Francesca is a little more adventurous than American women. What do I mean by this? Well, let's just say that towel is the only thing keeping this slideshow from going PG-13 to XXX.
Feeling even more adventurous/not at work? Try Googling her name. This is one of her more tame pictures.
I don't know what it is about ski bunnies, but they drive me wild. Maybe it's the bulky gear that makes you have to guess what's underneath.
For somebody like Kari Traa, the reality is just as good as my imagination.
Haley Cope took silver at the 2004 Olympics in the backstroke. Maybe it's just me, but I like a woman who can handle herself on her back.
The one attractive woman from the gold medal US Women's Soccer team, Heather Mitts has gotten plenty of mileage from that, but she's aged amazingly and even hooked herself a mediocre athlete sugar daddy.
Man, why couldn't it have been her ripping off her shirt in that game besides Brandi Chastain?
Once Mia St. John appeared in the pages of Playboy, her nickname just a foregone conclusion. The Boxer Bunny was born and that magnificent bod has gone down in history ever since.
Nastia Liukin got famous at the Olympics, but for this gymnast, it was surprisingly the Winter Olympics where she was seen canoodling with golden boy Evan Lysacheck.
I saw what I needed to see though. I'll be looking forward to seeing more of those legs come 2012.
Amy Acuff has got the body of a track and field star. Long legs, a slender frame... it's a coach's dream.
I'm not sure how a great ass would impact her performance, but I'm glad she has it.
Lauren Jackson is a sexy basketball player. She's tall, but she's not 6'7" and 100 pounds like most models. She's a real woman, if real women were that gigantic.
Like plenty of females on this list, she's helped her place on here by posing with a lot less before. You've got Google. Use it if you have to.
I always thought Gretchen Bleiler was a bit overrated at times, but you can't deny that her shoots for Maxim or FHM weren't totally hot and steamy.
She may spend most of her time in the snow, but she can help me heat up inside any time.
It's gotta be tough having two guys names, which might be why Logan Tom looks so pissed. But she also pulls off that smoldering look so well. It's hard to fault her for it.
I'd let her spike me.
I knew I loved ping pong, but Biba Golic just took that love to a whole new level. I don't know if she forgot to wear shorts here or if that dress was just a little too short, but I think it ended up being just about perfect.
Not hard to see why ESPN: The Magazine wanted to get her naked for their body issue.
This Finnish figure skater wowed me at the Winter Olympics with the finest (and only) stripper cop routine I've ever seen performed on ice.
She may not have won Olympic gold yet, but she's certainly won a place in my pan...HEART. A place in my heart. Definitely was not going to say "pants."
Australia seems like a wonderful place. It's brought us Miranda Kerr, Crocodile Dundee, and Tatiana Grigorieva. I'm still not sure Kerr is real or if she's just a part of my dreams, so it's very likely Grigorieva is the only real one in the group.
That's still a pretty sweet pull for the land down under.
Normally I'm not a fan of the super short haircut like that, but it's working for Phillips. Maybe it's the booty shorts lingerie and the bondage undertones too. I'm not sure. Either way, I'm a fan of this picture and this woman.
We don't hear a lot about professional wakeboarding. Maybe it's because we don't care. But if there's one thing that could get me to care, it's Maeghan Major. And this is one sport where they actually do wear bikinis, I think, so maybe I should start paying attention after all.
I could certainly stand to see more of Maeghan.
I was in the firm boat before that Hannah Teeter was not attractive. She was a gangly teenager, but good lord did she ever grow into her features.
Thank you Sports Illustrated for bringing her newfound hotness to my attention. That little polka-dot bikini is doing it for me.
There's not a whole lot of photographic evidence of Missy Gibson, but what there is shows that she is one hot surfer babe. Let's just leave it at that.
Is it just me, or does Kim Lansing look a little bit like a dark-haired Hayden Panettiere?
Just the fact that I even had the thought means that Kimberly totally belongs on this list, poker or no poker.
You have to be in ridiculous shape to finish a triathalon. So you know Lokelani is going to have an amazing body. But she also brings that tropical hotness (despite being in the snow) that just makes you want to see more.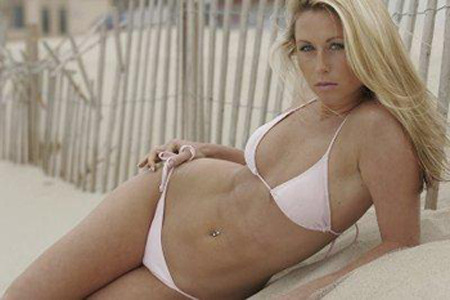 Ashely Constantine can catch some waves and she definitely caught my eye as well. I'd like to buy her a drink. Maybe a sex on the beach...
Softball hottie Jennie Finch is a legend. Not only is she ridiculously hot, but she was also the most intimidating softball pitcher in history.
Think you have what it takes to get a hit off her? Please. You'd have better luck getting her to sleep with you.
This Swedish high jumper has got looks to kill and legs to clear you by a couple of feet. I'd like to get a good look at her Dragon Tattoo.
Another one of the Winter Olympic hotties that Sports Illustrated brought to our attention, Lacy came up a little short in competition, but makes us come up a little bit long when checking out her pictures.
Thinking of using a cheesy pickup line on Kyra Gracie? Think again. She'll drop you like a bad habit in less time than it takes you to say "If I could rearrange the letters in the alpammmmpphhh."
Whoa, looks like sweet little Sasha Cohen may have a bit of a bad girl side. I don't know about you, but I like it!
I'll take "might date a guy with a motorcycle" over "innocent little figure skater" any day.
Two wakeboarders? One one list? This must be the sport's lucky day. Nobody has cared about it this much before.
However, if you've got a star who looks like this named Dallas Friday and she hasn't already turned to porn, you've got something going for you.
God bless Russia. They crank out hot athletes like an assembly line. I've never seen Alina compete, but does that really matter? She looks like a freaking Bond villainess. She was probably trained by the same people who trained Ivan Drago.
Another blast from the past, I think Gabby Reece has actually gotten finer with age. She introduced us to beach volleyball in our youth and we all remember checking her out in her bikini. Now she's an official cougar and I still want to see her out on the beach.
When you think poker, you think of a bunch of d-bags sitting around with sunglasses on smoking cigars. I say, keep the cigar, add a hot chick wearing next to nothing, and that's a game I'd much rather watch on TV.
Just thinking of the damage Miesha Tate could do with those high heels scares me. And kind of excites me for some reason.
I might need help.
Look, Serena Williams is hot. I'm sorry if you don't agree, but when athletes name her as their one woman they'd love to shack up with, above models and actresses and pop stars, that pretty much settles it.
Plus we know that she got back.
Another MMA hottie, Regina Halmich could make you cry for your mama and like it. She also looks pretty good without a top on. Maybe she could recreate Viggo Mortenson's naked fight scene. I'd enjoy that.
They call it football, I call it soccer. Whatever the hell Amy Taylor played, I'm thankful for it. I also wish that steam would clear up a little bit so I could see what's undernearth.
I wouldn't have even known about Elekra if not for Complex's list of the 100 Hottest Hawaiian Women, but I'm thankful they brought her to my attention.
Anybody with a body like that who can mix it up as well is okay in my book.
Sarah Burke must be pretty cold crawling around in the snow like that, but I applaud her efforts. Actually, I applaud any woman who crawls around in lingerie, especially one who can rip up the slopes like Sarah.
I'm a loyal American, but I could be persuaded to root for Mexico in futbol if for no other reason than Ms. Gonzalez was playing for them. I'm weak, I can't help it.
Even though she missed competing in the 2010 Winter Olympics, Clair Bidez made quite an impression on me. It may have been her snowboarding. Or it may have something to do with her using a snowboard as a shirt.
Karina Petroni likes to hang ten. If only she'd show us the international signal for it right now. Right...NOW!
Victoria Vanucci didn't last long as a tennis player. She soon realized that she had more of a future in modeling. Like, naked modeling.
I like to think she made the right choice. As much as I would have liked to see her prancing around a tennis court on a weekly basis.
Whether it's modeling, tanning, or surfing, some women were just made to wear a bikini. I'm just glad Alana chose the one that put her on this list. Unless you count tanning as a sport, which the Jersey Shore cast might.
I love this picture. Victoria Azarenka may not exactly look like this on a regular basis, or on the tennis court, but just the knowledge that she can look like this makes her one of my favorite tennis players, which is a tough group to get in here and you'll see.
People either love or hate Danica Patrick. There's not much room in between. I happen to think she's an attractive woman. Enough to be the spokesperson for GoDaddy.com and not annoy the crap out of me? Not really, but good enough to that I'm okay checking out picture of her in a bikini and heels.
Allison Baver isn't your typical ice skater to appear on this list. She doesn't dance, she flies. And I do like fast women.
Just check out this picture, she looks like she just finished up a one night stand. Love the men's shirt over the underwear.
These two synchronized swimming partners are two of Russia's hottest women, much less hottest athletes. It's a shame that nobody has ever heard of them. Hopefully I can do my duty as a journalist and help bring these important issues to light.
I hope America hears my call.
It's not as much fun to put Amanda Beard on a list like this after it came to light that she battled depression after feeling the pressure to live up to her status as a sex symbol.
On the other hand, she's smoking hot and pictures like this aren't doing much to make me think otherwise.
There's been so many hot wrestlers that I had to try my hardest to narrow the list down to just a couple. But there was no way I could leave Torrie Wilson off. She's definitely one of the finest women I have ever seen get slammed through a table. And that's a high compliment.
Not much is known about Ana Paula Mancino in America. We know she's Italian, that she played volleyball, and that she's ridiculously hot.
Oh, wait, that's really all we need to know. Thanks.
I love Natalie Gulbis as much as the next guy. She totally stacked and watching her stretch is a thing of beauty, but it's been a while since this FHM shoot and she didn't look like she was aging too well on Celebrity Apprentice.
That being said, she's still got one of the best bodies ever to hit the links and this was the only time I've ever wished I was a palm tree.

In 2009, Lindsey Vonn was nobody special. But after the Olympics, she shot to stardom. Yes, her being one of America's best athletes had a lot to do with it, but the fact that she looks like this was what made her a superstar. I'm okay with it.
Milene Dominguez gets the honor of not only being one of the hottest soccer players ever, but she also dated one of them in Cristiano Ronaldo. If those two ever procreated, their offspring would look like Bar Refaeli and play like Pele.
Before she was a sexy ESPN reporter canoodling with Kenny Chesney on the beach and becoming the spokeswoman for Icehouse Beer, Jenn Brown was just your average softball player who just happened to be sexy as hell.
At least this way she's still in our lives and not just a trophy wife somewhere. But still... Kenny Chesney? Come on.
Jeannette Lee may be the famous pool player, but Jennifer Barretta is easily the hottest one. Even if she sucked at billiards, I couldn't focus long enough to hit one single shot if she was wearing that bikini.
She also looks like she can handle that stick pretty well, though.
Poker hottie Liv Boeree had me even before I knew she was British. With that accent, I'd be all in on her in half a second.
Sophie Horn shot to popularity recently after being named the Lovely Lady of the Day by Jimmy Traina in Hot Clicks, and it's well deserved. This golfer has got the game and the look to be the next big star...
As big of a star that any female golfer can be, of course.
Do you play tennis? Does you last name end in "kova"? Then you're probably on this list.
Actually, screw the name. Daniella could be named "Frank Johnson" and she would make this list she's so freaking hot.
I don't know if I've ever been happier to see a red card or angrier. Either way, Ms. Andrioli has my full attention.
The MMA queen and face of the sport, Gina Carano is most MMA fans dream girl. I'm so infatuated by her that I'll even excuse her participation in the horrible American Gladiators reboot.
These surfing babes just don't quit. I'm starting to wonder if there's any uggos that surf. Then again, I'm only showing the good ones. It's like seeing LeBron hit every three he throws up on SportsCenter.
Anyway, I'm off topic. Malia is a true beauty who can wax my board any time.
As a mountain biker, I'm not sure what Niki is doing with flippers in hand and talking about catching birds, but I'm willing to let it fly since she looks absolutely ridiculously hot here.
The pouty lips and mesh shirt is pretty much all I needed to see from her to know we had a winner here.
Sandra Gal has got a beautiful swing and an even better looking body. The LPGA may have been ignoring my letters begging them to let the girls play in bikinis, but at least they let Gal strip down to her birthday suit for ESPN last year.
Jennie Finch may be the best softball player ever, but the title of hottest goes to Bianca Cruz in a blowout. She went to Arizona State, which cranks out hotties like I crank out hottie slideshows, so this was pretty much a foregone conclusion when she joined the team.
Glad I could do my part to help.
They call her the Karate Hottie, but I just call her the hottest MMA chick ever. Gina Carano could probably beat her down, but in a bikini contest, Michelle would KO her without working up a sweat.
Which is a shame, because she's hot when she sweats.
Sexy figure skater Tanith Belbin has been on our radar for a long time. She hasn't yet gone for the sexy photoshoots as much (this Men's Health topless pic not withstanding), but she always leaves us wanting to see just a little bit more.
Not really enough to watch figure skating, but enough so that I'll check out pictures of it.
Drag racing royalty, Force comes from a family of racers, and instead of sitting back and letting the men have all the fun, she jumped in a car herself and become the hottest babe ever to throw on a jumpsuit.
Maria Verchenova may not have made much of a mark on the golf course, but I honestly didn't really need to see her game to know that I'm a fan.
I think heels would probably cause a few problems on the green, but there shouldn't be too much of a problem with having the ladies tee off in them, would there? Don't they want to increase viewers?
When you think curling, you don't really think of sports, much less a sexy sport. But Claudia Toth changes that.
Her team may have not made the Winter Olympics, but if I ever hear Austria is going to be throwing the rock on TV anytime in the future, I'll be looking for my favorite curler for sure.
Anna Rawson loves golf clubs, but it looks like she may be more interested in taking pictures with them than using them effectively in the game.
That's okay with me, because I know she's great at being photographed, I'm not yet convinced she's great at actually swinging the clubs.
Look how perky Stephanie Rice is. Isn't this more fun than the brooding and troubled Amanda Beard? I certainly think so.
She's talented too. She won three gold medals at the last Olympics. And the 22 year old is just getting started. Watch out, because she will be all over the place in 2012, mark my words.
I've never heard of Tatiana Navka before I started researching this, but I wish I had. Wow. She is smoking hot.
I have no idea how she skates, because as soon as she steps foot on the ice, I have to imagine it melts immediately.
With all of the hot surfers we've trotted out here, you knew it was going to take a lot to be at the top, but Anastacia Ashley didn't even break a sweat taking the top spot.
A lesser man might make a joke here about her ability to ride a giant swell, but I'll refrain... begrudgingly.
It's official, Maria Kirilenko has finally passed Andre as the most well known Kirilenko. Next on her list is becoming the most well known Maria in tennis. We all know it's a large task, but when you look like this, nothing is impossible.
Skiing and lingerie has never gone together so well.
Kristi Leskinen missed a chance to be one of the biggest names this year when she missed the Winter Olympics, but at the very least she'll go down as one of my favorite hot athletes ever.
Her FHM shoot is just inspired. I was smitten from the start.
Let me go ahead and save you some time, Digg commenters.
Allison Stokke FTW!
You're welcome.
She was Anna Kournikova, but talented. She's one of the most recognizable women in sports. That look, those legs, those grunts... Maria Sharapova is just sex embodied.
Yes, Anna Semenovich was at one point in time a figure skater. How she even manages to keep her balance while walking with those things is a mystery to me, much less skate.
So for that, I have to assume she was an amazing athlete, but she made an even better model.
Russian blonds dominated tennis in the sexy department for a long time, but Ana Ivanovic changed all that. This Serbian goddess is everything you could want in a woman. Hot, talented, and she loves sports. She's even dating golfer Adam Scott and shows up to his matches all the time.
The only thing that could make her better is if she had a sports writer fetish. I could help her with that.
Wrestling is a sport. It may have fake storylines, but there's nothing fake about the abuse wrestlers go through and the athleticism needed to do it right.
And Stacy Keibler was a wrestler. You need proof? She was a participant in the very first Lingerie Match. That should be more than enough proof for you of her athletic ability.
See below.
What would I do with a million dollars? I'll tell you what I'd do man. Two chicks at the same time.
To take Lawrence's genius observation from Office Space a little bit further, I'd have them be twins and synchronized swimmers.
That pretty much narrows it down to the Feres twins, and life would not get any better than that. If you could combine their hotness into one person, they would rule the world.
You can argue all you want that she wasn't a very good athlete, but she won some titles in doubles, so that counts for something, even though doubles is like the special olympics of the tennis world.
Still, Anna Kournikova defined hot in the late 90s and early 00s. She wasn't just a hot athlete, she was the sexiest woman on the planet who also happened to play tennis. And she did it for a while.
You have to love Anna Kournikova. As a man, it's the law.
You may not know Blair O'Neal, but you need to. She is stupendous.
A perfect hourglass figure who can fade a seven-iron. She was also supposed to be the quarterback for the Phoenix Scorch Lingerie Football League, but decided to focus on just golf and modeling. Can't spread yourself too thin, you know.
I'd settle for just seeing more of her. If the LPGA had any sense, they'd give this girl a sponsor's exemption every single time. I would so tune in.
How do you pick a No. 1 for a list like this? Any number of a dozen ladies could easily lay claim to this title.
I have to go with Leryn Franco just because she's probably the most naturally beautiful woman I've ever seen that competed in a sport. Many of the other women on this list don't look half as good when they're doing what they do, but Franco still looks immaculate even throwing a javelin.
When it all comes down to it, isn't that what we're really looking for in all this?