The problems with TNA - Is it time to just give up?
Over the past few months, on this website and many others, people have been voicing their opinions on the current state of TNA. After reading a few of them, I decided to write my own list of problems with TNA.
Enjoy.. and beware of ranting!
E.V 2.0, ECW and Hardcore Justice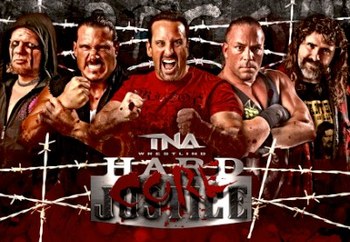 ..... What is there to say really? I'm sure everyone knows exactly what i'm talking about. The formula that WWE tried and succeded with and then tried again and failed with. It's 2010, do people still want to see wrestlers who were OK almost a decade ago? I mean think about it, WWE already did two ECW PPV's as "last stands" for ECW, so why did we need another one, when the wrestlers were even older, and even worse, with storylines built up 3 days in advance? And now we have to watch them fight Fortune?! Do TNA seriously think people want to see promising young wrestlers stuck in a Nexus-like feud with E.V 2.0?
ECW should be allowed to die.
Mis-handling talented young wrestlers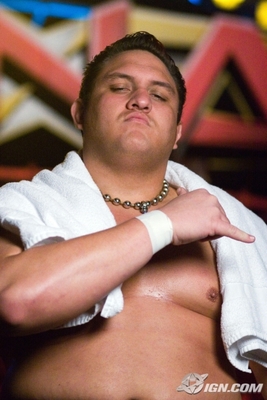 Again, this one is probably self-explanatory but oh well. Just look at the picture attached to this slide. That is the image of Samoa Joe, a man who not so long ago was involved in an amazing triple threat match with AJ Styles and Daniels. These three men could have made TNA amazing. But for whatever reason, Daniels was released, Joe has been suspended and AJ Styles is busy almost losing to Tommy Dreamer and losing his TNA World Title to RVD. Instead of spending time developing these talented wrestlers, TNA decides to dedicate time to ECW and other washed up wrestlers from 10/20 years ago.
The X-Division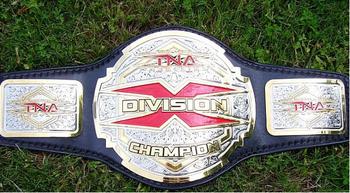 The X-Division has rapidly gone down the toilet in 2010. Does anyone even remember Destination X? No. A Pay-Per-View that is clearly named after the X-Division, took the back seat whilst Lockdown which was almost a month after Destination X was being promoted the month before Destination X. How do TNA expect people to buy a PPV that has no hype?
I'll move on as I do realise Destination X is not solely dedicated to the X-Dvision. As I stated at the start of this slide, 2010 has seen the rapid deteration of the X-Division. The title is now rarely defended, and it is no longer as prestigous as it once was. Just a few years ago, some main eventers like AJ Styles and Samoa Joe were holding the title. Now the title is held by Douglas Williams, a man who does not like high flying moves. Even The Whole F'n Show didn't see an X-Division title defense. Why not just scrap the belt altogether?
The 4-Sided ring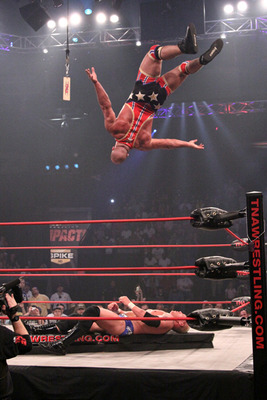 Part of TNA's appeal was its oddly shaped 6-sided ring. It made TNA original, and gave it its own image. But Hulk Hogan and Eric Bischoff decided TNA needed to take wrestling back to its routes and in turn, gave it a 4-sided ring. I don't really see how that decision improved TNA, I just thought of it as a desperate attempt to copy WWE and the end of TNA being individual and not just another wrestling company. I mean, come on... they really thought that bringing in a 4-sided ring would draw in fans?
TNA - A retirement home for wrestlers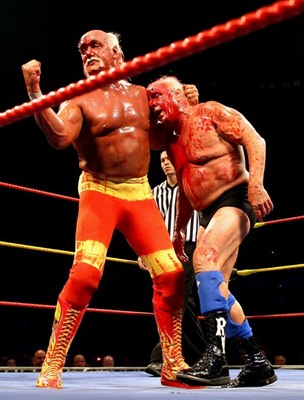 In 2010, Hulk Hogan and Ric Flair joined TNA. In the case of Hogan, many saw this as a good thing for TNA, but in the case of Flair, most thought it was time he hung up his boots. Since being in TNA neither man has done anything to boost their reputation, and have begun to slowly destroy their prestigous careers. Both men were given the honour of being inducted into the WWE Hall of Fame, only to have their rings used in a terrible storyline on iMPACT. I'm sorry Ric, but no one wants to see a man in his sixties role around in the ring, practically naked. As for Hogan, I no longer have any respect for him.. He is only their to boost his own ego.
Along with Flair and Hogan are the likes of Jeff Jarrett, Kevin Nash, Sting and Scott Hall (yes I am aware that Hall is no longer with TNA). These men, just like Flair and Hogan, are given huge amounts of TV time to talk about things that were relavent 10 years ago.
Bringing up the past.... WCW and the nWo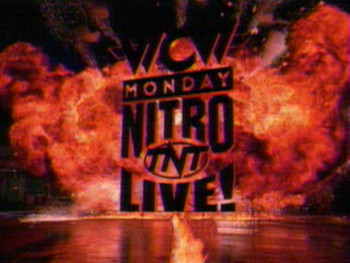 I actually want to know what TNA think they can accomplish by having WCW involved in their storylines. Yes. We get it. WCW was important to the wrestling business. Yes. We get it. There were a great deal of backstage politics involved in the rise and fall of WCW. Do we really need reminding of it every week? Who cares what Kevin Nash said in a phone call 10 years ago? Many fans won't understand what they are talking about without heavily researching WCW, so why not have the WCWers TV time devoted to making the X-Division great again?
And honestly TNA... did you seriously think that anyone wanted to see a worse version of the long dead nWo. "The Band" was the failed product of yet another "bright idea" from TNA Management. No one wanted to see Scott Hall and Kevin Nash fighting for the tag titles at their age. But TNA may not be done with the corpse of the nWo just yet. Signs of nWo Wolfpac are begining to show among the likes of Sting and Nash.. with the red face paint and all the WCW talk, it wouldn't surprise me.
The TNA World Heavyweight Championship
You really do have to wonder why TNA do what they do. AJ Styles was going strong as the TNA World Champion. Then RVD comes in and he loses it a few months later. AJ brought prestige to the relatively new title, and in my opinion should have held on to it much longer than he did.
Not only that but now we have a tournament for the title, due to RVD's "injury". Kurt Angle has apparently forgot about climbing up through the TNA rankings and the rankings themselves have been proved ultimatly, pointless. It would make more sense to have the #1 and #2 contenders fight for the title at No Surrender, instead of leaving it for two months (Bound for Glory) before we have a new champion. Two words. Bad booking.
Final thoughts and conclusion

In conclusion, I believe that unless TNA decides to book its ideas up (no pun intended) that we could see the company going under by 2012. If Hogan and the rest of the ol' timers refuse to take a back seat while young stars continue to be forced to the back of the line, then there is no way TNA can ever beat WWE who has been making a good effort recently to make new stars. Lets just hope TNA can shape up for Bound for Glory... although I think it's unlikely.
Thanks for reading and feel free to comment!
Keep Reading