Donnie Walsh = Shmuck = Fernandez for Chandler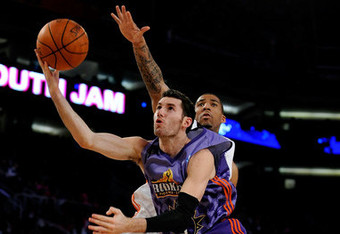 Are you serious, Donnie Walsh? Complete bull.
If you guys have not found out yet, the Knicks have offered Wilson Chandler for RUDY FERNANDEZ. Sorry if this "report" or "article'" is crude and short, but I'm just trying to point out how stupid this actually is.

http://realgm.com/src_wiretap_archives/68774/20100820/knicks_offer_chandler_for_fernandez/
Chandler is FAR better, and I hope Portland takes this up because it further proves how much an idiot Donnie Walsh is.
In 36 minutes, Chandler is a 16 ppg (48% shooter) 5.5 rpg 2 apg player and an above average defender. He is 23 years old.
In 24 minutes, Fernandez is a 8 ppg (44% shooter) 2 rpg 1 apg player and a bad defender who barely gives effort and gambles and and has a whiny attitude. He's 25.
So, if they both play 48 minutes...
Chandler: 21 ppg, 7.5 rpg, 3 apg (albeit in NYK system)
Fernandez: 16 ppg, 4 rpg, and 2 apg
I'm sure Rudy can drop ~14 off 40% shooting in D'antoni system given 36 minutes and even do a worse job defending!
This is like comparing Andrew Bogut to Andrea Brangnani, seriously??? Or maybe Pau Gasol to Antwan Jamison... Or perhaps Dwyane Wade and Monta Ellis... I think that one's the most accurate.
Chandler = Future All-star
Fernandez = Scrub Galore
It's that simple.
Unless Portland's new GM is an idiot, he will accept. I think it's safe to say they are an official big championship threat and a future powerhouse if they get another efficient scorer and above average defender on their team.
This article is
What is the duplicate article?
Why is this article offensive?
Where is this article plagiarized from?
Why is this article poorly edited?

New York Knicks: Like this team?