2010 San Francisco 49ers: A Former Oakland Raider Offers Analysis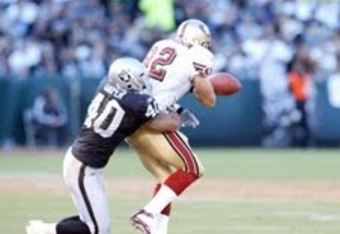 Whose got the Right Formula?
When you think extreme football you automatically think of the Oakland Raiders. Every team that plays the Raiders leaves Oakland complaining. Why? Either Al Davis has belittled the opposing teams head coach, or the players that play against Oakland are angry due to the unnecessary rough play that we here in Oakland call football.
There is one team in particular that really dislikes the Oakland Raiders, the San Francisco 49ers. The rivalry between these two teams is in part due to their geographic location.
The San Francisco 49ers has always been looked upon as the good son. A clean cut team, that if were punched in the face, would turn the other cheek. On the other side of the bay, you have the Oakland Raiders, thought of as being from the wrong side of the track. A more bad boy reputation that if punched in the face would turn around and jump you. The rivalry between these two teams seems to intensify every time they meet on the football field.
I spent the last five years of my NFL career on the Oakland Raiders side. Now that I am retired I have had a chance to venture over to the other side of the bay to investigate the 49ers side.
As soon as I walked in the doors I immediately knew why the rivalry ran so deep. Just like the Raiders headquarters, the 49ers have their achievements and highlights on display. Hall of fame player's jerseys are plastered up and down the hallways. On display are the five world championship rings. Framed pictures of NFL greats such as Jerry Rice, Joe Montana and Ronnie Lott just to name a few. I knew I was in the presence of greatness; I have the same feeling standing in the Oakland Raiders headquarters. I started to notice that the 49ers had just a little more going on than the Raiders did. I started to feel like the Raiders were like the little brothers trying to catch up to their big brother. I know now what the feud is all about, the 49ers have five championship rings and the Raiders have three. World championship rings are what NFL football is all about. Don't ever think anything different. If someone tries to tell you any different they probably never have played in the NFL.
Going to 49er training camp was an eye opening experience for me. At the same time I almost felt like I was spying on the enemy.
The 49ers run their camp a lot different than the Raiders do. 49er training had a lot more relaxed feel, and the players did their best not to touch each other. As a player watching, I didn't like that they weren't smashing it up every play. But this is coming from a guy that had to sit out of practice on several occasions for practicing to rough. As a player I don't really have a cruise button. It's all or nothing out of Jarrod Cooper. My coaches throughout the years always told me to play smart. Know when its time to hit, and know when its time to learn.
The 49ers looked smooth and on point. The wide receivers were running perfect routes and catching everything that was thrown to them. Crabtree looked to me as the only guy that was slacking. I'm sure he was hoping to have another contract issue so he didn't have to go through training camp. He started camp off looking really good until he hit the rookie wall. Although he played last year, this is his first training camp. NFL training camp is not for the faint at heart. Justin Smith leading the defensive line is going to be a game breaker this year. The 49er defensive line looks incredible.
Alex Smith isn't my favorite person on the football field, and I personally don't think he is worth the jersey he wears on his back. But Mike Singletary does and I respect his decision in using the blank slate rule: Give every player a fair chance to prove their self.
In Alex Smith's defense he hasn't had any coaching consistency at the QB position, where you need it the most. Changing offensive coordinators every other year is enough to drive any one crazy. He does look great at camp, but training camp and the preseason mean absolutely nothing in the big picture. I hope he can carry his great training over to game day when it counts.
After watching a couple practices I soon realized why the 49ers looked so relaxed.
The rule in football is, if you do it right the first time you don't have to do it again. A lot of coaches will cut back on reps and let their player's get some rest if practice is going well.
I am not sitting here telling you that the 49ers look perfect, but they look pretty damn good, and that is coming from an Oakland Raider at heart.
A quiet practice is the worst thing a coach can hear when getting ready for a football season. Team chatter, yelling, singing anything but quiet.
The 49ers hold several open practices, so that fans can come meet the new players and cheer them on. This creates an awesome atmosphere as football players love to have their ego stroked. It's a well deserved time for the players to show off after having a long hard off season. It gets players fired up, players run a little faster and hit a little harder. You also tend to focus a bit more; the last thing you want is to get cursed out in front of the fans.
One thing that was very easy to see is the 49ers have a great team bond. It is so important to have a team that is going to back each other up. As a captain that was my number one rule "No Man Stands Alone. " When I played with the Carolina Panthers, our 2003 team had only 5 or 6 guys whose name you'd recognize. But we all have a NFC championship rings because we stood together on every play.
Coaches only can do so much; players have to play the game. Mike Singletary is making his players realize that the game of football is all in the players hands.
The time you put into something is what you're going to get out of it. Even Mike Singletary knows that there are no words that can motivate an individual to greatness. You have to give them a chance to prove their self worth.
Mike Singletary 2010 draft class is the best in the NFL. For once a team drafted players that could fill in the cracks, instead of drafting the best available guy on the draft board.
As much as I hate to say this, the San Francisco 49ers have a good chance at making a playoff run. Do the math; they have won one more game every year for the last three years, to me they are consistently getting better. The 49ers have the easiest NFL schedule this year and that is only going to help them build confidence through out the season.
With the Oakland Raiders and the San Fransico 49ers both having a great 2010 draft class, this year promises to be one of the most intense battles between two legendary teams.
8 Year Veteran
Jarrod Cooper
In the words of the great BOB BARKER. "Control the pet population Spay and Neuteryour pets."
This article is
What is the duplicate article?
Why is this article offensive?
Where is this article plagiarized from?
Why is this article poorly edited?

San Francisco 49ers: Like this team?