Antonio Cromartie and 10 NFL Vets That Most Need a Bounce-Back 2010
Antonio Cromartie finds himself in an interesting conundrum this year. Having just learned about his multiple paternity lawsuits and troubles with his seven children (coming from six different women), perhaps his trade from San Diego is more of a flee from the law.
Nonetheless, he is one of several NFL veterans coming off of disappointing seasons. He is one of the men in dire need of a bounce-back season. Which other players need career resurrections? Read on to find out.
Antonio Cromartie, CB, New York Jets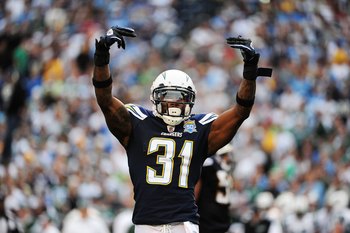 Robert Laberge/Getty Images
While Revis Island is closed down, newcomer Antonio Cromartie will have to step into the role of shutdown corner for the Jets. The former Charger was dealt to New York during the offseason for a third round pick in the hope that he returns to his Pro Bowl form, giving the Jets the most dynamic secondary duo in all of football.
Too bad for Cromartie though. His on-field problems may be the least of his worries. It was revealed last night on the HBO show Hard Knocks that Cromartie was having trouble with his seven kids...by six different moms. And no, he's not Mormon.
For the Jets to return to the Promised Land without the league's best cornerback, Cromartie will have to settle his off-field distractions. He will need to remain focused on returning to 2007 form when he snagged 10 interceptions and recorded two defensive touchdowns. The man, who has five paternity suits in the past two years along with the record for longest play in NFL history, will be the key to success for an up and coming Jets squad. I will consider it a successful season if he manages more interceptions than conceptions this year.
Albert Haynesworth, DT/DE, Washington Redskins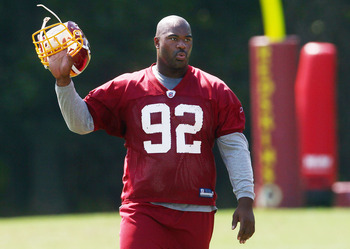 Win McNamee/Getty Images
The trials and tribulations of Albert Haynesworth have been well documented. Only a year after signing a ludicrously bloated seven-year contract worth $100 million (including $41 million guaranteed), the Redskins have suffered a bad case of buyers remorse. In fact, the 6'6" 350-pound run-stuffer was quoted last year as saying he could not, "survive another season in this system if it stays the way it is."
Haynesworth has finally passed his simple fitness test. In fact, he is beginning to warm up to the 3-4 system used by Washington; however, fans in our nation's capital remain disappointed with their colossal investment. A year after recording 51 tackles and 8.5 sacks, the big fellow managed a measly 37 tackles and 4.0 sacks. A revitalized Haynesworth could mean big things for a re-tooled Redskin team featuring Donovan McNabb under center.
Michael Turner, RB, Atlanta Falcons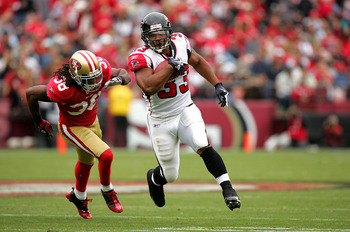 Ezra Shaw/Getty Images
Only a year removed from a fantastic breakthrough campaign (1699 yards and 17 touchdowns in 2008), "The Burner" was severely cooled down. The 244-pound running back from Northern Illinois played in only 11 games due to injury and saw his rushing yards cut in half.
In fact, the Falcons went only 2-3 in the five games Turner missed. If the Falcons have playoff aspirations (or beyond), Turner will have to put the team on his broad shoulders just like he did two years ago.
Matt Ryan, QB, Atlanta Falcons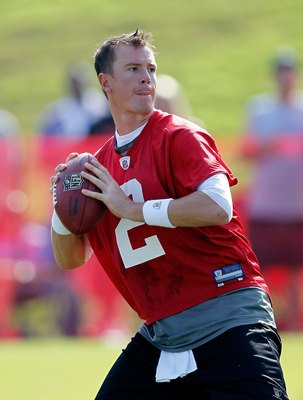 Kevin C. Cox/Getty Images
Of course Turner wasn't the only reason Atlanta limped to a 9-7 finish. A year removed from winning the NFL's Rookie of the Year award, the Boston College product failed to make the sophomore jump predicted by so many analysts. Instead, the new Gillette spokesman threw 500 yards fewer than he did in his rookie campaign.
At the same time, he witnessed his QB rating drop seven points to a more pedestrian 80.9. With an offensive arsenal that includes budding superstar Roddy White, future Hall of Famer Tony Gonzalez and the aforementioned Michael Turner; Ryan should have no shortage of options. Amid another year of experience under center and improved decision making ability, Ryan will look to cement himself as one of the league's premier gunslingers. If he can do that, the Falcons will be a force to be reckoned with.
Dwayne Bowe, WR, Kansas City Chiefs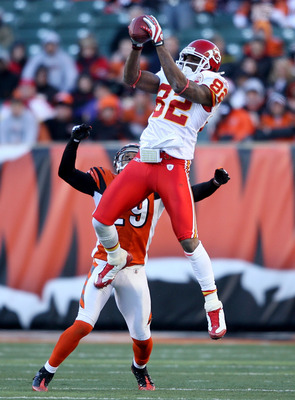 Andy Lyons/Getty Images
I've always been a fan of the Wizard of Oz, and no song reminds me of that 1939 classic like "Somewhere Over Dwayne Bowe." Swing and a miss? Well, sounds a lot like Bowe's last season. After a terrific rookie year, Bowe showed continued improvement with an 86 reception, 1,022 yard season. And that was with assorted garbage throwing him the ball. Last year was a different story. Despite the addition of Matt Cassel, the hulking 6'2 receiver managed only 47 catches for 589 yards in 11 games.
As a fantasy owner of D-Bowe, I was more disappointed with him than I was when I heard my girlfriend enjoyed Twilight (shutters). While Kansas City doesn't appear to be a playoff threat, it is a young and emerging team with sufficient offensive weapons. If these men are looking to compete in the future, they need to get their offense running smoothly. A bounce-back year from Bowe could make this an eight win team, perhaps a year away from competing. A repeat performance could keep Kansas City in the same basement they have been in for as long as I can remember.
Jay Cutler, QB, Chicago Bears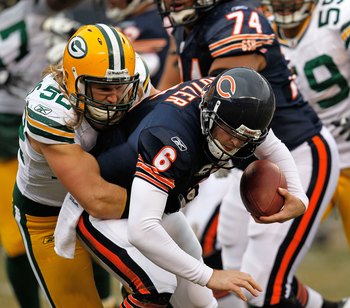 Jonathan Daniel/Getty Images
After the Bears gave up two first-round picks plus Kyle Orton for Cutler, Chicago thought it had finally addressed its offensive woes. This defensive minded team had long struggled to create offense, and the howitzer-armed Cutler seemed to be the perfect solution. Hindsight is 20-20 my friends. Not only did Cutler throw for 900 fewer yards. Not only did his QB rating drop nine points. Not only did he throw eight more interceptions. But he was outperformed by Kyle Orton in nearly every statistical category. This all occurred despite the fact that Orton was viewed by most as a trade afterthought.
The Bears dropped from a 9-7 near playoff team to a more paltry 7-9. This year, Cutler has a chance for vindication while re-establishing himself as a premier passer. With offensive guru Mike Martz at the helm as the new offensive coordinator, Cutler should have the perfect opportunity to showcase his powerful arm. Expect a return to the big numbers of years past, but the actual success of this Bears team lies in the hands of...
Matt Forte, RB, Chicago Bears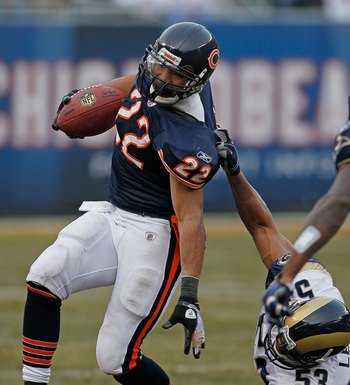 Jonathan Daniel/Getty Images
As a second-round pick in 2008, the Tulane product surprised everybody by posting 1,238 yards rushing while displaying great hands out of the backfield (63 receptions). Unfortunately for Forte, history failed to repeat itself in 2009. He saw his yards per carry drop to a trifling 3.6, while his overall yardage shrank to 929. His touchdowns were cut in half and his fantasy value became meaningless. A new season however, brings new opportunity.
In St. Louis, Mike Martz not only made a star out of quarterback Kurt Warner, but he did the same with running back Marshall Faulk. The sure-handed Faulk turned in the first ever 1,000-yard rushing, 1000-yard receiving season in NFL history. A feat Forte will surely attempt to duplicate. While Forte may not have the explosive nature of Faulk, he is a strong ball carrier and one of the better receiving running backs in the league. With Cutler at the helm and Forte carrying the load, Chicago has the offensive pieces that might surprise people. Considering the addition of defensive playmaker Julius Peppers, expect a playoff bid from Da Bears.
T.J. Houshmandzadeh, WR, Seattle Seahawks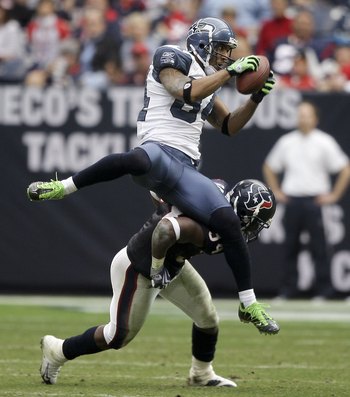 Bob Levey/Getty Images
How do you pronounce that exactly? Who's your mama? Perhaps, better known for having his name abbreviated in Madden '10, Houshmandzadeh was another example of a free agent letdown. After posting 112 catches in 2007 and 92 catches in 2008, Housh managed only 79 catches for 911 yards in his debut in Seattle.
With Pete Carroll now running things, T.J.'s 2010 prospects are looking up. Known for an explosive offense at USC, Carroll will look to improve his unsatisfactory reputation in his NFL coaching career. Coming off a 5-11 season, it would be tough for things to get any worse for the Seahawks. With limited receiving options; Houshmandzadeh's bounce-back is integral to the success of this Seattle team.
Lee Evans, WR, Buffalo Bills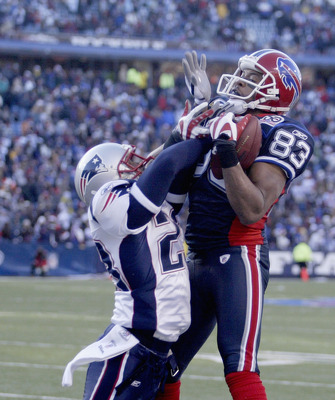 Rick Stewart/Getty Images
With the T.O show gone to Cincinnati, Lee Evans once again becomes the man in Buffalo (although being "the man" in Buffalo is a lot like being the sanest member of the view). The 29-year-old Evans has one scary weapon...his Boltian (in honor of track superstar Usain Bolt) speed. This speed can lead to very unpredictable results. In 2006, Evans had 1,292 yards. The next year? 849. In 2008, Evans had 1,010 yards. The next year? 612.
If history has taught us anything, Evans should be in for another thousand yard season on a Bills team that will struggle to win seven games. The Bills should be built around the run with weapons like Fred Jackson, Marshawn Lynch and rookie first rounder C.J. Spiller, but Evans will supply the deep threat. Expect around 70 catches, but plenty of big plays.
Eddie Royal, WR, Denver Broncos
Doug Pensinger/Getty Images
Last season, Eddie Royal was far from regal. After torturing my Boston College Eagles as a receiver at Virginia Tech, Royal was an immediate impact rookie. With 91 receptions for 980 yards as a first-year player, Royal looked primed to play the role of Wes Welker in Coach McDaniel's offense. At least, those were my expectations. Far from improving, Royal's numbers dropped like this guy's sperm count (and ego for that matter).
With a piddling 37 catches for 345 yards, ER19 may have been the biggest bust of any offensive player in the NFL. However, with Brandon Marshall taking his talents to South Beach, Royal will have to step into the role of number one receiver. But will we see the rookie that tantalized us with his quick burst off the line and shifty moves? Or will we see the bizarro Eddie that many games struggled to make a single catch? If Denver hopes to make the playoffs this season, they better hope it is the former.
Keep Reading