9 Ways the Oakland Raiders Can Improve Their Defense Immediately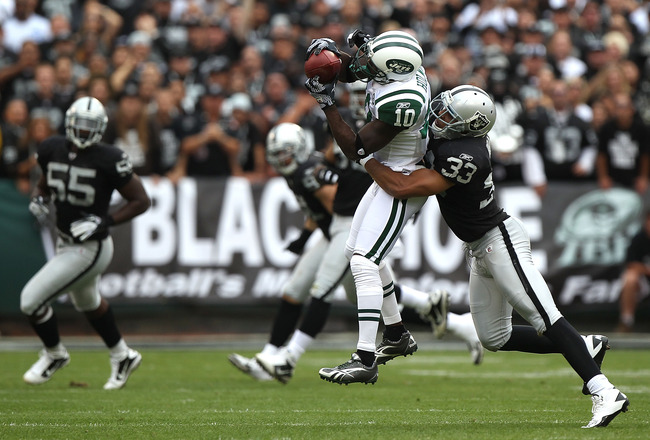 Jed Jacobsohn/Getty Images
The Oakland Raiders are now going into Week 4 against the New England Patriots 2-1—tied for the lead in the AFC West. From the looks of it all, the Raiders could easily be undefeated but 2-1 is a good spot to be in.
It is particularly good when you think of how the Raiders just beat the big, bad New York Jets to climb to 2-1. Tom Brady and his Patriots could be a problem as he is the master of what Buffalo Bills' quarterback Ryan Fitzpatrick did to the Raiders in Week 2.
The good news is the Patriots won't be able to stop the Raiders, who are rocking on offense. Darren McFadden is the NFL's leading rusher while Jason Campbell does what he has to do when he has to do it.
It's anyone's game as it is but there are some ways that the Raiders can improve their defense right away—improving their chance to win Sunday and going forward.
Turn the page to see what they are.
Deactivate Chris Johnson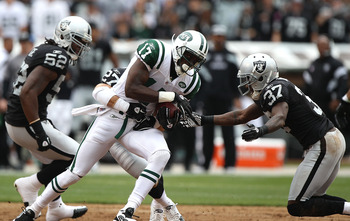 Jed Jacobsohn/Getty Images
Chris Johnson is a solid corner in this league but he has been hampered by the groin he just had surgery on. That led him to not be able to stay with his receiver, miss tackles and overcompensate with his hamstring that he just pulled.
Therefore, he is no good to the Raiders right now and should be deactivated so he can heal. At 2-1, the Raiders have a chance to make the playoffs but that's only if Johnson can heal now then come on later.
But we're talking about right now and right now, Johnson is killing the Raiders.
Give him two-to-three weeks off.
Michael Huff to Corner When Healthy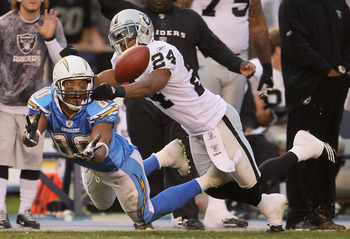 Jeff Gross/Getty Images
Michael Huff was a second team All-Pro free safety last year with 95 total tackles, four sacks, and three interceptions. But what truly set Huff apart from the other safeties is that he can line up at corner and flat cover.
He covered the likes of Vincent Jackson and Malcolm Floyd last year and had success doing it. With the loss of Nnamdi Asomugha, the Raiders thinned out a little at corner so Huff started this season at nickel corner.
But Huff has struggled out of the gate this year because he has groin issues. He went out of the game Sunday with a concussion but it was his groin issues that made him less effective in coverage to start the season.
If he should be deactivated this week to help his groin heal and he should move to corner when he comes back. Remember, Huff has plenty of man coverage experience in the NFL and had better man coverage pedigree coming out of college as a Jim Thorpe award winner than Nnamdi Asomugha.
Not playing much Sunday may help his groin and if he's okay from his concussion, he should start at corner right now.
Chimdi Chekwa to Nickel Corner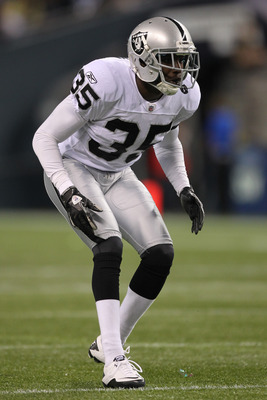 Otto Greule Jr/Getty Images
Chimdi Chekwa confirmed what I have always believed with his play against the Jets. Chekwa is more ready to make an immediate impact than fellow rookie corner Demarcus Van Dyke.
He did give up the one touchdown to Plaxico Burress on a fade route but Burress makes that play on most corners. The good thing is Chekwa looked very good in the game before and after the play.
He actually defended the next fade route in the endzone while covering Burress again. For now, I prefer Huff over Checkwa because I've seen the kind of work Huff could do in coverage last year but Chekwa is my next man in.
Chekwa on a No. 3 receiver is a matchup the favors the Raiders.
The only question is when he see's Wes Welker in the slot.
Maybe they move Huff into the slot in nickel situations.
Is Mike Mitchell Ready?
Jed Jacobsohn/Getty Images
If Mike Mitchell is ready, and he should be by now, he should be in the starting lineup pronto. He makes the Raiders better against the spread they have struggled against both run and pass right away.
Mitchell is better than Tyvon Branch is man coverage—particularly against tight ends. He is also better in the box as a run defender and more physical so the Pats won't be able to run out of the spread so easily.
If Mitchell isn't ready, Lorenzo Boyd should start at strong safety.
He's also better covering the tight end than Branch.
Bring Back Sheppard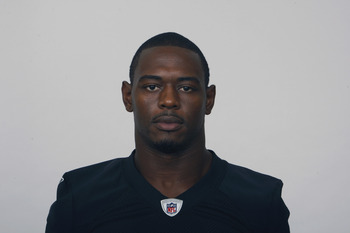 Handout/Getty Images
Lito Sheppard sounds real good right about now because the Raiders need all the corners they can get. Demarcus Van Dyke has a knee injury so that makes the Raiders even more short of corners.
This is important because the Patriots will use plenty of four and five receiver sets. I don't trust Joe Porter very much these days so Sheppard is an option the Raiders need to exhaust.
The Raiders don't have enough healthy corners for the Pats even if Porter can handle his business.
Work Quentin Groves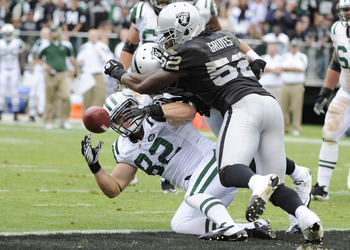 Thearon W. Henderson/Getty Images
The Raiders need to work Quentin Groves hard in practice this week in coverage. Having him on the field will make it much harder to run the ball and he has more speed than all of New England's tight ends.
He might have more speed than their receivers.
Groves could really be the wild-card if the Pats run double tights—spitting them.
Tyvon Branch to Free Safety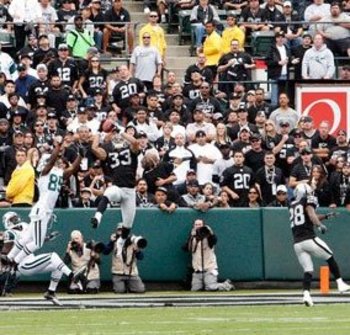 With Huff out or at corner and Mitchell back in the lineup, Branch should go to the free safety position. This is more where he's made to play anyway because he doesn't cover well in man coverage and he's too small for the box.
Think about it.
He has two interceptions on the year so far and they both came when he had the deep half of the field in zone. He makes a good tackling free safety and has far more than enough range and speed for the position.
Seeing Branch at free safety may cause the Raiders' staff to move Huff to corner permanently when he gets healthy.
He can cover when healthy and Branch looks good as a roamer.
Move Stanford Routt Around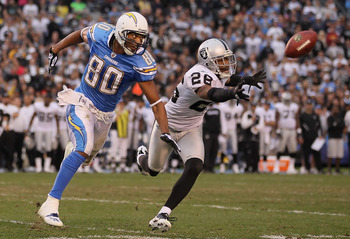 Jeff Gross/Getty Images
Stanford Routt has proven so far this year that he is as good as any corner in the league right now. He is among the league leaders in burn percentage again and also has an interception.
But a corner with this type of talent needs to follow the opposing team's best receiver. Routt played the opposing team's best receiver last year as they tried to avoid Nnamdi Asomugha at all cost.
The result of that was Routt having the No. 2 burn percentage in the NFL.
The Raiders should move Routt around so he can have a bigger impact on the Raiders' secondary. It could also give the Raiders a chance to hide their young corners while Johnson is out with injuries.
The young Raiders' corners can at least cover the No. 2 and No. 3 receivers.
Bump and Run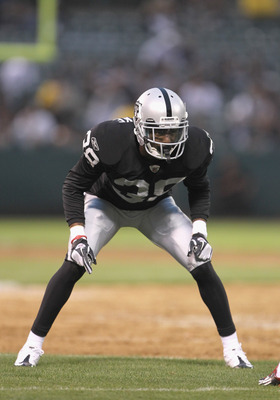 Ezra Shaw/Getty Images
If the Raiders can't get there with four, they need to blitz Brady with some bump and run coverage behind it. The bump and run coverage will not allow the Pats' receivers to be where they're supposed to be on time.
That will force Brady to hold on to the ball a beat longer—allowing the pressure to get there and sack Brady. If that happens, Brady is just like any other red-blooded quarterback so the pressure will cause him to freak out a bit and make some errant throws.
If the Pats go with short crossing routes, the Raiders need to jam receivers until the last second before passing them off. The Raiders' corners may be able to cause traffic jams—causing receivers to run into each other.
If the Raiders stay in too much zone, Brady will laugh and pick it apart.
Bumping and running are what the Raiders do best anyway.
The zone defense didn't work against the Bills.
Overview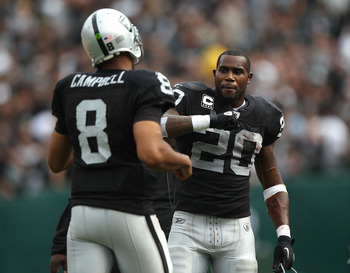 Jed Jacobsohn/Getty Images
The Raiders so far are 1-1 in track meet games.
With a few tweaks here and there on defense, the Raiders may not have to win track meets. Even if they are still in track meets, the aforementioned tweaks could give the Raiders an edge in such games.
Every edge counts in the NFL.
Keep Reading

Oakland Raiders: Like this team?