The Most Bootylicious Athletes of All-Time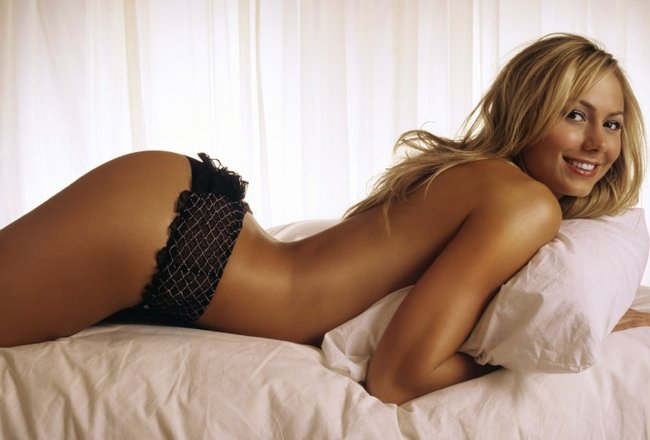 Well, the time has finally arrived for one of the most talked-about slideshows in the history of this website.
OK, so maybe it is not that popular, but at least I know that a lot of people will be thankful they wandered into this list.
I mean, it is a list dedicated to the female athletes with the greatest behinds. Those female athletes who are just plain bootylicious.
I have scoured the globe, or just Google, to find some of the hottest female asses in the sports world.
This was the hardest project I have ever done research on thus far. It was not easy to judge these babes based on what level of bootylicious they ranked.
Actually, it was incredibly easy—and fun—to compile this list. As I was ranking the beauties, I thought to myself, is this really my job?
Do I get the pleasure of searching for the hottest female ass in sports? How awesome is that?
Yes, yes, and extremely awesome!
Enjoy!
30. Gretchen Bleiler: Snowboarding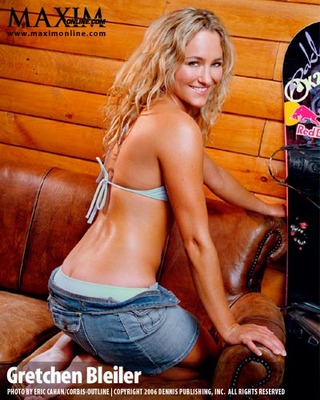 Bleiler is the cutest of the women on this list. She has this girl-next-door feel to her. She is like that chick who always hangs out with all the guys, but is treated more like their sister than anything else.
Of course, that is until those dudes check out her Maxim spread.
29. Victoria Azarenka: Tennis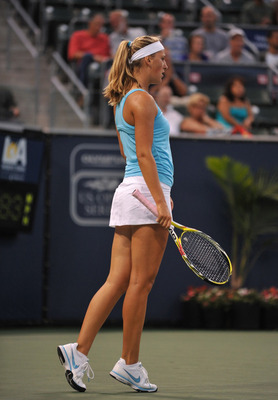 Why is it that most of the female tennis players have made this list?
Oh, maybe it's because they are smoking hot with their sexy butts in their short skirts.
28. Almudena Cid Tostado: Rhythmic Gymnastics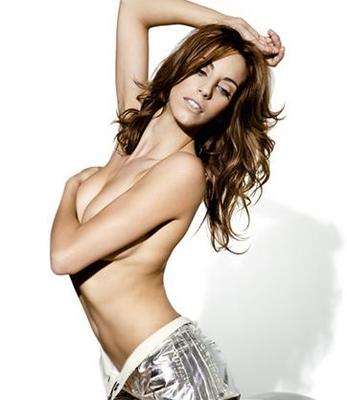 Even though you may not see it, this beautiful Spaniard has a luscious behind.
Did I mention how flexible she was, too?
27. Maria Kirilenko: Tennis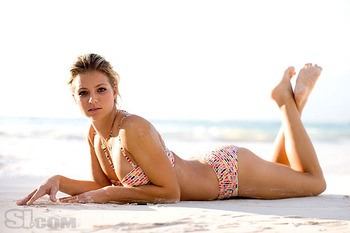 Again, that is one B-E-A-U-tiful behind, but she has to find a way into Playboy before she works her way up the list.
I know it is a longshot and she will never read this slideshow, but we can dream, can't we?
26. Blair O'Neal: Golf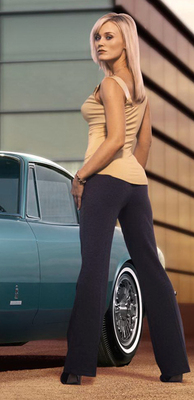 Now that we have all googled who this woman is, we can focus on the task at hand.
That task is Blair's sexy backside, and she has no problem showing it off either.
25. Nikki Garrett: Golf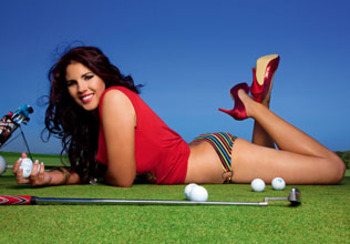 Do you follow women's golf?
After reading this slideshow and realizing how many hotties play the sport, will you watch it now?
I already have my DVR ready to record.
24. Stephanie Rice: Swimming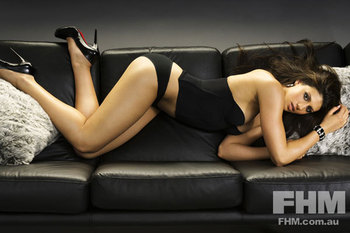 What could make this hottie any hotter? Does the fact that she lives in Australia help? How about her swimming abilities or her gold medals?
It doesn't matter which reason you choose, Stephanie has a luscious behind.
23. Jessica Gysin: Beach Volleyball
Jessica would be the blonde to the left, but I am starting to recalculate if I should have used her instead of the other hottie.
Either way, it doesn't matter which girl we use, both booties are smoking hot.
22. Jennifer Barretta: Billiards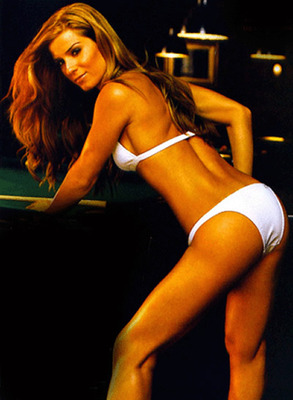 Jennifer is one of the best pool players in the world. She knows how to handle a stick and is well adapted in the world of smacking balls around.
Insert corny joke here.
Can anyone talk about pool and not sound dirty? I wasn't even trying to but after I read the first sentence, wow, that sounds just plain wrong.
21. Danica Patrick: Racing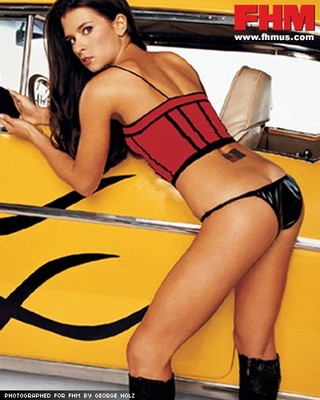 I might knock her in a lot of my articles, but one thing I will say is that from the looks of this shot, her backside doesn't need any assistance.
Danica has one of the hottest asses in NASCAR, and I am including the WAGs too.
The good news is that once she quits racing, she can get a job as a bikini model. Well, at least, I hope she gets a job as a bikini model.
20. Anastasia Ashley: Surfing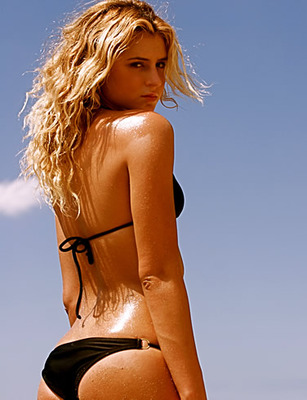 Free surfing lessons!
Anastasia Ashley is a surfer babe with an ass that makes me forget what I was doing. I have never actually seen her surf, but I have seen her photos, and that is frankly a lot better to look at.
19. Tanith Belbin: Figure Skating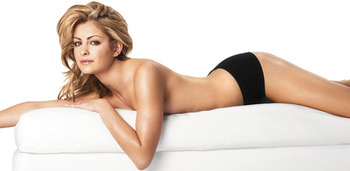 The closest Belbin has ever come to a gold medal in the Olympics was in 2006 when she won the silver medal for ice dancing.
That is great information, but useless. This is about the booty and not the medals, so for now we will focus on that and not worry about her records.
18. Ashley Harkleroad: Tennis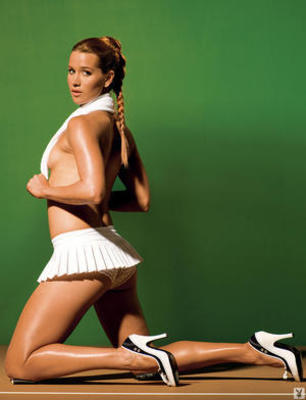 If not for Playboy, let's face it, no one would have ever heard of Harkleroad.
But she did pose, and now we all know of her beautiful little behind. If Hugh Hefner could get Maria Kirilenko to pose, then he could retire, but until then, I guess he just has to keep on getting hot babes to take off all their clothes everyday.
Thanks, Hugh!
17. Olivia Boeree: Poker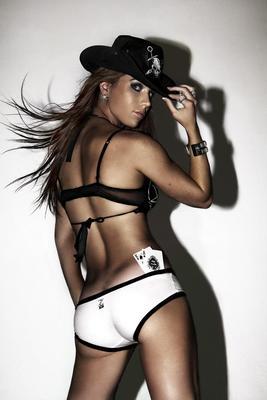 Say whatever you want about whether or not poker is a sport, I am not going to care. Especially as I look at the backside of Liv.
If you can tell me what cards are stuck inside her bottoms, you probably don't belong here because I can't even tell you what her face looks like—I am mesmerized by that booty.
16. Natalie Gulbis: Golf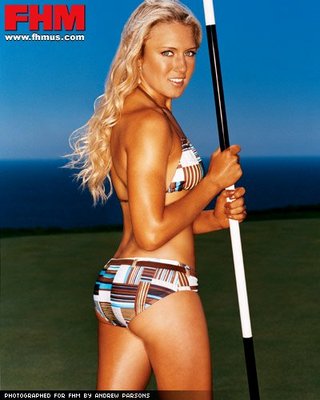 I wonder what the reasoning was for her to be holding a random pole in the middle of a field? Is it supposed to be a golf flag or a pole vault?
Regardless of what it is, Gulbis is hot and now that Tiger Woods is playing at an amateur level, maybe more men will start watching women's golf.
Before everyone goes crazy, I said MAYBE!
15. Julia Mancuso: Alpine Skiing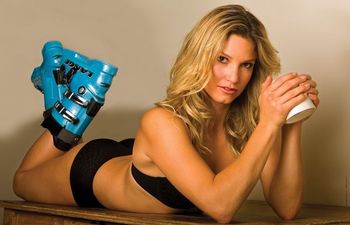 Mancuso has to be the second-cutest female on my list. I already said Gretchen Bleiler was the cutest.
She is just so adorable. She is like the girl next door. The hot one who nobody could date because her dad was crazy, but still loved to tease the boys. That is how I picture this beauty.
14. Maria Sharapova: Tennis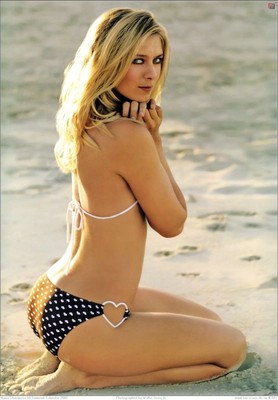 Santana once sang a song about the lovely Maria. It was called "Black Magic Woman."
Funny? You get it? You probably thought I was going to say another song and then I hit you with a curveball.
I honestly had nothing else to say about her other than how hot her booty was, so I vamped a little.
13. Misty May Treanor: Beach Volleyball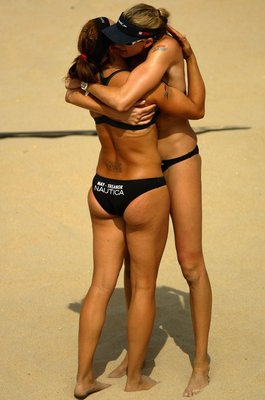 What is the one reason to watch the Summer Olympics?
Take a good long look at the photo before you answer.
TEAMWORK!
12. Leryn Franco: Javelin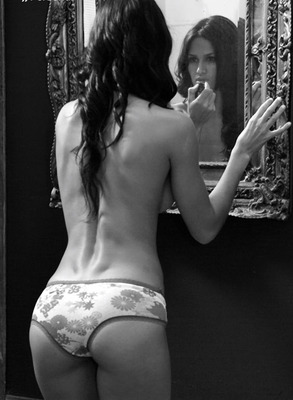 Dear Leryn,
I am hoping to see you in the next Olympics but I don't care what sport you play. However, could I recommend you doing something in the aquatic arena?
Thanks.
11. Amanda Beard: Swimming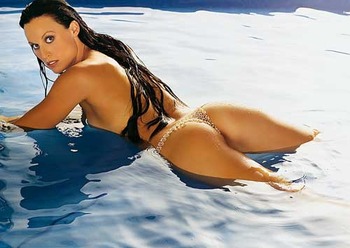 From the pool to the, uh, well, pool, Beard has changed our outlook on Olympic female athletes.
She captured our hearts when she first came on the scene in Atlanta in 1996, but since then, she has done everything in her power to make us forget about that cute, innocent little girl who brought her teddy bear to all her races.
And no one is complaining.
We are actually thankful that she did everything she could to remove that title from her name. Thanks, Amanda.
10. Ashley Massaro: WWE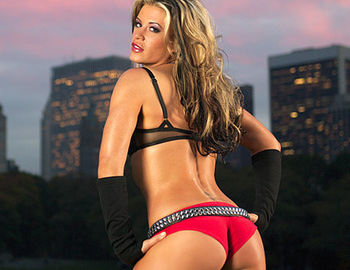 Ashley, Ashley, Ashley!
If I could write a poem about her butt, I would, but I am the least poetic person in the world, so my words could not do it justice.
So, just sit back and enjoy the view.
9. Viktoriya Kutuzova: Tennis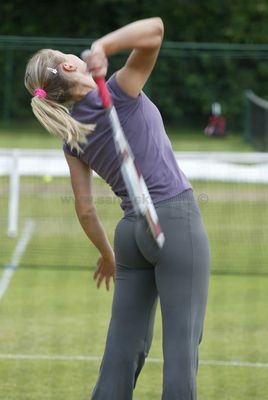 Here is some trivia for you.
Do you have any idea who this chick is?
8. Jelena Dokic: Tennis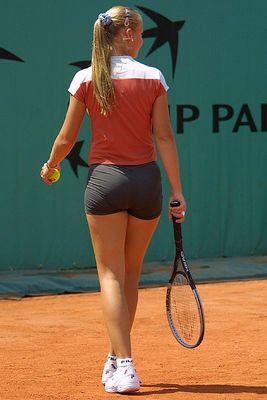 How about this one?
I sound like a broken record but with a booty like hers, it doesn't matter.
7. Logan Tom: Volleyball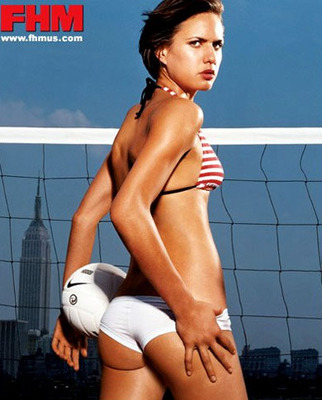 Like anyone would watch Olympic volleyball if the women didn't wear those tight short shorts.
We can all thank Tom for turning her uniform into a bikini. If we could just get to watch her every summer instead of every four years, everything would be cool.
However, when I see that behind, I don't mind waiting around for a couple more years to see it again. It kind of makes it worth the wait.
6. Stacy Keibler: WWE
What can I say about Keibler's behind that the picture has not already said?
Well, thanks to the WWE, I don't have to speak.
5. Anna Kournikova: Tennis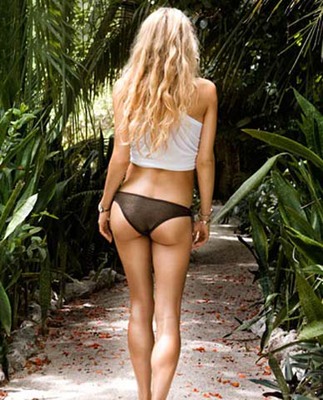 It's about time, Anna!
It has only been a week since the last time we heard about Kournikova. The worse part is that everything we hear about her has nothing to do with tennis, the reason we even know about her in the first place.
I know it is harsh, but she went from the top to the bottom overnight. At least we, the fans, still get to reap the benefits.
4. Torrie Wilson: WWE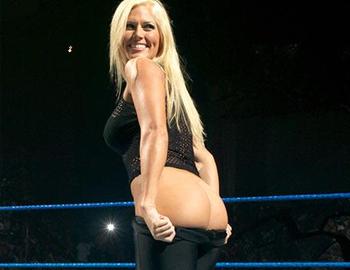 Let us pretend that I have to explain my choice for Torrie at this spot on the list. Now, take a look and watch as my point is proven.
3. Anna Semenovich: Figure Skating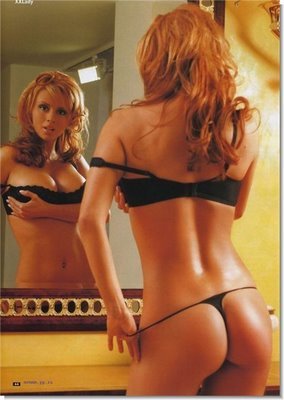 What is that word I always like to use to describe a truly magnificent piece?
Oh yeah, exactly!
2. Alenka Bikar: Sprinter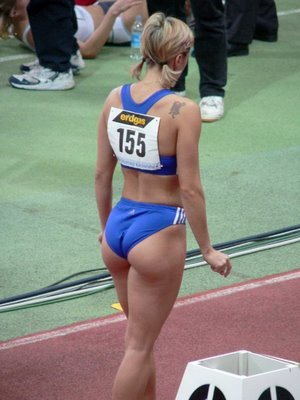 You probably have never heard of this woman, but don't worry because you are not alone.
Alenka Bikar is a sprinter from Slovenia, but I can tell from the looks of her backside that it doesn't matter where she came from or what she does.
1. Serena Williams: Tennis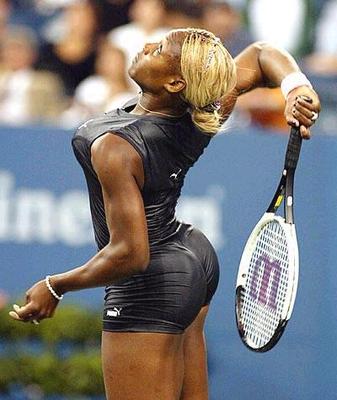 And now the reason for this slideshow...Serena Williams!
Keep Reading