NL West: Five X Factors Who Will Determine the Division
The Giants and Padres faced off in a week-end series. Their race for the NL-West may go down to the wire.
Jed Jacobsohn/Getty Images
Had I asked you in April who you saw leading the NL West in mid-August, you'd likely have answered with either the Rockies or the Dodgers. I know I would have.
The Dodgers won the division with the best record in the National League last season, and the Rockies made the playoffs as the NL's wild-card.
Both teams entered the season with young, talented rosters, coming off a highly successful season, and having suffered only minimal offseason losses.
So it made sense to think one of these teams would win the division.
Well, it's mid-August, and the NL West has evolved into a two-team race between the Giants and the Padres.
The Giants aren't exactly a surprise, as they were competitive last year. But the Padres were one of the worst teams in the league in 2009. The two teams met over the weekend, with the Padres winning two out of three to open up a 3.5-game lead.
These teams seem poised to battle it out for the division over the next month and a half. But which players will most impact the result?
Aubrey Huff, San Francisco Giants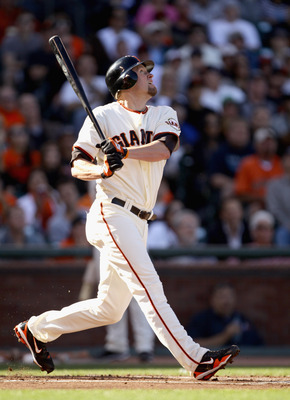 Aubrey Huff ranks sixth in the National League in OPS.
Ezra Shaw/Getty Images
As well as the Giants have played this year, the team is still offensively challenged, ranking eighth out of 14 National League teams in run scored.
This poor offensive showing makes you wonder where the Giants would be had they not picked up Aubrey Huff for essentially nothing this offseason.
Huff has been the Giants MVP this season, hitting .298 with a .391 OBP and .920 OPS.
Huff was one of the best players in baseball during the month of July, hitting .367 with eight home runs. Entering the month, the Giants were in fourth place. Exiting, they were in a virtual tie for first.
Unfortunately, he's cooled down considerably, hitting just .216 in the month of August. During this cold stretch, the Giants have dropped three additional games back of first.
Huff has shown this season that he can really make an impact for the Giants. If he can do so down the stretch, the Giants are much more likely to catch San Diego and win the division.
Buster Posey, San Francisco Giants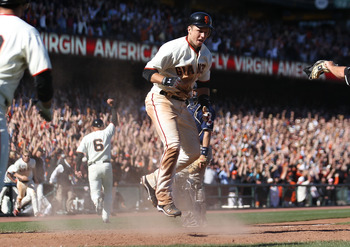 Buster Posey led all catchers with a 1.165 OPS in July.
Jed Jacobsohn/Getty Images
With Posey, as with Huff, it's all about the offense. While Posey's defensive prowess behind the plate has helped the Giants over the past couple of months, this team is starved for offense and his bat has done wonders in the San Francisco lineup.
Hitting .331 on the season, Posey ranks second among NL catchers in OPS. He's combined solid power (eight homers, 14 doubles, two triples) and a high-contact approach (only 31 strikeouts) to help produce runs in the Giants lineup.
Like Huff, Posey had a torrid July, hitting over .400 with all but one of his eight home runs. Also like Huff, he's cooled down considerably in August, and the team's play has suffered.
If the Giants' two top bats can't get things together, it will be tough for San Francisco to win the division. If they can, however, the Padres might not be able to hang on.
Adrian Gonzalez, San Diego Padres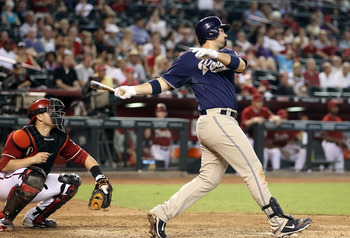 Adrian Gonzalez hits .320 on the road, compared to .276 at Petco Park.
Christian Petersen/Getty Images
Like the Giants, the Padres are an offensively challenged team. And, as with the Giants, their main offensive threat plays first base.
The numbers Gonzalez puts up, by themselves, paint the picture of an offensive monster. He's hit .300 this season with a .903 OPS.
When you consider how drastically his home park suppresses his offensive output (he hits 44 points better at home) he looks like one of the best players in baseball.
The Padres absolutely need Gonzalez to hit for them to capture the division.
He's about there only offensive threat, and if he can perform at a high level (like he did in June, and is doing in August) instead of replicating his July performance, the Padres have a good shot.
Tim Lincecum, San Francisco Giants
Tim Lincecum had a 1.27 ERA in April, but has struggled throughout much of the season.
Jed Jacobsohn/Getty Images
Lincecum entered the season considered by most baseball's best pitcher, and while he's had a good season, he clearly hasn't been himself.
On the season, he's striking out one fewer batters per nine innings. His control is out of whack as well, and his ERA and FIP are both more than a full run higher than in 2009.
While 2010 won't mark a third straight Cy Young for "the freak," he's been the Giants' best pitcher this season and, despite a terrible outing Sunday, could help carry this team down the stretch.
Mat Latos, San Diego Padres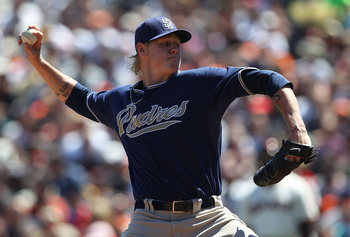 Latos 2.32 ERA ranks fifth in baseball.
Jed Jacobsohn/Getty Images
One of the best pitchers in baseball so far this season, second-year starter Mat Latos has quickly developed into the ace of the Padres.
Latos sports a 2.32 ERA on the season, made even more impressive when you consider how poorly he performed in April (6.20 ERA).
Since then? A 1.54 ERA in May, a 2.37 ERA in June, a 1.04 ERA in a shortened July, and a 1.50 ERA so far in August.
Latos still has a ways to go before he hits a hard innings limit, but he's already passed his 2009 innings total despite a break in July.
We've seen time and time again young pitchers wear down late in the season, and should this happen to Latos, the Padres are in big trouble.
Hopefully though, he can continue pitching the way he has the last few months.
Keep Reading