Fantasy Football IDP: Top 20 Linebackers 2010-11 Season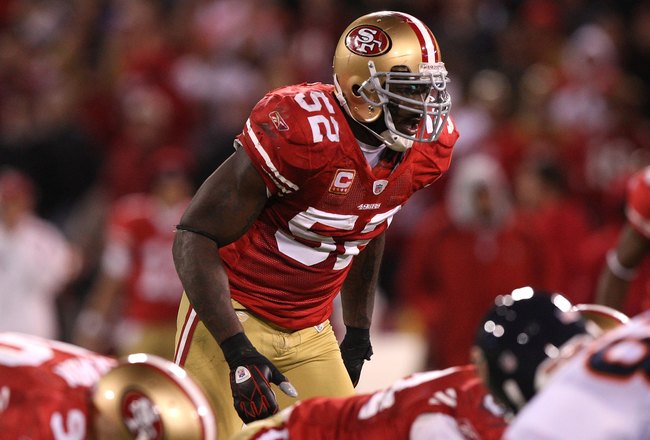 So the rankings are continuing to come in. Linebackers. The equivalent of running backs and wide receivers for fantasy football defensive players.
Some top names on this list, some new faces, some surprising names. Fantasy football wouldn't be fun if you had the same 20 guys every year. So I bring the top 20 names to look for at linebacker for your fantasy football draft.
No. 20 Brian Urlacher, Bears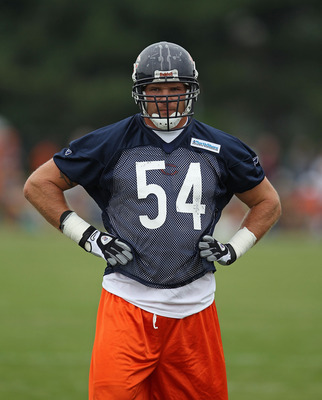 What? Yes, Brian Urlacher is a top 20 linebacker even though he didn't play a full game last year.
Last season during the first Sunday night game of the year Urlacher suffered a broken wrist that left him out for the season. That injury is what puts Urlacher on this list.
He is more motivated now then ever and due to his injury Urlacher can be overlooked which means you can get him in a very late round or cheap as we like to say. Don't take him to early because he is getting up there in age but injured players are always overlooked.
No. 19 Stewart Bradley, Eagles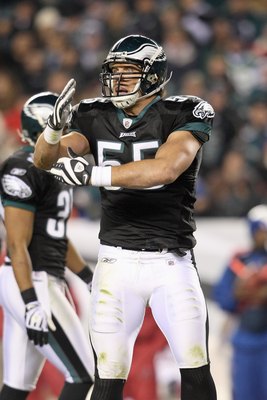 I must be crazy putting two players in the top 20 that were injured last year. I might be crazy, but there is good reason for Bradley being here.
Upside. With Bradley missing all of last season due to a torn ACL in pre-season hope is not lost for this 26 year-old linebacker for the Philadelphia Eagles.
The Eagles have always had a staple defense, the heart and soul of their team. With offensive weapons to score it's up to this defense that includes Bradley to make sure other teams don't score.
No. 18 Geno Hayes, Buccaneers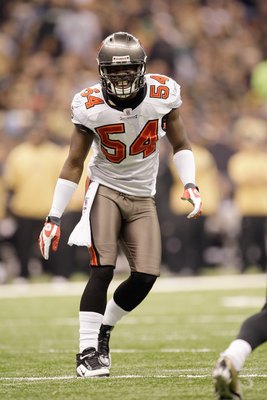 While Hayes does play for Tampa Bay he is a valuable,skilled, and young piece to a team that needs him. While there is another Tampa Bay linebacker who makes it toward the top of this list Hayes is no slouch.
Last season he had 98 tackles, 2 interceptions, 1 forced fumble and 3 sacks.
At only 23 years old this 3 year player has not reached his full potential with thrills fantasy owners and makes Tampa Bay fans happy. He might get some notice in middle defensive rounds. Get him while you can.
No. 17 Jerod Mayo, Patriots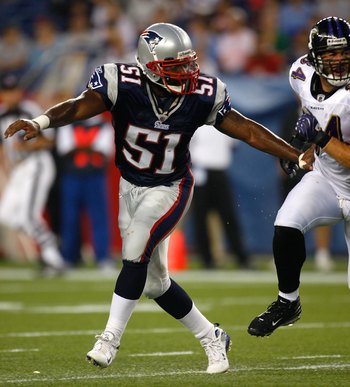 The key linebacker on the New England Patriots and while he is a tackling machine that's about all he is.
Last season Mayo had 103 tackles, 1.5 sacks and 1 forced fumble. His lack of turnovers are something that hold his potential behind but fantasy owners soon hope he can make the turnovers happen easily.
Mayo is a good source of tackles if you have another player you can get that can create turnovers. At only 24 years-old Mayo is a great player for keeper and dynasty leagues. He can only get better.
No. 16 Lance Briggs, Bears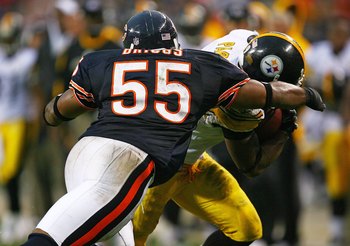 While Urlacher was out for the year, Briggs made his name even bigger. A focused veteran, Briggs almost left Chicago 2 years ago but decided to stay and behind Urlacher's partner in crime.
More like Briggs was the lead criminal. Piling up 118 tackles last season to go along with 2.5 sacks and 1 interception. He has set himself up to be the big time player making the big time plays.
With Urlacher back and healthy the Bears will have two of the top linebackers back together which only makes fantasy owners smile.
No. 15 Ray Lewis, Ravens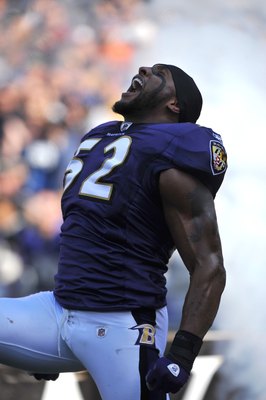 If there was ever one player to compare fine with to Ray Lewis would be him. Getting better each season not older, Ray has been a staple since entering the league 15 years ago and at 35 years-old he's still going strong.
Last season Lewis had 134 tackles, 3 sacks and 2 forced fumbles only proving that there is no such thing as an old man.
Most fantasy owners would look elsewhere but if you don't mind have Lewis at 35 he's a great linebacker to have. Not his prime but Lewis makes all the prime time plays and that is all that matters.
No. 14 Curtis Lofton, Falcons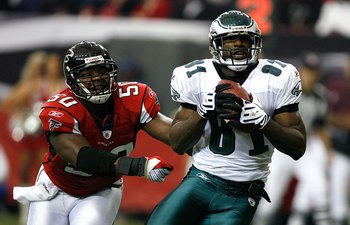 Watch out behind you. Curtis Lofton had nearly an identical season to Ray Lewis but the scary part is he is only 24 years-old and last season was an under performance for Lofton.
Last season Lofton had 133 tackles and 2 forced fumbles, if that's under performance then opponents better watch out. With Atlanta's young defense Lofton can only continue to improve and thrive in the system he is in.
Lofton will be a nice target if you can't get a top linebacker because of his young age. Perfect for most defensive leagues, just need the turnovers to come and sooner then later they will.
No. 13 Kirk Morrison, Jaguars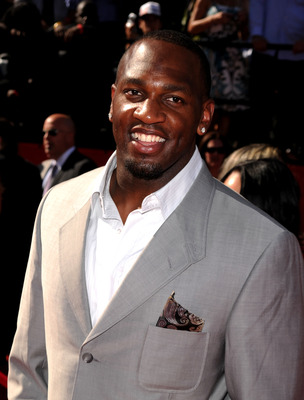 Smiling cause he's out of Oakland or smiling because he's got a chance to shine in Jacksonville? No matter how you look at it, Morrison has a lot on his plate and just like he eats running backs he might want to eat everything on his plate.
Anyone in Morrison's shoes would be smiling after last season in which he had a total of 133 tackles, 2 sacks and 3 forced fumbles while wearing a Raiders uniform.
This season in the Jaguars uniform, Morrison will be the headline linebacker of the team and if he can come anywhere close to last year's numbers he'll be an under the radar player. Draft Morrison before the other guys but not to high, he is 28 years-old.
No. 12 D.J. Williams, Broncos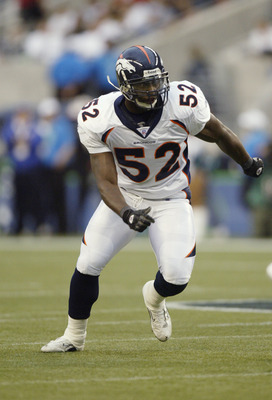 Some of the best players in the National Football League are overlooked because of another star player that share the same field with them. This was the case at least last season for Williams who shared the field with Elvis Dumervil.
Most of the time it would be hard to overlook 122 tackles, 3.5 sacks and 3 forced fumbles that is unless the player next to you is the NFL league leader in sacks as Dumervil was.
With Dumervil out due to a torn pectoral muscle DJ Williams can not be overlooked. Steal him in the middle rounds of selecting your defensive players. He's a fantasy monster that can be overlooked because of the guy he plays next to, this year not so much.
No. 11 Brian Cushing, Texans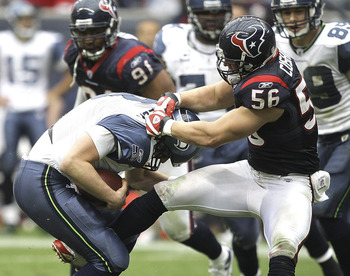 Never mind the suspension. Even the fact that he was, the Texans called him "over worked". The crazy part is, even if he was over worked you could never tell. Cushing was the Defensive Rookie of the Year last season and can only get better.
Get better? Last season he had 134 tackles, 5 sacks, 2 forced fumbles and 4 interceptions. He's a linebacker putting up those numbers. When back from suspension Cushing could come really close to reaching those numbers again.
Some owners might use the suspension as a reason as not to draft him but you want Cushing and you want him as soon as you can get him. While it's hard to actually tell when you want to take him, when you draft him make sure you have a solid back-up for the first four games. After that, no backup needed.
No. 10 Rolando McClain, Raiders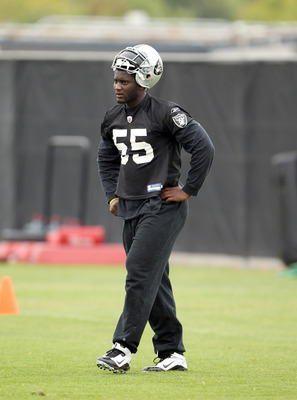 The Raiders first round draft pick was not only a good pick for the Raiders but could be the perfect pick for your fantasy football season. At 11 you saw last year's rookie of the year. McClain is one of the early favorites for ROY this season.
In his four year career at Alabama McClain piled up 270 total tackles, 5 interceptions, 1 forced fumble and 8 sacks. While the sacks and fumbles could've increased he was in college.
As a rookie you never want to put to much pressure on a player. As a rookie, McClain might thrive under pressure. He's certainly a tackling machine but what else can he bring? Fantasy owners will soon find out.
No. 9, DeMeco Ryans, Texans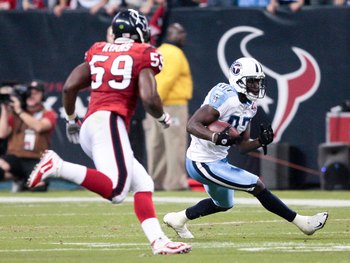 While he may not have had the numbers he did his rookie season, or his counter part did in Brian Cushing, Ryans will produce. Due to Cushing's suspension Ryans will see a lot more opportunities.
More opportunities to build off a season that had Ryans with 123 tackles, 1 sack and 1 forced fumble. More of a consistent tackling fantasy player, Ryans will have more responsibilities with Cushing out 4 games.
Ryans will be drafted after Cushing but Ryans is no slouch. His production will soon make fantasy owners reach for him. Actions speak louder then words and Ryans can live to that motto.
No. 8 DeMarcus Ware, Cowboys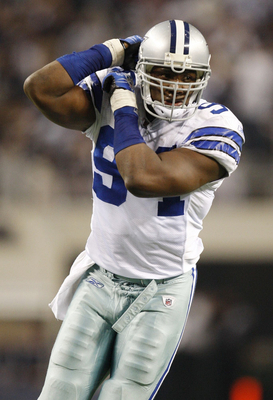 While Ware isn't the tackling machine that most fantasy linebackers are, he brings a lot more to the table. Although he was injured last season Ware came back healthier, stronger, and faster. If that didn't scare teams last year, it will this year.
Ware had only 57 tackles but made his mark with 11 sacks and 5 forced fumbles. With pressure on Dallas to play the Super Bowl in their own stadium Ware should be at the highest level of his career.
With Ware motivated, he'll be a guy to target in early rounds of your linebacker picks. If he wants to get to the Super Bowl, he'll play like he wants to. If he plays like he wants to make it, he'll lead your fantasy team to many wins.
No. 7 Karlos Dansby, Dolphins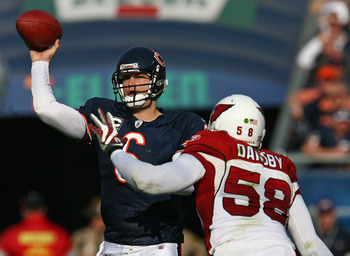 From flying with the Cardinals to swimming with the Dolphins, Dansby could be a major contributor for the Miami Phins. Following an off-season trade to Miami Dansby looks to make his mark just as he did in Arizona.
Speaking of that mark, he had 109 tackles, 1 sack, 1 forced fumble and 1 interception. With Miami headed in the right direction Dansby could be headed in the direction of your favorite team's quarterback.
Draft Dansby early but not to early as he is 28 years old. With that being said he is an experienced veteran who will find a way to make his mark on the football field, which translates to fantasy football gold.
No. 6 David Harris, Jets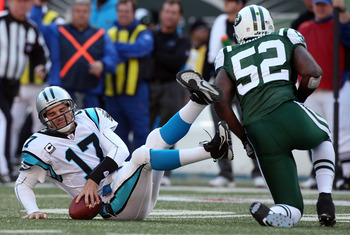 David Harris is one, if not the most under rated linebackers in fantasy football and the NFL. While the defensive line and that one guy named Revis get all the attention Harris freely roams among the plays and gets his numbers.
Last season he had 127 tackles, 2 forced fumbles, 2 interceptions and 5.5 sacks and that you may not have known because of Revis. In the NFL's best defensive system Harris will continue to thrive.
At 26 years- old Harris seems to be one of the top guys in fantasy football at the linebacker spot. The one guy that many may not go after because he's not a big name. He's a big player and that's all that matters.
No. 5 David Hawthorne, Seahawks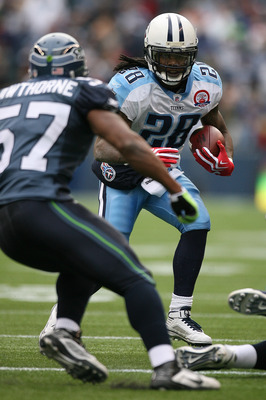 Overlooked? This guy shouldn't be. While young player Aaron Curry still awaits his breakout season Hawthorne is thriving. The third year player out of Texas Christian University is becoming a dominant name in fantasy football.
Last season Hawthorne had 117 tackles, 4 sacks, 2 forced fumbles and 3 interceptions for a Seahawks defense that could use all the help they can get.
While you may need the help for your fantasy team if you can't get any of the other top guys at linebacker Hawthorne is a name that will make the other owners mad that they passed him up.
No. 4 Barrett Ruud, Buccaneers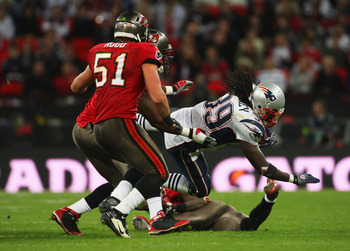 When writing about Geno Hayes I mentioned a teammate being ranked in the top half of this list. Barrett Ruud is that teammate. Each week last season Ruud's owners were thrilled to see tackle after tackle.
Only problem with Ruud is that he did not record a sack last season. What Ruud did have was 142 tackles, 1 forced fumble and 1 interception. If he can continue he can become really scary in fantasy football.
While he is 27 years-old Ruud has just recently exploded on to the scene and can continue to do so. Whether exploding on to the scene or into the backfield Ruud is a hit.
No. 3 James Laurinaitis, Rams
The crazy thing isn't having Laurinaitis at number three the crazy thing is the fact he is only 22 years-old. While playing for the St. Louis Rams isn't the best thing in the world, Laurinaitis made the most of it his rookie season.
Compiling 120 tackles, 2 sacks, 2 interceptions and 1 forced fumble Laurinaitis made himself and will continue to be the most dominant defensive force in St. Louis.
If it wasn't for another player on this list, Laurinaitis would be the best linebacker in this division. Take him in the top picks of your defensive picks as he is only going to get better.
No. 2 Jon Beason, Panthers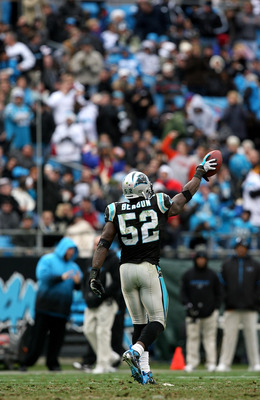 Don't let Beason get very far in your draft. You want this fourth year player out of "The U". With Thomas Davis out for another season due to a torn ACL Beason makes the shift to outside linebacker but, he'll still produce.
If Beason can produce anything close to last season's numbers which were 142 tackles, 3 sacks, 3 interceptions and 1 forced fumble. While the Panthers have many question marks, Beason isn't one of them.
If your not able to get the top linebacker Beason is really option 1B. He'll be a keeper on your team for years to come. This Panther not only rocks black and blue but leaves offensive players with black and blue marks.
No. 1 Patrick Willis, 49ers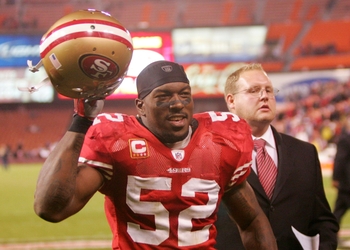 Raise your hat errr helmet to this man. Mike Singletary or Patrick Willis? No it really is Patrick Willis he just so happens to play for Mike Singletary. The 49ers staple for many years to come once again finds himself at the top.
For every reason that he can be at the top he is. 152 tackles, 4 sacks, 3 forced fumbles and 3 interceptions. With San Francisco becoming a favorite to win their division a lot of attention is now on Willis.
Don't worry about his performance as he will continue to thrive and can only get better. He's only 25 which makes him the easy, clear cut pick for the top linebacker. If his numbers didn't prove that already.
Keep Reading