Freddie Freeman in Waiting Game: The Fantasy Fix's AAA Farm Report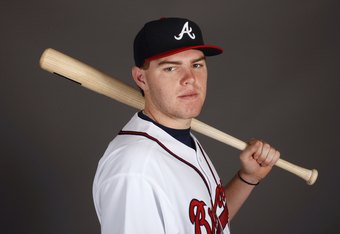 Chris Graythen/Getty Images
From the big bats of Juan Francisco and Freddie Freeman to the tested arm of Jeanmar Gomez—there are always more players waiting for the call-up. Let's take a peek…

Freddie Freeman, 1B Atlanta AAA Line—.295, 14 HR, 63 RBI

After a slow start to his inaugural AAA campaign, Freeman is rapidly picking up the pace. He hit .333 in July with six HR and 22 RBI. His strikeout totals are a bit bloated with 39 in his last 51 games, but not a major concern. He's already well surpassed his power totals from AA in 2009 (eight & 58). He's a double machine with 33, 27, and 24 the last three seasons respectively. With Jason Heyward in the bigs, Freeman is the prized offensive jewel of the Braves system. Troy Glaus' is already hitting the pine, so it will be Freeman's job to lose in 2011. He hit .333 in spring training with seven RBI.

Juan Francisco, 3B Cincinnati AAA Line—.283, 15 HR, 45 RBI

Francisco missed 31 games between May-June due to an emergency appendectomy. Since his return he's hit .298 with 22 runs, 11 doubles, 11 HR and 26 RBI. In ten games since the ASB he's batting .317 with seven HR and 15 RBI. He's up there to swing the bat, not draw walks (12 BB, .322 OBP). But his .566 SLG percentage is outstanding. Francisco has been in the Reds system since 2006, and has crushed the ball at every level. He was also named Dominican League MVP this winter, leading the league in HR (11) and RBI (42). Defense at third is not his strength, but it suits his lack of mobility. He will likely move to first base in another organization.

Ivan DeJesus, 2B LA Dodgers AAA Line—.297, 5 HR, 43 RBI

DeJesus missed nearly the entire 2009 season with a broken leg. It was an extremely unfortunate injury coming off the heels of a terrific 2008 season in AA where he hit .324 with seven HR, 58 RBI, 16 stolen bases and a .419 OBP. He's slowly worked his way back into game shape batting .333 since June 1st. But the speed element has all but disappeared, attempting only five SB and swiping four. He's done exceptional work with RISP, hitting .375 and knocking in 37 of his 43 runs. DeJesus is not blessed with potent home run pop, but he's been a consistent doubles man. With five full minor league seasons under his belt, DeJesus deserves to showcase his talents. Newly acquired Ryan Theriot is arbitration eligible through 2012.

Craig Kimbrel, RH RP Atlanta AAA Line—2-1, 13 SV, 57 K

The power-armed reliever left a strong impression during his eight game stint with the big club. He struck out 15 batters in 8.1 innings, allowing only four hits and one run. The problem was he also walked ten batters, unable to command any offerings consistently. He's picked up right where he left off in the International League. In 13 July innings, he's struck out 17 and issued 15 BB. Of his nine hits allowed, two have been long balls (first HR's allowed all season). All of his splits are scary good, including a 1.71 GO/AO ratio and .158 BAA. There's little doubt that Kimbrel has the stuff to assume the Braves closer sooner rather than later. However, his BB totals are unacceptable for a late inning reliever. Until he shows the ability to throw strikes, he'll either be in AAA or middle relief.

Michael Bowden, RH SP Boston AAA Line —6-3, 3.67 ERA, 67 K

Bowden's statistics tell two very different stories. First the good: in 95 2/3 innings of work he's allowed just 74 hits (.216 BAA) and walks about three batters per nine. The ugly: His GO/AO ratio is 0.34 and he doesn't miss bats, striking out 67, or one every 1.4 innings. Usually it would be safe to say there's a fair bit of luck on his side, but his minor league numbers have been consistent over the years. Poor GO/AO and low BAA. He hasn't finished with a ground ball rate over 1.00 since 2006. It's hard to figure how, but he's making it work. The deception in his pitching motion must play a role. He hides the ball well and has a funky delivery, perhaps giving him the margin for error he needs to succeed. Bowden's minor league success has yet to carry over to the major league level, in 16 innings in '09, he pitched to a 9.56 ERA and .333 BAA.

Jeanmar Gomez, RH SP Cleveland AAA Line—8-8, 5.20 ERA, 78 K

The 22-year old Gomez pitched 7 innings of zero earned run ball in his ML debut on July 18th, but it was a spot start only. He's been sharp as a tack in two AAA starts since, appearing to have turned the metaphorical corner. He's pitched a combined 15 innings of 13 hit, three ER ball. In addition, he's struck out 11 and walked just one. Coming from a guy who has allowed 129 hits in 116 innings and on the year, that's quite a change of fortune. Confidence can take you a long way, and his victory over the Tigers has immediately boosted his mound efficiency and productivity. With Jake Westbrook just dealt and the Indians in youth mode, Gomez will be given a second go around.

*stats as of 8/2/10
Written by Adam Ganeles exclusively for TheFantasyFix.com. Look for Adam's weekly insight into A, AA, & AAA ball.
Leave a comment and let us know, or reply to us on twitter @TheFantasyFix
____________________________________________________
Here are some more articles that will not self-destruct in 10 seconds...
Fantasy Baseball
Fantasy Baseball's Top 50 Pitchers Post All-Star Break
MLB Fantasy Baseball Second Half Ranks: Third Base
This article is
What is the duplicate article?
Why is this article offensive?
Where is this article plagiarized from?
Why is this article poorly edited?

Atlanta Braves: Like this team?