Five Baseball Talents Who Could Be Valuable Down The Stretch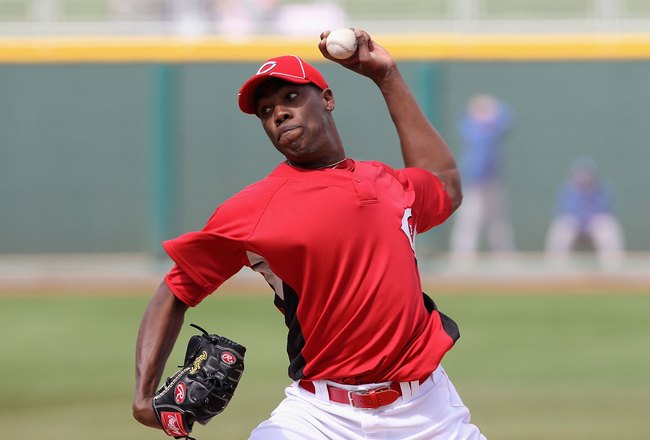 The 2011 season has seen many young talents come to the forefront of the national baseball media. Names like Strasburg and Heyward, along with many others, have truly signaled what baseball has become—a young man's game.
The remainder of the season could provide for many new faces to emerge as household names and make a splash for their respective teams.
It's now August, which officially qualifies the beginning of the stretch run in baseball, and the September 1, 40 man roster extensions are less than a month away.
Teams are now looking to solidify their rosters in hope for a playoff berth, or in some cases, prepare for next season.
When teams can't make a trade for the particular dynamic they are lacking, often times they will promote from within—that is, the minor leagues.
These five young prospects, for one reason or another, could all see time in the big leagues sometime in the near future.
5. Desmond Jennings - OF, Tampa Bay Rays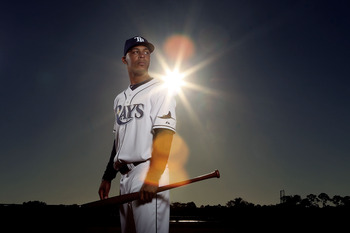 The heir apparent to future free agent Carl Crawford, Desmond Jennings is already on a fast track to the big leagues.
The 23-year-old was drafted in 2006 by Tampa Bay.
Through five seasons in the minors, Jennings boasts a .300 batting average, 29 HR's, 156 RBI,161 SB, an .830 OPS, and a .77 BB/K ratio.
What to like -- Touted as a five-tool player, Jennings seems to possess the complete baseball package.
Everything printed about him seems to indicate his understanding of the game, his intelligent approach to hitting, and his ability to run and field with the best of them.
His above average glove, speed, and contact could soon be joined by the ability to drive the ball for some power. His 88 doubles and .447 SLG % in the minors should indicate his ability to hit the ball hard and find the gaps. As he gets more experience in the majors, he definitely has the potential for a 20+ HR, 50+ SB season, all while hitting for average and playing gold glove caliber defense.
What not to like -- The biggest knock on Jennings has been his injury history. A back injury caused him to miss a good portion of 2008, and Jennings has missed time in three of the last four seasons. He even missed the first month of 2010 with a wrist injury, but appears to be currently healthy.
Likely Scenario -- It seems as if the Rays would prefer Jennings to be a post September 1 call up, getting some time down the stretch in preparation him for next season. Yet injuries to OF Ben Zobrist and 1B Carlos Pena could result in Jennings being in Tampa a bit sooner than expected.
What's in the future -- With the Rays unlikely to shell out the big bucks to retain All-Star OF Carl Crawford this offseason, Jennings is already as suitable as a replacement as there is. Expect him to be starting for the Rays in 2011.
4. Lars Anderson - 1B, Boston Red Sox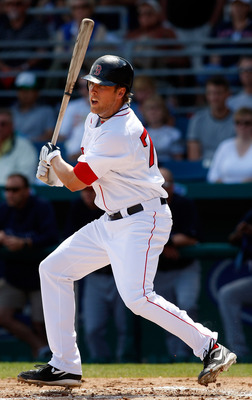 The recent injury to All-Star 1B Kevin Youkilis—season ending thumb surgery will be required to repair a torn muscle—has reopened the potential for seeing Anderson in Boston this year.
22-year-old Lars was drafted by the Red Sox in 2006 out of high school.
In 1737 minor league AB's through four seasons, Lars has a cumulative batting average of .277, with 50 home runs and 262 RBI's.
In 2010 Anderson has split time between AA Portland and AAA Pawtucket. In 358 total at-bats, he has 12 HR's, 53 RBI's, and a .263 batting average.
What to like -- Anderson is a big, 6'4, 215 pound, left handed first baseman who is only 22. He has a good deal of power already at a young age, and has the potential to reach a lot more.
Anderson has a great eye—he's taken 263 walks through his four minor league seasons—and a great overall knowledge of the strike zone.
Lars hits lefties well—a .307 mark vs lefties through his first two seasons—and is extremely capable of going the other way.
Anderson has the potential to contend for batting titles, and has a basic, structured approach to hitting that the Red Sox organization instills in all their young players.
His opposite field ability is tailor made for Fenway Park and the green monster, giving him the perfect arena to hash out his power upside while not sacrificing any of the average and simple hitting approach.
Anderson is athletic for his position and plays decent defense. It isn't something he hangs his hat on, but it doesn't hurt him either, and he always has the potential to improve with ample coaching available on the big league level.
What not to like -- Lars has regressed somewhat in the eyes of some scouts. He suffered a back injury in 2009 that limited his play and significantly decreased his overall hitting numbers—.233 average, .328 OBP, 9 HR, and 51 RBI's in 447 AB with AA Portland.
Despite a better 2010, Anderson is batting only .205 in his last 10 games with AAA Pawtucket.
Likely Scenario -- While it seems likely that we will see Anderson in Boston at some point in 2010, the Red Sox may be disinclined to give him a majority share of the first base role while he is amidst a slump, fearing that it could mess with the mechanics and confidence of such a young player if it were to continue in the big leagues.
No matter his upside, it remains clear that Lars is not quite a finished product. The Red Sox aren't a team that would promote a young talent like Anderson only to sit him on the bench, and they might not consider him finished enough to assume such a large role.
It seems that a call up after September 1 is more likely than an impending promotion to the big leagues.
What's in the future -- For a young, talented, 22-year-old with a high ceiling, it's almost impossible to predict where Lars will end up.
This upcoming offseason for the Red Sox provides them with many options that could impact where Lars starts the 2011 season.
For starters, 3B Adrian Beltre, C/1B Victor Martinez, and DH David Ortiz are all upcoming free agents. Who the Sox choose to bring back would affect the corner infield positions—departure of 3B Adrian Beltre could result in Kevin Youkilis assuming day-to-day duties at third, leaving a hole at first.
It's possible that Anderson could fill this role, but it's just as likely he could be dealt in a deal involving first basemen Prince Fielder or Adrian Gonzalez,, both of whom are expected to be available in the offseason. The signing of a player like Adam Dunn would also shut the door on his arrival in Boston.
3. JP Arencibia - C, Toronto Blue Jays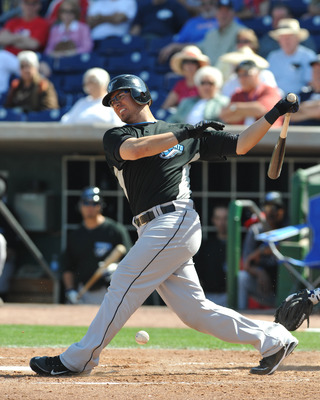 OK, so I acknowledge I'm cheating a bit here. JP has already gotten the call up a bit sooner than expected. The injury to John Buck saw to that.
His minor league line in 2010 speaks for itself. Through 95 games and 379 at-bats for AAA Las Vegas, Arencibia batted .303 with 31 HR's, 79 RBI, and a .639 SLG%.
What to like -- Arencibia has raw power and quick bat speed, skills which could lead to a significant impact right away in Toronto. His walk rate has slowly crept up while his K rate has remained fairly consistent.
He seems to have the potential to be an above average MLB player once he makes his debut.
What not to like -- Arencibia's catching ability leaves a little to be desired. He seems to have somewhat of a problem blocking pitches in the dirt, evidenced by his 59 career passed balls. His 28 percent caught stealing would rank right in the middle of MLB catchers today, yet this number has decreased with every promotion; it was only at 24 percent this year in AAA.
A position change to first base could be in Arencibia's future, and being in an American League organization provides him with the opportunity to DH.
Arencibia's plate discipline and patience have also been criticized. Indeed, he has never been one to take many walks—only 92 in his minor league career—and despite this year's .303 average at the plate, his OBP is only .360 which is still the highest it has ever been.
What's in the future -- The Blue Jays hope that Arencibia is the catcher of the future, and if he succeeds right away he could steal some starts in a platoon situation even when John Buck returns. Expect Arencibia to be given the opportunity to compete for the everyday job in spring training 2011.
2. Jeremy Hellickson - P, Tampa Bay Rays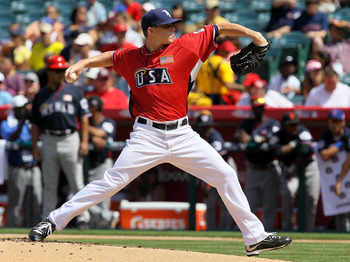 Hellickson was drafted by the Rays in 2005 in the fourth round of the amateur draft.
Through six seasons in the minor leagues, the 23-year-old sports a 49-16 record, 2.66 ERA, 1.05 WHIP, 630 K's (translating to a 9.8 K/9), all in 579 innings.
The pitcher made his MLB debut August 2 against the Twins, where he casually put up a line of 7 IP, 3 H, 2 ER, 2 BB, and 6 K's in a 4-2 win over Minnesota. Hellickson was promptly sent down to AAA Durham, a few hours after the start.
With the Rays in contention for first in the American League East, and looking to bring home the first World Series title in team history, the Rays could easily utilize the young arm of Hellickson come September.
What to like -- Simply put, there's a heck of a lot about Hellickson to get excited over. A strikeout pitcher, Hellickson possess command over three finished pitches; a plus fastball about 90-93 MPH, a plus change up around 81 MPH, and a curve about 75-77 MPH.
Hellickson has fanned batters at every level of the minor leagues. He hasn't had a K/9 below 8.6 during any of his six seasons.
He also has had excellent command, posting a 2.1 BB/9 and a 4.67 K/BB ratio in his time spent in the minors.
Hellickson seems to be major league ready. He has excellent stuff, control, and the all important ability to pitch intelligently, working all of his pitches off of each other and locating them on both sides of the plate.
What Not To Like -- As with any young pitcher, there is always the concern that he'll throw too many innings and overwork his shoulder, possibly leading to a serious injury. But Hellickson has stayed away from any large injury so far in his career.
What seems more likely to dampen his chances of impact is the extremely young and talented rotation the Rays already possess. Cracking the rotation will prove difficult, even for such a talent.
Likely Scenario -- Rays manager Joe Maddon has indicated that the Rays could use Hellickson out of the bullpen after September 1. He would provide another arm down the stretch, eat up multiple innings, and could even spot start here or there to give the rotation an extra day of rest in preparation for the playoffs.

What's In The Future -- Hellickson will most likely be given the chance to battle Wade Davis for the fifth spot on the Rays rotation come spring training 2011. The Rays will have to decide who they are going to proceed forward with, because Hellickson is, quite simply, ready for the major leagues.
It's hard to imagine a scenario where Hellickson doesn't start the 2011 campaign apart of the Rays starting rotation, but you never know.
1. Aroldis Chapman - P, Cincinnati Reds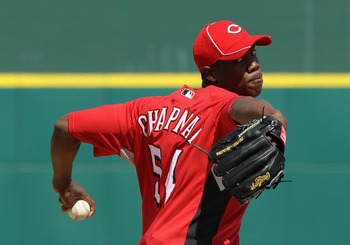 After defecting from the Cuban national team in July of 2009, Aroldis Chapman quickly became the most coveted free agent in baseball.
Hailed as the left-handed Stephen Strasburg by some, Chapman signed a contract with the Reds in January of 2010, reportedly for six years and around $30 million.
What to like -- Chapman possesses a ridiculously fast fastball. He regularly is in the mid-upper 90's, and can hit hit 100 MPH a few times during the course of a game. Most recently, he has been clocked at a nearly unhittable 103 MPH while appearing in relief in AAA Louisville.
In his last 10 appearances, all in relief, Chapman has 0 ER, a .901 WHIP, and 16 K's in only 11.1 innings, with opponents hitting only .150 off of him.
The ceiling is high with Chapman, and he can be of value to the Reds bullpen today.
What not to like -- Chapman is a real raw product. Earlier in his AAA season, Chapman struggled mightily with control and mechanics, averaging almost five and a half walks in 13 appearances as a starter.
Chapman's secondary pitches are still a work in progress. When they are working, they have the potential to be electric, but Chapman has often been wild and erratic with them. He possesses a slider—his best breaking pitch—and works in a change and a curve.
Despite being listed at age 22, there have been some concerns over Chapman's actual age, with reports saying he could actually be as old as 26.
Likely Scenario -- Chapman won't start for the Reds this season, but with his recent domination as a reliever in AAA, it's likely that we'll see him join the Reds pen before September 1, so as to make him playoff eligible. The Reds have somewhat of a short pen, and an arm such as Chapman can be utilized in a playoff race. The Reds currently sit atop the NL Central by 0.5 a game and are looking to make their first playoff appearance since 1995.
What's in the future -- As of right now, the future remains somewhat uncertain for Chapman. Obviously, he possesses loads of talent and has the potential to be a star in this league.
The Reds seem to want him to be a starter long term, a role which Chapman has not yet had much success in. Spring training 2011 will be an important stretch for the left hander. He'll have the opportunity to prove he can perform at a consistent level deserve to open the season on the Reds roster.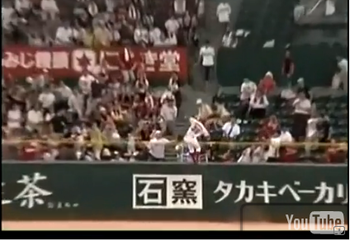 Yes, that's all I have for you. There are probably many more players I could have included in this list.
How do you think the players listed here will fare? Who else do you think will have an impact on their team during the stretch run? Feel free to drop a comment.
Also, I leave you with the awesomeness that is Masato Akamatsu's wall climbing catch in a recent Japanese professional League game.
If you haven't seen it, you should.
Keep Reading