Dream Match: The Attitude Era vs. The PG Era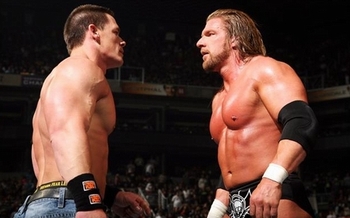 Good day Bleachers, Its been awhile since I made an article so please be easy on me. Today I will be writing about Dream matches that many people would love to see. The topic this time is a PG era vs. the Attitude era.
There are a lot of new WWE superstars these days and no doubt, some of them are already making their mark. Its also noticeable that veteran wrestlers are slowly being aired out. So I decided to have a showdown of the top wrestlers of both era.
I would like to point out that these are matches that I created and if you do not like the match ups then please tell me. I'm open for suggestions.
I would also like to point out that I may not have used a lot of wrestlers since a regular PPV can only have eight matches. Wrestlers who were big on both era are also left out. Some big names like Chris Jericho, Big Show, Kane, Christian, Shawn Micheals and The Undertaker were not included. Mainly because a possible dream match for them is between themselves.
Comment away if you there are better matches than the following. Anyways, lets begin.
Opening Match: Crash Holly vs. Dolph Ziggler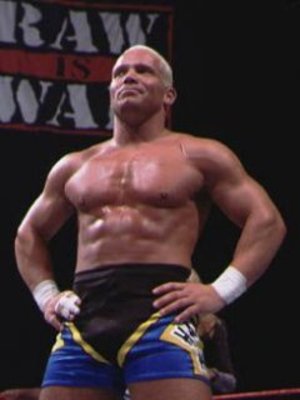 Highlights of the match
The match starts with a cheap shot from Dolph. He easily dominates Crash on the early going.
Crash was able to dodge a dropkick and runs out of the ring. Crash then hid under the ring. Dolph then followed and attempts to find Crash who surprised Dolph and hits a Flowing Snap DDT.
Dolph and Crash continues their battle in the ring. Dolph then accidentally knocks the referee out with a clothesline. Crash then connected with his finisher, the Crash Course. But there was no referee to count the pin.
Members of the Spirit Squad then came charging into the ring and beats Crash Holly up. The 5 on 1 assault continues until Hardcore Holly came rushing to the ring with a chair and lays out all the entire spirit squad. Hardcore then hits an Alabama on Dolph Ziggler.
Another referee came to the ring and counted the pinfall.
Winner: Crash Holly (R.I.P. Houdini of Hardcore)
CM Punk and Luke Gallows (SES) vs. Billy Gunn and Road Dogg (NAO)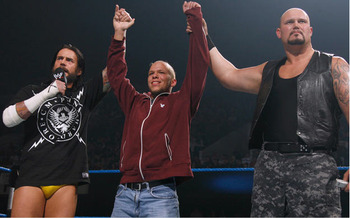 Now we go to some tag team action. CM Punk and Luke Gallows battles with The New Age Outlaw. Before the match starts, CM Punk would trash talk about how great he is and how Billy and Road Dogg are a failure. He then continues that he would beat The New Age Outlaw at their best game, a Dumpster Match.

This match is similar to a Casket match wherein you must put both members of the team in a dumpster then close the lid.
Highlights of the match
SES would dominate the beginning of the match and would put Billy Gunn and Road Dogg through tables.
Billy Gunn would isolate CM Punk and executes a fame asser on Punk outside on the mat.
Luke Gallows out powers Road Dogg and choke slams him onto the dumpster.
CM Punk and Luke would then double team Billy Gunn. Billy was able to dodge the big boot of Luke and would connect a "one and only' on CM Punk.
He then rolls Punk into the dumpster. Luke finally connects a big boot and lifts Billy over his shoulders. Bill would counter and it sends Luke and himself into the dumpster.
CM Punk would come out of the dumpster first. Road Dogg would follow and they would wrestle. CM Punk gains the upper hand and knocks Road Dogg out with a GTS.
Punk would drag Road Dogg into the dumpster, helps Luke Gallows out and attempts to close the lid. But Billy Gunn would interrupt and climbs out of the dumpster. He battles with Luke and Punk until he also receives a GTS.
Winner: SES
Divas Match: Chyna vs. Beth Phoenix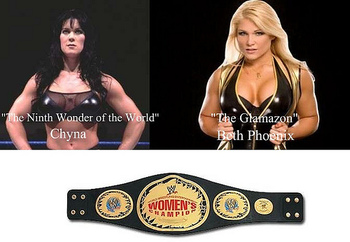 This is as good as it gets. When Beth first debut, I already compared her to Chyna. So I always wanted to see a match between the two.
Highlights of the match
They would start by locking horns and out powering each other. A series of power moves would be executed by the two trying to outdone the other. Until Beth would capitalize with a Bear Hug.
Chyna easily gets out of the submission hold and applies her own bear hug.
Chyna would display her strength by lifting Beth over her shouler and press slamming her. Beth would roll out of the ring and a concerned Santino would appear and check on a hurt Phoenix. Santino would then confront Chyna and talk smack to her face. Chyna would reply with a clothesline. She would beat Santino up some more until X pac would appear and hits an X factor on Santino.
Beth would enter the ring and toss X pac out. The two amazon would continue their brawl. Beth would then capitalize and would Irish whip Chyna on the turn buckle and executes a superplex.
Chyna would get up first and while the referee is checking on Beth, Santino would get back in the ring and DDTs Chyna.
Beth would crawl on Chyna and gets the pin.
Winner: Beth
Sheamus vs. Rikishi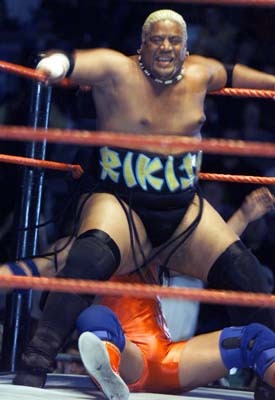 Highlights of the match
Rikishi would start dominating Sheamus and would position him for the stink face but Sheamus would get out of the ring.
Sheamus would try to get himself counted out until Rikishi would follow the Irish warrior outside the ring and continue the punishment there.
Sheamus would finally capitalize with a low blow while the referee is not looking.
He tries to set Rikishi up for the Celtic Cross but would fail several times.
Rikishi would counter with a superkick and positions Sheamus once more for the Stink face. He would connect and he then hits a Banzai drop getting the pin.
Winner: Rikishi
The Hart Dynasty vs. The APA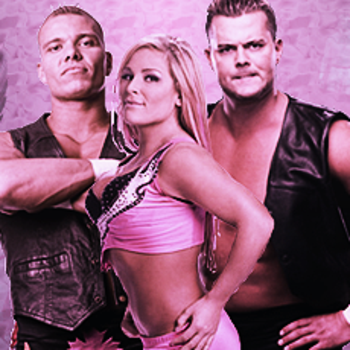 Highlights of the match
Tyson Kidd and Bradshaw would start the match. Kidd would dominate Bradshaw with series of kicks.
Bradshaw would then counter a crossbody of Kidd and connects with a fall away slam. He would then tag in Farooq.
Faarooq would beat Kidd up some more until Kidd would counter with a DDT and crawls onto a tag. Smith would then rush into the ring and hit Farooq with a German Suplex.
Bradshaw would then blind tag and connects a clothsline from hell on an unsuspecting Smith. Bradshaw would pin Smith but Natalya would distract the referee and then Kidd would break the pin. Smith and Kidd would then connect a Hart Attack to Bradshaw.
Before Smith could get the pin Farooq would enter the ring and hit a bear hug from slam to Smith. Kidd would try to land a punch but Farooq would dodge it and Kidd would receive a dominator for his efforts.
Farooq would then drag Bradshaw on top of Smith and gets the pin.
Winner: The APA
John Cena vs. The Rock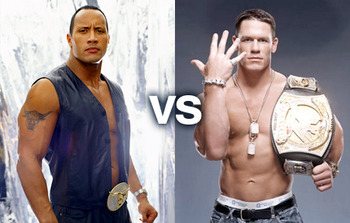 Highlights of the match
The two would have a stare down and both would shake hand. John Cena would then pull The Rock and hits an attitude adjustment. He covers The Rock but would only get a two count.
Cena would dominate the early going until The Rock would counter with a DDT. He then sets up Cena for the People's elbow but Cena would recover quickly and hits a running clothsline to The Rock.
He then connects with a 5 knuckle shuffle.
The Rock would then get up and hits a spear to Cena. He would hit a Rock Bottom on Cena.
A frustrated Rock would pick Cena up again and hits three more Rock Bottoms before connecting a People's elbow.
He then pins Cena and gets the win.
Winner: The Rock
Five on Five Team PG vs. Team Attitude Gauntlet Match
Team PG: Edge, Legacy (Ted and Cody), Jack Swagger, and The Great Khali.
Team Attitude: Triple H, The Hardys (Jeff and Matt), Mankind and The Big Show.
The match starts with one person from each team. After one gets pinned, another member would continue the match. The last man standing wins it for his team.
Highlights of the match
The Great Khali and The Big Show would start. The Great Khali would get eliminated after receiving a knock out punch from The Big Show.
The Big Show would then be eliminated after tapping out from Jack Swagger's ankle lock.
Jack would then eliminate Matt Hardy with a gutwrench powerbomb.
Jack would be eliminated by Mr. Socko and Mankind.
Mankind would eliminate Cody Rhodes by connecting with a double underhook DDT.
Mankind would eliminate himself by hitting Ted with a chair after Ted spat on Mankind's face.
Ted would be eliminated by a Swanton Bomb by Jeff Hardy.
After eliminating Ted, Jeff waits as Edge's music is playing. When he turns around, Edge would get a suprise spear and pins Jeff.
Edge would get lucky and pins Triple H after another winning Spear.
As Edge would celebrate his win, the lights would go out and when it comes back again, The Undertaker would appear and hits a Tombstone Piledriver on Edge.
Winner: Team PG
Main Event: Stone Cold vs. Randy Orton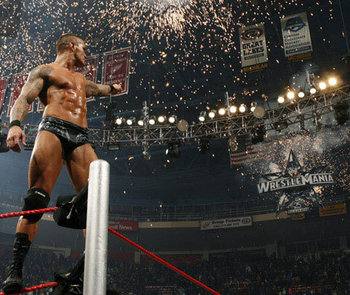 The Big One. The Main event would include The leading man of both era. Some would say John Cena is the face of PG, others would say its Hornswoggle. But screw that, I want this match. The anti hero versus the viper.
Highlights of the match
Randy Orton would try his best but Stone Cold is too technically sound. He would get lucky when Steve Austin would miss a Lou Thesz press and he would connect with a chop block.
Randy would focus on Steve's legs. He would then apply a Sharpshooter on the injured leg. Steve Austin would try his best and grabs the rope.
Steve Austin would gain momentum with a series of clothslines. He would then connect a Stungun (Hotshot) to Randy Orton and pins him but would only get a two.
Randy would suprise everyone when he counters a Stunner with an RKO.
Randy sets up for a Punt but Steve would dodge it and connects a Stone Cold Stunner.
Steve would try to get a pin until Hornswoggle would come out from under the ring and hits Steve with a shillelagh. Steve would respond with a Stunner. Randy would then get up and attempts another RKO but Steve would counter and hits another Stone Cold Stunner.
Randy would kick out of Steve's pin and would get an illegal low blow. He slithers and finally hits another RKO. He then hits Steve Austin with the Punt and gets the pin.
Winner: Randy Orton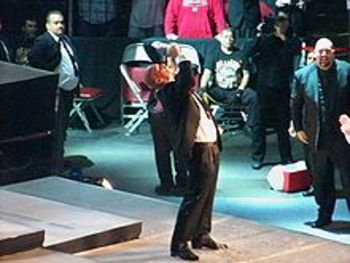 And Thats all Folks.
I hope you enjoyed reading as much as I enjoyed writing it.
As I said, I am open for suggestions so please comment and share your thoughts on what would be an incredible Attitude era vs. PG era match.
Keep Reading