Kobe Bryant's Five Best Games in 2009-10
Some people have claimed that Kobe Bryant has lost a step. He smiles either way.
After his third-straight Finals appearance and second championship in row, Kobe can sleep cozy at night knowing his legacy is more than intact.
Here are his five best games during the regular season against playoff teams.
5 – Dec. 28 @ Phoenix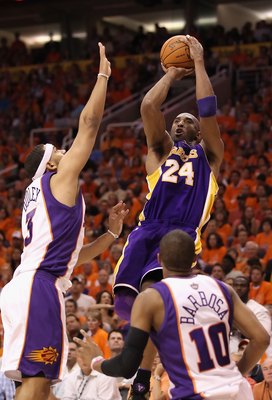 Kobe dropped 34 points, grabbed 7 rebounds, and made 14 field goals and 5 free throws against his division rivals and future Western Conference Finals opponent.
The Lakers lost the game, but Kobe's performance was top-notch.
4 – March 7 @ Orlando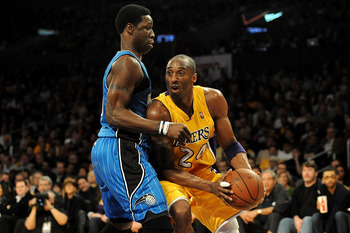 Grabbing seven rebounds and handing out seven assists, this 2009 Finals rematch against the Orlando Magic brought out another 34-point performance from Kobe Bryant.
Unfortunately, the Lakers lost this game.
3 – Dec. 22 v. Oklahoma City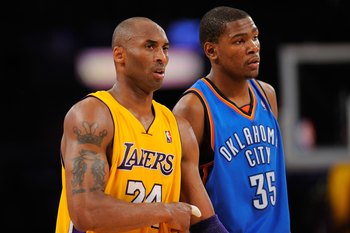 When Kobe went against Kevin Durant and the Thunder at Staples right before Christmas, not many people thought their future playoff series would be such a turning point for the Lakers. Kobe, however, exploded with 40 points, 8 rebounds, and 6 assists.
The Lakers won this game.
2 – Dec. 25 v. Cleveland
Whenever Kobe Bryant and LeBron James share the court, there will be fireworks. This Christmas Day game, seen nationally by supporters and haters alike, showcased a classic battle between the league's two biggest stars.
Though Cleveland walked away with the victory, Kobe scored 35 points, grabbed 10 rebounds, and chipped in eight dimes. Imagine if he hadn't made just 11 of his 33 shot attempts.
1 – Nov. 1 v. Atlanta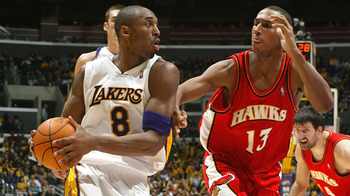 The NBA's most-overpaid player brought his Hawks team to California to face Kobe and the Lakers only to leave with a loss on his hands. At least he had plenty of Waffle Houses to settle him down after Kobe lit up the sky with 41 points, 8 rebounds, 5 steals, and three assists.
Kobe went 10-for-11 from the line, while shooting 51 percent from the field.
The Best of the Rest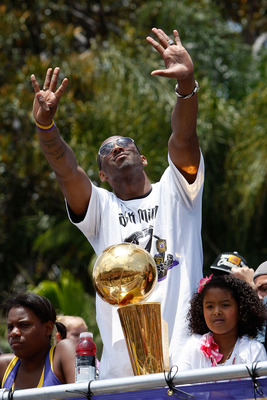 Dec. 29 v. Golden State: 44 points, 11 assists, and 4 rebounds
Nov. 4 @ Houston: 41 points, 6 rebounds, 4 assists, and 4 steals
Feb. 23 @ Memphis: 32 points, 7 rebounds, 6 assists, 3 steals, and 2 blocks
Feb. 1 @ Memphis: 44 points, 3 rebounds, and 3 assists
Nov. 17 v. Detroit: 40 points, 5 rebounds, 5 assists, and 3 steals
Best offensive game: Dec. 29 v. Golden State
Best defensive game: Feb. 23 @ Memphis
Best hustle game: Jan. 24 @ Toronto with 27 points, 16 rebounds, 9 assists, 1 block, and 1 steal
Keep Reading

Los Angeles Lakers: Like this team?