Sinking or Swimming: 10 NFL Quarterbacks On the Verge of Failure in 2010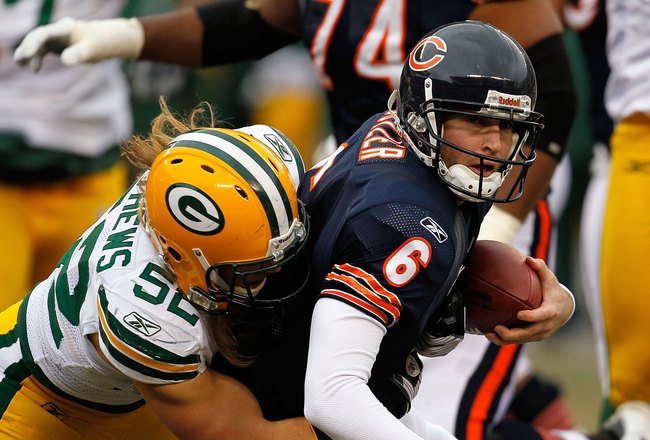 Forget Brett Favre, and forget Alex Rodriguez, it's time to put forward some fresh news in the sporting world.
Ah 2010, it's great to be looking toward another year of football, right?
The players are ready, the coaches are fired up, and the fans are more eager than ever for the first kickoff.
But before we go ahead and cheer our teams to what we all hope to be a solid victory, it's my unfortunate role to deliver some bad news in regards to which quarterbacks may ultimately fail this season.
The year is long, the games are hard, and with many quarterbacks walking the fine line between being "good" and possibly losing their jobs, the inevitable fate that many quarterbacks will suffer, is failure to say the least.
Here's a look at the top 10 quarterbacks who may sink or swim this season, with an added description of what to expect from them in 2010.
10. Ben Roethlisberger - Pittsburgh Steelers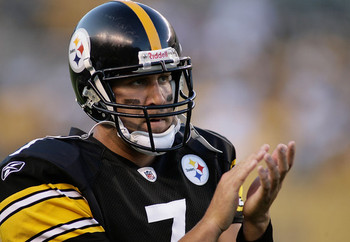 Ever since Ben Roethlisberger committed his rather untimely crime of nature, people's perspectives have changed toward No. 7.
If you asked just about anybody who wasn't a Ravens, Browns, or Bengals fan, most people would be willing to tell you that Ben Roethlisberger was a darn good quarterback, and has a very solid future.
While the first part of this sentence is still quite true, the question of Ben's future now hangs in the balance, as his life is clearly out of order at the present time.
So what will limit Big Ben in 2010?
Well, to put it simply, the suspension. Seeing as though Ben Roethlisberger will miss a handful of games in the opening weeks of the season, perhaps the trusty old Ben Roethlisberger we have been accustomed to in past years will struggle to find his rhythm, once he finally does see the field.
The other limitation for Ben Roethlisberger is the loss of Santonio Holmes. Although Hines Ward is still on the roster, the Steelers are now down a very capable wide receiver, and some pressure will rely heavily on the quarterbacks all season long.
Big Ben may not totally fail; he may just have a weak season. Who knows, in 2011 he may be back to his old self, but don't be shocked to see the big man fail to live up to expectations this season.
9. Matt Leinart - Arizona Cardinals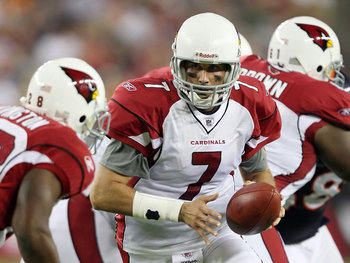 For the most part, I can't help but feel for Matt Leinart. He's been thrown in the deep end, a wide receiver short, and has been scrutinized and criticized until the cows have come home this offseason.
I guess the problem that Matt Leinart faces is immense. He steps into a team that has lost their legendary quarterback in Kurt Warner, and realistically, Leinart does have to perform an Aaron Rodgers-type maneuver, when it comes to replacing a hero.
While I don't like to cut out any chances Leinart may have, all signs point toward failure this season.
Sure, we've seen glimpses of him in the past as he's suited up on the odd occasion, and sure he has Larry Fitzgerald to rely on, but when it comes to overall talent, Leinart may struggle to keep the Cardinals atop the NFC West.
To say that Matt Leinart may fail right now, could be an understatement. However, if he does fail, he more than likely will be given a second opportunity. After all, Jay Cutler got one, right?
Yes, Leinart does have the odds stacked against him, and if he succumbs to the pressure, well it may be a long year for Cardinal fans.
8. Matt Hasselbeck - Seattle Seahawks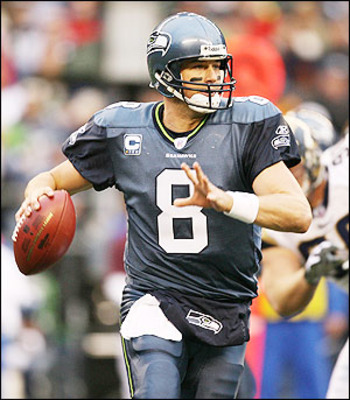 One of the more overshadowed stories of this offseason has been Seahawks quarterback Matt Hasselbeck, who struggled in 2009.
Perhaps this overshadowing is due to Pete Carroll and his draft success, or perhaps it is due to the Seahawks new outlook on football.
Whichever one it may be, the Seahawks have a problem still, and it starts with No. 8.
Last season saw Matt Hasselbeck totally collapse. Seventeen touchdowns for 17 interceptions wasn't a good looking stat, and while the blame isn't all on Hasselbeck himself, he didn't do himself any favors.
To sum it all up, Matt Hasselbeck may be looking at his final season as the starter.
He's walked the fine line, and quite frankly would have had Vince Lombardi himself screaming, "What the hell is going on out there!?"
Failure? I wouldn't bet on it, but if the past is noteworthy, it may be in Hasselbeck's fortune, especially if his skills fail to live up to the test this season.
7. Donovan McNabb - Washington Redskins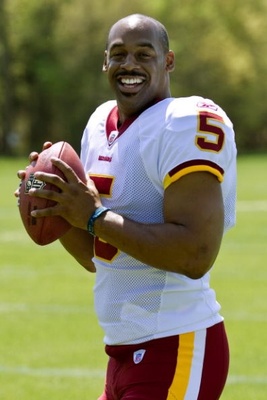 I bet all you Eagles fans would love nothing more than to see Donvovan McNabb fail in Washington, right?
Poor old Donovan McNabb, he's had a rather rough career. He's come close to winning it all, been ridiculed in Philadelphia, and even had his front lawn burnt in a cruel prank.
But as harsh as this all seems, it may not compare to the pressure and tribulation that awaits Donovan McNabb this season with the Washington Redskins.
For you see, the problem that awaits Donovan isn't skill. McNabb is quite a good passer, and is a well rounded athlete.
No, the problem is a lack of wide receivers, and above all else the fact that he enters a rebuilding team, who still has a ways to go before they reach the top tier of the NFC East.
With no No. 1 wide receiver, McNabb may struggle a little. Gone are the days of DeSean Jackson, and now come the times of an intermediate receiving game that struggles from time to time.
Perhaps this time next year McNabb will have succeeded, we'll have to wait and see. Until then though, failure may be on the horizon, as McNabb has a mammoth job ahead of him this season.
6. Matt Moore - Carolina Panthers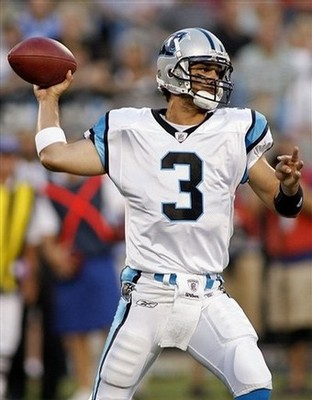 Unfortunately for all of us, we haven't seen much of Matt Moore to make an accurate prediction for the season ahead.
Still, given the fact that he is young, inexperienced and is on a side that is arguably still a below .500 team, Matt Moore may struggle a little this upcoming season.
For Matt Moore, the game plan is simple. Stabilize the Panthers, develop into a premier quarterback, and deliver week in and week out.
Of course, this is easier said than done, and at the end of the day it may take a few seasons for Matt Moore to find his feet, and flourish into a well-rounded passer.
Is failure a definite for Moore this season? I wouldn't say so, but it is hard to go against the grain, though.
The main reason that would see Moore fail is his lack of experience alone. He does have Steve Smith at hand, but he may be a little flattered by the expectations of the 2010 season.
For the Panthers, their whole season may turn out a little ugly, but rest assured the future could be potentially bright for this franchise.
As for Matt Moore himself, if he does fail, it is important that he remains confident. After all, he is only young, and could prove to have some talent under his belt.
5. Jake Delhomme - Cleveland Browns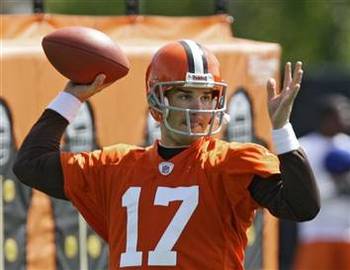 From a current Panther to a former Panther, we take a look at Jake Delhomme, who has occupied quite a few headlines this offseason.
When it comes to Jake Delhomme, we all know he has what it takes. He's played in the postseason, he's posted rather decent stats in the past, and has been in the league long enough to know what it takes to win.
However, no amount of experience or talent may be enough to help him this season.
For you see, the task that awaits Jake Delhomme is to boost the Browns as a team. I think you'd agree that both Eric Mangini and Mike Holmgren have taken necessary steps to get this franchise back on track, and now has come the time for a decent quarterback to take the stage.
Is Jake Delhomme the right guy for the job? We'll find out soon enough.
In the time being though, don't be surprised if he doesn't live up to expectations.
He's had a rocky past 12-18 months in football, and given that his confidence is low at the present time, he may struggle to lift off totally this year.
4. David Garrard - Jacksonville Jaguars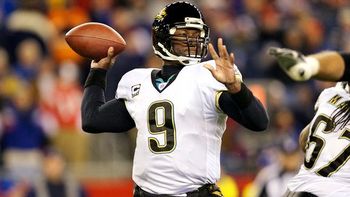 I think I speak for everyone in saying, even if David Garrard fails this season, at least he can walk away with a smile on his face, knowing that he's done everything in his power to turn the Jaguars around.
In case you've been living under a rock, David Garrard has tried, hard. He's been working with this receivers all offseason, and his work ethic in team organized activities has been tremendous to say the least.
Unfortunately for this once oh-so-promising quarterback though, if the Jaguars fail to help him out, David will fail as a result.
Like the Washington Redskins and Donovan McNabb, David Garrard is also short on options to pass to. He does have Maurice Jones-Drew directly behind him, but a No. 1 wide receiver would be a luxury right now.
Much has to happen for the Jaguars to get back to where they once were in the AFC South, and a lot of it is pinned on David Garrard.
Failure could be on the cards, we'll wait and see. If we look how last season went for Garrard though, well, it doesn't look all that promising.
3. Jason Campbell - Oakland Raiders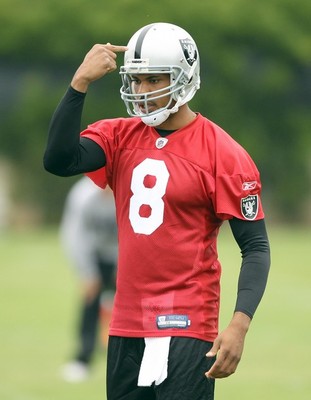 Like David Garrard, I commend Jason Campbell for taking on the Oakland Raiders, I think we all know how big the task is that awaits him.
Before we can go and discuss the task though, we must discuss the man, and for Raider fans, this man is both promising and concerning at the same time.
Seeing as though this is a potential failure list, the concerning aspects of Jason Campbell relate to talent.
In his time with Washington, he wasn't always the most consistent guy about town, and had "on again, off again" style games each and every year.
So what is it to say that we won't see the same from Jason in Oakland? Well... nothing.
He's look good in training camps, but as we all know that can be meaningless come game time.
For the Raiders, gaining Campbell was a ray of light, and don't get me wrong, it still is.
However, given Oakland's run with quarterbacks as of late, the failure bug may bite Jason quickly, and if so, don't be surprised to see him struggle in 2010.
2. Kyle Orton - Denver Broncos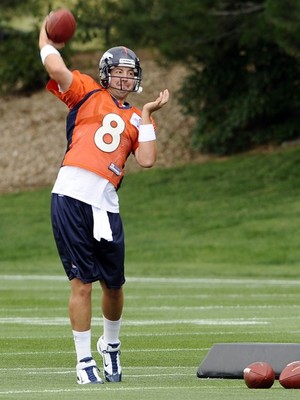 Failure would be an understatement to sum up Kyle Orton right now.
Yes, he didn't have a horrid year in 2009, and yes, he nearly led Denver to the playoffs, but it is the competition that awaits Kyle Orton that plays against him this season.
Ever since the Broncos acquired both Brady Quinn and Tim Tebow, Kyle Orton became a surefire hit to feel the pressure.
Not only that, seeing as though head coach Josh McDaniels is on a hot seat like no other, if Kyle Orton goes down, we may see a domino affect of failures coming from all three men in a space of one season.
For Kyle Orton, a lot has to happen. Firstly, he needs to get his skills right, and secondly, he needs to convince us all that he is the man to get the job done.
Until both of these happen, every year people will include Kyle Orton in failure lists, and every year this will reduce his confidence.
1. Jay Cutler - Chicago Bears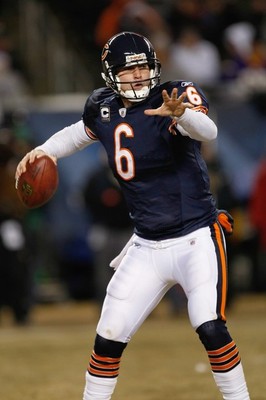 Only a single digit separated Jay Cutler's touchdowns and interceptions last season, and to make matters worse, most of the NFL is waiting and watching to see what Jay Cutler can muster in 2010.
Like many of the quarterbacks on this list, Jay Cutler is short of receiver options. A battle at training camps is now underway for who is the most suitable option in the receiving game, and perhaps no combo will suit Cutler totally.
Still, if it's failure your looking for, Jay Cutler is Public Enemy No. 1.
He's displayed talent on the occasion, and toward the end of 2009 showed some glimpses of potential.
However, until he leads the Bears to the playoffs, I do feel that he will continue to be labeled a bust for the time being.
If Jay is to rid his name of failure, he must first take the reins in Chicago, and lead the way.
Until this day comes, expect him to be criticized all year round. He may not fail totally in 2010, but if he performs like he did in 2009, well let's just say it won't be a pretty sight in Chicago.
Failure? It's a definite possibility. Let's hope Jay Cutler can turn it around in 2010.
Keep Reading