The Top 25 MLB WAG Trades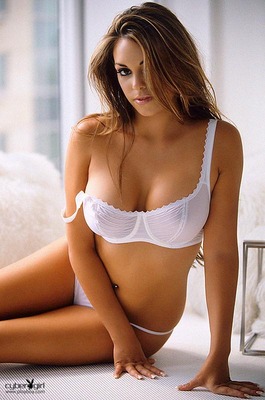 As a kid, it was a joy to either collect or trade a Topps (or Fleer, or Upperdeck) baseball card by yourself or with friends.
In that pastime, you crammed over stats for days, admired a handful of special players, and later stored some of those timeless pieces away—until that one special day when you find a mint-condition, "white" Sammy Sosa card worth millions of dollars.
With the recent MLB trade deadline that just passed in mind, what if you had a hand in dealing with something more exciting than Roy Oswalt going to the Phillies, or Lance Berkman going to the Yanks?
What if you're able to do the same thing with undeserving baseball players' hot wives and switch them with MLB studs' OK wives?
It's not as mind-bending a concept as say, stealing dreams as in the box-office hit "Inception," but what a concept, huh?
Enjoy the following top 25 MLB WAG trades as much as you did for those late-July moves executed!
*Mucho thanks to Thomas Delatte, Stacey Mickles and Tim Wood for their help with this project.*
25. I'd Set up Daisuke Matsuzaka's Tomoyo with...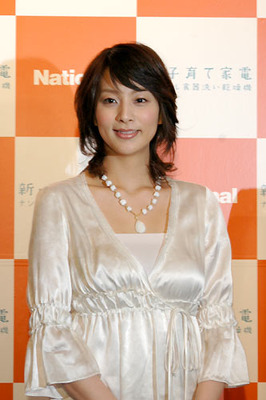 Everyone in Boston loves Tomoyo more than Dice-K!
Ichiro Suzuki (and Yumiko Fukushima)
Poor guy. A great asset to Seattle. Yet even the dog looks like it's bolting from his wife.
Ichiro and Tomoyo. Tomoyo and Ichiro...
24. Manny Ramírez's Juliana with...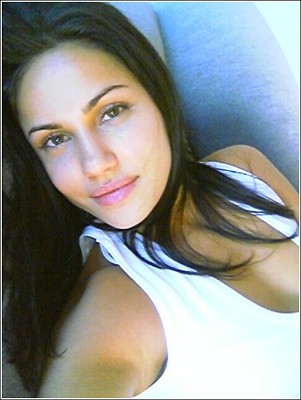 It's something about Juli's come-hither eyes that get to you. Or even the Octomomish/Angelina Jolie lips.
I dunno, but regardless of what you say or think, Juliana's got it going on!
Carlos Peña (and Pamela Peña)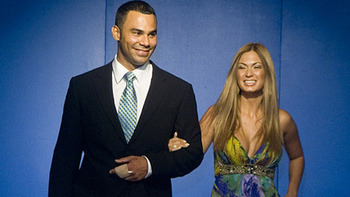 You're doing great things in Tampa.
Yet with Juliana on your arm, you will taking things to a whole new level!
23. Kyle Kendrick's Stephenie Lagrossa with...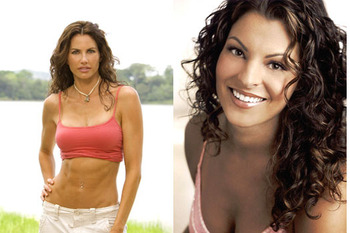 Steph, the tribe has spoken. You belong with some other major leaguer.
Or me. Hey, it's your choice...
A. J. Burnett (and Karen Burnett)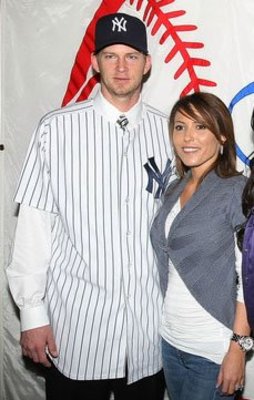 In this scenario, I'm sure who should leave whom. This is a toss-up.
But since A.J.'s got the money and fame in the relationship, I'd give him the upper hand to acquire Stephenie.
22. Mark DeRosa's Heidi with...
Is it just me or do you also have goosebumps?
Yeah, Heidi has that kind of effect on all of us.
Jason Varitek (and Karen Varitek)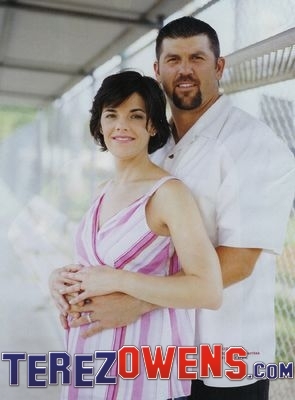 Jason, you can do it!
You can do—much, MUCH better...
21. Miguel Tejada's Alejandra with...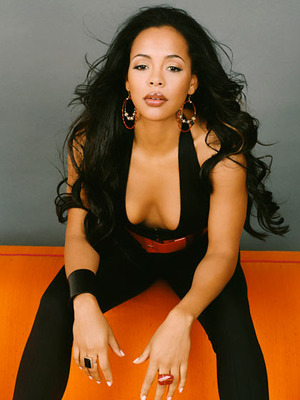 PLEASE call my name, PLEASE call my name, Alejandra, Alejandra.
OK, enough Lady Gaga paraphrasing...
Miggy has just teased us way too much in Baltimore, Houston and now in San Diego with you.
Carlos Lee (and Mary Lee)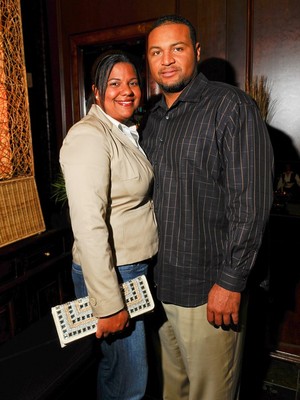 Mary may have the sweetest personality in the world, may be the best mate for Carlos.
But am I the only who thinks that Carlos and Mary look like brother and sister? (I hope not.)
20. Jason Bartlett's Kelly with...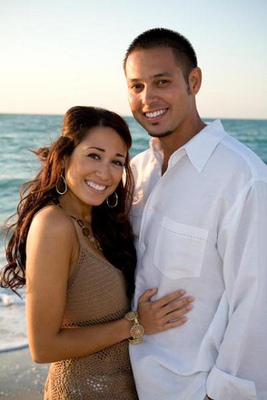 Trust me. I tried to separate the couple by cutting the picture down the middle with a pair of scissors.
Didn't work.
But on your free time, try doing it yourselves. She deserves better, Tampa (and America)!
Johan Santana (and Yasmile Santana)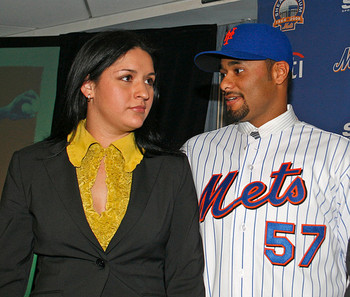 Awesome lefty in Minnesota.
Not much of a stud in Shea and Citi Field.
Should've left Yasmile behind. Am I right, Noo Yawk!? Am. I. Right!?
19. Mark Kotsay's Jamie with...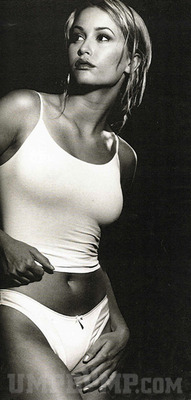 Jamie in this black and white number is...is...
*Gasping for air*
*Drinking a glass of water*
Jeff Francouer (and Catie McCoy)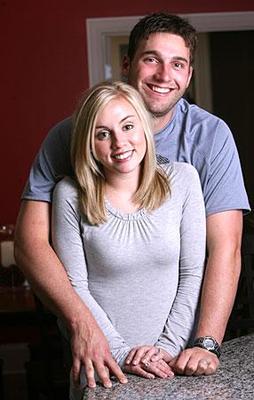 Catie's not bad-looking, but I do admit that the former Brave and current Met needs a better battery mate.
Jamie and Jeff has a nice ring to it.
18. Aaron Boone's Laura Cover with...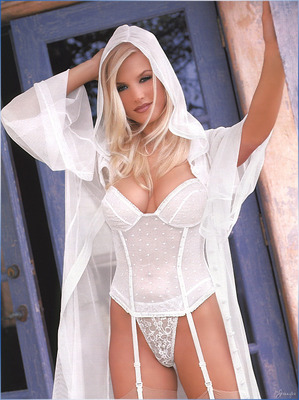 Don't you just want to be "covered" with a "Laura" shower?
(Honestly, I don't know what a "Laura shower" is, but I'd sign up for one anyway.)
Cliff Lee (and Kristen Lee)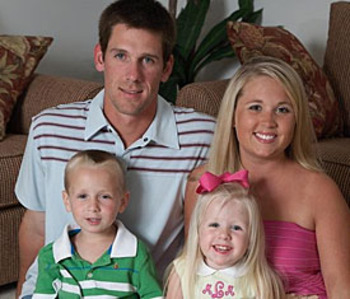 Cliff, leaving god-awful Cleveland (I'm JOKING, Clevelanders...Jeez...You act as if LeBron James left town or something...[silence] Oh. He did? My bad...) for Philly was a good move.
Philly to Seattle? Meh. How's the Rangers stint going for ya?
Go back to the Pacific and do "Sleepless in Seattle II" with Laura.
17. Matt Kemp's Ex Zena Foster with...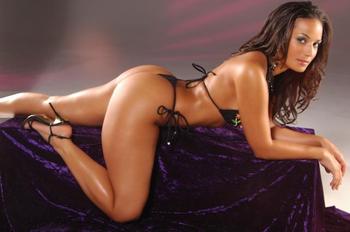 She may not be with Mr. Kemp anymore, but she's been around the block a few times (R&B singer Tank, rapper Lil' Wayne).
I'm guessing that my trade partner wouldn't mind one bit.
Vernon Wells (and Charlene Wells)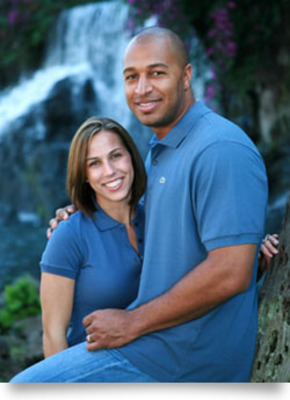 Our neighbor to the North needs to go down South to pick a hotter babe like Zena.
'Nuff said.
16. John Patterson's Shannon Schambeau with...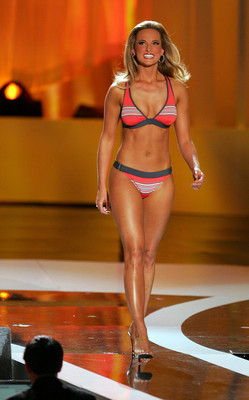 I've seen Patterson struggle to be the ace that would make the Nationals a perennial N.L. East champion, years before Stephen Strasburg entered the fray.
Thankfully, his woes led to being shipped out and bringing in a breath of fresh air from San Diego. He can leave Shannon in D.C., too. I don't mind.
Mark Teixeira (and Leigh Teixeira)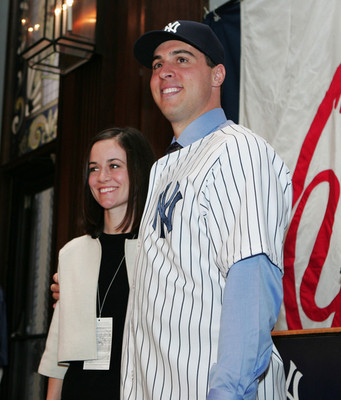 Mark, you look good with Leigh.
But with Shannon, you look mah-ve-lous!
15. Zack Greinke's Emily Kuchar with...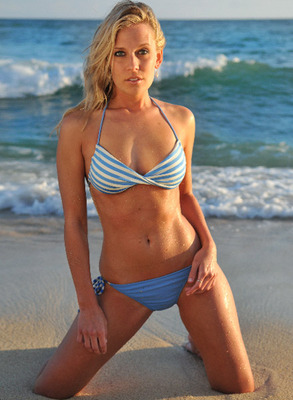 I'm goin' to Kansas City. Kansas City here I come...
(Um, if you know that I was reciting a 1950s R&B song, cool. If you're thinking otherwise, get your mind out of the gutter!)
Jermaine Dye (and Tricia Dye)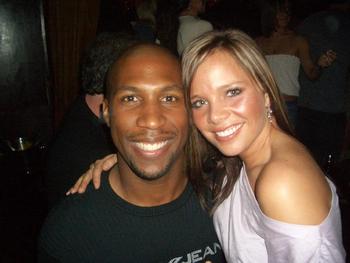 You're no longer a fixture in Chicago, Jermaine.
I think you can restart your career by dropping off your baggage in that Toddlin' Town, too.
14. Felipe Lopez's Jennifer with...
Just as cute as the original J-Lo, but she will have Mr. Beltrán feel like Jell-O.
Carlos Beltrán (and Jessica Lugo)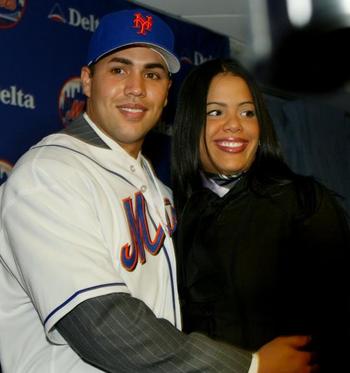 Your stats have gone down over the last three years, Carlos.
Check the numbers: 161 games played in 2008, 81 in 2009, in the teens so far this season. 27 HR in '08, 10 in '09, one in '10.
Is it your wife that's bringing you down, or have your injuries caught up with you? Just asking.
13. Brian Roberts' Diana with...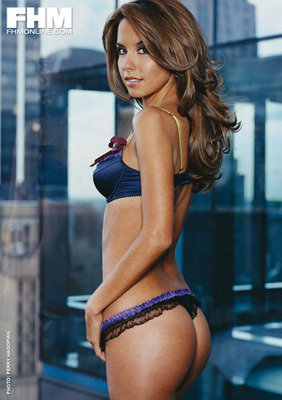 Sometimes the fewer words used in a slide, the better.
So, in the words of the movie character Austin Powers: Rowrrrr!
Travis Hafner (and Amy Hafner)
I think that you should bolt Amy and Cleveland just like LeBron did.
OK, that was mean, but...
12. Cole Hamels' Heidi with...
Cole has been kind of cold since leading the Phillies to their World Series title in 2008.
Will he feel colder when she's traded to this guy down in Baltimore...?
Nick Markakis (and Tricia Markakis)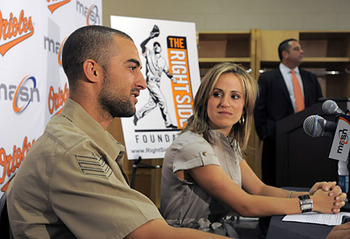 Tricia's OK, but I'm sure the Baltimore Orioles and their right fielder wouldn't have the worst record in the majors if Nick's eye candy were slightly better.
It won't be a bad 'Wife Swap' at all.
11. Brad Penny's Karina Smirnoff with...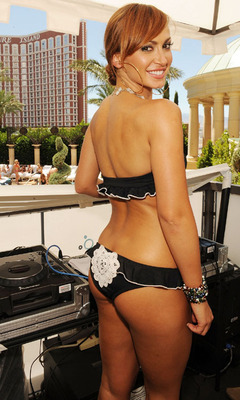 The "Dancing With the Stars" professional dancer/choreographer can surely do a mean tango on the heart and soul of Josh.
No disco ball trophy or Bruno Tonioli necessary in this hook-up.
Josh Hamilton (and Katie Hamilton)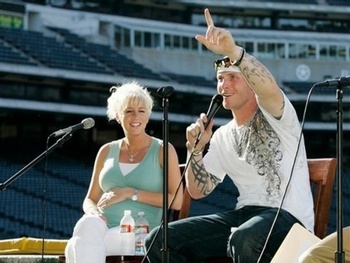 Katie has definitely helped Josh recover from his issues.
However, I can only see one pro baseball troublemaker be completely at peace with a pro dancing troublemaker (see Lopez, Mario; ex-fiance Chmerkovskiy, Maksim).
10. Jorge Posada's Laura with...
Despite the heavy toll Jorge's knees take year in and year out as the Yanks' steady catcher since the late 1990s, I'm sure he doesn't mind Laura working his back out in the off season!
Mariano Rivera (and Clara Rivera)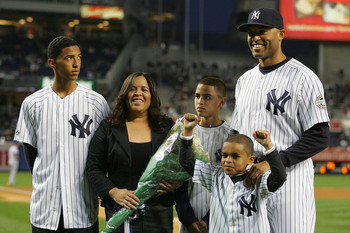 He's got even Kyra Sedgwick shaking in her boots since he's been the ultimate closer in the Boogie Down Bronx.
He also wouldn't mind working his back out with his teammate's wife once the trade is done.
9. Johnny Damon's Michelle Damon with...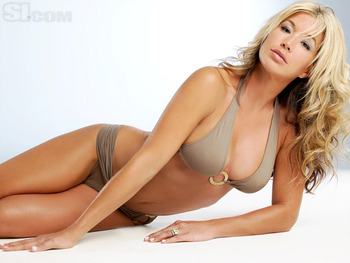 Johnny's no longer with Red Sox Nation or the Evil Empire.
Michelle should ditch the outfielder with the weak throwing arm, too.
Roy Oswalt (and Nicole Oswalt)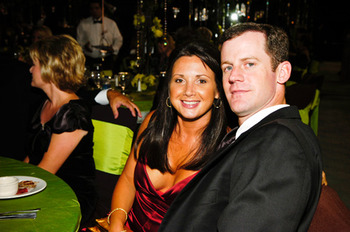 I channel Hurley from "Lost" here in speaking to Roy: Dude, you're in a new city, new digs, new team. Can't you, um, like, get a better option?
Whether it's Jorge Garcia or Hugo "Hurley" Reyes talking, I wholeheartedly agree with him.
8. Casey Daigle's Jennie Finch with...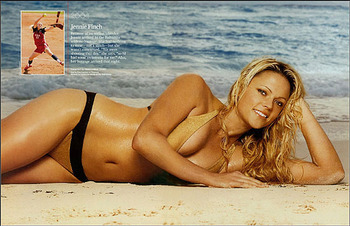 She's with Casey Daigle? Uh...why?
Jennie can literally kick butt on her own, and with her pending retirement from the US Softball National Team she needs a steadier mate (with a better name).
Stephen Strasburg (and Rachel Strasburg)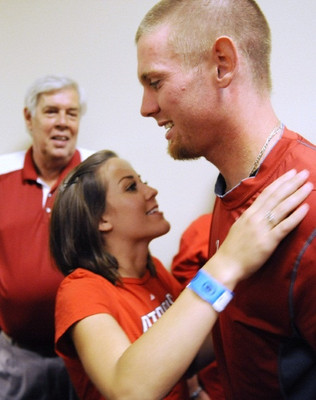 He's been lighting up the nation's capital this summer with his 99, 100-mph fastballs and 91-mph curveballs in his maiden season.
Once he recovers from his shoulder injury that placed him on the 15-day disabled list in July, he'll be even greater with a quality trophy wife who can also pitch!
7. Scott Podsednik's Lisa Dergan with...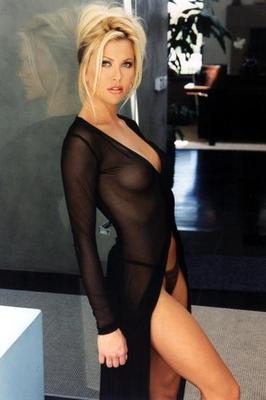 Can someone tell me why she's still with Scott?
No clue.
David Ortiz (and Tiffany Ortiz)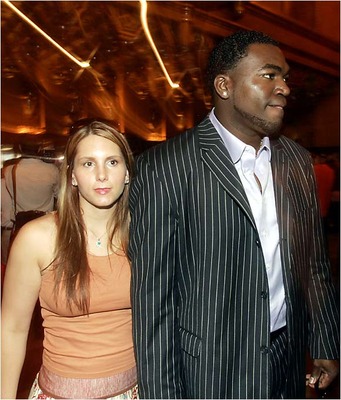 Big Papi deserves a hotter Mami.
And Lisa should be the new Mrs. Ortiz. Comprende?
6. Matt Kemp's Rihanna with...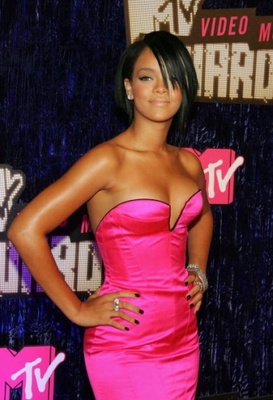 Who knows if the Bajan R&B beauty and the Dodger center fielder will last forever. (Or have lasted to this day.)
But after that unfortunate domestic incident with Chris Brown, it seems as if she doesn't mind always being under someone else's umbrella-ella-ella...
Andruw Jones (and Nicole Jones)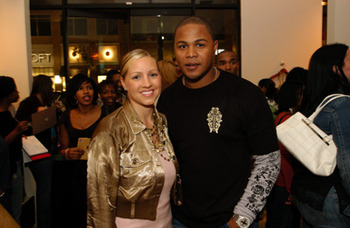 Andruw hasn't done much in Chi-town (and in L.A. and Texas before that).
I think the crazy-but-hot Rihanna will be a sure pick-me-up to get the "rude boy" back on the right track.
5. Everyone's Alyssa Milano with...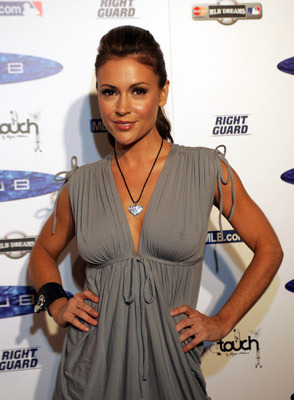 The veteran sitcom/drama actress knows her way so well around baseball players, stadiums and clubhouses.
Even now she still loves taking turns in a special late-night favorite game of hers called Who's the Boss?
Jayson Werth (and Julia Werth)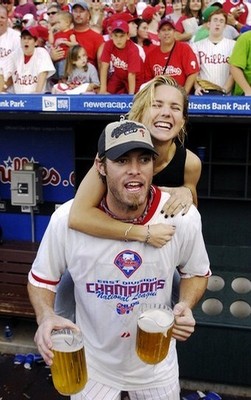 I could be wrong by looking solely at this picture, but the 'Say Jay' Kid needs upsies, too, man!
4. Nick Swisher's Ex Danielle Gamba with...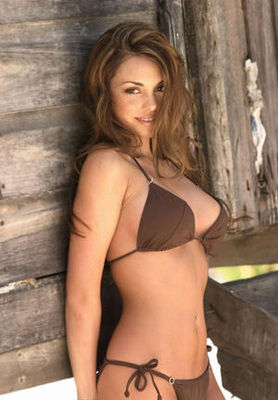 In unrequited love stories, wusses always tell the girl they have the hots for (who got spurned by her boyfriend) that she deserves better, hoping that, in turn, the girl will go out with them.
Well, Danielle, with Nick being with someone else right now...you deserve better. *Wink, wink*
Albert Pujols (and Deidre Pujols)
The Mid-West's Capitan will do the Cards and baseball a favor by leaving Deidre (third from the left in this picture) on the Gateway Arch.
Danielle's waiting for you at Busch, No. 5!
3. Ryan Braun's Marisa Miller with...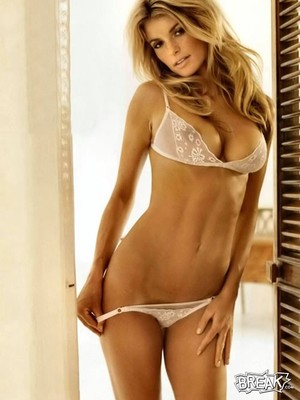 She's famous (Victoria's Secret, Sports Illustrated swimsuit goddess, Maxim, yadda yadda yadda).
Don't be surprised if she makes even "Doc" Halladay (more) famous.
Roy Halladay (and Brandy Halladay)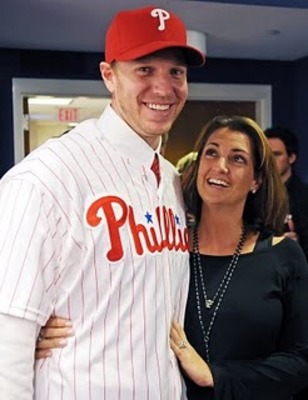 "Doc" has a chance to win not only a World Series in the City of Brotherly Love, but it's possible he could clinch the jalapeño-hot ticket in this trade, too.
2. Kris (Mr. Anna Benson) Benson's Anna with...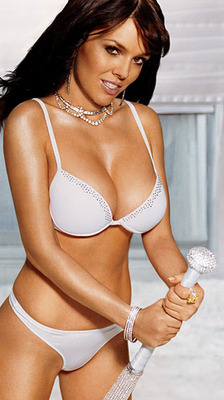 She needs no introduction, although her husband's career has fizzled worse than a deflated tire lately.
I wonder if she'd still do a "grand slam" on an entire baseball team if she caught Kris cheating on her?
Andy Pettitte (and Laura Pettitte)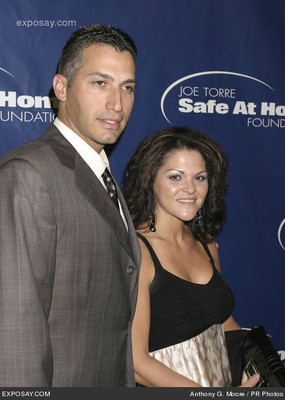 Anna loves New York pitchers.
Since Mr. Pettitte has admitted to steroid use in front of judges and an ever-hungry press, then he'll have no problems with sexy drama queen Anna either.
1. Mark McGwire's Stephanie with...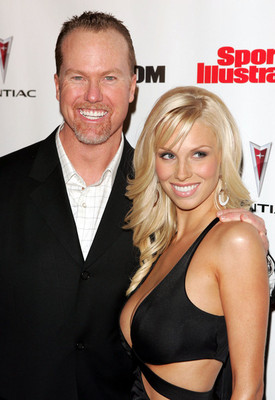 Q. Why is Big Mac grinning from ear to ear above?
A. Well, being the chronic performance-enhancing drug user that he still is, he forgot that he took a Cialis pill before this photo shoot.
Mrs. McGwire, on the other hand, is generally hot 24/7—with or without her horndog husband around.
Roger Clemens (and Debbie Clemens)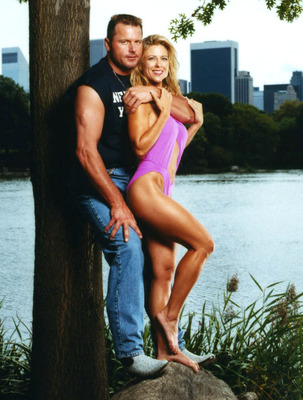 It looks like a reasonable trade, Roger + Stephanie, especially seeing that Stephanie has a jones for juicers.
I wonder if it's Debbie's fault that The Rocket, since the steroid/Brian McNamee scandal, will never be able to lift off and revive his tarnished career.
Roger Clemens (and Clemens)
This would be a reasonable trade, Roger + Stephanie.
Maybe it's Lisa's fault that The Rocket, amid the steroid/Brian McNamee scandal, has never been able to lift off and revive his tarnished career.
Keep Reading