Shannon Brown to Stay Put: Five SGs the Knicks Should Now Pursue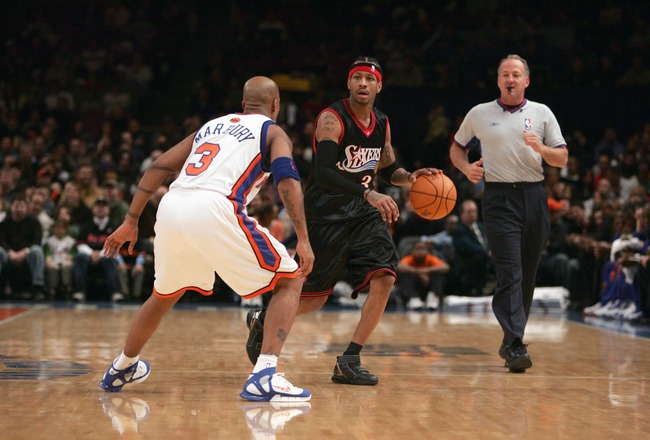 In 2010-11, the New York Knicks project to start Wilson Chandler , Bill Walker, or Kelenna Azubuike at shooting guard. However, Chandler and Walker are natural small forwards, and Azubuike, a wing, is better suited coming off the bench (especially after an injury-plagued 2009-10 campaign).
Due to this hole at shooting guard, the Knicks recently offered Shannon Brown a one year, $2.7 million contract.
However, on Tuesday, August 4, Brown's agent announced to the New York Post that he would likely be re-signing with the LA Lakers.
Upon receiving this news, the Knicks' brass must now consider an alternative solution to their two-guard problem.
Nevertheless, when taking their other options into account, NY will still be seeking to retain financial flexibility for next summer, when Carmelo Anthony will likely become a free agent (since he has not accepted the Nuggets' contract extension).
So keeping that in mind, here are five SGs the Knicks should pursue, now that Brown will be staying put.
No. 5: Roger Mason Jr.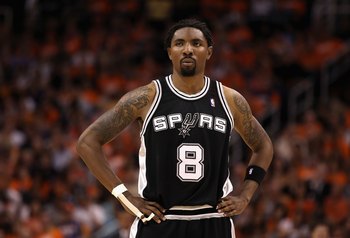 Roger Mason is most notable for his stints on the Spurs during the past couple of seasons, aptly filling in for Tony Parker and Manu Ginobili when they have been injured.
However, now the 29 year old guard has now become a free agent.
Perhaps the most attractive thing about Mason is his shooting ability, as he averaged two three-pointers made a game in 2008-09, while shooting 42.1 percent from three and a scorching 89 percent from the line.
Nevertheless, in 2009-10, his numbers went down across the board, and he seems to be a better fit off of the bench, rather than as the starter needed by NY.
At this point, Mason would likely be willing the accept the money that the Knicks would offer, although he probably would seek a longer contract. But, as it stands, being this late in free agency, anything could happen.
No. 4: Tracy McGrady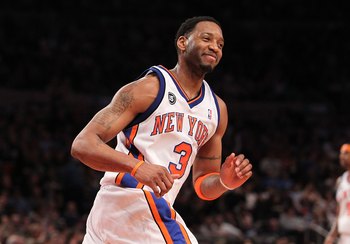 After last season's experiment with Tracy McGrady, Knicks fans might be hesitant for their team to re-sign him.
However, McGrady was just coming off of a serious micro-fracture knee surgery when he was acquired by New York, and he certainly was not in a position to perform at his highest level.
But now, after a full summer of rest, McGrady should be able to show what he actually has left in the tank.
And being that the 31 year old has always been a solid jump shooter and passer, a loss of athleticism from his injuries might not dangerously affect his productivity too much. Furthermore, these two skills are, perhaps, what would allow him to bet fit into Mike D'Antoni's offense.
And finally, since his multiple injuries have only allowed him to show so little over the past few seasons, McGrady would likely be willing to accept a one-year contract with a small salary—just what the Knicks are seeking.
No. 3: Allen Iverson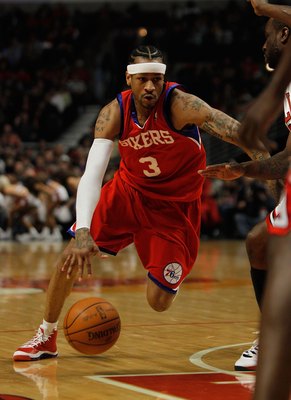 Allen Iverson is an NBA icon.
However, the past few seasons have not been so kind to him.
After less-than-stellar performances with the Pistons, Grizzlies, and 76ers (second time), coupled with the news of his divorce, his drinking, and his gambling problems, Iverson is in a sort of free-agent limbo.
And, although he certainly still has the talent to play in the NBA, AI has stated that he would rather retire than become a bench player.
So should he clash with the coaches or management, who knows what would happen. And being that New York is the American media capital, Iverson would likely be demonized (a la Stephon Marbury) should any trouble occur.
Nevertheless, if there were no problems, Iverson's style of play would fit right in with the Knicks, as he would be able to put up lots of points and assists.
Furthermore, he would probably command the short, cheap contract that the Knicks could offer, using the opportunity to prove to the world that he has still got it.
No. 2: Delonte West
Delonte West was recently cut by the Timberwolves, who acquired him shortly before in a trade with the Cavaliers.
However, West was cut in a move that strictly had financial motives, helping to illustrate that he can surely still play.
Moreover, West would be a great fit with the Knicks, as he can score, he's a great passer, and he's athletic enough to defend both guard positions.
Yet signing West could also spell trouble for New York, as he has a history of mood disorders and erratic behavior.
Furthermore, he may be suspended by the league for a recent legal matter, in which West plead guilty to weapons charges, stemming from his being pulled over for unsafe driving on a motorcycle, while illegally carrying two pistols and a shotgun.
But regardless of his past trouble, as long as West can keep it together off of the court, he would be an ideal target for the Knicks.
The only issue here would be that the 27 year old West might command more money or years than NY would be able to offer.
No. 1: Rudy Fernandez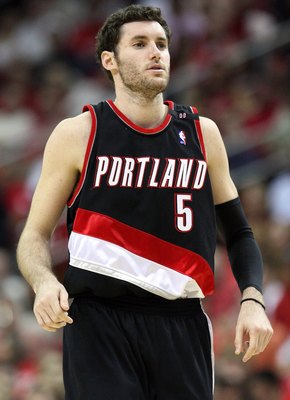 While Rudy Fernandez is not a free agent, he might as well be, since the Trailblazers are desperately trying to move the 25 year old Spaniard. Moreover, the Knicks have been mentioned as his preferred destination.
The Blazers are stocked with talent at nearly every position, so it is hard to speculate what the New York would be able to offer, other than draft picks.
But Portland must move him soon, since he would be stuck behind Brandon Roy and new acquisition Wesley Matthews, which would obviously result in even higher levels of discontent.
Fernandez's length and all-around game would fit perfectly into to Knicks' offense. They just need to figure out a way to get him.
Keep Reading

New York Knicks: Like this team?