Fantasy Football: The Ultimate Top 20 Players For 2010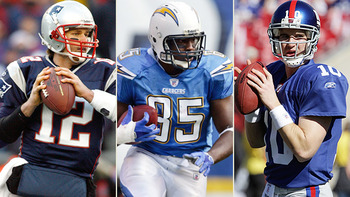 With the NFL season just around the corner, many fantasy owners are licking their chops getting ready for a fun-filled adventure of hard hitting, trash talking, and jaw dropping catches.
In this week's reel of fantasy picks, I will give my inside look at who I feel should be the top 20 for this year's fantasy draft. Please note that these players are in no particular order as I feel they are equal in a fantasy perspective.
20. Baltimore Ravens: Ray Rice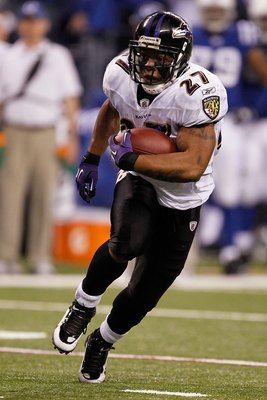 This running back stud had an incredible 2009 year. He had 2,000 plus yards combined and found the end zone eight times last year. His career looks mighty bright with new offensive weapons to complement his offensive threat.
I'm predicting that Ray Rice will continue to shine in 2010. His touchdown production should see a marginal increase.
Look for Rice to get at least 12 rushing touchdowns and about 1,500 yards rushing.
19. Washington Redskins: Donovan McNabb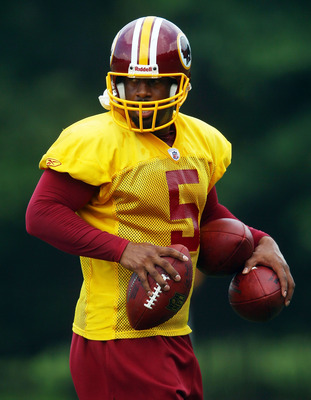 Yes, Donovan McNabb is still a threat. He's given fantasy owners an abundant amount of points throughout his pro career.
While playing for the Philadelphia Eagles, Donovan pounced on defenses and dissected them to pieces week in and week out. His numbers were flawless. Throughout his career Donovan averaged 200 passing yards a game, and he scored 216 touchdowns with an average of 21 yards rushing per game.
In my book McNabb still has the skill to compete at a high level. With coach Shanahan under him, the sky's the limit for this 30-year-old quarterback.
18. Indianapolis Colts: Peyton Manning
I would have to be considered crazy not to include Peyton Manning. After a disappointing loss to the New Orleans Saints in the Super Bowl, Peyton is ready to make another attempt at showing up to the show again.
Many are predicting him to slow down in his fantasy production, but I believe he will continue to deliver a substantial amount of points to many fantasy owners around the country.
Manning is a definite top 20 pick, if you have a chance to attain his services, do so immediately.
17. Houston Texans: Andre Johnson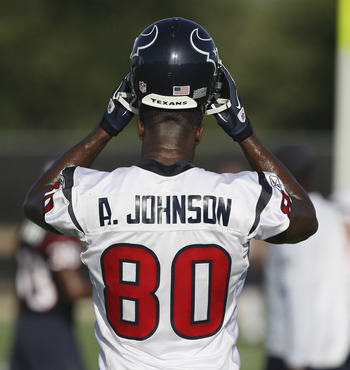 In the wide receiver category I must suggest this young beast out of Houston, Texas. Andre Johnson has all the tools a fantasy owner needs. He's got webs like spiderman, and can elude defenders with his sharp cuts.
Andre Johnson had 1,569 yards receiving and contributed with nine touchdowns. His stats will stay the same this year.
16. New England Patriots: Tom Brady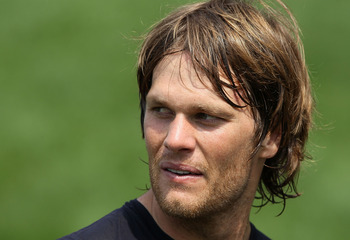 Coming off of a mediocre year in New England last year, Tom Brady is looking towards the future with much to prove. Although he had 28 touchdowns in 2009 Brady seemed to struggle more in the pocket. This year is different. With a new offensive line and a healthy Wes Welker, Tom is looking to silence critics by delivering 50 touchdowns in 2010.
Well he might not get 50, but he will surpass his 2009 touchdown statistics.
15.Philadelphia Eagles: DeSean Jackson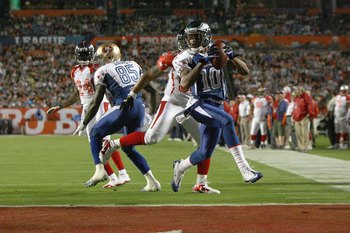 Coming off ofhis first Pro Bowl, DeSean Jackson left his mark in 2009 with his jukes, spins, and speed. He played running back in various formations as an Eagle, and he even contributed to special teams with his elusive style to move away from defenders.
His greatest strength was at wide receiver, where he brought the happiness back to Philly. This team struggled at the wide receiver position for many years.
DeSean produced monster points for fantasy owners last year with nine touchdowns and 1,156 yards receiving. He also contributed with a rushing touchdown.
Many have said that his production will slow down because of the departure of McNabb. I believe his stats will increase. Kevin Kolb will easily find DeSean Jackson open throughout the season.
Look for Jackson to chase after 1,500 yards receiving this year.
14. St. Louis Rams: Steven Jackson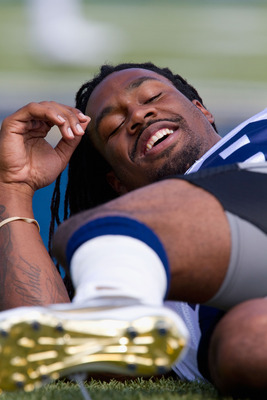 If this freight train can avoid injuries throughout the year, he might be the most valuable player to a fantasy owner. Playing for the worst team in the league, Steven Jackson has managed to place competitive stats throughout his short career.
Last year he managed to rush for 1,400 yards and contribute with four touchdowns, and he's coming off back surgery. Regardless, he's been looking mighty sharp in training camp.
If Jackson stays healthy he can reach 2,000 yards in 2010.
13. San Diego Chargers: Ryan Matthews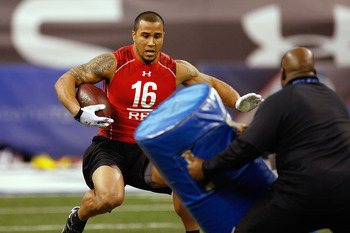 Very rarely do I like to place a rookie in a top 20 fantasy selection. When I do, that means I've taken a lot of thought and observation to determine this selection.
Ryan Matthews is a rookie coming into the National Football League with a lot to prove. Many have been predicting that he will fill the shoes of Ladainian Tomlinson. Once again I will go against the grain and disagree.
Ryan Matthews needs no comparison. Ryan will build a name for himself, and he's got all the tools you need to be successful at the running back position.
My bold prediction on Matthews is 1,200 yards rushing and nine touchdowns.
12. Green Bay Packers: Aaron Rodgers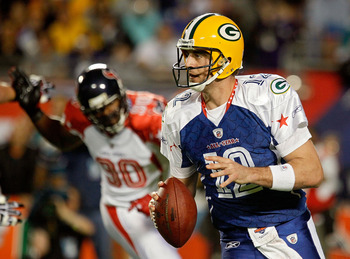 I've received a lot of emails regarding the quarterback drafting dilemmas people face. If you want to go with a guarantee in production, there's nobody better than Aaron Rodgers.
Aaron is just beginning his pro career, saying that, he's been throwing up fantasy points like it's going out of style. He threw for 4,400 yards last year and delivered 30 touchdowns for the packers.
Aaron isn't done yet, his stock is rising. As he becomes more comfortable with his playbook, he will see an increase in his production as well.
Look for Aaron to get at least 40 touchdowns in 2010.
11. Jacksonville Jaguars: Maurice Jone-Drew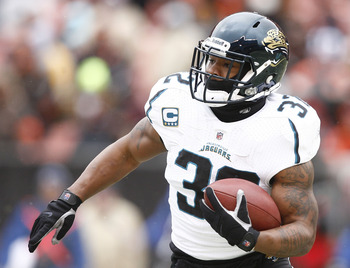 By far one of the smallest players in the league but also one of the most determined players, Maurice Jones-Drew has given Jacksonville something to be happy about. With the team in shambles, Drew has managed to stay on top of the fantasy charts with fantastic numbers.
He can catch, run, and block. His numbers have been increasing over the years, contributing 15 touchdowns as a Jaguar last season, and he will continue to stay in that range in 2010.
10. Minnesota Vikings: Adrian Peterson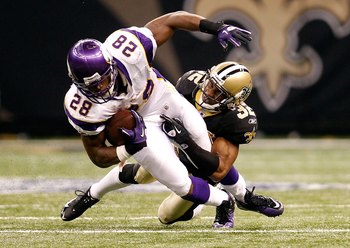 Not one of my fantasy favorites, but I have to include him due to his production at his position. Adrian Peterson still has what it takes to stay on top of the charts in a fantasy pool.
He's still the go-to guy in Minnesota, and with Brett Favre retiring, Peterson will have to elevate his game a bit more. Which leads me to only one glitch: injury!
9. New York Jets: Shonn Greene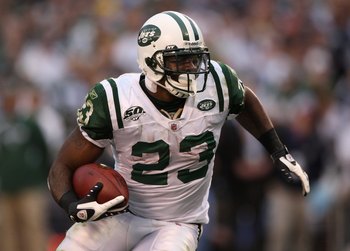 I had a long debate with some of my co-workers about this pick. Shonn Greene is a top 20 pick for many reasons. For one, he's playing for a coach that is run committed. Which means he will see the ball at least 25 times a games. He averaged five yards per carry and scored two touchdowns as a rookie.
Moreover, the New York Jets have a stellar offensive line which makes me believe that Greene will dominate the AFC this season.
8. San Francisco 49ers: Frank Gore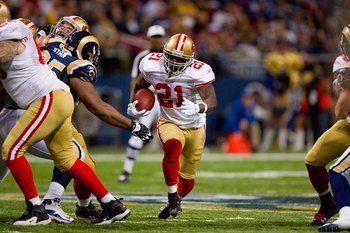 Call him Frank the Tank or the Gore show, this animal has the spirit and drive to demolish defensive lineman.
He fell into some injury problems in the beginning of the season in 2009 but bounced back with a great season.
The 2010 season brings a new challenge to Frank. He's got a few running backs giving him a ride for his job. As stubborn as Frank is, he also knows that he has to silence the critics and the 49ers staff.
If he stays healthy, Gore can easily run for 1,500 yards and reach the end zone 15 times in 2010.
7. Cincinnatti Bengals: Cedric Benson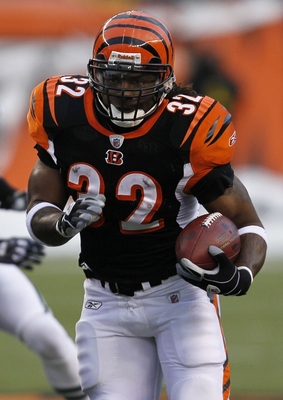 Coming off his best performance as a pro, Cedric Benson jumped out of the gates in 2009 surprising many people. He ran for about 1,250 yards and scored six touchdowns.
This year seems more promising for Cedric. With newly acquired Terrell Owens added to the mix, this offense will keep defenses around the league guessing.
With that said, look for Cedric to produce a fair amount of points for fantasy owners.
My bold prediction: 1,550 yards rushing and eight touchdowns.
6. Tennessee Titans: Chris Johnson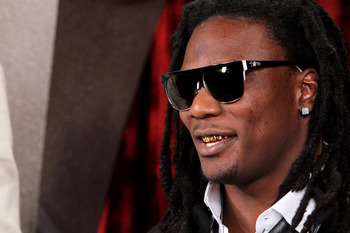 Finally coming to his senses and finding peace with the Tennessee Titans' front office, Chris Johnson is ready to try and complement his last season's statistics.
Chris ran for 2,000 yards and ran the ball in 14 times for a touchdown. It's hard to achieve 2,000 yards back to back. I feel Chris Johnson will slow down slightly in 2010.
My bold prediction for 2010: 1,700 yards rushing and 11 touchdowns.
5. Green Bay Packers: Ryan Grant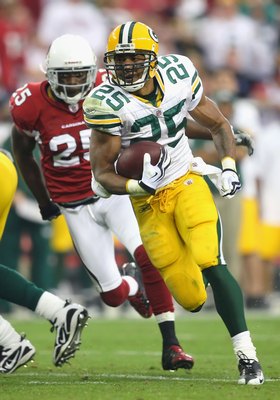 Ryan Grant is getting better and better as the years progress. He had one of his better years in 2009 when he achieved 1,200 yards rushing. With Aaron Rodgers at quarterback, Ryan will see his points increase throughout his years as a Packer.
Defenses are not sure what to expect out of the Green Bay Packers' offense, with that said, Ryan will see a lot of holes in the defensive schemes that will allow him to produce a multitude of points for fantasy owners.
4. Atlanta Falcon: Michael Turner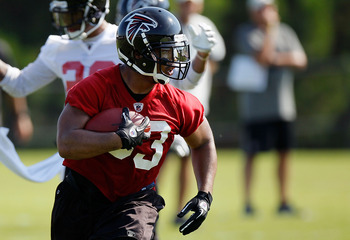 Suffering from injuries in 2009, Michael Turner fought his way back into the charts with a strong second half. He contributed with 890 yards rushing last season and managed to still get ten touchdowns.
Michael looked great in training camp this past week and told reporters from Atlanta that he's looking to pickup where he left off last season.
If there's any running back that I believe will have a breakout season this year, I would say Michael Turner is a great chance to surprise many fantasy owners with an enormous amount of points.
3. Seattle Seahawks: Justin Forsett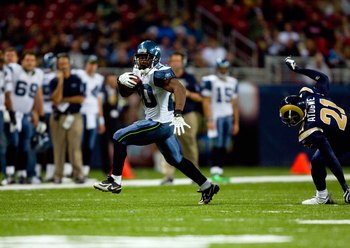 It just wouldn't be me if I never included a dark horse in my top 20 fantasy picks. I know Justin Forsett is ranked by many to be in the top 50. I feel he's better than that, and that's why I put him in the top 20.
Justin Forsett responded well as a backup to Julius Jones last year. He averaged 5.4 yards a carry and rushed for 600 yards on 114 carries. Forsett scored four touchdowns and found himself setting up as a receiver on multiple plays.
Look for him to surprise many fantasy owners with his skill.
My bold prediction for Justin is 1200 yards rushing and eight touchdowns.
2. Indianapolis Colts: Dallas Clark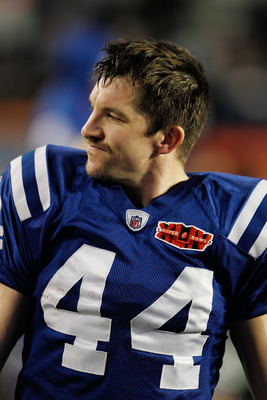 If there was a tight end that was a top 20 pick for this year's fantasy league, I would choose Dallas Clark. His points last year were next to perfect with ten touchdowns and 1000 plus yards receiving.
Clark has become Peyton Manning's favorite target, and he may be the player favorite come this season.
Fantasy owners, if you have your eyes set on a tight end, lick your chops and place pen to paper. Add Clark to your roster for 2010 and your team will benefit from it tremendously.
1. New Orleans Saints: Drew Brees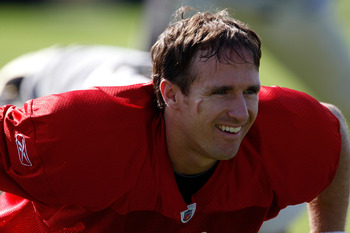 Coming off a super bowl victory, Drew Brees and the New Orleans Saints surprised many throughout the world. They were huge underdogs going into the season as favorites to win the championship.
They proved everyone wrong and established a name for themselves around the league for years to come.
Much of that success came from quarterback Drew Brees. Brees had 34 passing touchdowns and threw for 4,300 yards in 2009. I can't see them going back to the show, but the Saints will be a competitive team come kickoff time.
Keep Reading