College Football Preseason Rankings: The Hottest Fanbases of the Big Ten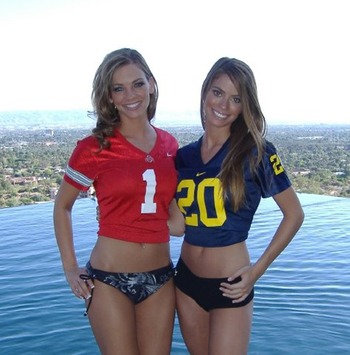 The Big Ten is a conference of tradition, rivalry and incorrect names.
As one of the power six conferences, the Big Ten knows its place in history, and will always be a big player in collegiate sports.
But more importantly, the conference is home to many a babe.
Many people see the SEC and Pac-10 as the home of the hottest sports babes.
The midwest's favorite conference has slid under the radar, with its fanbases not getting the same love as those around the country.
Well, today, that changes.
Big Ten fans, break out the drool,and get ready to ogle.
Some of these ladies are hotter than Chicago in the summertime, with humidity included.
All the schools have something to brag about, but some are just more… gifted than others.
So which school tops the list?
Follow me on Twitter at Rossel64 and check out more from me at LA Sports Examiner.
12. Northwestern
Words to describe my university's athletics as of late: improving, buzz worthy, exciting, and best overall program in the school's history.
Words to describe my university's hotties: slim pickings.
A.K.A. Just these six girls.
The Dance Team?!?!?!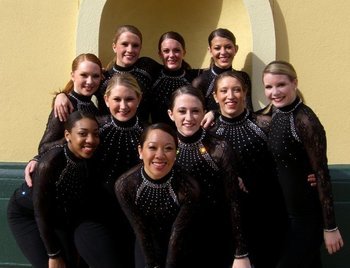 The only thing hot about this picture?
A black, full body turtleneck in the summer time would make tungsten melt.
The smarties at NU all just noticed that's the metal with the highest melting point.
Hot Mascot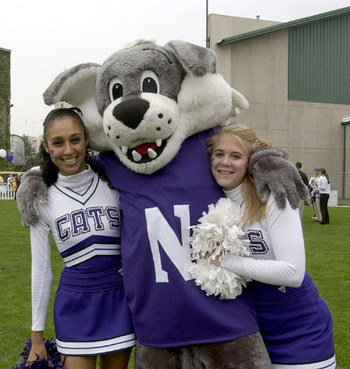 It's sad that the hottest person in this picture is Willy the Wildcat.
And they didn't even get his good side.
11. Indiana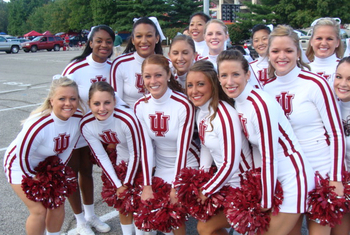 The Hoosier cheerleaders are quite the cuties.
However, the person taking the picture clearly didn't think the girl on the left was.
What a Photoshop noob.
Indiana's The Best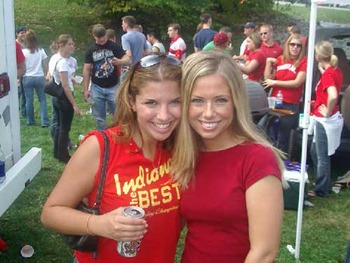 Hot girls and beer. Any guy's fantasy.
Too bad she's not the brightest. Indiana's never been the best.
10. Michigan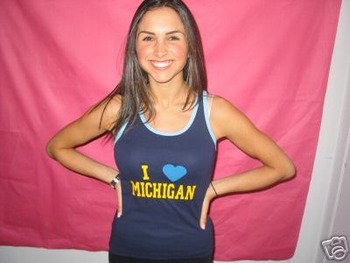 The Maize and Blue have quite the selection of beauties, and this hottie appears to give love back to her school.
I'm sure that's not the only thing she gives…
Giant Girl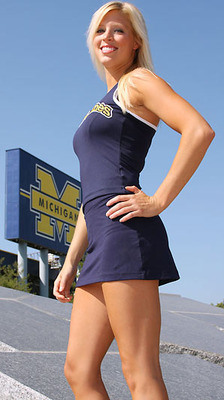 What's bigger?
The apparent size of this fine cheerleader, or the disappointment Michigan fans have suffered from their football team recently.
Fan Cam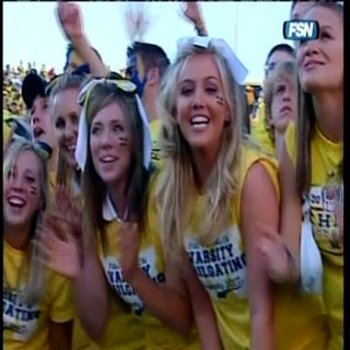 This has to be one of the best audience shots of all time due to its beauty-to-total space ratio.
However, did they all have to match their ponytails? How tacky.
9. Iowa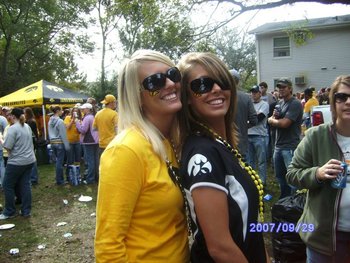 Iowa's football team is on the up-and-up. A BCS bowl win, and a nearly undefeated season is nothing to be ashamed of.
And neither are these two ladies.
Her Advantage
Got to love this girl's moxie, using her breasts to her "advantage." Guys probably give her whatever she wants.
If she puts them to good use, her time under the red light won't last nearly as long.
After Hours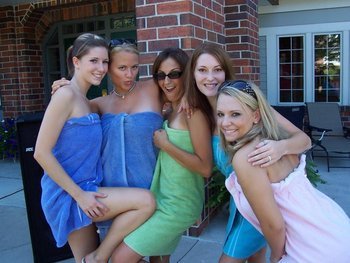 These girls seem to be out of clothes. What a darn shame.
However, that does explain why my linen closet is suddenly empty.
8. Minnesota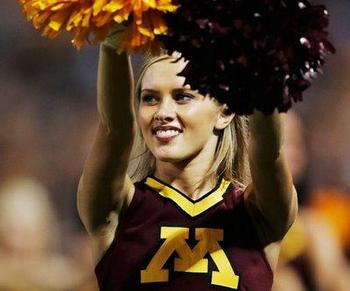 Even so many years after my grandmother left the Land of a 10,000 Lakes, the tradition of hotness lives on.
Yeah, my grandma was hot back in the day. What of it?
Model Student
She seems like she would be such a handful in class.
But, I don't think she'd have any trouble passing if the teacher was male.
A Friendly Stretch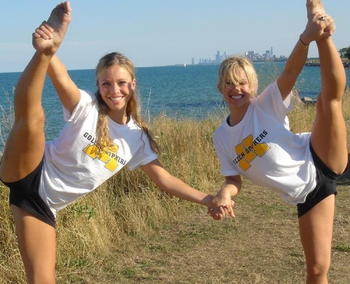 Flexibility + (blondes x 2) = Sexy
Just don't ask them to do the math again.
7. Purdue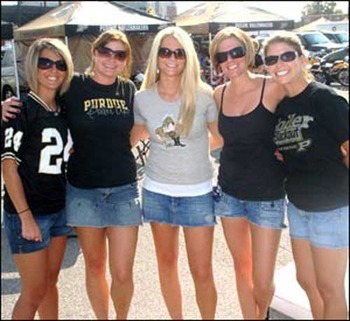 The Boilermakers aren't the only thing smoking in Purdue.
I'm not talking about the women. I'm talking about the fire sale on jean shorts.
Tryouts!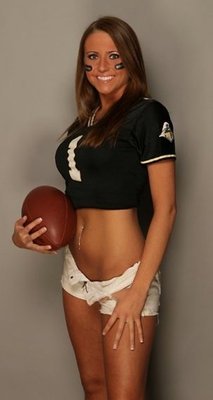 If someone tried out for a team wearing that uniform, I highly doubt they'd get a spot on the team.
Unless the team was the Pittsburgh Steelers. Big Ben loves coeds.
Helpful Hands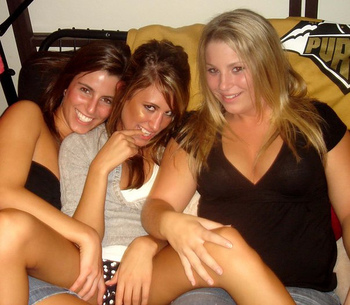 Aww, how nice of those girls. They all got in the same bed and helped spread their friend's legs, because she clearly seemed sore.
There's almost nothing more awesome than that last sentence.
6. Illinois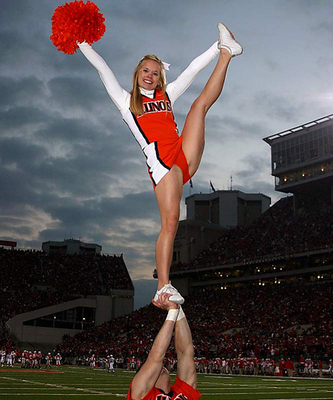 The state of Illinois must funnel, all its hot girls down to Champaign. Northwestern is totally jealous.
God only gives with one hand. The Wildcats got the brains, the Illini got the bodies.
Engineered To Win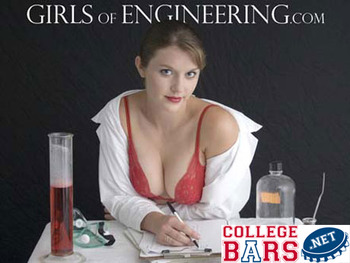 According to many sites, this was some sort of advertising campaign using Illinois' students.
Students now know that milk would look great mix in any Bunsen burner.
Fan Favorite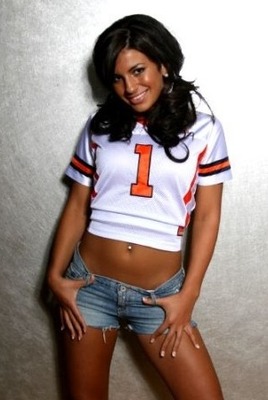 I can't think of a single thing wrong with this girl. She's got a great body, beautiful smile, and outfit that must have inspired Prince's Black Sweat.
Oh wait, I thought of something. She's not in purple velvet.
5. Wisconsin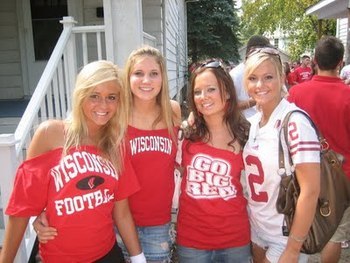 Got to love the strapless tops. It's only one short tug away from baring all.
Except for the girl on the right. Way to ruin the team unity!
Best Friends Forever!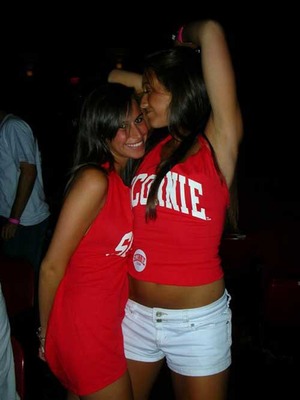 Only one of the people knew there was a picture being taken at this moment.
I'm talking about the guy lurking around in the back, with his arm so awkwardly reaching toward something.
Tailgating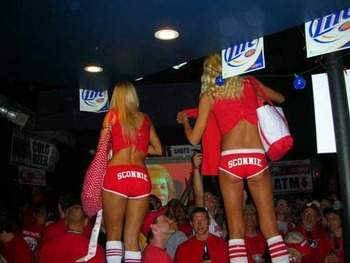 If I lived in Wisconsin, I'd name my boy Sconnie.
"Hey! Those are my undies. They have my name on 'em! Give 'em back!"
Boom. He's nearly at second base already.
4. Penn State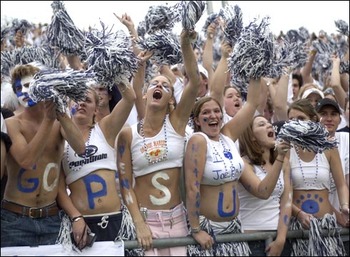 The energy, the rolled up shirts to show off more boobage, and the general sexiness make this a great photo.
However, they really couldn't find another person so the GO wasn't squished together?
Get it together, PSU!
Alumni Alert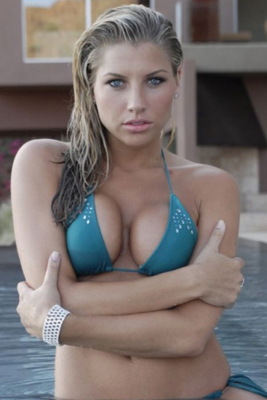 Melanie Collins, former WAG and Penn State student, has got to be one of the most beautiful women ever to grace a Big Ten sideline.
It's only a matter of time before Joe Namath gets to her like he did to Suzy Kolber.
She's Got Talent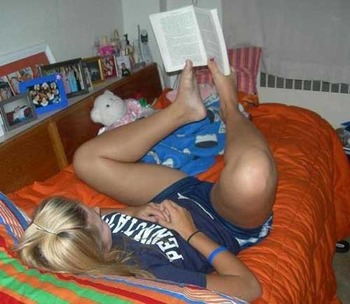 Okay, this is not only arousing, but also damn impressive.
My question? What does she need her hands free for?
Enter the plethora of sexual possibilities.
3. Michigan State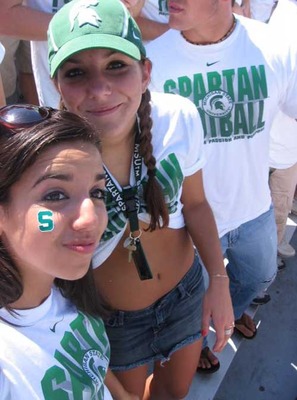 Makeshift bikini-esque tops are always a plus in my book, so Michigan State gets added points for their creativity.
But if the guy to the right starts doing it, they drop out of the top 10.
Family Fun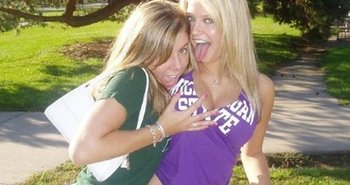 These girls must be freshmen.
Who else would be so homesick that they start looking to their friends for a mother's teet?
Go For A Dip

This may not be the official Spartan swim gear. But if it was, swimming meets must be packed to the roof with dudes.
Actually, this girl's apartment is probably packed with dudes too.
2. Nebraska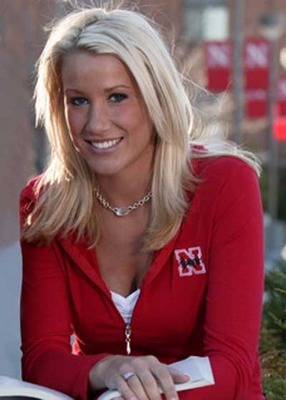 The Big Ten's newcomer brings with some of the finest ladies this side of the Mississippi.
Shockingly, she's carrying a book. This makes the school lose major points.
She's No. 1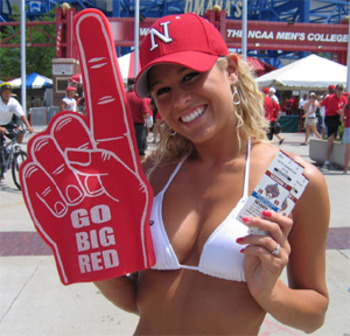 If I'm a Husker receiver, and my number one fan looked like that, I'm not sure I could pay attention to the ball flying at me.
Then again, she could probably handle that for me.
Nice....Hat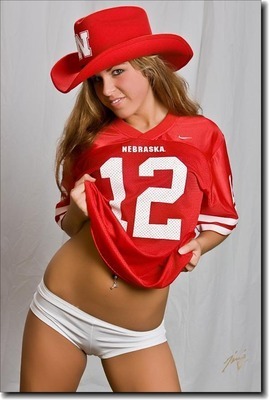 With the conference alignment change, the Big Ten finally gets its first taste of cowgirl.
I like change. A lot.
1. Ohio State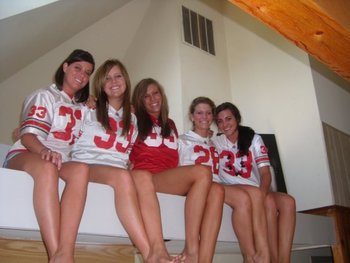 Yes, the Bucks will hold the title as hottest Big Ten school.
Why? Because they know symmetry, duh!
Plus those legs are just fantastic.
Eskimo Kisses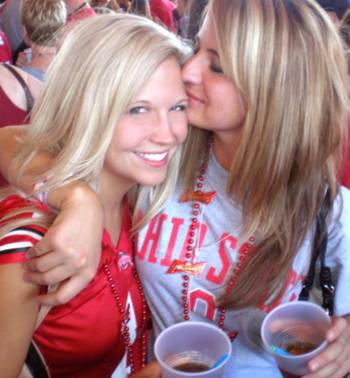 It's so hot when two blonde girls get together, and rub their noses on each other's foreheads.
Hell, with these two broads, they could be filing tax returns, and I'd probably still watch.
Lookin' Good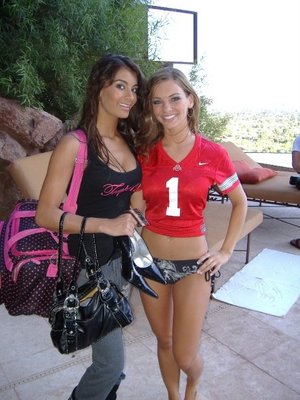 The only thing the girl on the left loves more than Ohio State? Holding more stuff than a pack mule.
The only thing the girl on the right loves more than Ohio State? The girl on the left.
Kinky.
Winner's Bonus!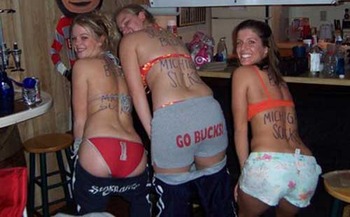 Even if you don't agree with the winner, just know that the real winners are those of you who get to see these beauties in the stands during every Big Ten game.
As a parting gift, you may stare at the winners' hineys. Feel free to kiss them goodbye!
Follow me on Twitter at Rossel64 and check out more from me at LA Sports Examiner.
Keep Reading